ACL's 
Florida Special
Last revised: May 5, 2023
By: Adam Burns

The Florida Special was a long-running Atlantic Coast Line seasonal service between New York and Miami.  The train had a history dating back to the late 1800s and both the ACL and rival Seaboard Air Line operated several trains on this routing that remained popular until Amtrak took over intercity passenger operations. 

The Special offered guests a wide range of fine accommodations and was given "All Pullman" status for many years.  During the late 1940s it was finally reequipped with streamlined, lightweight equipment. 
Over time the train did run into operational issues; it was discontinued during the World War II years and then had to contend with the Florida East Coast's strike in 1963 (the FEC provided through service to Miami).  The Special's final season was directly before Amtrak.

What was originally known as the New York & Florida Special made its first run in 1888, a few years prior to even the Atlantic Coast Line being formed through several predecessor companies (this train originally ran between Jersey City, New Jersey and Jacksonville). 
The ACL grew into one of the South's largest systems, along with rival Seaboard Air Line, stretching from Richmond to South Florida, and as far west as Birmingham.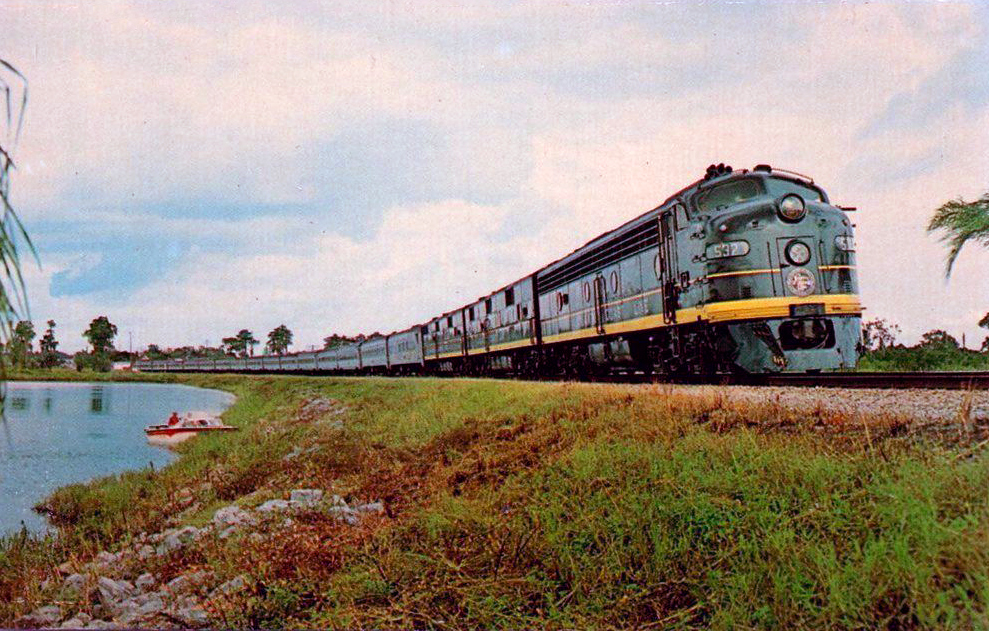 Atlantic Coast Line E8A #532 is ahead of the "Florida Special" in a publicity photo likely taken during the late 1950s or early 1960s.
The railroad would go on to host a number of popular trains to the Sunshine State such as the Florida Arrow, Miamian, Havana Special (joint with the Florida East Coast, that once reached Key West), Gulf Coast Limited, and Vacationer among others. 
According to Larry Goolsby's book, "Atlantic Coast Line Service: The Postwar Years," the ACL once operated as many as nine trains through the winter season providing coach and first-class services. 
The New York & Florida Special became simply the Florida Special during the World War I years, provided some of the best accommodations the railroad had to offer and normally operated between mid-December and May (after the war the season ended at the end of April). 
While perhaps unnoticed by the traveling public, the ACL's Floridian services received an incredible boost in power with the arrival of a dozen new Class R-1 4-8-4s from Baldwin in 1938 (they remained in service until 1952). 
This move, brought on largely by an increase in ridership as the depression years ebbed and vacationers increased, enabled the company to dispatch trains as long as 20 cars in length without the need of double-heading locomotives (thus reducing operating costs). 
The streamliner age arrived on the ACL a year later in 1939 with the introduction of the Champion, which competed directly against SAL's new streamliner, the Silver Meteor.
By the 1940-1941 winter season the railroad had acquired enough  new diesels from Electro-Motive (E6s) that the Florida Special could boast at least a semblance of streamlining albeit the cars where still all heavyweight. 
One particular advertising piece from this time noted the following:
 "Now-only 24 hours, New York-Miami!  Largest fleet of diesels in Florida service.  Florida Special, solid-Pullman, diesel-powered.  This great pioneer train, the 'Aristocrat of Winter Trains,' now in its 55th consecutive season, brings Florida ever 'nearer.' 'Nearer' in time.  And 'nearer' because of the most enjoyable travel facilities. 
With unexcelled Pullman accommodations.  Recreation-Entertainment car (music, games, hostess), Coast Line Dining car service - and the fastest schedule in history - Florida Special (East Coast), indeed, is America's premier winter vacation train."

Following the completion of the 1941-1942 season the Florida Special (serving the east at Miami and west coast at Tampa/St. Petersburg), along with the Miamian and Vacationer, were dropped from the timetable following the onset of World War II. 
However, all three returned on December 12, 1946 and were heavily promoted.  The Special offered travelers connections to either Miami (East Coast) as trains #87 and #88, or Tampa as #91 and #92 (West Coast; there was also a connection via Jacksonville to St. Petersburg as #291 and #292). 
During the 1947-1948 season, however, ACL ended this practice and the train ran to Miami only with connections to either Washington, D.C. or New York.  Travelers could still reach Tampa but did so via the Champion.

(The below Florida Special timetable is dated effective for the 1967-1968 season.)

Read Down Time/Leave (Train #3/New Haven)

Location

Read Up
Time/Arrive (Train #28/New Haven)

2:00 AM (Dp)

Boston, MA (South Station) (ET)

11:55 PM (Ar)
2:26 AM

Route 128, MA

11:33 PM
3:20 AM

Providence, RI

10:50 PM
5:52 AM

New Haven, CT

8:31 PM
7:30 AM (Ar)

New York, NY (Grand Central Terminal)

7:00 PM (Dp)

Time/Leave (Train #107/Pennsylvania)

Location

Time/Arrive (Train #106/Pennsylvania)

10:45 AM (Dp)

New York, NY (Pennsylvania Station)

6:15 PM (Ar)
10:59 AM

Newark, NJ

5:59 PM
12:14 PM

Philadelphia, PA (30th Street Station)

4:37 PM
12:42 PM

Wilmington, DE

4:09 PM
1:45 PM

Baltimore, MD

3:10 PM
2:25 PM (Ar)

Washington, DC (Union Station)

2:30 PM (Dp)

Time/Leave (Train #87/RF&P)

Location

Time/Arrive (Train #88/RF&P)

2:55 PM (Dp)

Washington, DC (Union Station)

1:55 PM (Ar)
3:11 PM

Alexandria, VA

1:30 PM
5:05 PM (Ar)

Richmond, VA

11:45 AM (Dp)

Time/Leave (Train #87/Atlantic Coast Line)

Location

Time/Arrive (Train #88/Atlantic Coast Line)

5:15 PM (Dp)

Richmond, VA

11:35 AM (Ar)
5:45 PM

Petersburg, VA

10:55 AM
7:10 PM

Rocky Mount, NC

9:25 AM
8:35 PM

Fayetteville, NC

7:55 AM
10:00 PM (Ar)

Florence, SC

6:40 AM (Dp)
10:10 PM (Dp)

Florence, SC

6:30 AM (Ar)
11:31 PM

Charleston, SC

5:00 AM
1:10 AM

Savannah, GA

3:35 AM
3:35 AM (Ar)

Jacksonville, FL

1:15 AM (Dp)
3:45 AM (Dp)

Jacksonville, FL

1:05 AM (Ar)
5:45 AM

Sanford, FL

10:45 PM
6:20 AM

Orlando, FL

10:00 PM
9:35 AM

West Palm Beach, FL

6:43 PM
9:56 AM

Delray Beach, FL

6:20 PM
10:05 AM

Deerfield Beach (Boca Raton), FL

6:09 PM
10:25 AM

Fort Lauderdale, FL

5:59 PM
10:35 AM

Hollywood, FL

5:40 PM
11:25 AM (Ar)

Miami, FL (ET)

5:15 PM (Dp)
Despite the railroad's misgivings about doing so, since it only ran a few select months out of the year, the Florida Special was reintroduced as a full streamliner for the 1949-1950 season. 
ACL heavily promoted its new status, in no small part because its primary competition, SAL's Orange Blossom Special, carried an entirely heavyweight consist (and remained so until its cancellation in 1953). Unlike much of the industry, ACL and SAL enjoyed strong ridership to Florida throughout the 1950s, so much so that they continued constructing new depots through the late 1960s! 
By 1962 the Special was running with an entirely all-matching consist, after acquiring additional new or rebuilt lightweight sleepers (the result of having to borrow cars from other railroads featuring full bedrooms since the ACL's original fleet did not include enough to satisfy customers).

---
On January 23, 1963 a bitter strike fell upon the Florida East Coast, ACL's primary connection to Miami via Jacksonville.  With no other alternative the railroad was forced to reroute its East Coast trains over rival Seaboard, an arrangement that was made essentially permanent since the FEC strike required years to resolve. 
The Florida Special continued to see strong ridership throughout the decade and was retained into the Seaboard Coast Line merger of July 1, 1967.  However, at that time it acquired the old numbers of the East Coast Champion, #1 and #2.  The Special continued to run seasonally through the SCL years with its final season coming with the December 11, 1970 timetable before Amtrak began the following spring.