Georgia Railroads In "The Peach State"

Last revised: October 11, 2023
By: Adam Burns

Georgia railroads are best known for their stiff grades in the west and flat, coastal operations in the east. The state's history with trains began shortly after the founding of the Baltimore & Ohio Railroad in the early 19th century.

During the industry's "Golden Age" Georgia was home to thousands of miles of rails and virtually all of the South's most well known classic lines.
One of Georgia's most historically important lines was the Western & Atlantic, the first railroad to open through service into the western interior via Chattanooga, Tennessee.
History
It also played an important role in the Civil War, eventually winding up as a component of the Nashville, Chattanooga & St. Louis. 

The state's primary service providers in the classic era included the Southern, Atlantic Coast Line, Louisville & Nashville, and Seaboard Air Line. 
Like every state, Georgia has lost thousands of miles to abandonment.  most of which have proven to be redundant in nature. 
Today, whether you are interested in high-speed freight and passenger trains or local, backwoods short line operations the Peach State offers a little bit of everything, including a number of railroad museums and excursion trains. 
Photos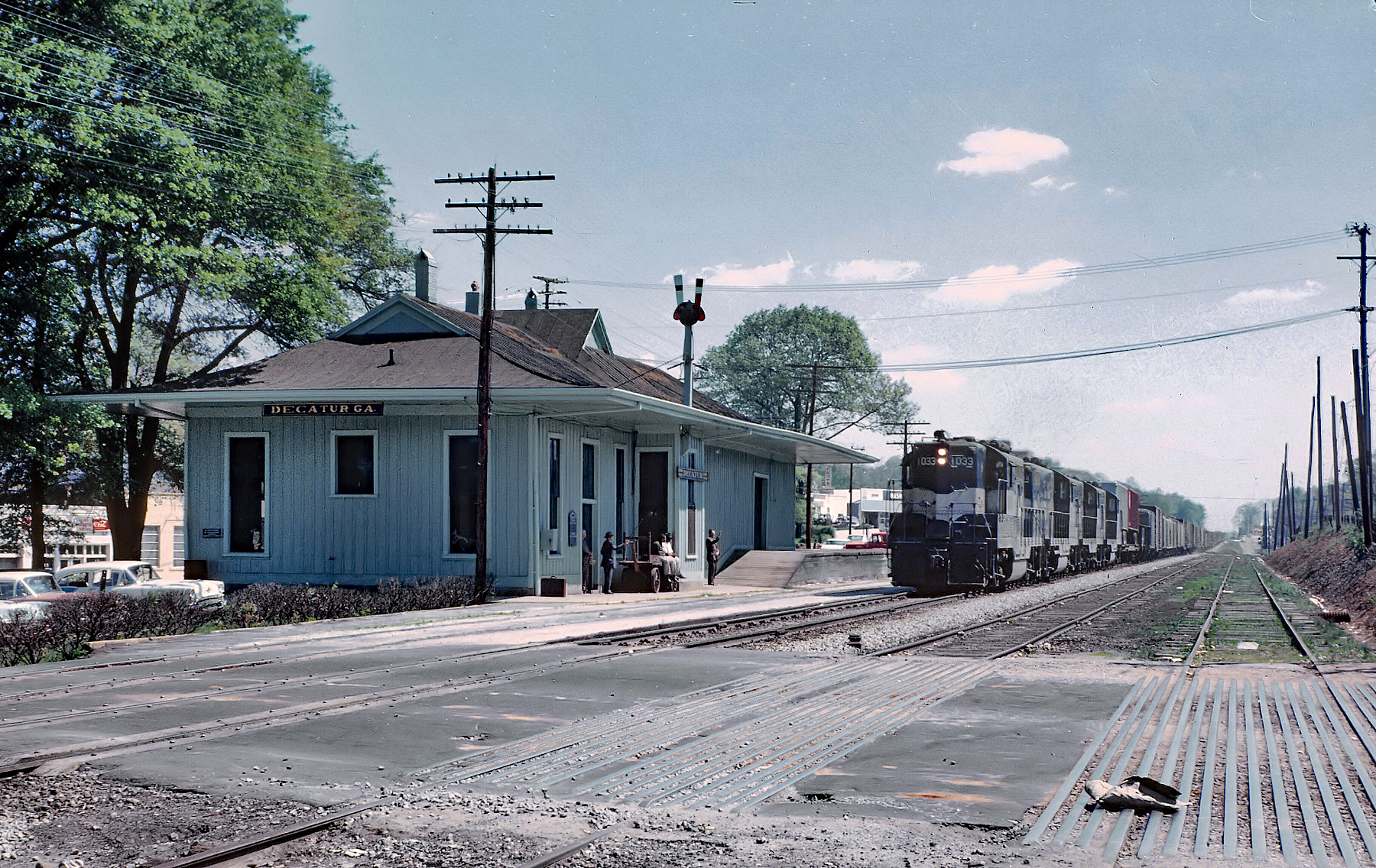 A quartet of Georgia Railroad GP7's hustle past the small depot in Decatur, Georgia with a long manifest freight train on April 13, 1963. Roger Puta photo.
Georgia's rail history date back to the industry's infancy when the Central Rail Road & Canal Company of Georgia was chartered in 1833 to construct a line between Savannah and Macon, where it would join the Macon & Western Railroad.
Due to funding shortfalls and lack of investors the railroad soon changed its name to the Central Rail Road and Banking Company of Georgia.
It took ten years to complete the line between the two cities, which occurred in 1843. The main line ran exactly 187.7 miles according to a later Central of Georgia timetable.
Unfortunately, it took another eight years to see the line fully in operation as a bridge was needed to cross the Ocmulgee River and did not open until 1851.
Statistics
| | |
| --- | --- |
| First Railroad | Central Rail Road & Banking Company of Georgia (1838) |
| Peak Mileage | 7,326 (1920) |
| Current Mileage | 4,521 (2020) |
| Current Railroads | 29 |
| Originated Rail Tons (2019) | 40.9 million |
| Terminated Rail Tons (2019) | 66.3 million |
| Originated Carloads (2019) | 1,082,634 |
| Terminated Carloads (2019) | 1,348,639 |
The line remained an important artery in the CoG system, even after it was purchased by the Southern Railway. Today, it remains in use by owner Norfolk Southern.
In any event, the railroad was organized when Savannah businessmen feared that Charleston's (South Carolina) new South Carolina Canal and Rail Road Company, which was anticipated to reach Augusta, would severely hurt their city port's shipping business.  
---
Abandoned Lines
At its peak, Georgia boasted rail lines in every direction, heading south to Florida as well as west towards Alabama.  Lines entered the state from every neighboring state.
All of Georgia's major railroads have witnessed abandonments.  After CSX was formed in the 1980's the new conglomerate set out to greatly reduce what it deemed redundant segments of former Atlantic Coast Line and Seaboard Air Line trackage.
It seems the SAL bore the brunt of this removal.  Most notable is the railroad's main line from Charleston, South Carolina to Jacksonville, Florida.
This corridor largely hugged the Georgia coastline, via Savannah, and was an early victim of CSX rationalization.
One abandonment that stands out in particular is the old Tallulah Falls Railway, a bucolic 58-mile short line that linked Franklin, North Carolina with Cornelia, Georgia.
The operation was similar to the Maryland & Pennsylvania in that it featured sharp curves, stiff grades, and some 42 wooden trestles (its trademark feature).
It faced numerous financial troubles in the 19th century until its acquisition by the Southern Railway in the early 20th century.
Interestingly, near the end of operations, Disney wanted to acquire the property for an excursion but was rebuffed by the Southern citing the railroad $300,000 in debt.
The railroad was sold for scrap in 1961.
---
For a more in-depth look at Georgia's rail mileage throughout the years please refer to the chart below. During the height of the railroad industry the state featured more than 7,300 miles of rails, which occurred during the 1920s.
However, today that number has fallen to just over 4,700 miles. While the state has lost nearly 3,000 miles of trackage, its decline by roughly 36% is not as severe as many other states which have experienced declines by 50% or greater.
Short Lines
Today, freight rail service is mostly provided by CSX and Norfolk Southern as both Class Is operate the majority of the state's rail network today.
However, Georgia also includes a long list of short lines:
Athens Line


Bay Line Railroad


Chattooga & Chickamauga


Chattahoochee Bay Railroad


Chattahoochee Industrial


Columbus & Chattahoochee


First Coast Railroad


Fulton County Railway


Georgia & Florida


Georgia Northeastern


Georgia Woodlands Railroad


Georgia Southwestern


Golden Isles Terminal Railroad


Great Walton Railroad


Hartwell Railroad


Hilton & Albany


Sandersville Railroad


Savannah & Old Fort Railroad


Savannah Port Terminal Railroad


Heart of Georgia Railroad


Riceboro Southern


St. Marys Railroad


Sandersville Railroad


Valdosta Railway
State Mileage Chart
First Railroad
* Georgia's first railroad was the Central Rail Road & Banking Company of Georgia (CRR&BC), which opened its first 26 miles in 1838 in an audacious endeavor to link Savannah with Macon. This goal was eventually realized by the mid-1840's.  The CRR&BC went to form the modern Central of Georgia Railway.
In the way of commuter trains, Georgia currently only includes transit service in the form of the Metropolitan Atlanta Rapid Transit Authority, MARTA, which operates a 47-mile system around the Atlanta area.

State Map
Railroad Museums and Attractions
Amtrak's passenger trains, however, also serve the state at Toccoa, Gainesville, Atlanta, Savannah, and Jesup with five different trains; the Crescent, Silver Meteor, Palmetto, Silver Star, and Meteor. Georgia is also home to numerous railroad museums and tourist lines.  These include:
Blue Ridge Scenic Railway


Roundhouse Railroad Museum (which is a former Central of Georgia complex)


Georgia Southwestern Railroad (it also operates excursion trains)


SAM Shortline Excursion Train


Southeastern Railway Museum


Southern Museum of Civil War and Locomotive History 


Okefenokee Heritage Center


Stone Mountain Scenic Railroad


Misty Mountain Model Railroad


Thronateeska Heritage Center
Also of note, be sure and check out the restored 1916 Beaux Arts Terminal Station in Macon, another former CoG building. 
---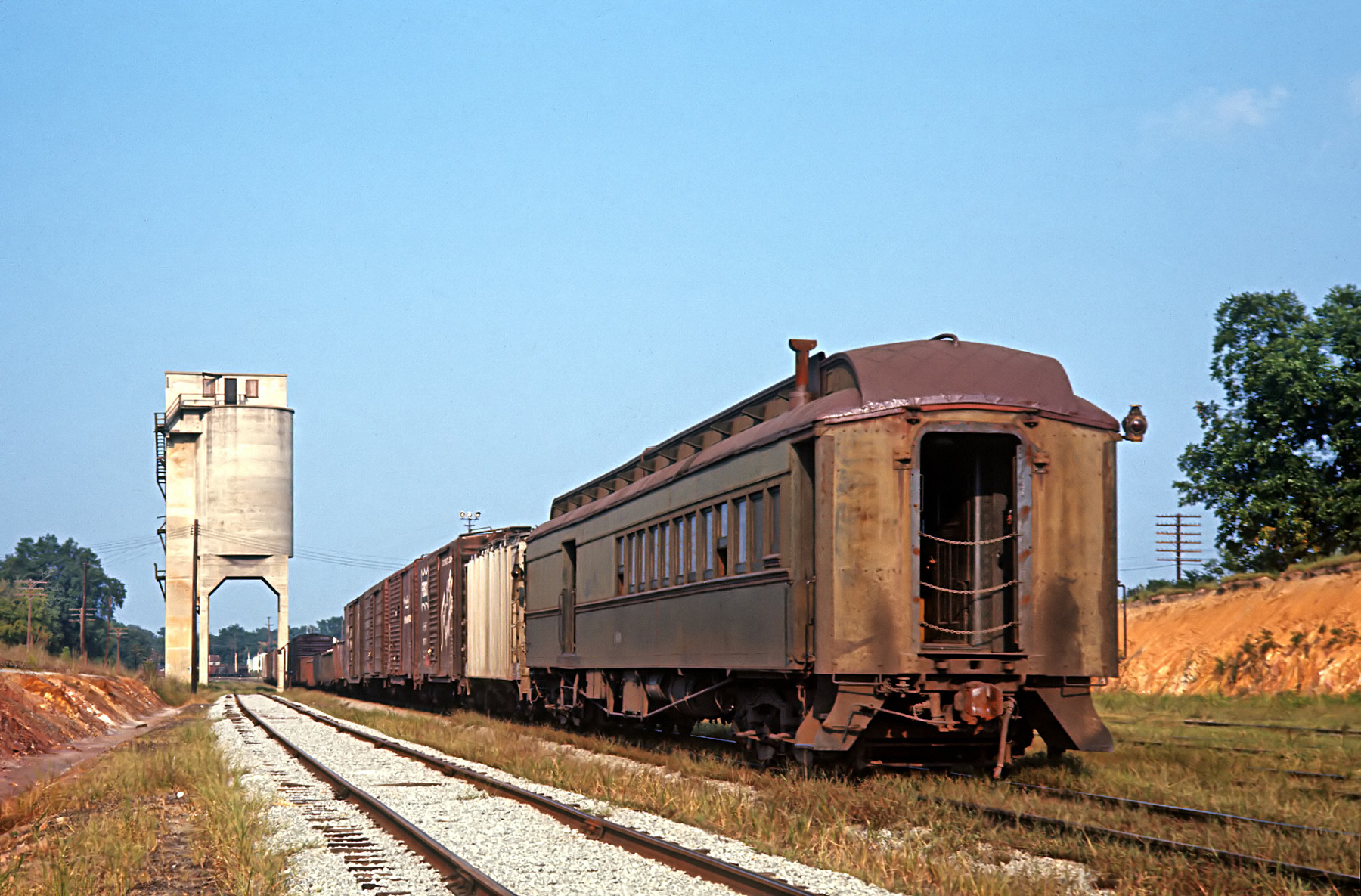 By the date of this photo mixed trains (freight and passenger) were becoming an increasingly uncommon phenomenon. Seen here is a combine tagging along the tail end of a Georgia Railroad train passing a derelict coaling tower at Camak, Georgia in September, 1964. Roger Puta photo.
Today, it is used as the by the city as a transportation center for bus service.  The site is an excellent resource and well worth the time to peruse through.
All in all, Georgia railroads have plenty to choose from for either the railfan or vacationer simply looking for something interesting to see and do. So, remember to have fun and enjoy that fine Southern hospitality!