The C40-9 and C40-9W built for Norfolk Southern were actually constructed a year after the C44-9W debuted in 1994. Essentially the two are nothing more than less powerful C44-9Ws. The model was a step up from the "Dash 8s" in that it featured upgraded components and electronics such as new traction motors and a redesigned generator. The GE model B13B traction motor, which replaced the model 752 (a design that had been used by the company dating back to the Universal series), although the new design was just as reliable if not more so than the former. The C40-9/W was one of the first GE locomotives to be equipped with the relatively new high-adhesion (or HT-C) truck, which helped to improve wheel-to-rail contact. The "Dash 9s", however, still carried GE's model 16FDL prime mover.
One of the design's notable selling points was the incredible tractive effort it offered (140,000 pounds starting and 109,000 pound continuous), which also included the more powerful C44-9W model. Production of the locomotive began in early 1995 and all 125 purchased by NS were completed that year. Very happy with this first batch and desperately needing power to keep up with the traffic demands of the economic boom occurring in the U.S. at the time; a year later, in early 1996 NS returned for more, in this case the C40-9W model, which featured the wide, safety cab.
While NS did go on to purchase GE models like the C44-9W for nearly ten years it continued to order C40-9Ws as needed, through late 2004 until GE ended production on the model. When the manufacturer released the more energy efficient Evolution Series (ES) models in 2005 NS continue to purchase the design in the new series. Today, the road continues to buy Evolutions with 4,000 horsepower known as ES40DCs. In any event, by the time GE had closed out the C40-9W order for NS it owned nearly 1,100 units, and more than 1,200 in all. Up to that time it was one of the largest ever single orders for a particular model by a railroad.  While it is tough to tell given the similarities between GE's present day models nearly all of Norfolk Southern's original fleet of C40-9/Ws continue to remain in regular freight service across its system.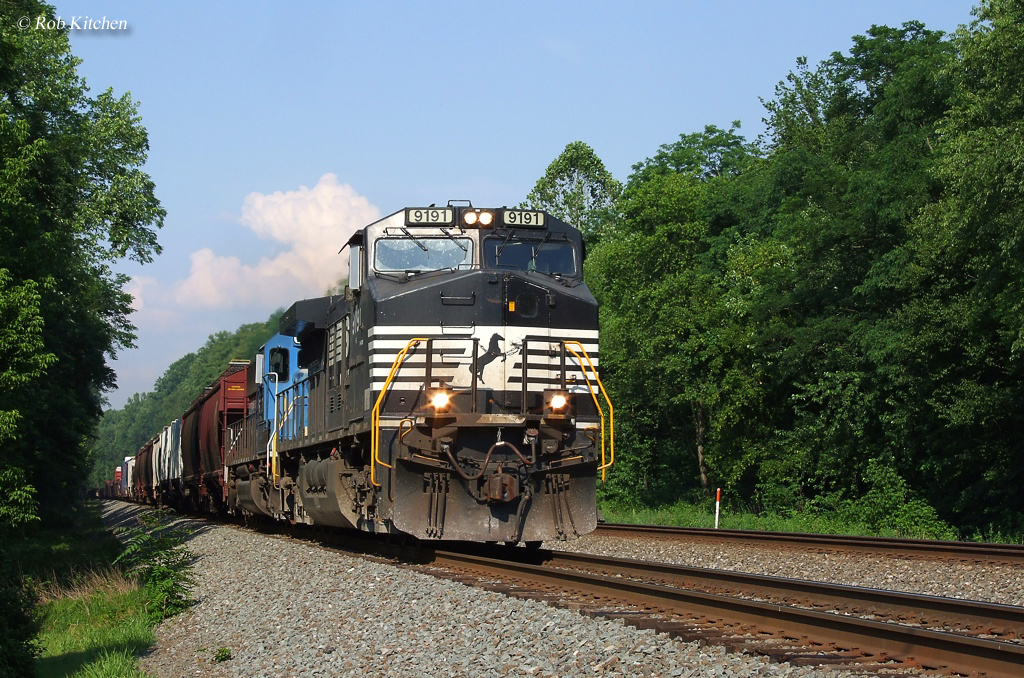 GE C40-9/W Production Roster
| Owner | Road Number(s) | Quantity | Date Built |
| --- | --- | --- | --- |
| Norfolk Southern | 8764-8888 (C40-9) | 125 | 1995 |
| Norfolk Southern | 8889-9978 (C40-9W) | 1090 | 1996-2004 |
For more reading about General Electric diesel locomotives there are a few books written by noted historian Brian Solomon worth mentioning which highlight the history and background of the company.  First, is GE Locomotives, a title that provides a thorough history of its locomotive line from the earliest days of building electrics and experimental diesels to the latest models built through the early 2000s.  Second, is GE And EMD Locomotives: The Illustrated History, which generally highlights the history of both company's designs.  As with virtually all of Mr. Solomon's you can expect well-written titles with large, crisp, and sharp photographs featured throughout.

Home

›

Diesel Locomotives

› C40-9/W