Geared Steam Locomotives

Last revised: October 12, 2023
By: Adam Burns

Geared steam locomotives were a unique design to say the least. While they may look odd, geared steamers could provide tremendous tractive effort, particularly for their size and light weight.

This made them ideal in industrial operations and over uneven/poor track, notably hauling logs. There were even a few Class Is to operate geared locomotives along steep branch lines, such as the Great Northern and Western Maryland.
Today, several variants of geared steam locomotives survive and a handful can still be found in operation, in particular the collection at Cass Scenic Railroad in the mountains of West Virginia.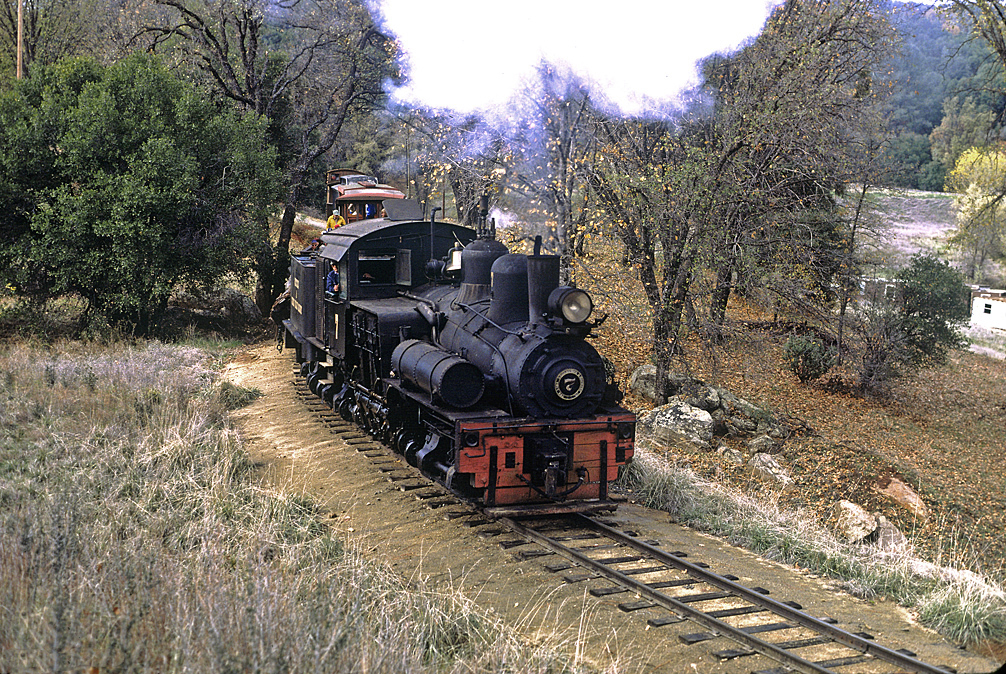 Westside Lumber Company's big 3-truck Shay #7 pulls an excursion along the Westside & Cherry Valley Railroad near Tuolumne, California during November, 1981. Drew Jacksich photo.
Geared steam locomotives function differently in one significant way from their standard rod-driven brethren (the common steam locomotive), they use a vertical or angled geared system as opposed to a standard horizontal driven rod for propulsion.
How geared steam locomotives work, according to William E. Warden in his book West Virginia Logging Railroads, is that these cylinders drive a flexible line shaft with universal couplings and slip joints through bevel gears.
This flexibility thus allows each truck to negotiate the track independently of the other, which keeps the locomotive on the rails and allowing it to operate over almost any type of track (which was usually nothing more than rails laid directly onto a hillside).
Geared steam locomotives first began to appear in the late 1870s when Ephraim Shay invented his now famous Shay locomotive. The most widely used of all geared steamer (several thousand were constructed by the time production on the design ended) was the Shay.
This design was built almost exclusively by the Lima Locomotive Works in a variation of classes (Class A, B, C, and D) while the Willamette Iron & Steel Works manufactured a geared locomotive based on the Shay.  There were also other competing designs, most notable of which was the Climax and Heisler.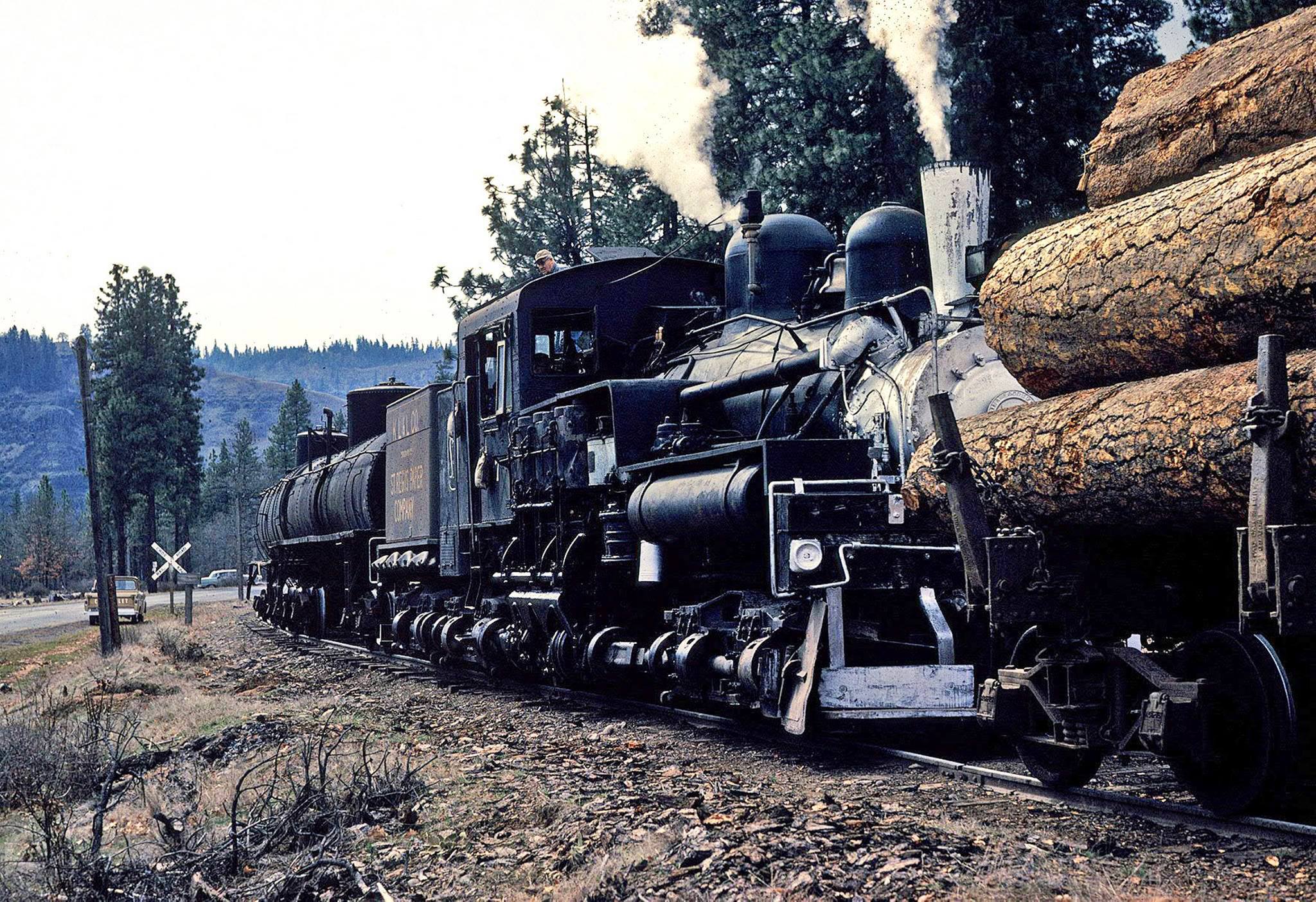 Klickitat Log & Lumber three-truck Shay #7 switches out loads of logs for the trip down to the mill at Klickitat, Washington during April of 1964. Drew Jacksich photo.
Essentially using the same technology as the Shay but in a different way these locomotives were never quite as successful as their biggest rival. According to William E. Warden in his book West Virginia Logging Railroads, the Climax gained adhesion by:
"...employing two cylinders, one on each side of the boiler. The cylinders were neither vertical nor horizontal at an angle of approximately 25 degrees and the piston rods were connected to a line shaft centered under the boiler and mid-way between the trucks which thus powered either two or three trucks. "
Charles L. Heisler developed the other notable competitor to the Shay, the Heisler. The Heisler, while similar in appearance to the Shay was almost identical in operation to the Climax save for its piston rods were angled at forty-five degrees instead of the twenty-five degrees on the Climax.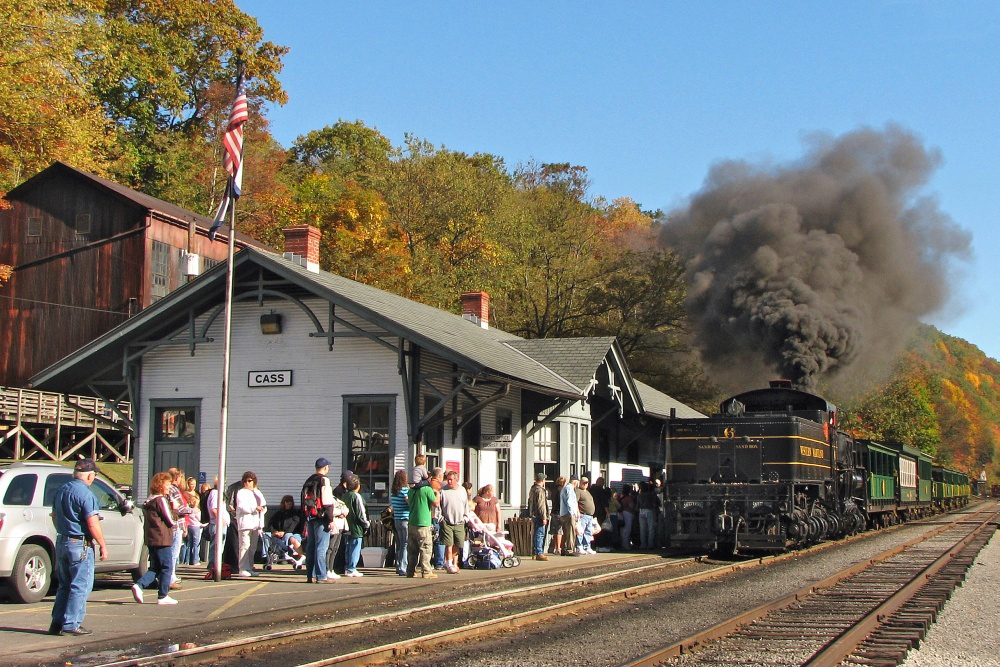 Western Maryland 3-truck Shay "Big Six" arrives at the depot in Cass, West Virginia to take passengers on another trip to Bald Knob on October 12, 2008. Loyd Lowry photo.
Seeing these, and other types of geared steam locomotives in action was a true sight to behold. Not only could they operate over rough, uneven, and poor track conditions but also were designed in such a way that all wheels provided traction which afforded them tremendous levels of adhesion.
As a result, it was typical practice to see these machines haul logs up torturous grades well over 5%!
Shays did have an inherent flaw in that the poor track conditions could cause drive line length to change, which could cause the locomotives to run right off the rails for what appeared to be no reason at all,.
In logging operations one could commonly see geared steamers fording streams and creeks as logging companies would lay down track right through these bodies of water! The reason for doing this was that logging companies were after making money as quickly and as cheaply as possible.

---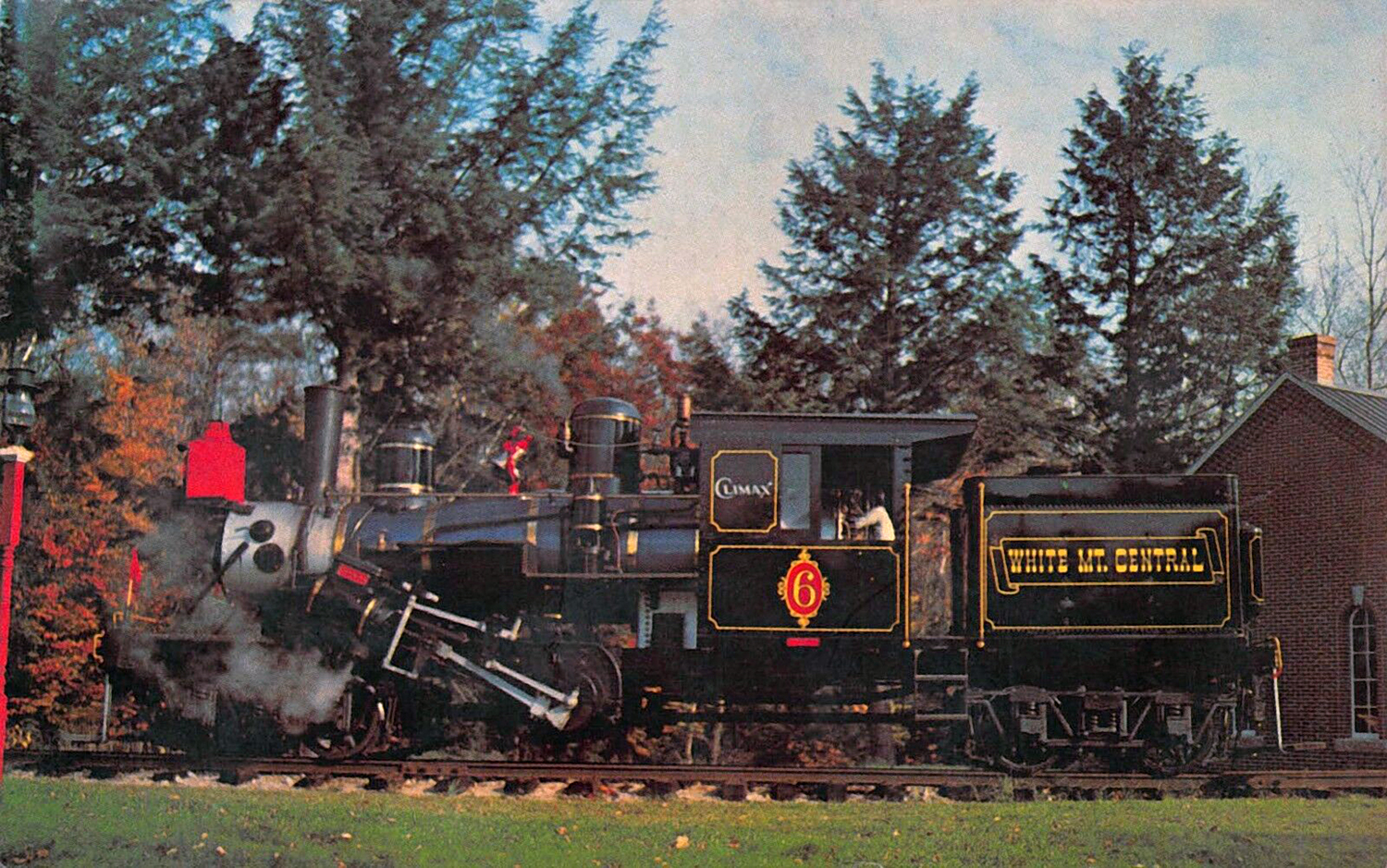 A postcard of White Mountain Central 2-truck Climax #6 from the 1980's. The locomotive was out-shopped by Climax in 1921 for the Beebe River Railroad, a logging operation in New Hampshire. Today, she is still owned by Clark's Trading Post in Lincoln and continues to pull excursions annually.
Thus, once a tract of land had been logged, they simply picked up the rails and moved on elsewhere, laying down a new line in the same fashion.  
Today, all three of the major geared steam locomotive types not only survive but also can still be found in operation on tourist railroads across the nation, particularly the Shay. Perhaps the best place to catch all three types in action is West Virginia.
Not only is the world famous Cass Scenic Railroad and its fleet of Shays and a Heisler located in Cass, West Virginia but also a short drive away you can catch the Durbin & Greenbrier Valley Railroad's Climax #3 hauling the Durbin Rocket on seasonal trips. 
In February, 2023 the state of West Virginia, in conjunction with the Durbin & Greenbrier Valley/West Virginia Central/Cass Scenic Railroad, completed restoration of the old Chesapeake & Ohio's Greenbrier Division between Cass and Durbin along the Greenbrier River.
This segment of track had been washed out since the severe flooding of late 1985 and appeared unlikely to ever see a train again. 
Moving forward, one can ride this 15-mile segment behind either a Heisler, Shay, or one of the other locomotives owned by the West Virginia Central.