The 
General
(Train)
Last revised: March 27, 2023
By: Adam Burns

The Pennsylvania Railroad spared no expense with its top passenger trains, equipping them with latest in streamlined, lightweight equipment through the post-World War II era. 

The General was a noteworthy Pennsylvania train serving the railroad's top corridor between Chicago and New York.  It ran second-fiddle to flagship Broadway Limited but was considered one of the PRR's "Blue Ribbon" trains. 
Inaugurated a few years after the Pennsy unveiled its "Fleet Of Modernism" the General was essentially a less luxurious version of the Broadway with many Pullman sleepers running within its consist. 
As the railroad ran into financial difficulty and ridership declined after World War II it was combined with another train.  
The PRR stubbornly stuck the idea its trains could continue remaining profitable throughout the 1950's, a decision that ultimately hurt its financial wellbeing.  During the late 1960s it was finally discontinued, about a year prior to the disastrous Penn Central merger with New York Central.

Photos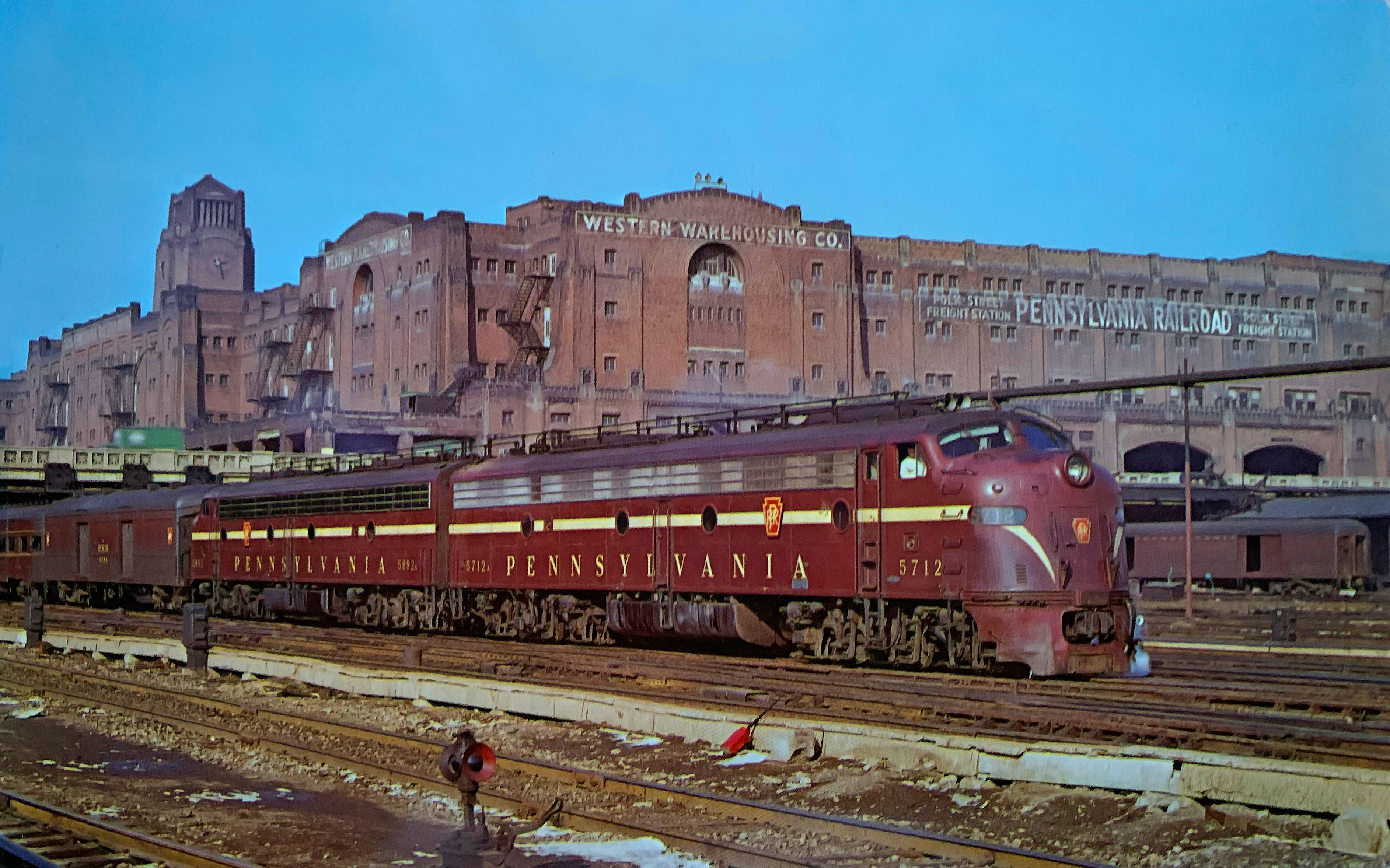 In this Pennsylvania Railroad publicity photo, a pair of striking E8A's, #5712-A and #5892-A, depart Chicago Union Station with train #48, the eastbound "General," in the early 1960's. American-Rails.com collection.
History
After Union Pacific and Burlington quickly demonstrated the success of sleek, streamlined trains much of the industry took notice.  For the PRR, its longtime rival beat it to the punch when the Mercury was launched on June 25, 1936 nearly two years before the "Fleet of Modernism" was introduced. 
The train was essentially a test-bed by the NYC evaluating the feasibility of streamlining and it was comprised largely of rebuilt, heavyweight cars.  The railroad, of course, was quite impressed with the results and soon reintroduced its flagship 20th Century Limited in the same fashion. 
The Pennsylvania launched its Broadway Limited and the rest of the "Fleet" as newly christened streamliners on June 15, 1938.  The General had been inaugurated about a year prior and was included as part of the fleet but originally not entirely streamlined itself.
It was also given the prestigious status as an all-Pullman train.  According to Harry Stegmaier, Jr.'s book, "Pennsylvania Railroad: Passenger Trains, Consists & Cars - 1952 Volume I," the General was essentially another section of the Broadway. 
It carried numerous head-end cars for transporting lucrative mail and express shipments.  The train was normally dispatched an hour or more ahead of its more prominent counterpart albeit considered by the railroad as only slightly luxurious. 
Listed on PRR's timetable as #48, eastbound, and #49, westbound on the 908-mile Chicago - New York corridor the General completed its trip in about 15 hours (only 20 minutes slower than the Broadway).

Its normally assigned consist included, as previously mentioned, a handful of mail/express cars, several sleepers, reclining seat coaches, a standard diner, kitchen-dormitory, and an observation-buffet-lounge.  For many years the train also carried a 10-roomette, 6-double bedroom sleeper that ran through from New York to Los Angeles requiring about three days to complete the trip. 
This car, known as Pacific Gardens, was in Union Pacific's pool.  Travelers would switch trains at Chicago to the transcontinental Los Angeles Limited (after 1954, replaced by the Challenger) via the Chicago & North Western, which carried it on to Omaha (after 1955, the Milwaukee Road took over this assignment). 
However, since the car ran through passengers never had to de-board en route.  When rail travel was at its finest such luxuries were quite common with run-through equipment operating all across the country but sadly today, such services are a thing of the past. 
Timetable (1950s)
Read Down Time/Leave (Train #49)

Milepost

Location

Read Up
Time/Arrive (Train #48)

5:00 PM (Dp)
0.0

New York, NY (Pennsylvania Station) (ET)

8:25 AM (Ar)
5:14 PM
10.0

Newark, NJ

8:09 AM
5:57 PM
58.1

Trenton, NJ

7:22 AM
6:26 PM
85.9

Philadelphia, PA (North Philadelphia Station)

6:54 AM
6:52 PM
111.4

Paoli, PA

6:29 AM
7:34 PM
159.3

Lancaster, PA

8:09 PM
194.6

Harrisburg, PA

5:09 AM
10:30 PM
325.4

Altoona, PA

2:48 AM
12:59 AM
439.9

Pittsburgh, PA

12:13 AM
541.0

Canton, OH

10:20 PM
4:14 AM
614.6

Mansfield, OH

9:02 PM
4:31 AM
628.1

Crestline, OH

8:37 PM
5:48 AM
700.2

Lima, OH (ET)

7:26 PM
5:33 AM
759.7

Fort Wayne, IN (CT)

5:27 PM
6:46 AM
823.9

Plymouth, IN

4:30 PM
7:41 AM
882.7

Gary, IN

3:37 PM
8:05 AM
900.7

Englewood, IL (Union Station)

3:15 PM
8:20 AM (Ar)
907.7

Chicago, IL (Union Station) (CT)

3:00 PM (Dp)
As early as 1946 problems appeared on the horizon for Pennsy's passenger operations, which at one time were the largest in the country.  That year the railroad experienced its first-ever deficit with passenger service.  From then until the Penn Central merger in 1968 trains operated at a loss. 
Consist (1945)
During the early 1950s the PRR spent millions in new lightweight equipment from Pullman-Standard to upgrade its premier trains but also initiated efforts to cutback in other areas.  In 1950 the General began running combined with the Trail Blazer (New York - Chicago) during times of less demand.  
Only a year later the PRR made the union permanent although the two trains continued carrying their respective names for several years following.  As patronage continued its unrelenting decline, in 1957 the Liberty Limited (part of the original "Fleet of Modernism") was canceled and the General acquired its Washington to Chicago cars. 
---
Final Years
As the 1960s dawned things only worsened and many of the Pennsy's once proud trains were canceled or cutback in an effort to stave off growing red ink that was becoming a serious problem for the railroad. 
On December 12, 1967 the General name made its final run and afterwards its remaining equipment was transferred to the Broadway Limited. 
In a way, however, the train's entire history does not end there.  The PRR often canceled names but kept the numbers which were acquired by other trains, making the history of its passenger service somewhat confusing. 
This was the case for the General, whose old numbers were taken over by the Broadway, a name that survived until, and well into, the Amtrak era (the name was finally discontinued in 1995).

Sources
Schafer, Mike. Classic American Railroads. Osceola: MBI Publishing, 1996.
Schafer, Mike and Solomon, Brian. Pennsylvania Railroad. Osceola: MBI Publishing, 1997.
Schafer, Mike and Welsh, Joe. Streamliners, History of a Railroad Icon. St. Paul: MBI Publishing, 2003.
Stegmaier Jr., Harry.  Pennsylvania Railroad: Passenger Trains, Consists And Cars - 1952 (Volume 1, East-West Trains).  Lynchburg:  TLC Publishing, Inc., 2003.