Hawaiian Railroads In "The Aloha State"

Last revised: October 11, 2023
By: Adam Burns

Hawaii is rich in rail history albeit little of it remains in place today.

While the islands have never had a large railroad presence they were served by a number of common-carrier railroads over the years, including dozens of private sugar plantation railroads.
Today, the State of Hawaii has no operating freight or passenger railroads and its only functioning railroad services are tourist lines.

History
Hawaiian railroads have a history that is a bit complex due to the fact that most of the islands had some type of railroad operating on them at one time or another.
So, to be fair and respectful to each individual island and its history, I will try to give a brief overview of each island's railroads.  
Hawaii's earliest history with railroads is often credited to the Island of Kauai, whose first system opened in 1881 on three miles of narrow-gauge track at the Kilauea Plantation to haul sugar cane.
By 1915 the island boasted over 200 miles of track, all of which served several sugar plantations.  However, most of these had been abandoned by the 1950s, replaced by trucks.
Photos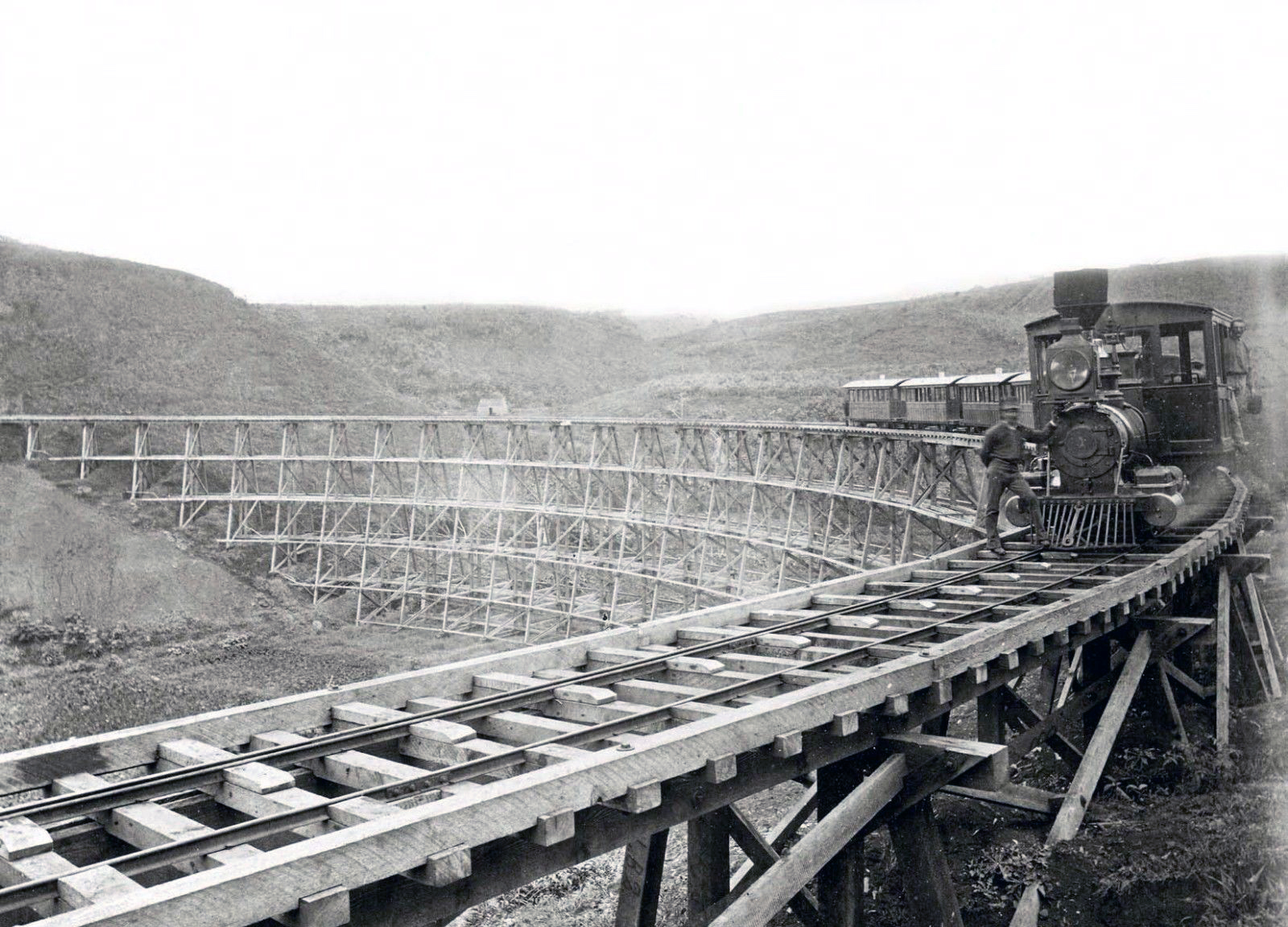 Hawaiian Railroad locomotive #1 on the trestle near Mahukona, Hawaii circa 1882 (first year of operations). This location marked the southern end of the system's network, which reached Upolu Point to the north and wrapped around eastward to Niulii. On December 17, 1897 it was reorganized as the Hawaii Railway, covering 17.2 miles. In 1937 the railroad was acquired by the Kohala Sugar Company which renamed it as Mahukona Terminals, Ltd. Cutbacks began in 1939 and the operation was abandoned in 1945.
Today, Kauai once again has an operating railroad, the 2.5-mile Kauai Plantation Railway, a tourist railroad that operates seven days a week. 
The Island of Oahu's railroad history dates back to 1889 when the Oahu Railway & Land Company opened its 12-mile line between Honolulu and Aiea.
Over the next roughly 20 years the railroad continued to expand and grow, mostly serving sugar plantations, local industry and hauling passengers.  
In the railroad's final form it stretched all of the past Waimea Bay and Sunset Beach to Kahuku, where it served a sugar mill there, including an 11-mile branch to Wahiawa to serve local pineapple fields. 
Statistics
| | |
| --- | --- |
| First Railroad | Kahului & Wailuku Railroad (1879) |
| Peak Mileage | 200 (1915) |
| Current Mileage | 20* |
| Current Railroads | 0 |
| Originated Rail Tons (2019) | 0 |
| Terminated Rail Tons (2019) | 0 |
| Originated Carloads (2019) | 0 |
| Terminated Carloads (2019) | 0 |
* This is the Honolulu Rail Transit system, which is expected to open 20 miles of rapid transit lines in Honolulu between 2023-2031.
After World War II the railroad's infrastructure was almost entirely worn out after heavy use during the war to transport material and troops.
As traffic began receding following the war, when a 55-foot tsunami struck the north shore of Oahu on April 1, 1946 the railroad was all but forced to shutdown with the heavy damages inflicted on the property (as well as its customers).
Of all Hawaiian railroads the largest was the OR&L, which had double-track operations between Honolulu and Aiea, including block signaling and commuter train operations.
The Island of Maui's railroad history dates back to 1890 when the island's large Pioneer Mill, which harvested sugar cane, built a short railroad to better move its product to market.
The railroad lasted until around 1950 when trucking and mechanical farm machinery was more cost effective than railroads. However, the railroad did not disappear.
---
Narrow Gauge Lines
Over the years there have been many books written on Hawaii's railroads, from Gerald Best's "Railroads of Hawaii: Narrow And Standard Gauge Common Carriers" to "Next Stop Honolulu! The Story of the Oahu Railway & Land Company" by Jim Chiddix and MacKinnon Simpson.
Those books provide an excellent overview on the subject.  Another you may want to look into is George Hilton's, "American Narrow Gauge Railroads." 
Released in 1990, Dr. Hilton's book provides a fabulous synopsis of all narrow-gauge operations which once existed in the United States.  It is an extremely thorough title.
Hawaii's first railroad, or perhaps railroads, were merely private plantation operations that developed after the Reciprocity Treaty of 1875 was signed.  This pact was subsequently enforced on September 9, 1876.  
The treaty enabled the United States to purchase and export sugar from the Kingdom of Hawaii duty free.  
In return, the U.S. established a coaling station and marine repair facility at the Pearl River Lagoon, which later became Pearl Harbor Naval Station. 
Hawaii's first common-carrier system was the Kahului & Wailuku Railroad, which opened a 3-mile line from the Wailuku Sugar Company's plantation to the port of Kahului in September, 1879.
It was later reincorporated as the Kahului Railroad on July 1, 1881.  Hawaii's common-carrier systems included (3-foot gauge, unless otherwise noted):
Akukini Terminal & Railroad Company (2' - 6")


Hawaii Railway


Kahului Railroad


Kauai Railway (2'-6")


Koolau Railway


Oahu Railway & Land Company


Hawaiian Agricultural Company (2'), Private Railroad


Hawaii Consolidated Railway (Standard Gauge, 4' 8 12")

Abandoned Lines
Considering that virtually the entirety of Hawaii's historic rail network is now gone, there are a plethora of rights-of-way to explore. 
You can still find a great deal of the old Oahu Railway & Land Company network scattered around Oahu, and even ride a short segment via the Hawaiian Railway excursion.
You can also find components of the old standard-gauged Hawaii Consolidated Railway on the Big Island, 3-foot Kahului Railroad, and Kauai Railway (2'-6") among others.
While large segments remain here or there, at the same time much of the rights-of-way these systems utilized are difficult to trace since most have either been converted into highways/streets or plowed under for plantation use.
Nevertheless, the history of Hawaii's railroads is a fascinating subject.
---
In 1969 A.W. "Mac" McKelvy partnered with the Makai Corporation and began the Lahaina-Kaanapali & Pacific Railroad, better known as the Sugar Cane Train.
The railroad was a popular tourist attraction for 45 years, operating about 6 miles of track.  Unfortunately, the little operation ran into financial troubles in 2014 and was forced to close.
In addition, the property's land value outweighed any potential return to operation.
State Map (1940)
A detailed map of Hawaiian railroads as they appeared circa 1940. The devastating tsunami of April 1, 1946 severely damaged much of the island's rail infrastructure. That which remained was largely abandoned by the 1950's. Author's work.
The large Island of Hawaii's railroad history is best remembered with the Hawaii Consolidated Railway, one of the state's only standard-gauge railroad operations.
The railroad was originally chartered as the Hilo Railroad on March 28th, 1899, to connect the Olaa sugar mill with Waiakea, a distance of eight miles.
As the years progressed the railroad made numerous extensions, which included lines to Olaa, Kapoho (17 miles), Hilo itself and later a 12.5-mile line north of Olaa to Glenwood, although the latter was later scaled back in the early 1930s.
The railroad continued to grow in the 20th century with a 33.5-mile line up the Hamakua coast.  
This extension was extremely expensive with numerous tunnels and bridges which forced the railroad into receivership in 1914.
It emerged as the Hawaii Consolidated Railway and continued moving people and goods through World War II (its Hamarkua Division was very popular with tourists).
As was the case with the Oahu Railway & Land Company, however, the massive and devastating tsunami on April 1st, 1946 destroyed numerous bridges and washed out the right-of-way in several locations instantly forcing the railroad to shutdown.
Preservation
Today, the Hawaiian Railway Society has rebuilt over six miles of track on the Island of Hawaii, with future plans for further extensions with excursions offered over the railroad. The society is also home to the state's most extensive collection of railroad equipment.
---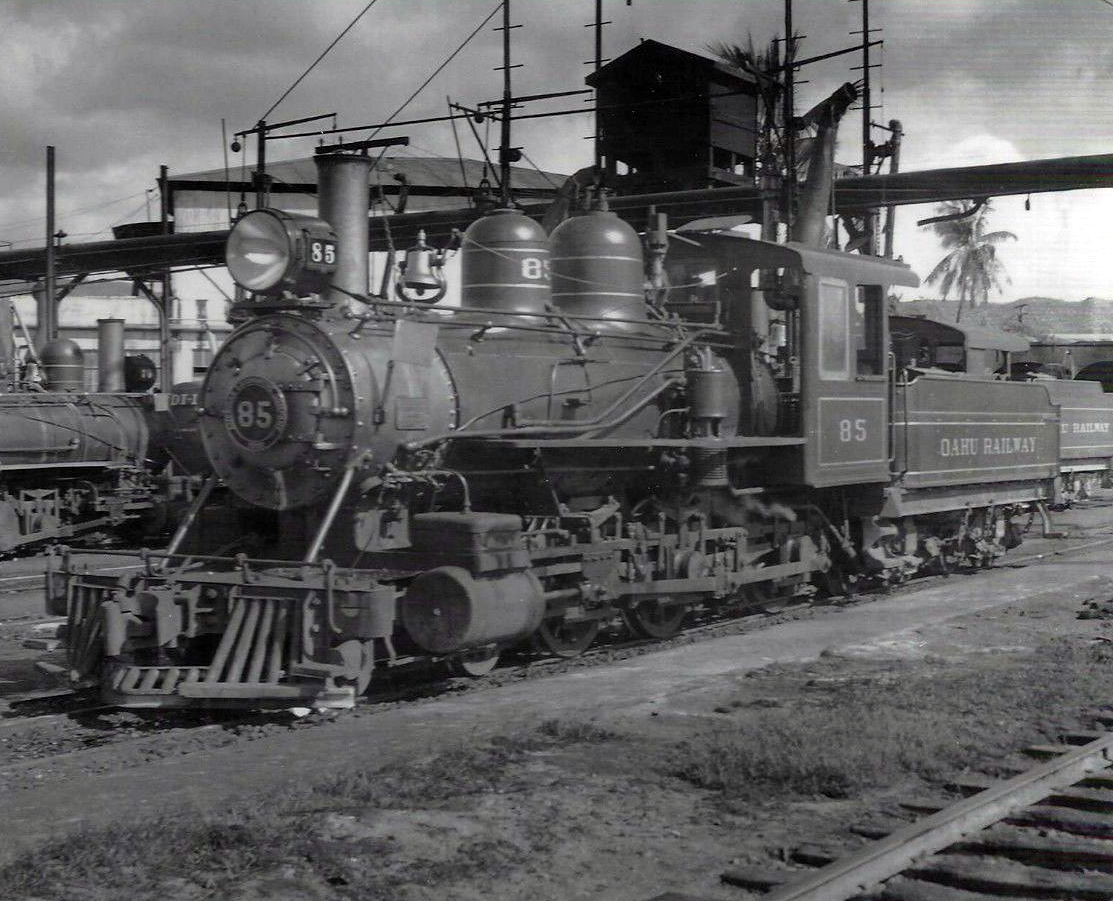 Another view of Oahu Railway & Land Company 4-6-0 #85, this time seen in Honolulu, circa 1945. Today, it is on display at the Hawaiian Railway Society in Oahu.
And, while I know most folks go to Hawaii for the beaches and the sun, if you have a chance you may also want to either visit one of the state's few remaining tourist railroads or the Hawaiian Railway Society to get a glimpse at what railroading was once like in the Aloha State.

For more about Hawaiian railroads please click here to visit the Hawaiian Railway Society's website. While the site itself only gives a general history of the state's railroads if you have a specific question that needs answered please feel free to contact the society.