"Heisler" Steam Locomotive

Last revised: May 12, 2023
By: Adam Burns

The Heisler steam locomotive was the other popular and well-known geared design built in the late 19th century. However, likely due to the fact that it did not hit the market until the early 1890s, a few years after the Climax and Shay had already begun production (the Shay was first built in 1880), it was not as successful.

History
Despite this the Heisler did sell several hundred units and interestingly, remained in production until nearly the start of World War II (by comparison the Climax ended production in 1928).

Additionally, just like its competitors the Heisler was offered in two and three-truck designs, although manufacturers also built them to nearly a dozen different specifications. 

Today, according to the book, West Virginia Logging Railroads, by William Warden at least eight Heislers are still in operation and more than thirty others are preserved around the world. 
Photos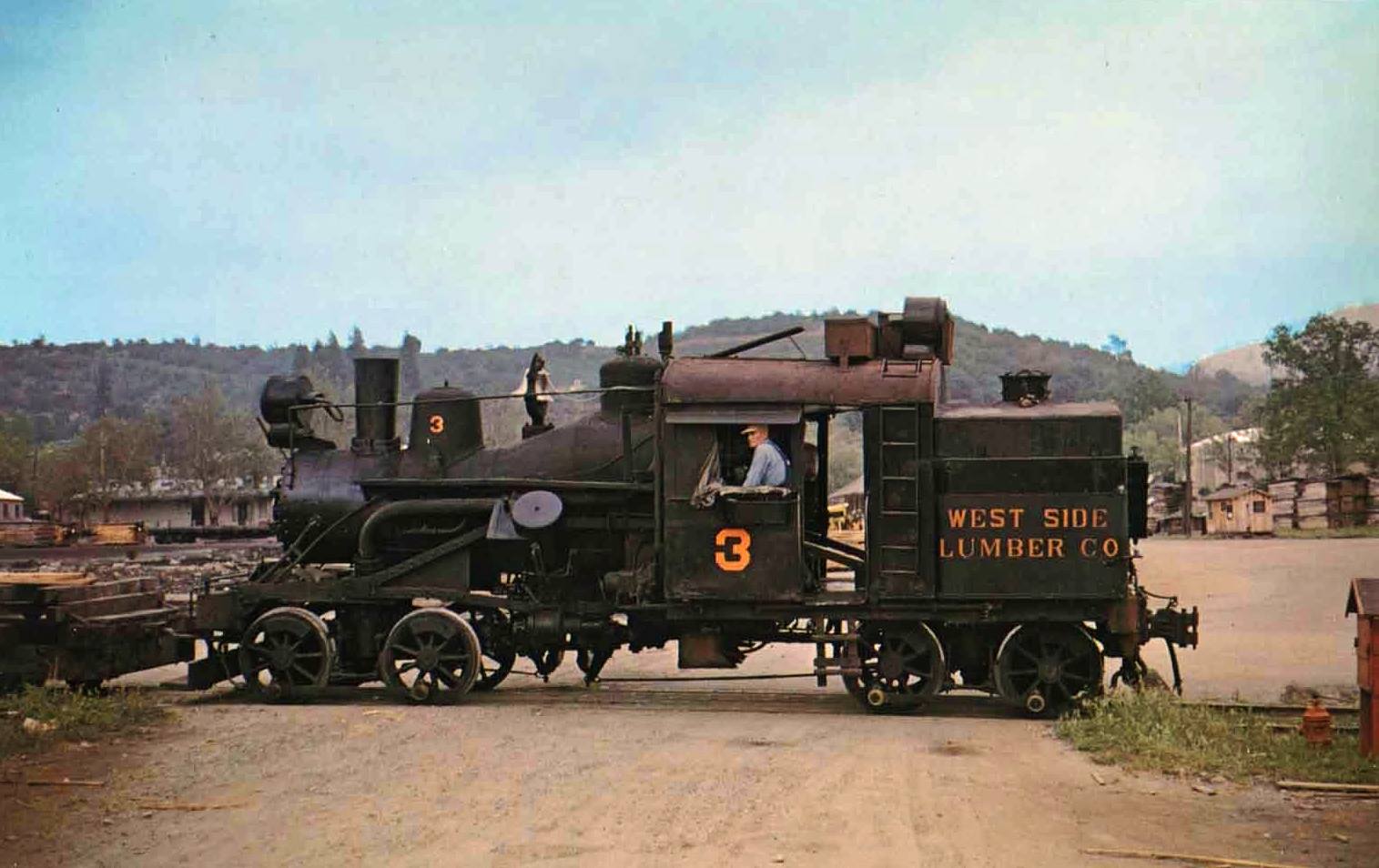 West Side Lumber Company's little two-truck, narrow-gauge Heisler, #3 (a 1900 product of the Stearns Manufacturing Company of Erie, Pennsylvania), weighing just 37 tons is seen here cleaning out the yard in Tuolumne, California on May 25, 1963 after operations had ceased. Today, the geared steamer is operational on the Roaring Camp Railroads. Glen Beier photo.
A few places you can see them running include the Roaring Camp & Big Trees Railroad in Felton, California which has 2-truck #2, built for West Side Lumber; Roots of Motive Power in Willits which maintains Blake Brothers 2-truck #6; and Meadow River Lumber Company 3-truck #6 at the Durbin & Greenbrier Valley Railroad in rural Durbin, West Virginia.

The history of the Heisler steam locomotive is credited to the person who invented it, Charles L. Heisler.
When he applied for, and received, a patent for his new design in 1892 Heisler worked as an engineer at the Dunkirk Engineering Company, a small firm located in Dunkirk, New York that was founded in 1865 as the Dunkirk Iron Works to manufacture small geared steam locomotives for industrial applications.
Heisler's idea was to place the locomotive's two cylinders at a downward, 45-degree angle on each side of the boiler where they met underneath. From there the cylinders connected to and powered a center drive-shaft that drove each axle via gear casings located between each truck.
The Heisler steam locomotive, while similar in appearance to the Shay, was almost identical in operation to the Climax save for its cylinders were angled at forty-five degrees instead of the twenty-five degrees on the Climax.
Dunkirk built the first prototype of the locomotive in 1891 and most likely Heisler intended on selling his patent back to the company where he worked. However, for unknown reasons it was not interested in his design. So, he left Dunkirk and went elsewhere to market his locomotive.
In August of 1894 the Stearns Manufacturing Company of Erie, Pennsylvania picked up Heisler's design. Interestingly, in 1904 due to lack of sales Stearns discontinued manufacturing the locomotive.
The panic of 1907 forced the builder into reorganization from which it emerged that same year as the Heisler Locomotive Works and whereupon the company again began building the design.

Through 1897 Heisler built his locomotives with only two-trucks. However, during that year he received a patent for a three-truck version allowing for a heavier locomotive with better adhesion and tractive effort.
While many logging companies and railroads began ordering the three-truck version after this date the company continued to offer it as a two-truck design as well.
Diagram
Interestingly, unlike the Shay and Climax, Heislers were never given specific classes (such as A, B, and C) although they were listed by codes and names in the Heisler catalog (in later years the company simplified this).
The locomotive was offered in 11 different versions (ranging in size from 14 to 95 tons) and by the time production had ended roughly 625 were manufactured.

The earliest designs could be equipped to burn coal or wood although later variants could be ordered as oil burners. The vast majority of Heisler steam locomotives were built for domestic companies although a few were sent to other countries such as New Zealand.  
 These included:

*  The ability to operate at higher speeds (although this was not particularly advantageous in most logging applications unless the locomotive was to be used on a heavy, main line railroad).
*  A cheaper price tag than the Climax and Shay designs.
*  Lower maintenance costs thanks to a simplified transmission system.
---
Antelope & Western 2-truck Heisler #5 is seen here on display in Sacramento, California, circa 1981. The locomotive was built for the Lake County Box & Lumber Company in 1911 and later worked for Richardson Lumber and the Holmes Brothers. It then spent time in excursion service operating on the "Antelope & Western" in Roseville, California. It is currently privately owned by Leslie Wilmunder of Palermo, California. William Myers photo. American-Rails.com collection.
Preservation
While the Heisler saw fewer sales than either the Shay or Climax it did have a few advantages against its more successful competition.  Of the 35 Heislers said to still survive worldwide you can currently see eight still in operation.
One of these is at the famous Cass Scenic Railroad in Cass, West Virginia. Cass Scenic (which was originally the timber operations of the West Virginia Pulp & Paper Company and Mower Lumber Company) is home to the largest collection of operating Shays in the country and is well worth the trip to ride this historic operation if you have the chance.
Other places to catch Heislers in action include the Sumpter Valley Railway, Silver Creek & Stephenson Railroad, Oregon Coast Scenic Railroad, Mt. Rainier Scenic Railroad, and the Roots of Motive Power (in Willits, California).