Iowa Railroads In "The Hawkeye State"


Iowa railroads are known for traveling through flat, open countryside and farmland as far as the eye can see. The state, rich in railroad history, and even today is home to several important main lines, particularly those heading east and west. Historically, the state was rife with agricultural branches handling everything from grain and corn to beans and animal feed.  Iowa then, as now defines the Heartland.  Thousands of miles of tracks were laid down to serve the state's thousands of farms.  In fact, too much trackage was laid down.  When trucks began taking this business from railroads numerous branches became redundant and unprofitable, resulting in thousands of miles pulled up.  Today, the state contains only about 40% of its peak rail mileage and you can see abandoned rights-of-way litter farm fields from east to west. 
All of the Midwest's fabled "granger's" served the state including the Rock Island, Chicago Great Western, Burlington, Chicago & North Western & Milwaukee Road.  If you enjoy exploring abandoned rights-of-way Iowa is a must-visit.  In any event, along with the state's nearly 4,000 miles of operating railroads it is also home to several museums and excursion trains. In all, the Hawkeye State offers a little of everything!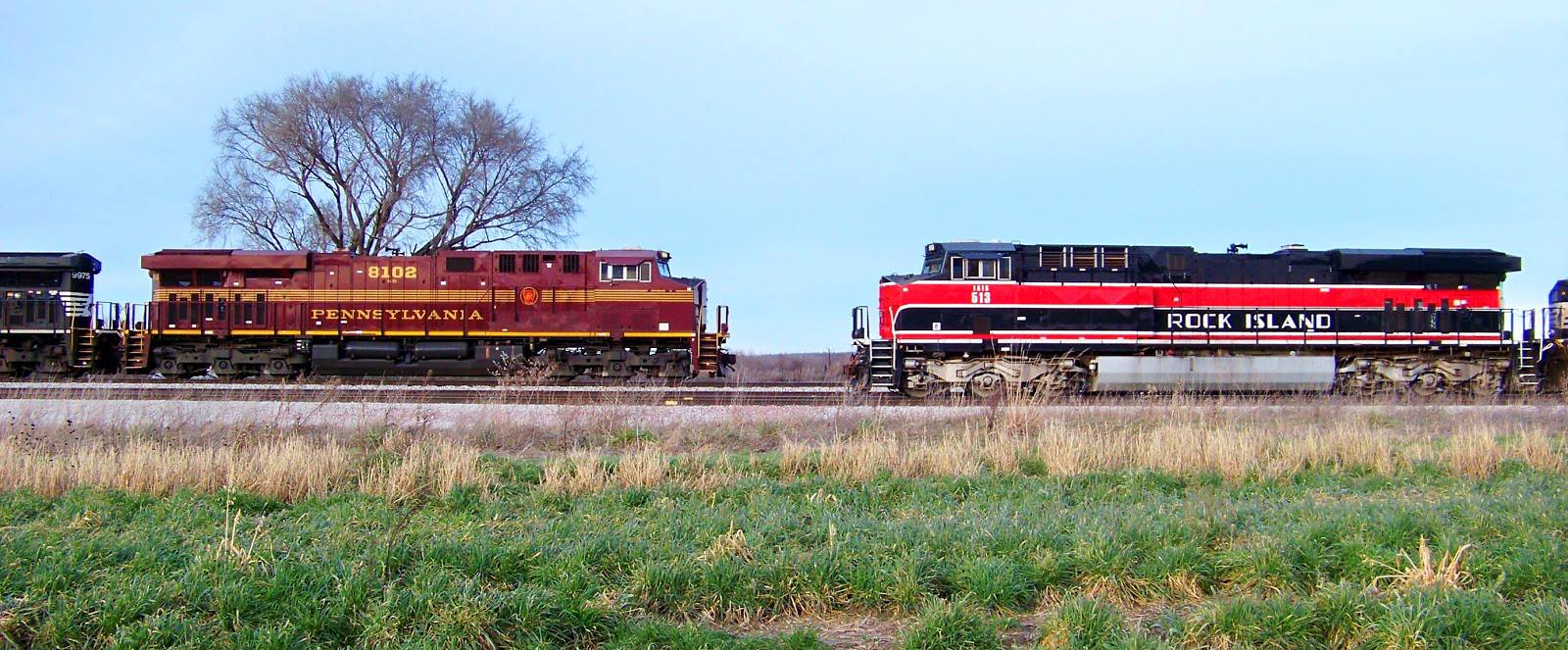 In another time perhaps scenes like this would have been commonplace... Iowa Interstate's Rock Island heritage unit is tied down with train BICB-08 as Norfolk Southern's Pennsylvania heritage unit passes by at South Amana Yard (IA) on December 9, 2015. "The Iowa Interstate Railroad has an agreement with Norfolk Southern to run 80 grain trains across its rails via Peoria, Illinois to Heartland Co-op in Des Moines for loading. On one of its trips to load up, NS sent the PRR heritage unit #8102 along. When the train departed Des Moines on a Tuesday, it had to lay over at Newton overnight until a fresh crew was available. Lucky for me, the day they departed on Wednesday from Newton was my day off from work. So I set out to chase the train from Newton to South Amana, Iowa." - Buddy Burton
The state's railroads begin in 1853 when the Mississippi & Missouri was chartered to build a line between Davenport, Iowa City, and Muscatin which was completed in 1855. While this railroad would become part of the now-classic Chicago, Rock Island & Pacific system it has a much more significant footnote in history. When a steamboat hit its Government Bridge across the Mississippi River (the first such structure to cross the body of water when it opened in 1856) the steamboat company sued the railroad to have it removed as a hazard to water traffic. The M&M hired attorney Abraham Lincoln to defend them. The case eventually went to the Supreme Court which ruled in the railroad's favor in 1862.
Surrounding State Histories
Illinois 

Minnesota 

Missouri 

Nebraska 

South Dakota 

Wisconsin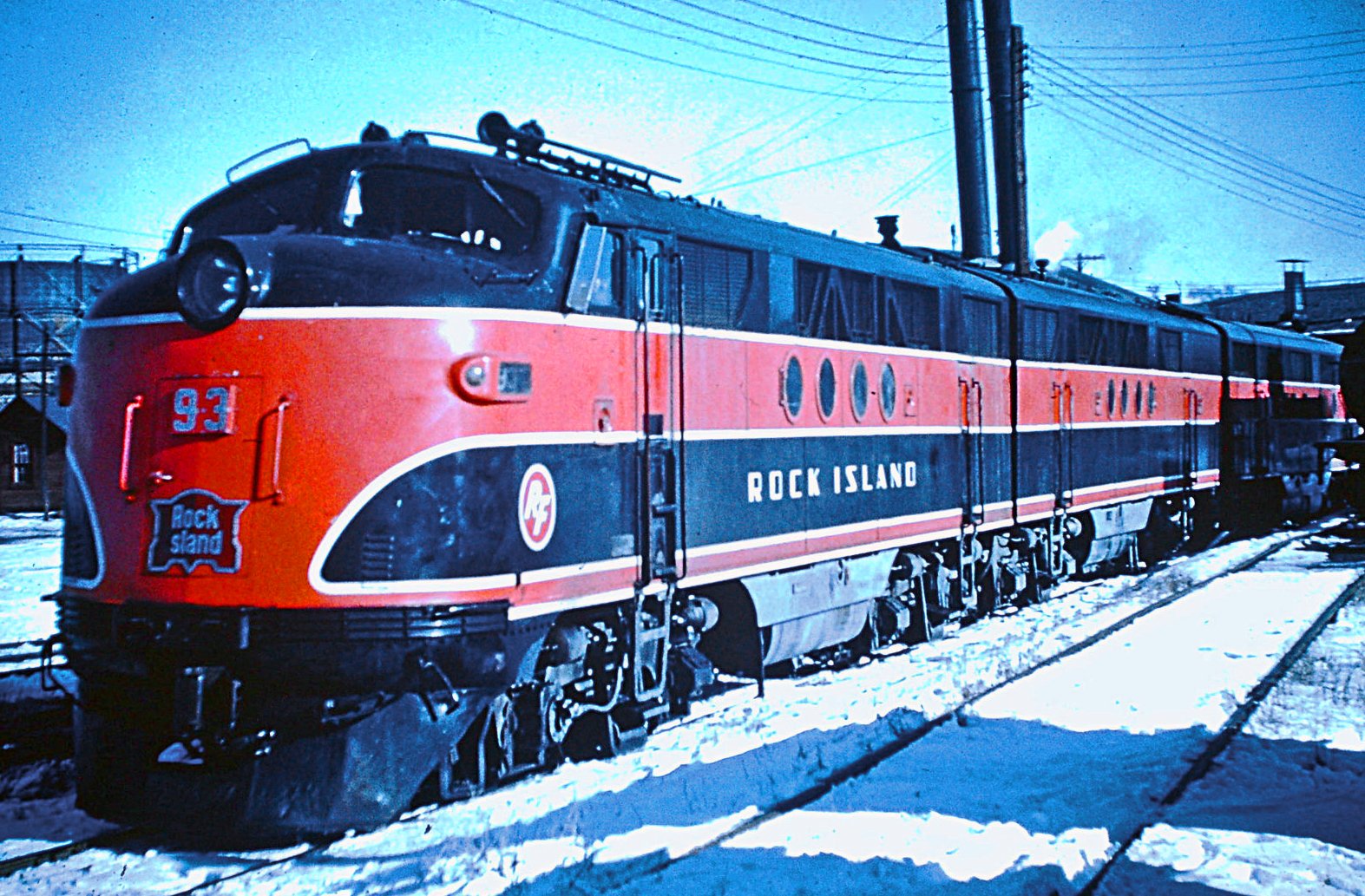 A set of Rock Island FT's are seen here in Council Bluffs, Iowa on December 24, 1952. Acquired in May, 1944 these particular FT's had already witnessed nearly a decade of service. Note #93's "RF" logo which stood for "Rocket Freight," meant to evoke the company's high-speed freight service.
More Reading...
Iowa Short Lines And Regionals
Chicago, Burlington & Quincy E7A #9932-B leads the "Nebraska Zephyr" into Ottumwa, Iowa during the 1950's. This particular service connected Chicago with Lincoln, Nebraska via Omaha.
In any event, following the opening of the M&M Iowa would be home to most of the west's and Midwest's best-remembered classic railroads from the Rock Island and Milwaukee Road to the Chicago & North Western Railway and Chicago, Burlington & Quincy Railroad. Others include the Santa Fe (whose Transcon line clips the southeastern corner of the state for 17 miles), Illinois Central, Chicago Great Western Railway, and the Wabash Railroad. With so many classic railroads once dotting the state, and its sprawling web of agricultural branch lines, it is not surprising that Iowa ranked near the top in terms of rail mileage. While today it carries just 40% of its original railroad infrastructure, Iowa is still home to several important rail lines.

* Iowa's first railroad was the Mississippi & Missouri, formed in 1853 to link the state's two major rivers; the Mississippi at Davenport with the Missouri at Council Bluffs.  It was a component of the Chicago & Rock Island to continue its westward expansion, a system which later became the modern Chicago, Rock Island & Pacific.   The line's first 12 miles were completed in June, 1855 when the locomotive 'Antoine LeClair' pulled an excursion that month between Davenport and Walcott.   In April, 1856 the M&M completed a bridge across the Mississippi River into Davenport, marking the first such structure to span the mighty waterway.  In his book, "The Rock Island Line," author Bill Marvel notes the locomotive 'Fort Des Moines' marked the opening by crossing the 1,528-foot bridge on April 21st.  
---
Today, Iowa's trackage is mostly operated by Class Is; BNSF Railway, Union Pacific and Canadian National. The rest of the Hawkeye State's rail network is operated by regional Iowa Interstate (whose livery is inspired by the University's of Iowa and Iowa State although it also retained rights to use the Rock Island's former shield logo) as well as shortlines Burlington Junction Railway, Appanoose County Community Railroad, the historic Cedar Rapids & Iowa City Railway, D&I Railroad, interurban Iowa Traction Railroad, Keokuk Junction Railway, and Iowa Northern Railway.   While the Rocket, City, and Hiawatha passenger fleets may no longer operate through Iowa, Amtrak does dispatch its California Zephyr and Southwest Chief through the state.

---
---
Nearing the end of its career, streamlined Chicago & North Western 4-6-4 #4006 (E-4) steams into Council Bluffs, Iowa in the summer of 1952. Nine examples (#4001-4009) were manufactured by American Locomotive in 1938. Externally, they were quite similar to Milwaukee Road's F-7's.
Passenger and freight trains aside, Iowa railroads are also home to a number of tourist lines and railroad museums, the most famous of which is likely the Union Pacific's own, the Union Pacific Railroad Museum based in Council Bluffs (it alone, is worth the trip to see!). Others include the Milwaukee Road Shops Historic District, Boone & Scenic Valley Railroad, Delmar Depot Museum, Hobo Museum, Midwest Central Railroad, Rails West Railroad Museum, Trainland USA, and the Hub City Heritage Corporation.   Finally, don't forget about the company Rail Merchants International, a dealer in used railroad equipment for sale to the general public, which is based in Iowa. If you have the resources you can own your own boxcar or caboose!