Idaho Railroads In "The Gem State"
Last revised: June 14, 2023
By: Adam Burns

Idaho railroads typify that of the Pacific Northwest and mountainous western areas of the country, stiff grades in the rugged mountains found in the Northern Panhandle as well as flat and rolling hills with almost desert-like, terrain found in the southern regions of the state.

The state was once home to four classic railroads and even a bit of electrified operations carried out under the Milwaukee Road to Avery within the Bitterroot Mountains. 
When the line was operational it was a revered location of train enthusiasts who flocked to western Montana, northern Idaho, and Washington state to see this railroad.
History
Alas, the Milwaukee left the West in 1980 although many miles of its former grade are now recreational trails.

The state has seen more than 1,000 miles of its infrastructure abandoned over the years, most of which comprised branches in the southern region. 
In any event, today the state is still served by a number of different railroads from Class Is to short lines.
Of note, you will notice links provided throughout the article here, which will take you to other pages here at the site related in some way to Idaho (such as historic railroads, tourist trains, museums, etc.).
Photos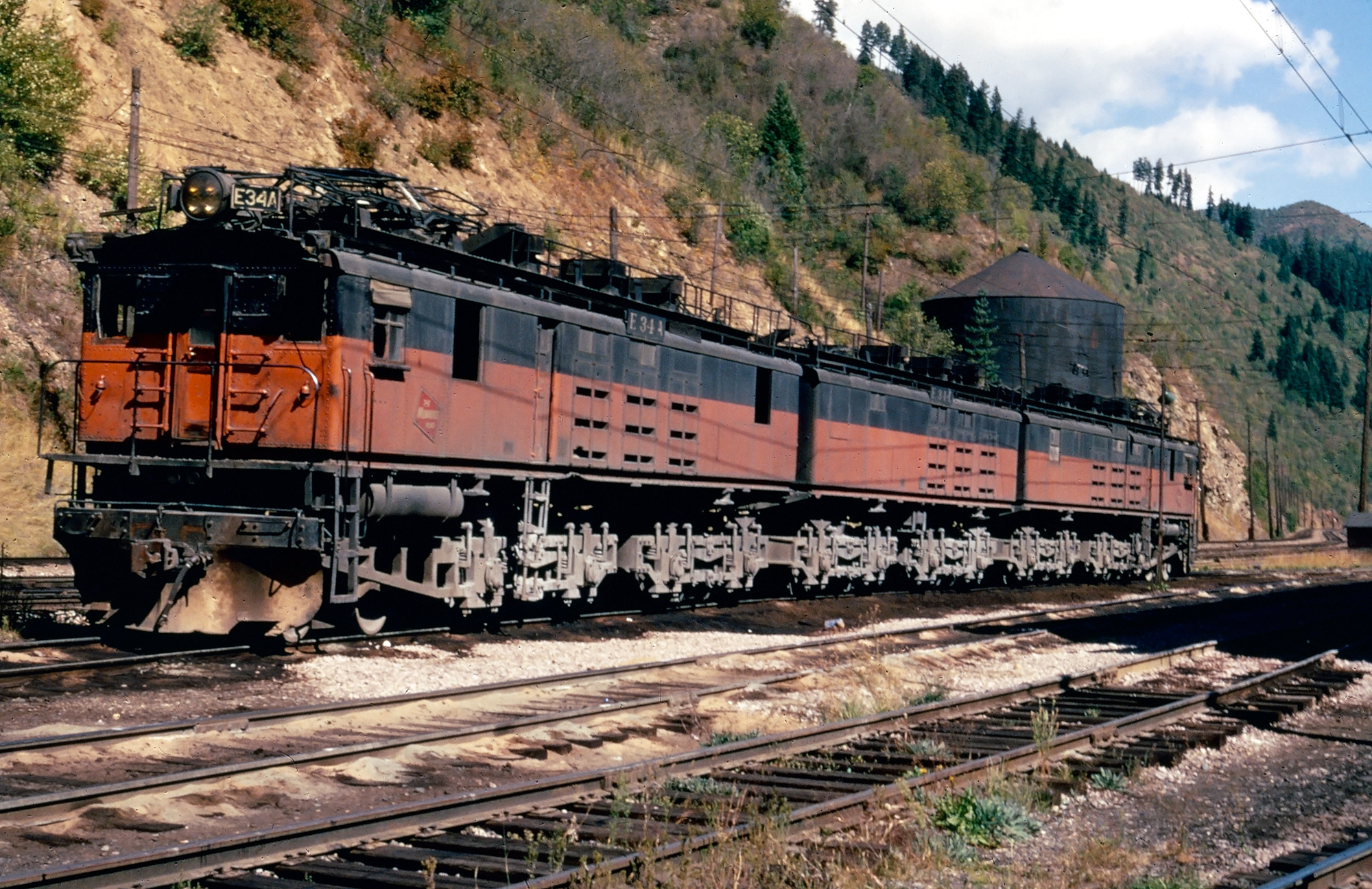 Milwaukee Road boxcabs, with E34A closest to the photographer, run light through the yard at Avery, Idaho in September of 1971. American-Rails.com collection.
Idaho railroads date back to 1871 when the Utah Northern was chartered to build a line from the Union Pacific's main line at Ogden, Utah, north through Idaho and, hopefully, into Montana.
The railroad was started by Mormons to serve their communities in Utah and Idaho, as they could garner no serious interest by an already-operating system to build a route where they wanted.
While they intended to reach Soda Springs, Idaho some 130 miles to the north, they only had enough funding to reach Franklin, Idaho with the railroad's main line just 75 miles in length (a little over half-way to their intended destination).
By 1874 this line was open but due to lack of traffic, management, and a poorly built route the railroad was in bankruptcy by 1878.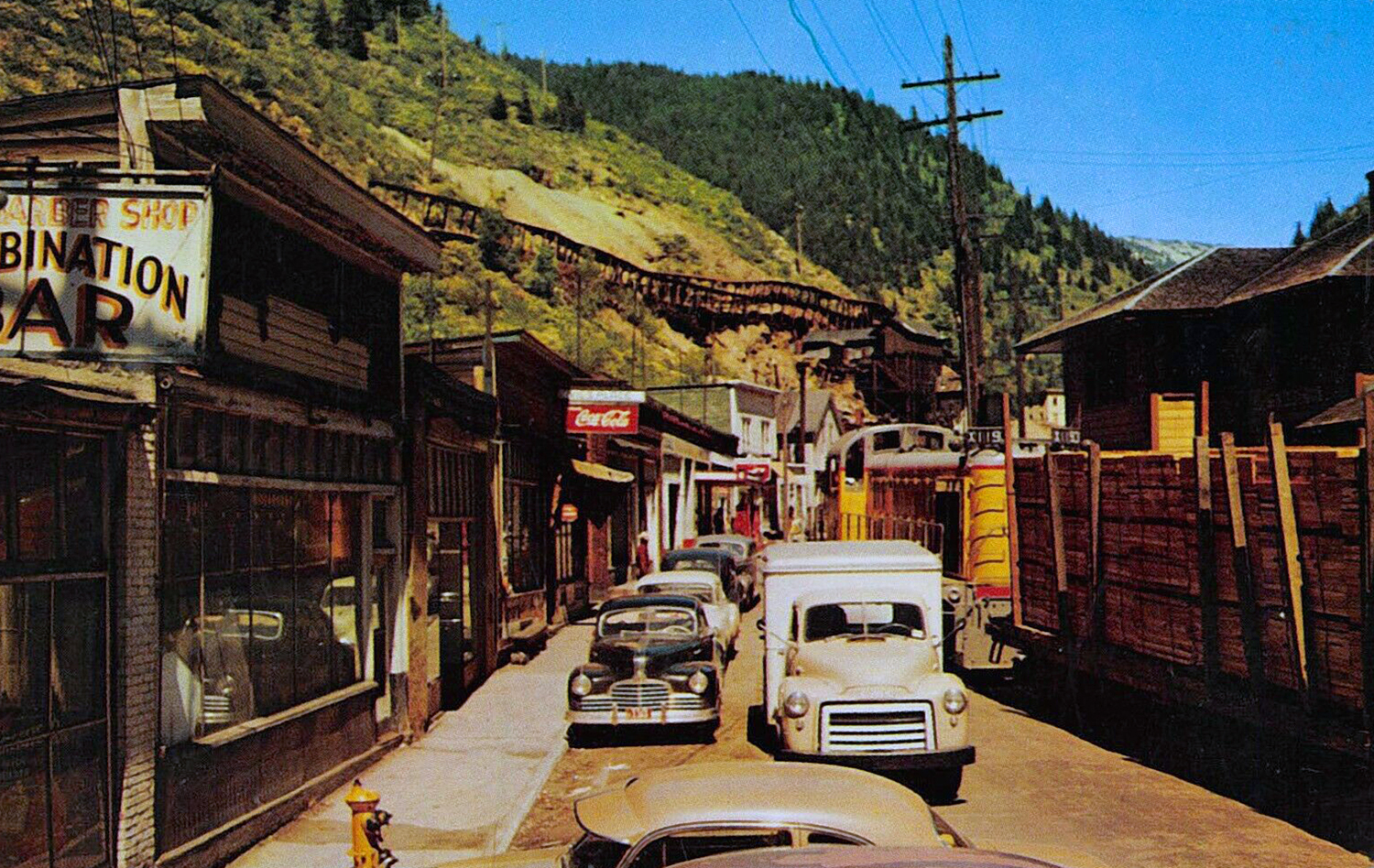 In this postcard scene, a Union Pacific RS3 eases its way through downtown Burke, Idaho with a load of lumber and other freight in the 1950's. The now-ghost town sprung up in 1887 thanks to the silver mining trade; mining operations lasted until 1991. Two railroads would come to serve Burke via branches, Northern Pacific and the Washington & Idaho Railroad (acquired by the Oregon Railroad & Navigation Company, a future Union Pacific component). The former would abandon its line in 1938 and the latter in 1985.
That year the railroad was purchased by Jay Gould and the Union Pacific, which renamed it as the Utah & Northern Railway, intent on reaching the rich copper deposits around Butte, Montana.
---
Abandoned Lines
Idaho's rail network is predominantly found in the state's southern region where fertile farmland, and its largest cities, are located.
These lines are largely all constructed by the Oregon Short Line (OSL), or its subsidiaries, which later became a component of Union Pacific.
The OSL comprised virtually the entirety of UP's network in Utah, Idaho, Montana, Oregon, and eastern Washington State.
Idaho's Northern Panhandle is often covered most extensively in train enthusiast books, magazines, and writings as it contained three transcontinental main lines operated by Great Northern, Northern Pacific, and the Milwaukee Road (Union Pacific's Burke Branch also served the region).
Today, the Milwaukee is most studied for two reasons; its 1980 abandonment and electrification to rural Avery until June, 1974.  
Part of the old grade through the region has since been converted to a highway.  Aside from the Milwaukee main line, most abandonments have been Union Pacific branch lines.
One particularly noteworthy exploration is the old Camas Prairie Railroad, nicknamed the "Railroad On Stilts" for its prodigious use of wooden trestles. 
Today, part of the original network is used while other segments have been out of service for many years.
---
Now with serious financial backing the railroad was able to reach the mining town of Butte (at the time it was home to nearly 100,000 residents) along a main line that stretched exactly 397 miles according to the UP's official timetable.
Following the Utah & Northern's entrance into Idaho the state's railroad network would rapidly expand and reach nearly 3,000 miles at its peak and would be home to several of the West's most remembered and recognized railroads.
Statistics
| | |
| --- | --- |
| First Railroad | Utah Northern Railroad (1874) |
| Peak Mileage | 2,877 (1920) |
| Current Mileage | 1,638 (2020) |
| Current Railroads | 10 |
| Originated Rail Tons (2019) | 8.4 million |
| Terminated Rail Tons (2019) | 9.4 million |
| Originated Carloads (2019) | 86,713 |
| Terminated Carloads (2019) | 97,355 |
These included names like the Great Northern Railway (GN), Northern Pacific Railway (NP), the aforementioned Union Pacific (which also had a much more extensive presence in southern and northwestern Idaho), and the Milwaukee Road.
While the Union Pacific's lines in Idaho were predominantly centered around the southern part of Idaho the GN, NP, and Milwaukee's lines were operated in the Northern Panhandle of the Bitterroot Mountains (and most of their mileage in the state was simply through, main lines). 
The Milwaukee Road was certainly one of Idaho's most recognized railroads given that it operated electric locomotives along its Pacific Extension to the little hamlet of Avery.
The small was the western edge of its eastern electrification, the Rocky Mountain Division, and was a major crew change point with a small yard, roundhouse, and substation).
State Mileage Chart
First Railroad
* Idaho's first railroad was the Mormon-backed Utah Northern Railroad which reached Franklin, about a mile across the Utah state line, in 1874. Originally conceived as a 3-foot, narrow-gauge it was acquired by Union Pacific by 1878 and converted to standard.  It was reincorporated as the Utah & Northern Railway and completed between Ogden and Butte, Montana Territory in late 1881.
However, the other lines operating through the state (GN, NP, and UP) also played an important part in the state's development as well.
All three's most prestigious passenger trains passed through Idaho including the Great Northern's legendary Empire Builder, Northern Pacific's regal North Coast Limited, and Union Pacific's City of Portland, as well as the Milwaukee Olympian Hiawatha until 1961.
State Map
Current Railroads
Union Pacific


BNSF Railway
Eastern Idaho Railroad


Idaho, Northern & Pacific


Bountiful Grain & Craig Mountain Railroad


Great Northwest Railroad


Pend Oreille Valley Railroad


Palouse River & Coulee City Railroad
Spokane, Spangle & Palouse Railway


St. Maries River Railroad
For a more in-depth look at Idaho's rail mileage throughout the years please refer to the chart above.
As you can, during the peak years the state had a railroad network of nearly 3,000 miles although today that number has declined to just over 1,600 miles.
With a loss of 45%, this is about normal as most states have suffered similar declines since the country's peak rail mileage in the 1920s.
---
Museums and Attractions
While passenger trains today are virtually non-existent in Idaho Amtrak's Empire Builder does make overnight stops in Sandpoint.
Idaho also offers a few railroad museums to visit including:
Canyon County Historical Museum


Northern Pacific Depot Museum


Silverwood Central Railway/Theme Park
Lastly, you may want to visit the Route of the Hiawatha rail/trail, which covers fifteen miles of the Milwaukee Road's famous Pacific Extension through the St. Paul Pass.
In all, Idaho railroads offer some of the most breathtaking views found anywhere in the country and is definitely worth a trip to see whether you are interested in the trains or just the outdoors!