The 
Idahoan
Last Revised: December 17, 2021
By: Adam Burns
The Union Pacific inaugurated the Idahoan in the late 1940s as a companion to the transcontinental City of Portland, the first of the railroad's City fleet debuting in the mid-1930s following the success of The Streamliner.  
However, the train was more of a regional in nature running only between Omaha and Portland and not continuing through to either Omaha or Chicago (via the Chicago & North Western) although connecting services were available. 
Powered by a mix of steam and diesel power it offered quite a list of services considering the nature of the territory served.  Interestingly, the Idahoan survived on UP's timetable for only a few years and was discontinued prior to 1955, leaving only the City of Portland and Portland Rose to serve its home city.

The Idahoan was a late addition to Union Pacific's timetable.  The train first appeared during 1947, the same year the first-class City of Portland began departing on a daily schedule.  During the 1930s the railroad had radically overhauled its passenger operations.  The most notable visual change, of course, was the revolutionary M-10000 streamliner that debuted on February 25, 1934.  
Union Pacific 4-8-4 #817 has train #11, the westbound "Idahoan," at Dale Creek, Wyoming on the new line over Sherman Hill in 1953. A UP section crew can be seen at left. Union Pacific photo.
This three-car, sleek, colorful, and articulated trainset was the work of Union Pacific, Pullman-Standard, and the Winton Engine Company.  Operationally, the trainset wasn't that successful although it grip on the public made it a roaring success and changed the face of rail travel forever.
Perhaps more importantly, however, were the more subtle changes UP made.  According to the book Union Pacific Railroad by Joe Welsh and Kevin Holland passenger revenues dropped an alarming 40% between 1920 and 1929 despite inaugurating several new trains during that time period such as:
Gold Coast Limited (Chicago - Oakland/Los Angeles)


Columbine (Omaha - Denver)


Mountain Bluebird (Chicago - Denver)


Pacific Coast Limited (St. Louis/Kansas City - Oakland/Los Angeles)
With the onset of the Great Depression this number worsened and by 1932 revenues had declined a staggering 77%.  To combat this growing problem the railroad carried out a study to see how it could improve services and recover patronage on its trains.

Union Pacific's "City" Fleet And Other Passenger Trains
Butte Special: (Salt Lake City - Butte, Montana)

Challenger: (Chicago - Los Angeles)
City of Denver:  (Chicago - Denver)
City of Los Angeles: (Chicago - Cheyenne - Los Angeles)
City of Portland: (Chicago - Cheyenne - Portland)
City of Salina: (Kansas City - Topeka - Salina, Kansas)
City of San Francisco: (Oakland - Cheyenne - Chicago)
City of St. Louis: (St. Louis - Los Angeles/San Francisco/Portland)
Columbine: (Omaha - Denver)
Forty-Niner: (Chicago - Oakland)
Gold Coast: (Chicago - Oakland/Los Angeles)
Portland Rose: (Denver - Portland)
Utahn: (Cheyenne - Los Angeles)
Yellowstone Special:  (Poncatello, Idaho - West Yellowstone, Montana)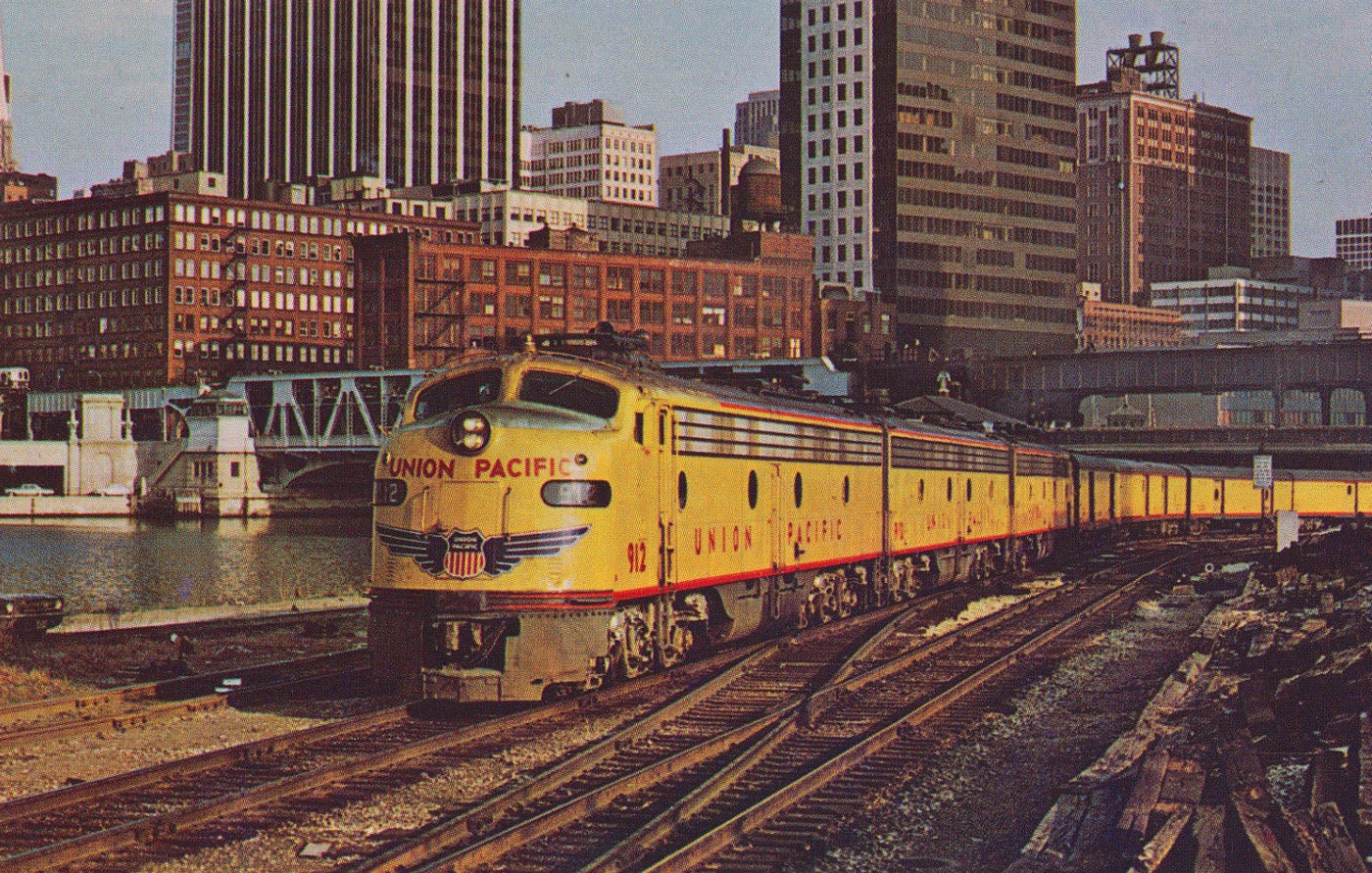 An A-B-A set of Union Pacific E9's are on the Milwaukee Road as train #103, the so-called "City of Everywhere," departs Chicago Union Station on April 30, 1971. The next day, Amtrak took over most intercity passenger services across the country.
More Reading...
It discovered there were several things lacking which passengers were interested in including more daily departures, porter service in all coaches, a separate car reserved for women and children, and lower menu prices (the latter was a big help for those suffering through the depression). 
The debuting of the M-10000 was more a marketing tactic than anything else, a stunning visual display meant to grab attention, which it certainly did. 
Once Union Pacific realized the streamliner concept was a hit it soon began inaugurating an entire fleet of trains based on that concept, and similar to the original M-10000.  The first was the City of Portland, launched on June 6, 1935 (otherwise referred to by its technical name, the M-10001).
One of Union Pacific's dome-lounge-observations (#9006) brings up the tail end of the "City of Portland" at Multnomah Falls on the Oregon side of the Columbia River Gorge. James Ehernberger photo.
This was followed by the City of Los Angeles on May 15, 1936 (M-10002); City of San Francisco on June 14, 1936 (M-10003); and the City of Denver on June 18th. 
By 1941 UP had a respectable ten trains within its City fleet as well as several secondary trains to complement them such as the [short-lived] Forty-Niner, San Francisco Challenger, Los Angeles Challenger, Challenger, and others. 
To keep up with mounting competition from other roads like the Great Northern, Northern Pacific, Santa Fe, and Southern Pacific (particularly the latter two) UP implemented daily service on most of its City trains by the late 1940s and continued purchasing new equipment through the mid-1950s.

---
The Idahoan was established in 1947 to supplement the City of Portland listed as trains #11 (westbound) and #12 (eastbound) running via Pocatello and Boise, Idaho.  By that date steam was on the decline but one could still catch the train being led by fast and powerful Class FEF 4-8-4s while other times a set of E7s was usually leading the way. 
The Northerns continued to power the train through at least 1953.  While the Idahoan did not run through to Chicago it still carried quite a consist including:
Several head-end cars (usually a half-dozen mail/express cars)


A Railway Post Office (RPO)


Three reclining seat coaches


A diner


Dormitory-club


Four standard Pullman sleepers (through cars running to Denver, Kansas City, Chicago, and Spokane)
---
---
An A-B-A set of Union Pacific E9's have a passenger special exiting from Chilcoote Tunnel in northern California during early July of 1994. Mark Bordine photo.
Most of the time the train ran with 11 or 12 heavyweight cars in all. It was advertised right alongside the other top trains to Portland at the time (City of Portland and Portland Rose).  One piece in the newspaper Walla Walla Union Bulletin during October of 1951 read:
"To the heart of the nation by Union Pacific.  United by railroad lines threading across the nation America invites the traveler!  Whatever your destination, let Union Pacific take you there swiftly and comfortably.  Room to relax and roam; delicious meals, exquisitely served."
"Yes, for travel at its best, choose Union Pacific.  These fine trains daily to and from the east; City of Portland (Streamliner), Portland Rose, Idahoan.  Choice of Pullman accommodations...deep cushioned coach seats...dining and lounge cars.  For dependable transportation...be specific...say Union Pacific." 
As the railroad continued reorganizing its fleet it canceled the Idahoan during November of 1954.