Illinois Railroads

Last revised: June 14, 2023
By: Adam Burns

Illinois railroads easily are the nation's most important in terms of the region they serve and volume of traffic which is handled.

The state was once home to the most Class I railroads of all time and today is the only state to claim all seven North American Class Is within its borders.
The Prairie State is also home to the nation's railroad capitol, Chicago; where East meets West (Chicago was the primary reason so many railroads originally entered Illinois).
No other state, past or present, features such a wide variety of liveries, operations, and history as does Illinois.
While today its rail network has shrunk to just over 7,000 miles during the industry's "Golden Age," Illinois was once home to more than 12,000 miles.
The map below, from 1920, illustrates just how dense this coverage was. 
While most lines converged into Chicago, Illinois was blanketed with lines to the south as well; such as the Wabash and Nickel Plate bound for St. Louis while the Illinois Central and Gulf, Mobile & Ohio headed south towards the Gulf Coast. 
There was also trunk lines maintained by the Baltimore & Ohio, Pennsylvania, and New York Central headed for St. Louis and Kansas City. 
Photos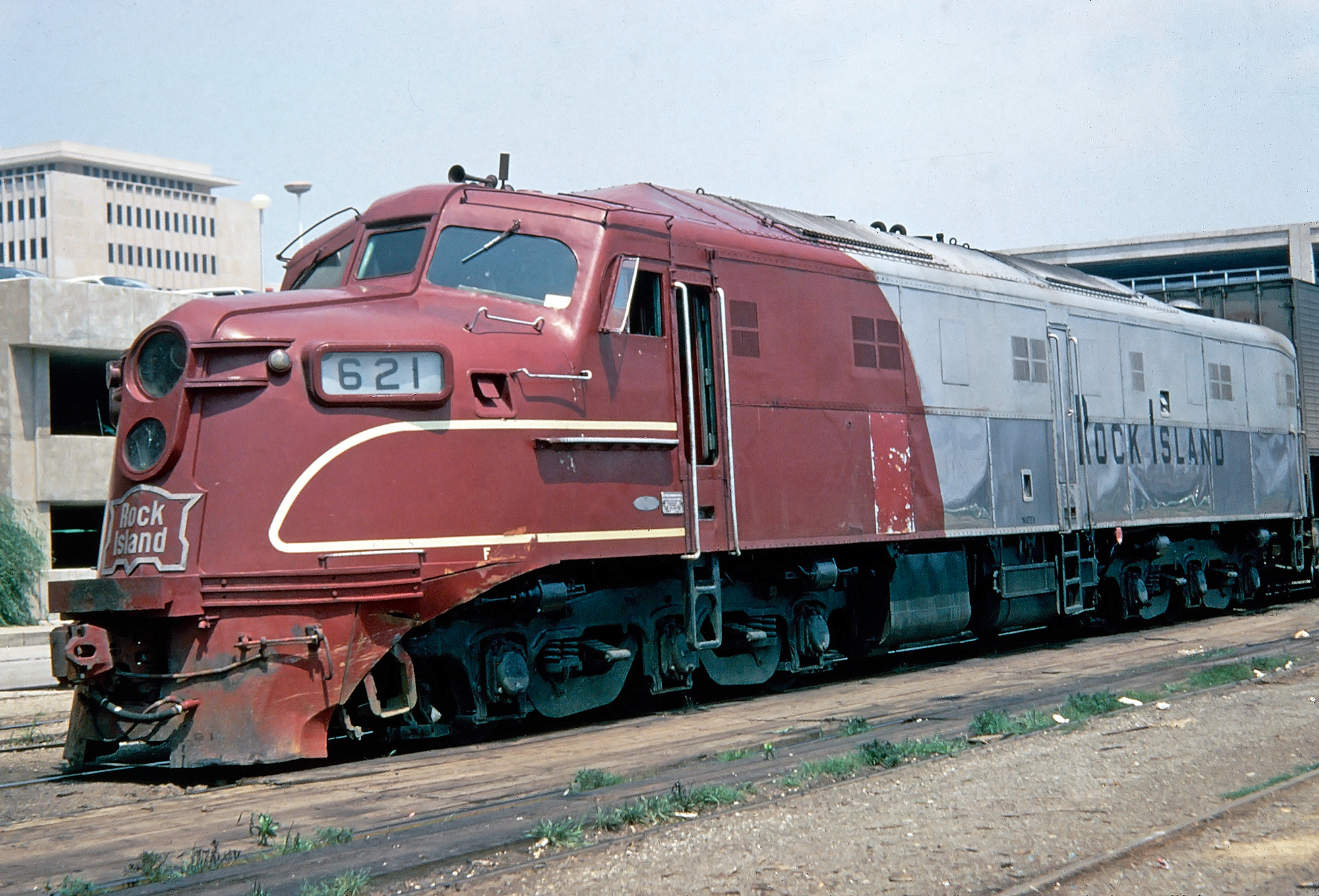 Rock Island DL-109 #621 is seen here in downtown Peoria, Illinois, circa 1967. The Caterpillar headquarters can be seen in the background. By this time the locomotive had been re-engined with Electro-Motive 567B prime movers. American-Rails.com collection.
History
While the state's rail history dates back to 1837 with crude operations built to haul coal by horses it was not until the Northern Cross Railroad opened its 59-mile route connecting Meredosia and Springfield in 1842 did a true common-carrier system first appear (today, its original route still survives under Norfolk Southern).
Interestingly, prior to 1840 Illinois had virtually no miles of railroad to speak of whatsoever. However, just 40 years later it boasted an incredible 8,000 miles! 
The history of Chicago becoming a mecca of the railroad industry predates the industry itself.
The city began as a well-positioned western outpost for Great Lakes shipping and this strategic location became the de facto meeting point for eastern railroads building west, western railroads continuing west [from Chicago, into the frontier territory], and smaller systems building from the north and south.
As the 1850s dawned railroads exploded as rapid building and expansion of rail lines was feverishly underway.
By 1856 Illinois was home to ten railroads, all of which served Chicago and as the years followed most of the biggest and most well remembered companies reached the city. 
These original classic carriers include the:
Atchison, Topeka & Santa Fe (1888)


Baltimore & Ohio Railroad (1874)


Chicago & North Western Railway (which has its beginnings in Chicago in 1848)


Chicago, Burlington & Quincy (which has its origins from the little Galena & Chicago Union Railroad in 1849); 


Milwaukee & St. Paul (1873). This system was an earlier component of the modern Milwaukee Road.


Rock Island (1852)


Illinois Central (1856)


New York Central (reached Chicago in 1877 after gaining control of the Lake Shore & Michigan Southern Railway)


Pennsylvania Railroad (reached Chicago in 1869 via the Pittsburgh, Fort Wayne & Chicago Railroad); 


Chesapeake & Ohio (reached Chicago in 1908 via its acquisition of the Chicago, Cincinnati & Louisville)


Chicago Great Western (has its origins in Chicago as early as 1835 but was not built until 1884)


Erie Railroad (1880)


Gulf, Mobile & Ohio Railroad (via ownership of the Alton Railroad in 1947)


Nickel Plate Road (has its origins in Chicago in 1881)


Wabash (1880)


Monon Route (1883)


Soo Line (1908)
Statistics
| | |
| --- | --- |
| First Railroad | Northern Cross Railroad (1842) |
| Peak Mileage | 12,188 (1920) |
| Current Mileage | 6,883 (2020) |
| Current Railroads | 52 |
| Originated Rail Tons (2019) | 125.9 million |
| Terminated Rail Tons (2019) | 107.4 million |
| Originated Carloads (2019) | 3,796,332 |
| Terminated Carloads (2019) | 3,637,446 |
As Chicago has become the center of the nation's freight rail operations (it currently sees roughly 500 trains a day), not surprisingly, the tangled web of trackage now blanketing the city has become a real labyrinth.
Chicago's city limits currently features 893 route miles, 125 interlockings, and 57 yards.
Today, the average speed of a freight car making its way through the city is only 9 mph and requires 30 hours for that car to navigate its way through city limits.
---
Abandoned Lines
An entire book could be written on abandoned railroads throughout Illinois. The crisscross the state and can be found literally everywhere.
Illinois was not only home to Chicago, the central hub of eastern and western railroads, but also contained numerous agricultural branch lines.
In addition, the state's periphery even boasted coal mines, served by the likes of the New York Central, Chicago & Illinois Midland, and Illinois Central.
The state's 5,000 miles of abandoned lines are far too extensive to cover here.   A good resource on the subject is AbandonedRails.com.  Notable standouts include:
Illinois Central's original "Charter Line" from Freeport to Centralia.


New York Central's "Egyptian Line" from Cairo to Paris (this route constituted the railroad's coal traffic in the region).



Chicago, North Shore & Milwaukee (The so-called "North Shore Line," the large interurban which served Chicago and Milwaukee).


Chicago, Aurora & Elgin (The "Roarin Elgin," another interurban which served Chicago and its western suburbs).


Most of the Chicago Great Western's main line from Chicago to the Mississippi River is gone, abandoned under successor Chicago & North Western.


Components of the old Illinois Terminal, another interurban which served much of central Illinois as well as St. Louis.
---
To help alleviate this congestion the CREATE program (Chicago Region Environmental and Transportation Efficiency Program), at a cost of $1.5 billion, has been ongoing with the intent of it becoming a bypass for through freight trains to more easily navigate in and out of the city.
However, this project has remained in limbo for nearly two decades and does not appear it will ever get off the ground.
In an interesting move, Canadian National has been acquiring railroads in the region since its 2001 acquisition of Wisconsin Central (and the Elgin, Joliet & Eastern in 2009) to improve the flow of its trains around the city.
Rock Island GP40 #395 and other power at the railroad's shops in Silvis, Illinois, circa 1979. Mike Bledsoe photo. American-Rails.com collection.
Chicago, however, was not the only important location in Illinois. 
While the northern part of the state saw lines fanning out from Chicago southern areas were home to through main lines stretching farther west to reach locations like St. Louis (the third busiest gateway behind Chicago and Kansas City).
Also, Illinois itself has retained a large number of manufacturing and warehousing/distribution industries, which provide railroads with a substantial amount of traffic, particularly around the Decatur area.
The state also continues to be a major source of agriculture traffic, although the traffic itself has fallen off in the last 30 years due to the competition of trucks.  Today, Illinois includes all major Class Is.
Current Railroads
CSX Transportation


Norfolk Southern


Canadian National


Canadian Pacific


BNSF Railway


Kansas City Southern


Union Pacific



Indiana Rail Road


Iowa Interstate


Alton & Southern


Belt Railway of Chicago


Burlington Junction


Chicago Rail Link


Chicago, Fort Wayne & Eastern Railroad



Chicago, South Shore & South Bend


Chicago, St Paul & Pacific Railroad



Chicago Junction Railway



Chicago Port Railroad



Chicago Terminal Railroad


Crab Orchard & Egyptian Railroad


Cicero Central Railroad



Coffeen & Western Railroad



Decatur Central Railroad



Decatur Junction Railway



Decatur & Eastern Illinois Railroad



Effingham Railroad


Elwood Joliet & Southern Railroad


Evansville Western Railway



Gateway Industrial Railway



Illinois Railway


Illinois & Midland Railroad


Illinois Western Railroad



Indiana Harbor Belt


Iowa Interstate


Joppa & Eastern Railroad



Kankakee, Beaverville & Southern Railroad


Kaskaskia River Railroad



Keokuk Junction Railway



Manufacturers Junction Railway


Peru Industrial Railroad



Pioneer Industrial Railway



Port Harbor Railroad



The Prairie Line



Riverport Railroad


Shawnee Terminal Railway



South Chicago & Indiana Harbor Railway


Tazewell & Peoria Railroad


Terminal Railroad Association Of St. Louis



Toledo, Peoria & Western Railway



TransDistribution Brookfield Railroad



Vandalia Railroad


Vermilion Valley Railroad
While at one time Illinois railroads topped out at an astounding 12,000+ miles of trackage today about half of that is still in operation (being part of granger country, most of this loss was agricultural branch lines).
State Mileage Chart
First Railroad
* The first railroad to operate in Illinois was the the Northern Cross Railroad, which opened 55 miles between Springfield and Meredosia in 1842.  This company also holds the distinction as the first to operate a steam locomotive in the state when a little 4-2-0, named "Rogers," rumbled over the initial 8 miles between Meredosia and Morgan City on November 8, 1838.  The Northern Cross would go on to form part of the modern Wabash Railroad.
It's not surprising that with the number of railroads still serving Illinois the state is home to several large facilities and rail yards.

State Map (1920)
Some of these include Clearing Yard in southwest Chicago, which is a double-hump facility (Meaning a yard with a large rise at its entrance, or "hump," which then is graded downhill until several corresponding yard tracks.

The freight car enters the hump and then proceeds downhill via gravity and enters whatever track it is assigned, which is a way to build and organize cars and trains.).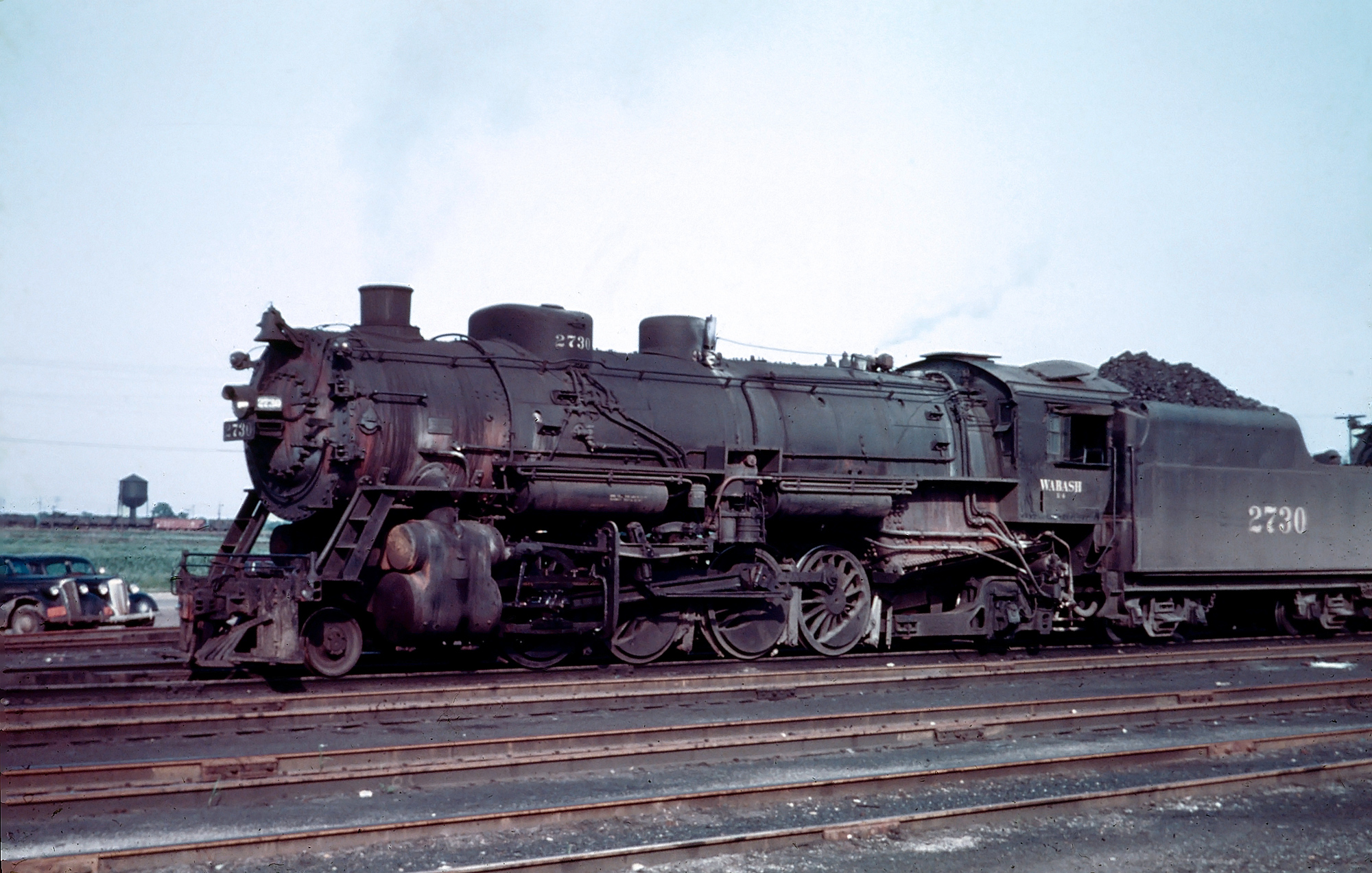 Wabash 2-8-2 #2730 is seen here late in her career at the shops and yard in Decatur, Illinois, circa 1950. The Class N-4 Mikado was manufactured by Alco in January, 1925 (serial 66113) and scrapped in December, 1951. Fred Byerly photo. American-Rails.com collection.
While the Golden Age of passenger trains has been gone for a half-century now Illinois railroading still features plenty of passenger trains.
Amtrak dispatches 28 trains a day from Chicago with names like the Empire Builder and Capitol Limited. The state is also home to one of the largest, and longest running, commuter train operations, Metra.
The commuter agency operates 11 routes over roughly 455 miles, dispatching some 94 trains each weekday! Illinois is also features the historic South Shore Line, an interurban serving South Bend and Chicago. And, to top it all, the historic Chicago Union Station still serves both Amtrak and Metra.
Railroad Museums and Attractions
Freight and passenger operations aside, Illinois is home to numerous railroad museums and tourist railroads such as the Illinois Railway Museum, which over the past 40 years has been able to amass a very impressive collection of rolling stock including several historic steam locomotives, classic diesel locomotives and even interurban street/trolley cars.
Not only does the museum own this equipment, many pieces are restored to operation and used many times throughout the year hauling excursions or in some other capacity

---
Rock Island F9Am #4168 at Silvis, Illinois, circa 1975. This unit was built as Union Pacific F3A #1412-A. It was sent back to EMD in 1958, rebuilt to F9 specs, and renumbered 539. It was sold to the Rock in 1972 and ultimately traded back to EMD in 1976. The big snow plow was custom-built by UP shop forces for heavy snows in the Pacific Northwest. American-Rails.com collection.
Others museums include:
Amboy Depot Museum


Chatham Railroad Museum


Depot Railroad Museum


Elizabeth Historical Society Depot Museum


Fox River Trolley Museum


Galesburg Railroad Museum


Historic Greenup Depot


Historic Pullman Foundation


Monticello Railway Museum


Silver Creek & Stephenson Railroad


Union Depot Railroad Museum
All in all, Illinois railroads offer a dizzying array of operations! Whether you are a big time railroad enthusiast, vacationer after something a little different to do, or simply a commuter looking for a better alternative than the highway congestion the state definitely features a little of everything!