The
Imperial
Last revised: May 4, 2023
By: Adam Burns

The Imperial was another secondary Southern Pacific train that often becomes lost among its vast fleet of legendary names like the Daylights, Sunset Limited, Golden State, Lark, and others. 

Its history begins in the 1930s as a regional run utilizing an earlier segment of the Southern Pacific between Los Angeles and Yuma, Arizona but after World War II became a transcontinental service to Chicago operating the Sunset and Golden State Routes in conjunction with the Rock Island east of Tucumcari, New Mexico.  

The two railroads worked together closely for many years providing rail travel between the Midwest and West Coast, the most notable being the Golden State. 
As the years passed the Imperial lost importance and relevance, and during its final years even operated as a mixed train before quietly disappearing from SP's timetable during the late 1960s.

Photos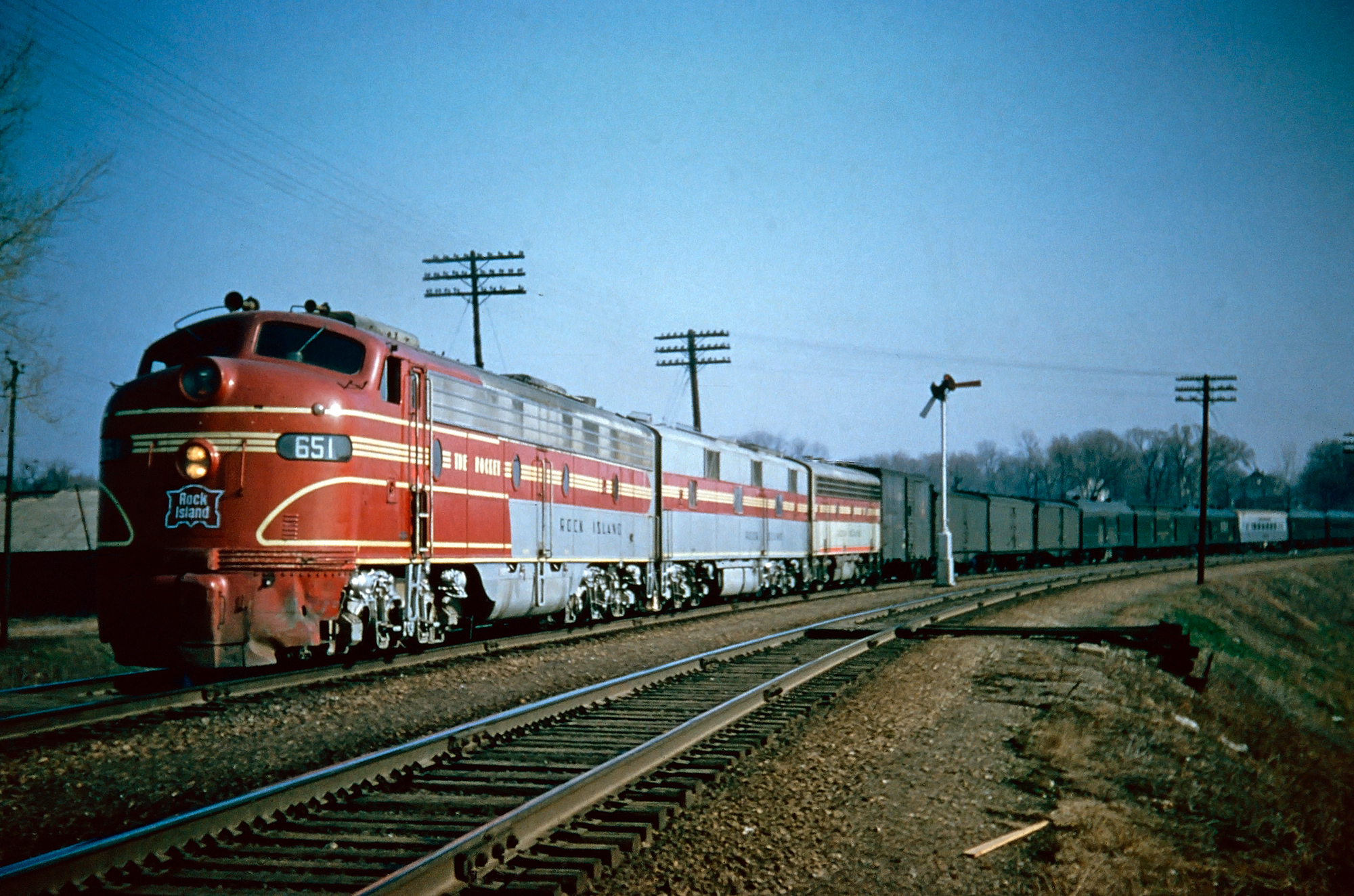 Rock Island E8A #651 has train #39, the westbound "Imperial," operating over the Union Pacific near Kansas City, circa 1955. American-Rails.com collection.
History
The Imperial gained its name from the region in which it operated, California's beautiful Imperial Valley located not far from the Mexican border. 
It first appeared on Southern Pacific's timetable in 1932 as regional train (#39, westbound, and #40, eastbound) carrying heavyweight coaches and standard Pullman sleepers between Los Angeles and Yuma. 
However, instead of operating through over the Sunset Route it diverged southbound at Niland utilizing the more circuitous line of what was originally the Inter-California Railway that passed through the Imperial Valley. 
From there the route reached Brawley, El Centro, and Calexico before crossing over into Mexico's Baja California where two stops were made at Mexicali and Algodones. 
Then it returned northward into California with a stop at rural Cantu and once again entered the Sunset Route at Araz Junction before traveling on to Yuma.
At A Glance
Route

Chicago - Tucumcari, New Mexico - Los Angeles

Service History

1932 - August 18, 1967

Train Numbers

39 (Westbound)

40 (Eastbound)

Travel Time

49 Hours and 5 Minutes (1954)

Distance

1,996 Miles

End Terminals

LaSalle Street Station (Chicago)

Terminal Passenger Terminal (Los Angeles)
It is said speeds were quite good with passenger trains able to top 50 mph while freights could cruise at 35 mph.  After the United States entered World War II the Imperial was discontinued during 1942 although it returned to the timetable as of October 6, 1946 following the conflict. 
This time, the train was operated as a through, transcontinental utilizing the Golden State Route north of El Paso, Texas and handed off to the Rock Island at Tucumcari, New Mexico where it continued on its way to the Windy City.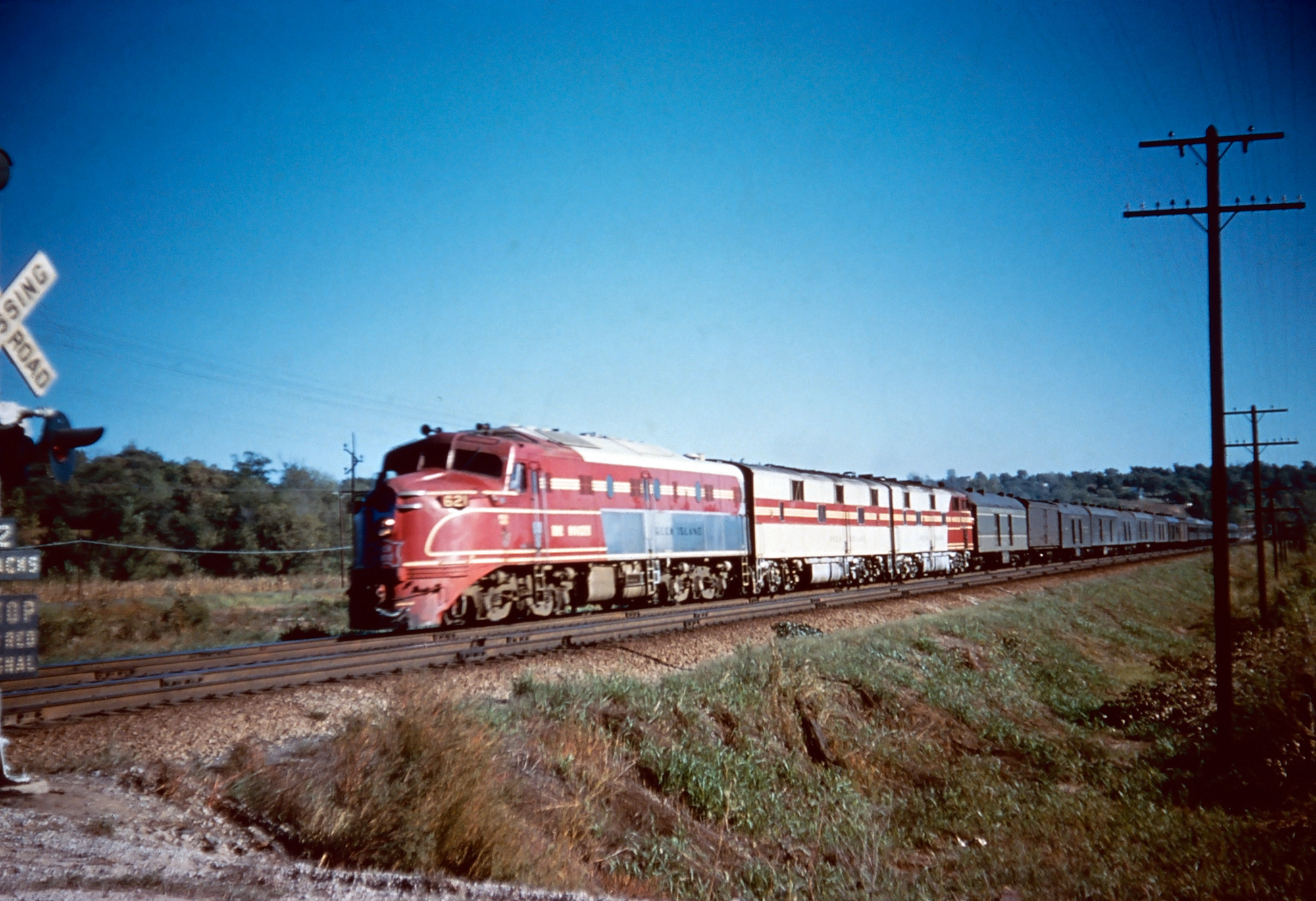 Rock Island DL-109 #621, following its overhaul with Electro-Motive 567Bs (note the distinctive "bulge" on the roofline), leads train #40, the eastbound "Imperial," outside of Chicago during the 1950s. American-Rails.com collection.
Upon the train's rechristening it was given some fanfare in advertisements where in one particular piece released by the Rock (and included above) the railroad had this to say:
"New fast service with Standard Pullmans and Chair Cars over the Golden State Route to Arizona - California." 

"Named after California's Imperial Valley is another fine train between Chicago, Kansas City, and Los Angeles.  It's fast!  Only 53 hours westbound; 52 1/4 hours eastbound.  It's comfortable!  Standard sleeping cars provide room and section space."
"Deep-cushioned reclining seat Chair Cars - Club Lounge; Dining Car.  It's convenient!  Besides Chicago - Los Angeles sleepers, the Imperial includes a Kansas City - Los Angeles sleeping car; special sleepers between Chicago and Tucson and Phoenix; set out on arrival." 
During the early 1950s the Imperial had its schedule reduced by a few hours when it stopped operating over the former Inter-California and began running the far more direct Sunset Route between Yuma and Niland. 
This move, alone, saved nearly 40 miles (102 miles compared to only 65 miles) but to preserve service into the Imperial Valley Espee continued offering a local for a few years that met the train at Niland which carried coaches and a Pullman sleeper.
Read Down
Time/Leave (Train #39/Rock Island)
Milepost
Location
Read Up
Time/Arrive (Train #40/Rock Island)
9:00 PM (Dp)
0.0

Chicago, IL (La Salle Street Station) (CT) (Golden State Route)

6:15 PM (Ar)
9:14 PM
6

Englewood, IL (Union Station)

6:00 PM
12:35 AM
181

Rock Island, IL

2:30 PM
7:30 AM (Ar)
510

Kansas City, MO (Union Station)

7:00 PM (Dp)
8:00 AM (Dp)
510

Kansas City, MO (Union Station)

6:15 PM (Ar)
9:15 AM
579

Topeka, KS

4:52 PM
11:05 AM
661

Herington, KS

3:15 PM
F 11:58 AM
707

McPherson, KS

F 2:07 PM
12:35 PM
735

Hutchinson, KS

1:33 PM
4:05 PM
919

Liberal, KS

9:55 AM
6:05 PM (Ar)
1030

Dalhart, TX

7:40 AM (Dp)
6:15 PM (Dp)
1030

Dalhart, TX

7:35 AM (Ar)
8:05 PM (Ar)
1124

Tucumcari, NM (CT)

5:50 AM (Dp)
Read Down
Time/Leave (Train #39/Southern Pacific)
Milepost
Location
Read Up
Time/Arrive (Train #40/Southern Pacific)
7:35 PM (Dp)
1124

Tucumcari, NM (MT)

4:10 AM (Ar)
8:43 PM
1183

Santa Rosa, NM

2:46 AM
11:20 PM (Ar)
1312

Carrizozo, NM

12:01 AM (Dp)
11:27 PM (Dp)
1312

Carrizozo, NM

11:55 PM (Ar)
F 12:28 AM
1369

Alamogordo, NM

F 10:30 PM
1:04 AM
1406

Orogrande, NM

9:47 PM
2:00 AM (Ar)
1456

El Paso, TX (Golden State Route)

8:45 PM (Dp)
2:15 AM (Dp)
1184

El Paso, TX (Sunset Route)

8:30 PM (Ar)
6:10 AM (Ar)
217

Douglas, AZ

4:20 PM (Dp)
6:15 AM (Dp)
217

Douglas, AZ

4:15 PM (Ar)
F 6:50 AM
239

Bisbee Junction, AZ

F 3:44 PM
7:07 AM
255

Hereford, AZ

3:27 PM
7:28 AM
276

Fairbank, AZ

3:05 PM
296

Whetstone, AZ

2:52 PM
8:40 AM (Ar)
340

Tuscon, AZ

1:30 PM (Dp)
9:00 AM (Dp)
1494

Tuscon, AZ (Sunset Route)

1:10 PM (Ar)
10:03 AM
19

Coolidge, AZ

F 12:02 PM
10:37 AM
51

Chandler, AZ

11:27 AM
10:50 AM
59

Mesa, AZ

11:16 AM
11:04 AM
66

Tempe, AZ

11:04 AM
11:25 AM (Ar)
75

Phoenix, AZ

10:40 AM (Dp)
11:40 AM (Dp)
75

Phoenix, AZ

10:25 AM (Ar)
12:17 PM
105

Buckeye, AZ

9:52 AM
2:55 PM (Ar)
1745

Yuma, AZ (MT) (Sunset Route)

7:20 AM (Dp)
2:10 PM (Dp)
1745

Yuma, AZ (PT)

6:05 AM (Ar)
3:17 PM
1811

Niland, CA

4:40 AM
4:13 PM
1867

Indio, CA

3:38 AM
5:10 PM
1895

Palm Springs, CA

2:57 AM
5:45 PM
1916

Beaumont, CA

2:15 AM
6:25 PM
1939

Colton, CA

1:38 AM
7:05 PM
1964

Pomona, CA

1:05 AM
7:45 PM
1990

Alhambra (Pasadena), CA

12:34 AM
8:05 PM (Ar)
1996

Los Angeles, CA (Union Passenger Terminal)

12:15 AM (Dp)
The Golden State was the Espee's top train over the route, boasting full streamliner status by 1948 with a schedule of just 45 hours.  The Imperial, as a secondary train, never offered such features. 
When reintroduced after the war it ran as a complete heavyweight carrying reclining seat coaches, a diner, buffet-lounge, and usually four sleepers while power was provided by either a Class GS 4-8-4 or Class MT 4-8-2.  By the 1950s, however, one could usually find Electro-Motive's F units on the head-end, replacing the graceful steam locomotives. 
As the decade wore on and the public abandoned trains for highways and airlines the Imperial, according to Brian Solomon in his book Southern Pacific Passenger Trains, became little more than a mail and express operation after 1958 sporting a few coaches and occasionally a diner (east of Tucumcari only).
Schedule
Final Years
During the summer of that year it also lost its name and by the 1960s, to help cover costs, SP began operating #39/40 as a hotshot mixed train carrying autoracks and trailer-on-flatcars (TOFC) ahead of the mail/express equipment along with one or two coaches (since the freight cars lacked steam lines for heating the railroad used a pair of lightweight Shasta coaches, which carried vapor heaters). 
By the middle of the decade SP was petitioning the Interstate Commerce Commission to formally drop the train from its timetable but at first this request was rejected.  Following the loss of the U.S. mail contracts in 1967 it was only a matter of time until the train was suspended, a move that took place on August 18th of that year when it made its final run.

---
Consist (1957)
The Imperial operated a route that would certainly be considered one of the more scenic along the Espee system, operating over a section less traveled and giving passengers rare glimpses into Mexico aboard a U.S. train. 
Following its rerouting SP soon abandoned the former Inter-California as a through line during the 1950s when the section through Mexico was pulled up.  This was caused primarily due to the upgrading of the Sunset Route between Indio and Yuma with CTC protection during 1956. 
Additionally, diesels could handle the Sunset's 1% grades east of Niland much more aptly than during the steam era.  Today, only a short section of this interesting line survives today south of Niland.