Indiana Railroads

Last revised: June 15, 2023
By: Adam Burns

Indiana railroads have a rich history dating back to the 1830s and historically has not only been home to the important city of Indianapolis but also a key through route to other important connections like St. Louis (the third busiest gateway behind Chicago and Kansas City) and Chicago.

Because the state was right next door to Illinois and near Chicago all of the major eastern trunk lines operated through it such as the B&O, PRR, New York Central, Erie, etc.   
In this way, both states carry many similar characteristics.  While Indiana may have featured 40% less mileage than its western neighbor it featured multiple trunk lines and many secondary branch lines. 
The state has since lost 50% of its rail mileage including the Erie/Erie-Lackawanna and Baltimore & Ohio main lines (St. Louis, severed as a through route).
Today, Indiana is home to four of the seven Class I railroads and has numerous short lines, museums and tourist railroads operating within its borders.
Of note, for your interest there are a number of pages (from this website) listed here covering railroad subjects related to the state of Indiana such as museums, historic interurbans, stations/depots, etc.
Photos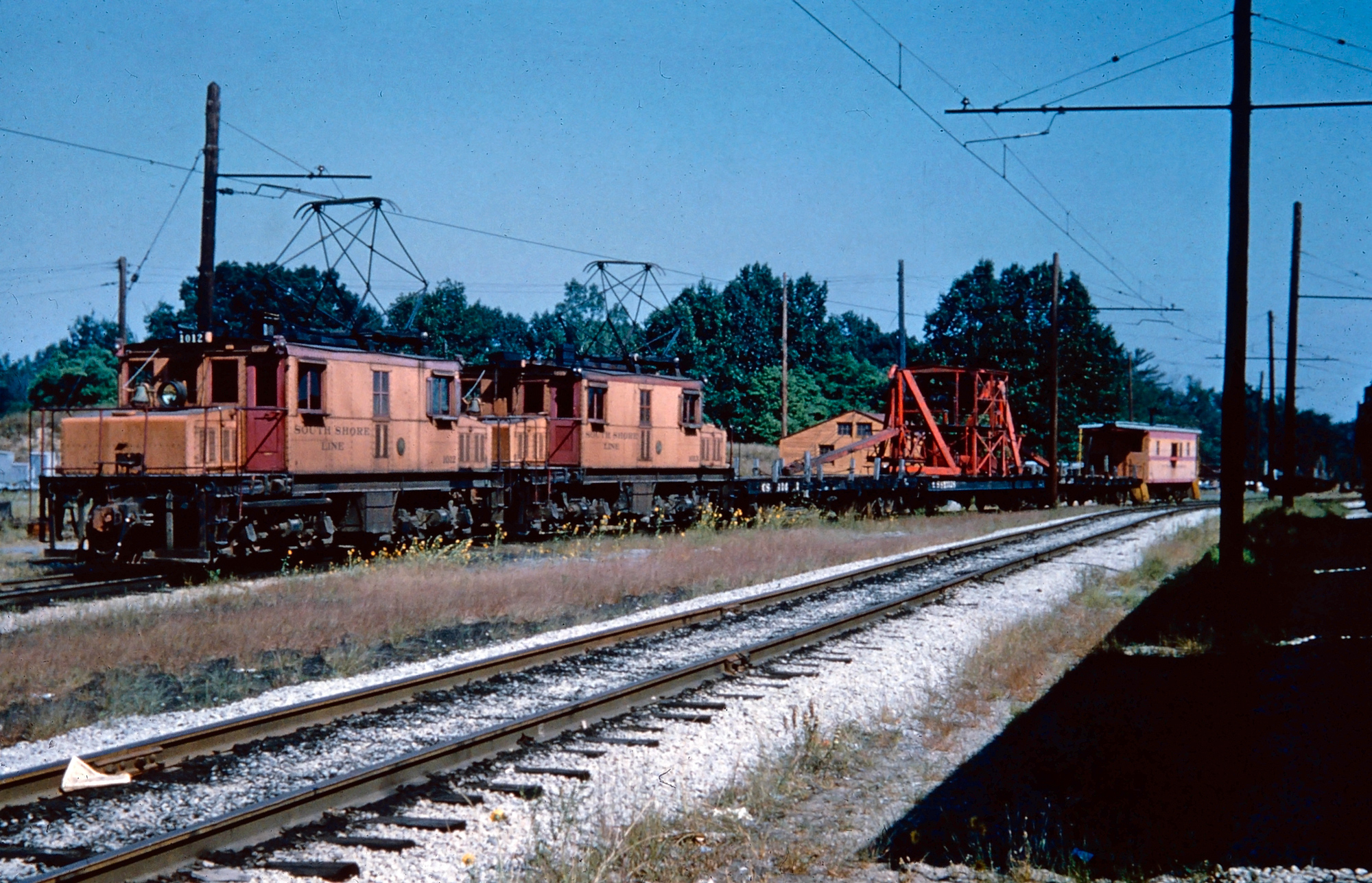 South Shore Line steeple-cab freight motors #1012 and #1013 have a work train at Michigan City, Indiana on September 11, 1960. American-Rails.com collection.
History
The state's railroads date back to 1838 when the Madison, Indianapolis & Lafayette opened its original 15-mile main line from North Madison, Indiana.
The railroad later became part of the Jeffersonville, Madison & Indianapolis Railroad in 1866. The JM&I, itself, would become part of the Pittsburgh, Cincinnati, Chicago & St. Louis, a Pennsylvania Railroad subsidiary.
In any event, much like Illinois, Indiana had virtually no railroads prior to 1840 but this quickly changed by 1880 when the state boasted over 4,000 miles of trackage.
As with Illinois, Indiana was one of the few states that had both east-west main lines accessing Chicago and Indianapolis as well as north-south key routes (Louisville & Nashville Railroad and Illinois Central).
Today, most of Indiana's rails are operated by four Class I railroads; CSX, Norfolk Southern, Canadian National Railway, and Canadian Pacific Railway.
The rest is operated by short lines and regionals some of which include:
Indiana Rail Road


Indiana & Ohio


Chicago, Fort Wayne & Eastern Railroad


Elkhart & Western Railroad;


Evansville Western Railway


Indiana Northeastern Railroad


Indiana Southern Railroad


Lake Michigan & Indiana Railroad


Louisville & Indiana Railroad


Louisville New Albany & Corydon Railroad


 Respondek Railroad
For a more in-depth look at Indiana's rail mileage throughout the years please refer to the chart below. As the chart depicts, the state was once home to nearly 7,500 miles of trackage.
Statistics
| | |
| --- | --- |
| First Railroad | Madison, Indianapolis & Lafayette (1832) |
| Peak Mileage | 7,426 (1920) |
| Current Mileage | 4,041 (2020) |
| Current Railroads | 43 |
| Originated Rail Tons (2019) | 57.7 million |
| Terminated Rail Tons (2019) | 56.2 million |
| Originated Carloads (2019) | 676,089 |
| Terminated Carloads (2019) | 606,813 |
However, today that number has been cut down to just over 4,100 miles. With a decline of 45% since the 1920s this is about average considering most other state's have suffered similar loses.

State Mileage Chart
First Railroad
*  Indiana's first railroad put into service was the Madison, Indianapolis & Lafayette, chartered in 1832 to link its namesake cities.  Funding proved difficult but in 1841 a short 28-mile segment, from Madison to Queensville, had finally been completed, thanks, in part, to state intervention.   Finally, in 1847 the entire route was opened.  It later became part of the Pittsburgh, Cincinnati, Chicago & St. Louis, which later joined the Pennsylvania Railroad.
The Hoosier State's passenger trains are operated by Amtrak and include its tri-weekly Cardinal between Chicago and Washington, D.C. However, during the "Golden Years" several famous Eastern passenger trains passed through the state with important stops at Indianapolis.

State Map
Some of these trains include the Baltimore & Ohio's Capitol Limited and National Limited, PRR's Broadway Limited, C&O's George Washington, and New York Central's 20th Century Limited.
---
Abandoned Lines
Like Illinois, Indiana was once blanketed with railroads.  It featured both eastern trunk lines bound for Chicago as well as southern roads, like the Southern Railway.
In addition, there were numerous secondary corridors and agricultural branch lines.  In general, Indiana was serviced by the New York Central, Baltimore & Ohio, and Pennsylvania while the Monon was also a major player in its home state.
Sadly, Indiana has witnessed more main line/through route abandonments than in other state.  The following corridors or railroads have been pulled up other the years:
Erie/Erie Lackawanna's double-tracked, Chicago main line is gone entirely from the Ohio state line to the Windy City.


Pennsylvania Railroad's "Panhandle" main line to St. Louis (Pittsburgh, Cincinnati, Chicago & St. Louis), another double-tracked route, is largely gone west of Columbus, Ohio.


Chesapeake & Ohio's Chicago main line through Indiana (which it had achieved by acquiring the Chicago, Cincinnati & Louisville Railroad) was removed in the 1980's under the newly formed CSX Transportation.


The Wabash main line through northern Indiana (4th District) to Gary.


Much of the Monon network has been removed under successor Louisville & Nashville and CSX Transportation.


Indiana's once-extensive network of electrified interurbans, totally 1,825 miles at its peak, is now gone. Notable was the Gary Railways, Union Traction Company Of Indiana (410 miles), and the Indiana Railroad System.  
---
To learn more about these streamliners, and others, please click here. Aside from Amtrak's Cardinal, the historic interurban, the South Shore Line still serves Hammond and South Bend (which also connects with Chicago).
Even today, you can catch South Shore trains operating on street trackage, like in Michigan City!
---
Museums and Attractions
Indiana is also home to a number of railroad museums and tourist lines such as the:
Indiana Railway Museum


Indiana Transportation Museum


Carthage, Knightstown & Shirley Railroad


Fort Wayne Railroad Historical Society (home to operating Nickel Plate Road Berkshire #765),


Hesston Steam Museum


Hoosier Valley Railroad Museum


Jefferson County Historical Society Museum and Railroad Depot


Linden Railroad Museum


National New York Central Railroad Museum


Wabash Valley Railroaders Museum


Whitewater Valley Railroad
In all, Indiana offers a wide variety of railroading from street running and interurbans to main line freight trains and Amtrak's Cardinal.
Even if you are a vacationer looking for something interesting to do the state offers a wide variety of railroad museums to choose from and visit.
In the end, you certainly should not be disappointed if you are heading to Indiana looking to catch railroads in action!