James J. Hill, The "Empire Builder"

Last revised: October 15, 2023
By: Adam Burns

James J. Hill, who became famous as the "Empire Builder" for his role in further developing the Northwest through his control of the Great Northern Railway, is perhaps just as well remembered for what he did outside of the business world.

Unlike many of the now-famous tycoons, Hill held great interest in the communities which were located along his lines and he donated hundreds of thousands of dollars to public interests like schools and libraries.
Today, the dream he always had of merging the four railroads in which he held the most interest has not only became reality but its successor is also one of the largest such companies in the country, BNSF Railway.

While the Northern Pacific was the first system to complete a transcontinental corridor to the Puget Sound Hill's Great Northern worked to develop local economies across Montana, Idaho, Oregon, and Washington. 
This was particularly true with the agriculture and timber industry.  With his successful enterprises, Hill amassed considerable wealth. At the time of his death on May 29, 1916, his net worth was estimated around $63 million. His immense estate included his monumental home in St. Paul, Minnesota named the James J. Hill House, which stands as a testament to his grandeur.
Early Life
James Jerome Hill, who we commonly know as James J. Hill, stands as one of the most influential figures in North American rail history.
Born on September 16, 1838, in Wellington County, Ontario, Canada, Hill's life was colored with trials from his early years.  He only had formal schooling for nine years, until 1852 when he was 14, the year he lost his father.  He immediately had to find work to support his family.
Little did anyone know that this modest beginning would give rise to a railroad titan.  Thanks to Hill's ability to pick up new skills quickly, by the time he had left school he was already quite adept in math, English, and even land surveying.
As a young man he began working as a clerk in Kentucky, during which time he also learned book keeping.  During his time here he decided to settle in the United States at the age of 18, choosing St. Paul, Minnesota.
At A Glance
Occupation

Railroad Executive

Born

September 16, 1838 (Wellington County, Ontario, Canada)

Death

May 29, 1916 (St. Paul, Minnesota)

Parents

James Hill (father)

Ann Dunbar Hill (mother)

Early Life

Farmer

Formal Education

None

Spouse

Mary Theresa Mehegan (married, 1867)

Children

Mary Frances (Mamie), James Norman (Jimmy), Louis Warren, Clara Ann, Katherine Theresa (Katie), Charlotte Elizabeth, Ruth, Rachel, Gertrude, Walter Jerome

Railroads Controlled

St. Paul & Pacific Railroad

St. Paul, Minnesota & Manitoba Railway

St. Paul & Duluth

Eastern Railway Company of Minnesota

Minneapolis & St. Cloud Railroad

Great Northern Railway

Oregon Trunk Line Railway

Spokane, Portland & Seattle Railway

Oregon Electric Railway

United Railways

Duluth, Superior & Western Railway

Duluth, Mississippi River & Northern

Northern Pacific Railway

Chicago, Burlington & Quincy
It was here where he began working as a bookkeeper for a steamboat company.    His work in the wholesale grocery industry in 1860 is where Hill would first come to learn the finer intricacies of the freight and transportation industry, dealing with both railroads and steamboats.
Hill's early business investments played a vital role in shaping his career. It wasn't just coal and freight; aside from steamboats he also ventured into mines and bank investments. His extraordinary acumen for identifying lucrative investments laid the groundwork for his triumphant entry into the railroad industry.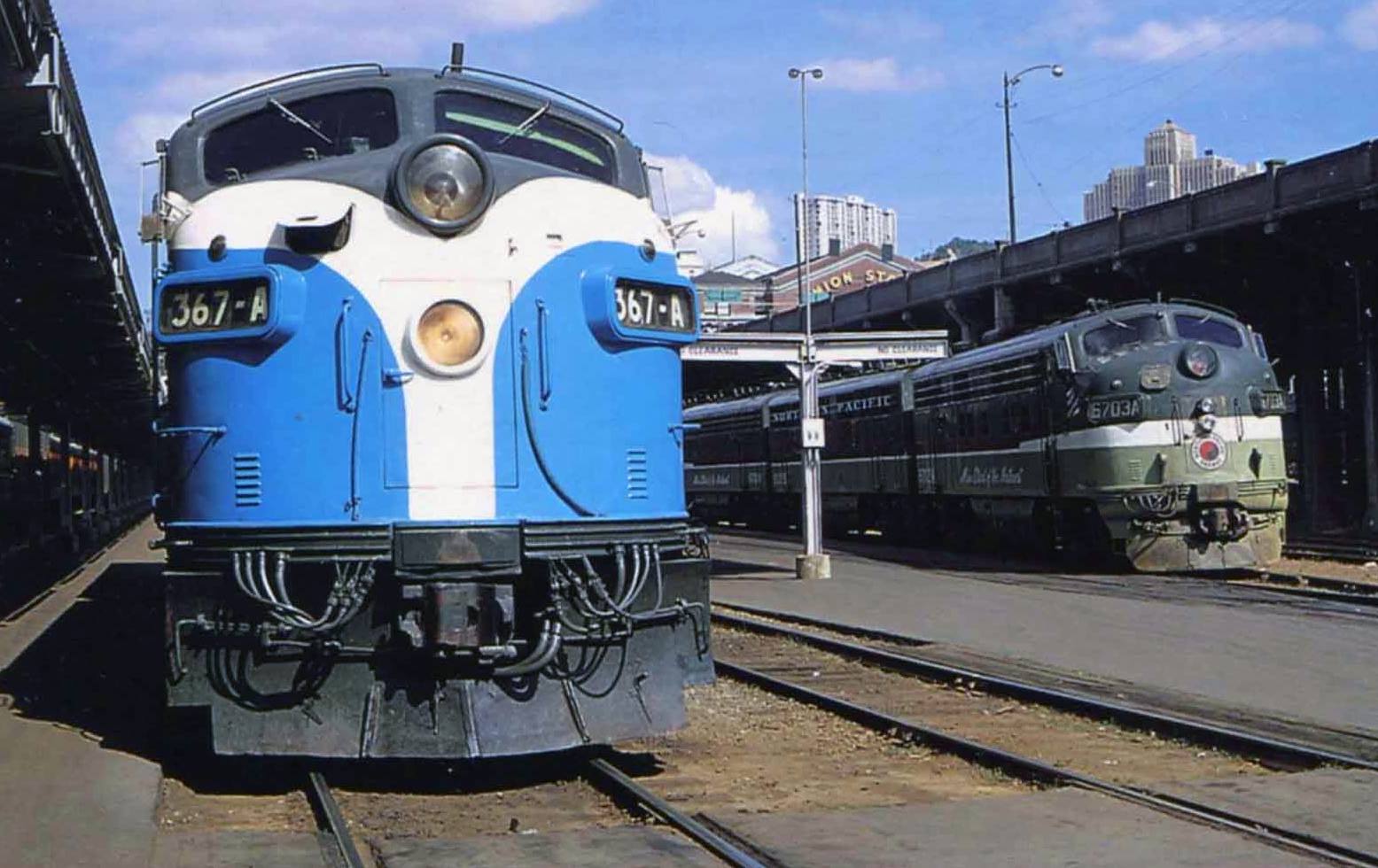 Great Northern F3A #367-A (built as #261-A) wears the company's new "Big Sky Blue" livery at Seattle's King Street Station as Northern Pacific's train #408 readies to depart southbound for Portland, Oregon on September 6, 1967. Note Union Station in the background, once used by both Union Pacific and the Milwaukee Road. J.W. Swanberg photo.
Personal Life
On a personal front, Hill married Mary Theresa Mehegan on January 24, 1867. The couple was blessed with ten children – Mary T. Hill, James J. Hill Jr., Louis Warren Hill, Clara Annabel Hill, Katherine Theresa Hill, Charlotte Elizabeth Hill, Ruth Hill, Gertrude Hill, Rachel Hill, and Walter Jerome Hill. His life with his family has always been noted for its modesty and warmth.
Railroads
James J. Hill's visionary approach towards making railroads the arteries of commerce won him the nickname "The Empire Builder." He believed in running his railroads by necessity, serving the growing agricultural, mining, and commercial sectors, contributing significantly to the growth of the American Northwest.

After taking up various jobs, he managed to save enough to venture into the coal and freight business, creating Hill, Griggs & Company in 1866. His intelligence and hard work paid off. He later became the agent for the St. Paul and Pacific Railroad, marking his entry into the industry.
One of these systems was the St. Paul & Pacific Railroad, which dated back to May 22, 1857 as the Minnesota & Pacific Railroad (a year before Minnesota was an official state).
In the early 1860s it reorganized as the St. Paul & Pacific but the railroad was fraught with financial difficulty and its main line connected just St. Paul and St. Anthony (Minneapolis), a distance of just over 10 miles. 
After the panic Hill and a group of other businessmen including Norman Kittson, Donald Smith, and George Stephen collectively purchased the bankrupt StP&P believing with proper investment that the railroad could become quite profitable.

St. Paul, Minneapolis & Manitoba Railway
In 1879 they merged the small lines of the StP&P and the First Division, St. Paul & Pacific to form the St. Paul, Minneapolis & Manitoba Railway.
After just six years under the direction of Hill and his counterparts the StPM&M through sound business practices, management, and expansion was worth more than 34-times its 1873 value, at over $25 million.
Great Northern Railway
Hill's approach to building the Great Northern Railway wasn't limited to refurbishing existing lines. He built new direct routes, ordered specialty equipment, and persistently sought ways to increase efficiency. His meticulous planning and constant innovation set new standards in railroad construction and operations.
The moniker "Empire Builder" stands as a testament to Hill's business philosophy. He didn't just build railroads, he sought to expand and develop each region his railroads traversed. His shrewd investments in industries like coal, timber, and farming ensured the steady supply of freight, fueling robust economic growth.
Hill's net worth and his lavish estate speaks volumes about his business success. However, his true wealth was his vision to perceive the future prospects of the railroads in America's economy and his unflinching dedication to realize this vision against all odds.
Hill's rise to prominence wasn't devoid of challenges. His journey was marked by economic fluctuations, fierce competition, and even legislative roadblocks. However, his tenacity and innovative spirit proved instrumental in overcoming these hurdles and scripting his own success story.
The Great Northern Railway was formed on September 16, 1889 when Hill created the company to control or lease a number of other railroads which included the St. Paul, Minneapolis & Manitoba Railway and Montana Central Railroad.
Now that these railroads were all under one control Hill quickly set about building to the Pacific Coast and Seattle which was accomplished just four years later in 1893, doing so almost entirely without the use of land grants.

The "Empire Builder" was often criticized for taking his time in building the line towards Seattle. He would construct a few hundred miles at a time, and work to have folks settle the areas before continuing westward.

Throughout the rest of the early 20th century Hill worked to modernize his main line, especially through the Rockies by eliminating grades and curves.  One of his well-known quotes is one perhaps we all could live by in the pursuit of achieving success in whatever we may do, "work, hard work, intelligent work, and then more work."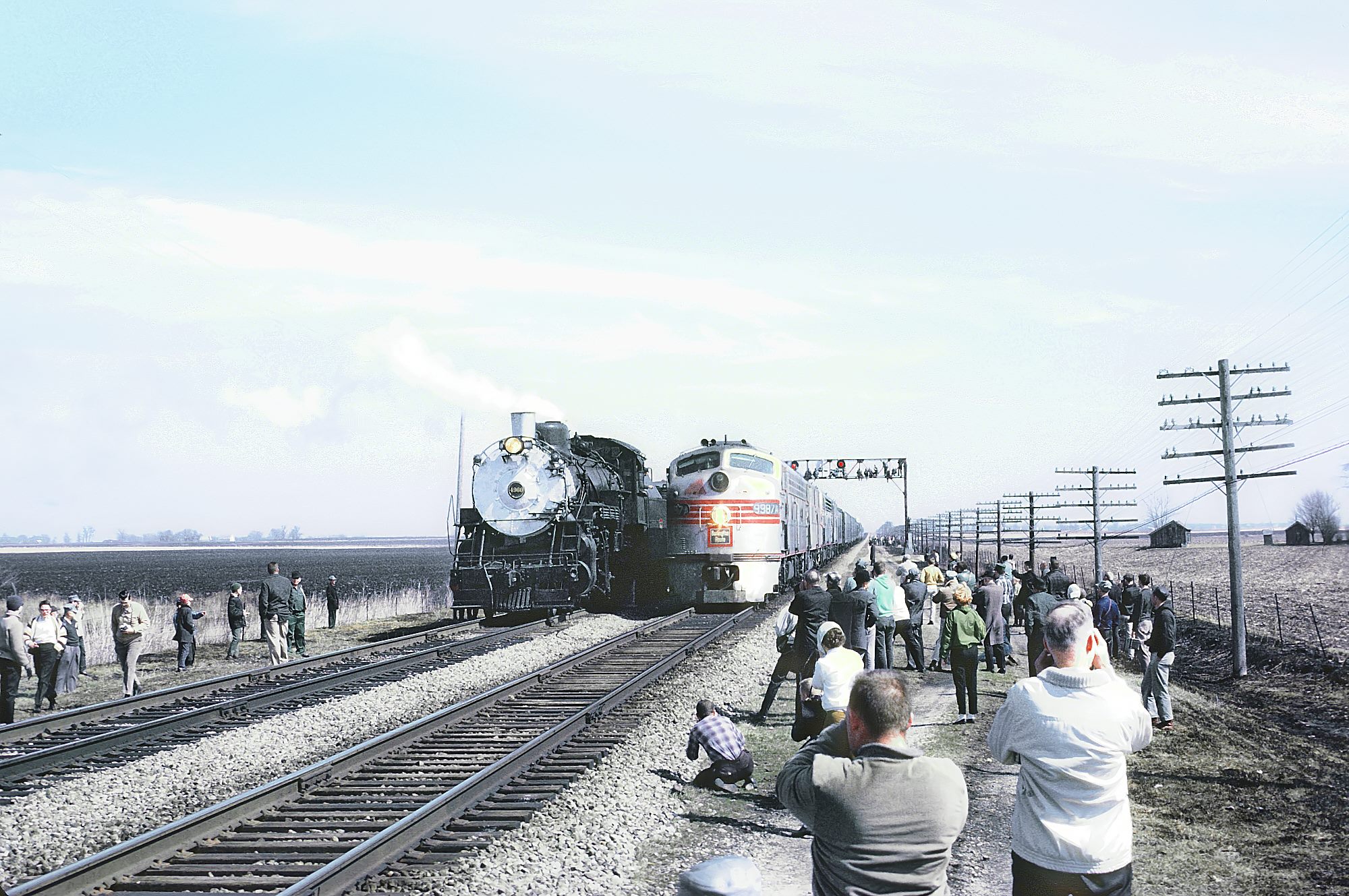 Chicago, Burlington & Quincy 2-8-2 #4960 waits for train #11-35, the "Nebraska-Kansas City Zephyr," to pass just east of Meriden, Illinois on March 20, 1966. Note the railfans piled on top of the signal bridge behind the locomotives! Today, the Mikado is still in service, occasionally used at the Grand Canyon Railway. Roger Puta photo.
Unlike some of the railroad tycoons and presidents Hill regularly put massive amounts of the company's profits back into the physical plant, keeping his railroad well-maintained. 
Hill once controlled the GN and rival Northern Pacific, and along with ally J.P. Morgan looked to control the Chicago, Burlington & Quincy through the Northern Securities Company. However, this company was broken up as a result of the Sherman Antitrust Act.
Despite this setback Hill gained control of the Colorado & Southern Railway which stretched from southern Wyoming through east Texas and the Gulf of Mexico. He also successfully completed the Spokane, Portland & Seattle Railway, connection Spokane, Washington with Portland, Oregon.

---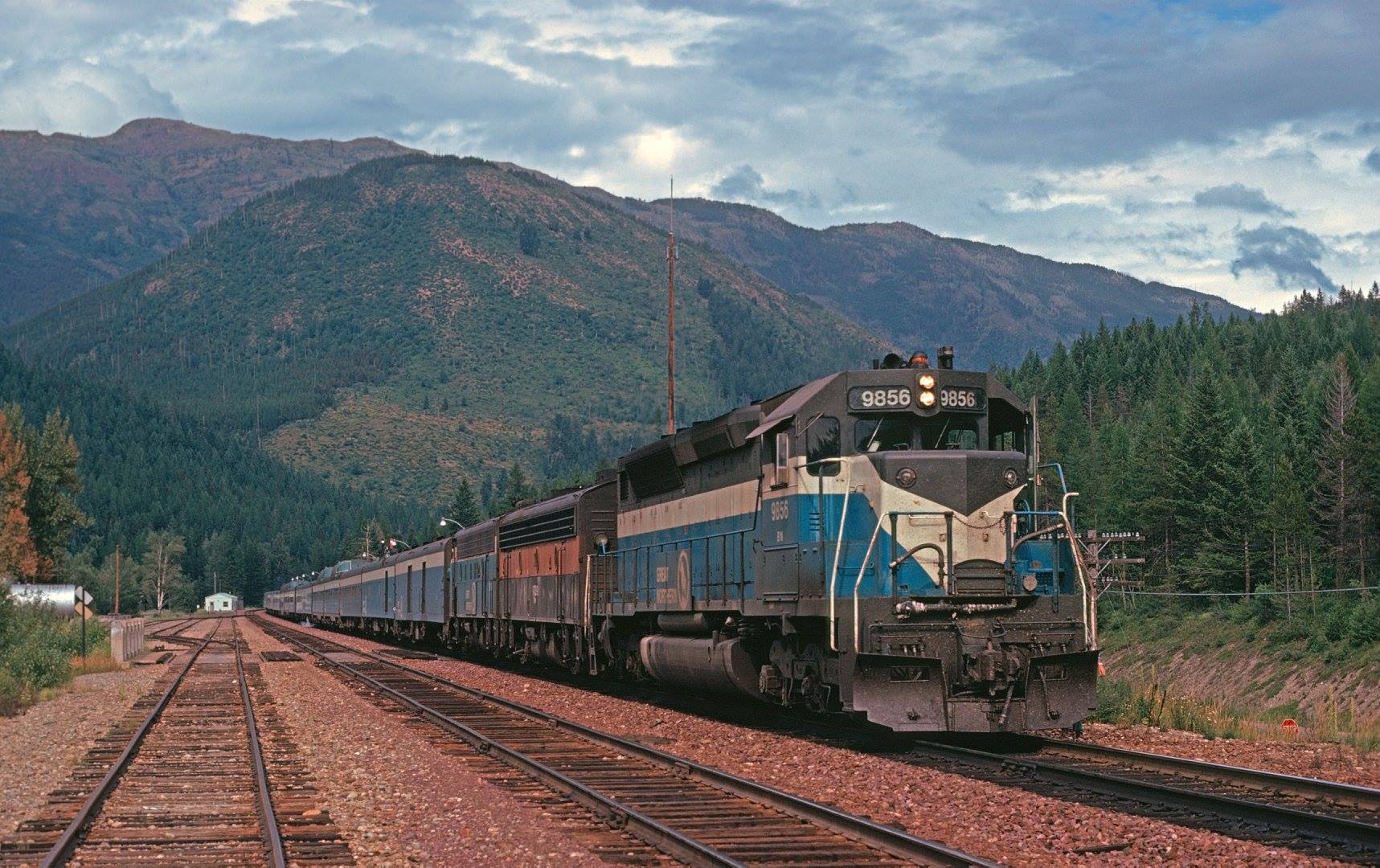 "West Glacier, Montana in August of 1970 witnessed the westward passing of what, by then, had become Burlington Northern's 'Empire Builder' with SDP45 #9856, in the lead." - Drew Jacksich
Interestingly, with Morgan controlling the CB&Q Hill was able to indirectly complete his connection to Chicago. This setup lasted through 1970 when his successors were finally able to created the massive Burlington Northern system. 
Before his death in 1916 James J. Hill was able to achieve the last of his great legacies, the completion of the Cascade Tunnel through Washington's Cascade Range (a new tunnel was later bored and opened in the 1920s, which is still used today by the BNSF Railway, and is some 8 miles in length!).
Because of the money Hill regularly gave to libraries and schools his heirs used part of his fortune to endow the Hill Reference Library in St. Paul, Minnesota. 
Legacy
James Hill advocated worker safety and pushed for technological advancements such as air brakes and high-efficiency boilers on trains, advancing the U.S. railroad industry.
Hill's strategic vision extended beyond railroads. He initiated several projects for the betterment of the regions his railways served, supporting industries such as agriculture, mining, and lumber. This holistic development approach helped promote economic growth in the American Northwest.
A key ingredient to Hill's success was his emphasis on building 'the best' rather than the 'longest'. He built his railroads to last, investing in robust infrastructure and state-of-the-art equipment. This quality-over-quantity approach was a defining factor in the success of the Great Northern Railway.
Even after his death, Hill's influence continued to shape North America's commercial landscape. His railroads played a quintessential role in the westward expansion, with the Great Northern Railway eventually merging with other lines to form the Burlington Northern Railroad in 1970.
Hill's legacy extends beyond the realms of business and railroads. He was an ardent patron of the arts and education. The James J. Hill reference library, a prominent nonprofit business reference library, continues his commitment to empowering people through knowledge.
Hill's name is synonymous with the rise of railroads as a powerful driver of America's economic growth in the late 19th and early 20th century. His railroads, particularly the Great Northern Railway, set a precedent in strategic planning, quality service, and sustainable development.
Today, the legacy of James J. Hill is evident in the enduring presence of his railway lines, most of which continue to operate under the banner of the Burlington Northern Santa Fe (BNSF) Railway. His lifetime pursuit of quality and innovation continues to influence modern railway practices.
A deeper look into Hill's story underscores the value of foresight, resilience, and innovation – the traits that allowed him to transform a bankruptcy-bound railroad line into a thriving empire. His impact transcends his own life, shaping future generations of railroad entrepreneurs and developers.
The railroad magnate left behind a wealth of wisdom about creating, sustaining, and growing enterprises effectively. As we strive to unravel the challenges of modern transportation, Hill's approach to fostering development through transportation serves as an inspirational model.
Hill's influential role in the American railroad industry continues to be a subject of great interest for scholars, researchers, and economic enthusiasts. By studying his life and accomplishments, valuable insights can be gleaned about the changing dynamics of industries, market competition, and strategic adaptation.
In conclusion, James J. Hill's vast legacy stands as a testament to his remarkable vision, resolute determination, and exceptional business acumen. Through his strategic investments, skilled leadership, and unwavering commitment, Hill etched an indelible mark in the American railroad landscape, laying the groundwork for future growth and prosperity. His story continues to inspire, providing invaluable lessons for contemporary business leaders and entrepreneurs.

Sources
Hidy, Ralph W., Hidy, Muriel E., Scott, Roy V., And Hofsommer, Don L.  Great Northern Railway, The: A History.  Minneapolis:  University of Minnesota Press, 2004 edition.
Kelly, John.  Great Northern Railway:  Route Of The Empire Builder.  Hudson: Iconografix, 2013.
Schafer, Mike. Classic American Railroads. Osceola: MBI Publishing, 1996.