Jay Gould, Railroad Tycoon

Last revised: March 3, 2023
By: Adam Burns

Perhaps more than any other, Jay Gould defined why the general public so despised tycoons as he usually attempted almost every scheme in the book to achieve a profit.

For instance, at one point he tried to corner the gold market and later only defeated the powerful Cornelius Vanderbilt for control of the Erie Railroad by bribing the New York state legislature. However, for all of Gould's flaws he actually was quite successful at operating railroads when he wasn't attempting to "steal" money.
Background
At one point he operated or controlled more than 10,000 miles of railroad, usually turning the operations successful by merging together smaller lines to serve direct connections to larger markets and cities.  

Gould's ruthless nature is somewhat surprising considering the man's relatively quiet and unassuming nature.  It is said adversaries, and even friends, were never quite sure what he was thinking.

At the time of his death in 1892 Gould's net worth was $77 million; adjusted for inflation that number would be an astronomical $79 billion today. Gould, whose first full name was actually Jason, was born in Roxbury, New York in May, 1836. 
A Union Pacific publicity photo featuring one of its powerful, 6,600 horsepower DDA40X's, #6900, at Omaha, Nebraska circa 1969. They utilized a pair of Electro-Motive's 16 cylinder, 645E3A prime movers and were actually quite successful logging millions of miles before all retired by the mid-1980s. Several survive today, including this unit. In addition, #6936 remains in operation as part of UP's heritage fleet.
Early Life
Although he came from a poor background Gould devoted his early years to scholarly study attending the Hobart Academy where he would eventually earn a job in a blacksmithing business. 

The owner was so impressed by Gould's business skills that he offered him half of the operation, which he would eventually sell to his father. After this short venture he worked as a surveyor, using his excellent skills in mathematics and surveying (which would also become extremely useful later on in life for Gould).  
Overview
Occupation

Financier, Rail Baron

Born

May 27, 1836 (Roxbury, New York)

Death

December 2, 1892 (New York City)

Parents

John Burr Gould (father)

Mary More (mother)

Early Life

Bookkeeper, Farmer

Education

Hobart Academy

Spouse

Helen Day Miller (married 1863; died 1889)

Children

George Jay Gould, Edwin Gould, Helen Miller Shepard, Howard Gould, Anna Gould, Frank Jay Gould

Railroads Controlled

Rensselaer & Saratoga Railway; Rutland & Washington Railroad; Erie Railroad; Missouri Pacific; International-Great Northern; Texas & Pacific; St. Louis, Iron Mountain & Southern Railway; Wabash; Terminal Railroad Association of St. Louis
In 1856 at the age of 20 Gould truly entered the business world when he partnered with Charles Leupp and opened a tannery. For about a year this partnership was quite successful until the Panic of 1857 forced the property to shutdown.
While his partner went bankrupt Gould, always looking for the next opportunity, used the Panic to gain a leg up by purchasing other businesses in receivership. His hunch correct, many of these business became profitable following the Panic.
Railroads
In 1859 Gould first "entered" the railroad industry when he moved to New York City to become a broker of railroad stocks. Four years later in 1863 he married Helen Day Miller, and through her father truly entered the railroad industry by becoming manager of the Rensselaer & Saratoga Railway.
This railroad operated between Troy and Ballston Spa, New York serving about a 25-mile system. A rather unsuccessful and rundown operation when he arrived, Gould was able to turn the system around and make it profitable. One of the ways in which he did this was through the control of the nearby and bankrupt Rutland & Washington Railroad, which connected Eagle Bridge to Salem, Vermont.
The system was reorganized into two railroads, the Salem & Rutland and Troy, Salem & Rutland. However, both became part of the Rensselaer & Saratoga, which would eventually become part of the Delaware & Hudson Railway in 1871.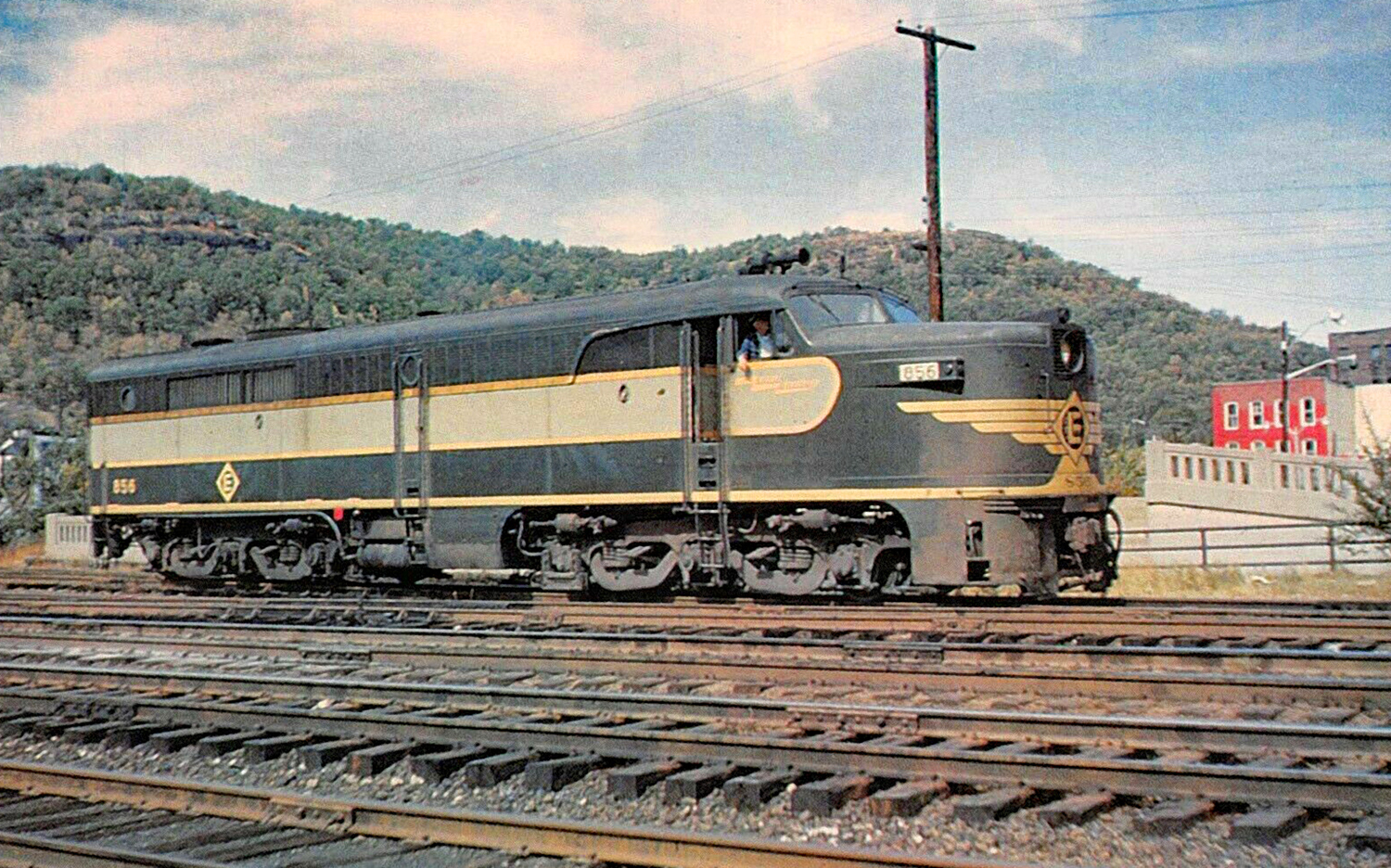 Erie Lackawanna PA-1 #856, still wearing its Erie colors, is seen here in Port Jervis, New York on September 6, 1964. Robert Gayer photo.
Stock Market
Jay Gould's legacy as a shady speculator and businessman likely began in August of 1869 when he attempted to corner the gold market along with associate Jim Fisk.
The hope was that by inflating the price of gold the two could likewise raise the price of agricultural products in the western states and lure farmers to sell, allowing for a great deal of freight traffic to begin moving eastward, and presumably over railroads in which they either controlled or held an interest.
However, the plot failed when President U.S. Grant was forced to step in and break up their scheme (although questions have arisen as to whether Grant at least aided in their initial efforts) after what became known as "Black Friday" (which occurred on September 24, 1869).

A year prior to Gould's gold conspiracy he was elected president of the Erie Railroad, again through shrewd maneuvering with the help of Fisk.
During the 19th century the Erie was one of the most powerful eastern railroads dating all of the way back to 1832, when it was chartered that year by the Governor of New York, De Witt Clinton as the New York & Erie Railroad to build a rail line in the southern part of the state linking Piermont, New York with Dunkirk on Lake Erie.
It was finally able to complete this main line by 1851. Over the years it acquired, leased, or built new lines and by the late 19th century it had reached points such as Buffalo, Rochester, Chicago, Cincinnati, and Indianapolis.
Having said that, gaining access to these new markets was a very labor intensive and difficult task because of two reorganizations (as the Erie Railway in 1859 and Erie Railroad in 1895) and a proxy fight by Cornelius Vanderbilt (of New York Central fame) to take over the Erie in the 1867.
Erie War
What became known as the "Erie War" with Jim (James) Fisk, Gould, and Daniel Drew occurred with Vanderbilt attempted to gain control of the Erie Railroad to include with his NYC&HR system. This would be the only time Gould ever bested Vanderbilt. In what essentially started as an argument between the two turned into a battle of wills as Vanderbilt attempted to corner Erie's stock.
In response, Gould and his associates attempted to artificially inflate the Erie's stock value (also known as "watered stock", Gould was issuing new stock as soon as Vanderbilt purchased it), which is fraud and against the law. However, Gould only defeated Vanderbilt by bribing the New York state legislature, which allowed the stock to be legalized. 
Gould's attempt to directly seize and take control of the Erie in 1873 failed when his bribery attempt backfired. He tried to solicit foreign investments for the takeover, attempting to bribe Lord Gordon-Gordon of Britain. However, Gordon-Gordon stole the money and ensuing battle between the two for the money resulted in Gould being ousted from Erie's board of directors. 

After The Erie
After losing control of the Erie, Gould headed west where he eventually gained control of the Union Pacific, Missouri Pacific, and a number of other smaller systems.
By the early 1880s he would hold more than 16,000 miles of railroad under his management. While it is said he was one of the most hated men of the 19th century he generally did well at overseeing the railroads under his control, such as the MP.  The railroad began as the Pacific Railroad, which struggled after completing its original main line and was leased by the Atlantic & Pacific Railroad in 1872.
The A&P would later come under the  control of Gould after it defaulted, and the mogul purchased controlling interest in the company.  Gould would in turn reorganize all of the railroads into simply the Missouri Pacific, which would quickly stretch throughout the west with acquisitions in Missouri, Nebraska, and Kansas.

---
Net Worth
After Gould was also able to snatch up a somewhat parallel route of the St. Louis, Iron Mountain & Southern the Missouri Pacific stretched into Texas.  Jay Gould would also come to own other interests such as newspapers, the Western Union Telegraph Company, and New York City's elevated railways.
While remembered as a shady businessman, many of Gould's children were thought of otherwise. George became a successful manager of railroads himself, turning around a number of lines while his oldest daughter Hellen is remembered as a philanthropist donating thousands of dollars to hospitals, universities, and libraries.  
At the time of his death in December, 1892 Gould was said to be worth about $72 million and while he did donate some money to charitable causes most of his fortune would be willed to his children.