Jewett Car Company

Last revised: April 13, 2023
By: Adam Burns

The Jewett Car Company was one of the smallest manufacturers producing cars and equipment for both the interurban and street railway industries.

It literally began as a "mom and pop" operation originally based in the small town of Jewett, Ohio (hence its name).
During its time building cars, Jewett became widely regarded for its simple, yet well-built equipment and became a favorite of western lines, notably the Pacific Electric Railway of Los Angeles.
The company also saw its homebase be located in three different Ohio towns; Jewett, Akron, and Newark. Unfortunately, Jewett was an early casualty of the decline of the industry.
The small company never had a widely diversified business model such as much larger manufacturers J.G. Brill and the St. Louis Car Company (which built other equipment like buses, subway cars, and even automobiles).
Today, a number of Jewett cars remain preserved, three of which are operational in California and another in Ontario.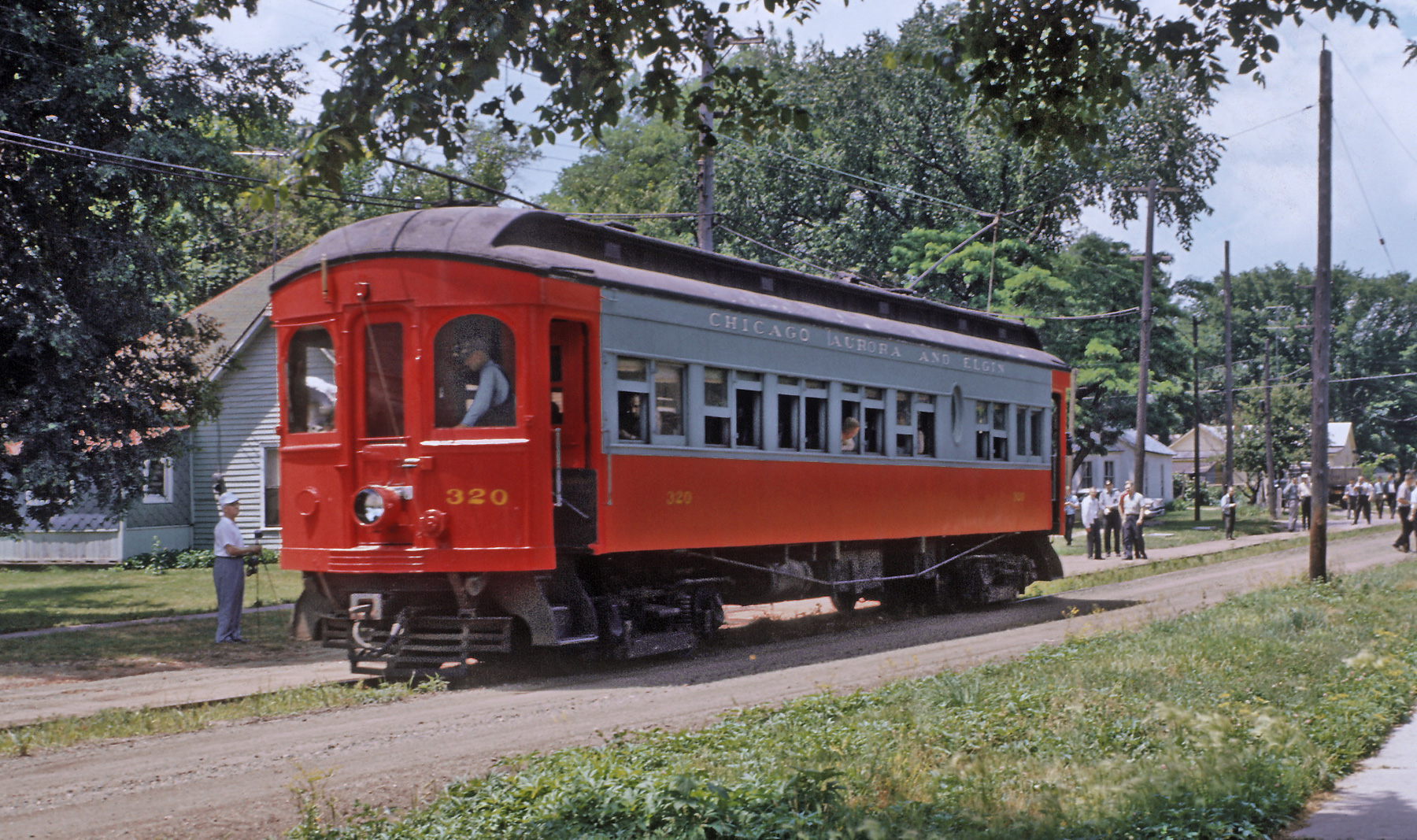 Chicago, Aurora & Elgin car #320, built by Jewett in 1914, hosts excursions sponsored by the Iowa Chapter/NHRS around Centerville, Iowa in June, 1963. Today, she is preserved at the Midwest Electric Railway. Roger Puta photo.
The history of Jewett dates back to 1892 and John Seiberling, who then controlled the Akron Street Railway.
This streetcar line began operations in 1888 when it took over the smaller Akron Street Railway & Herdic Company. The line only served the city of Akron although it had numerous name changes throughout its existence until rail services were finally abandoned in 1947.
In any event, at the time Seiberling wished to start his own car manufacturing facility and began building car bodies in one of the street railway's old car barns in Akron, along with help from John Boyd.
Seiberling's idea, surprisingly, proved to be quite successful and it was not long before a larger building was needed.
Perhaps in an effort to keep costs down for the new operation, while being centrally located among Ohio's and western West Virginia's interurban and streetcar systems, Seiberling chose the small community of Jewett in which to build his new plant.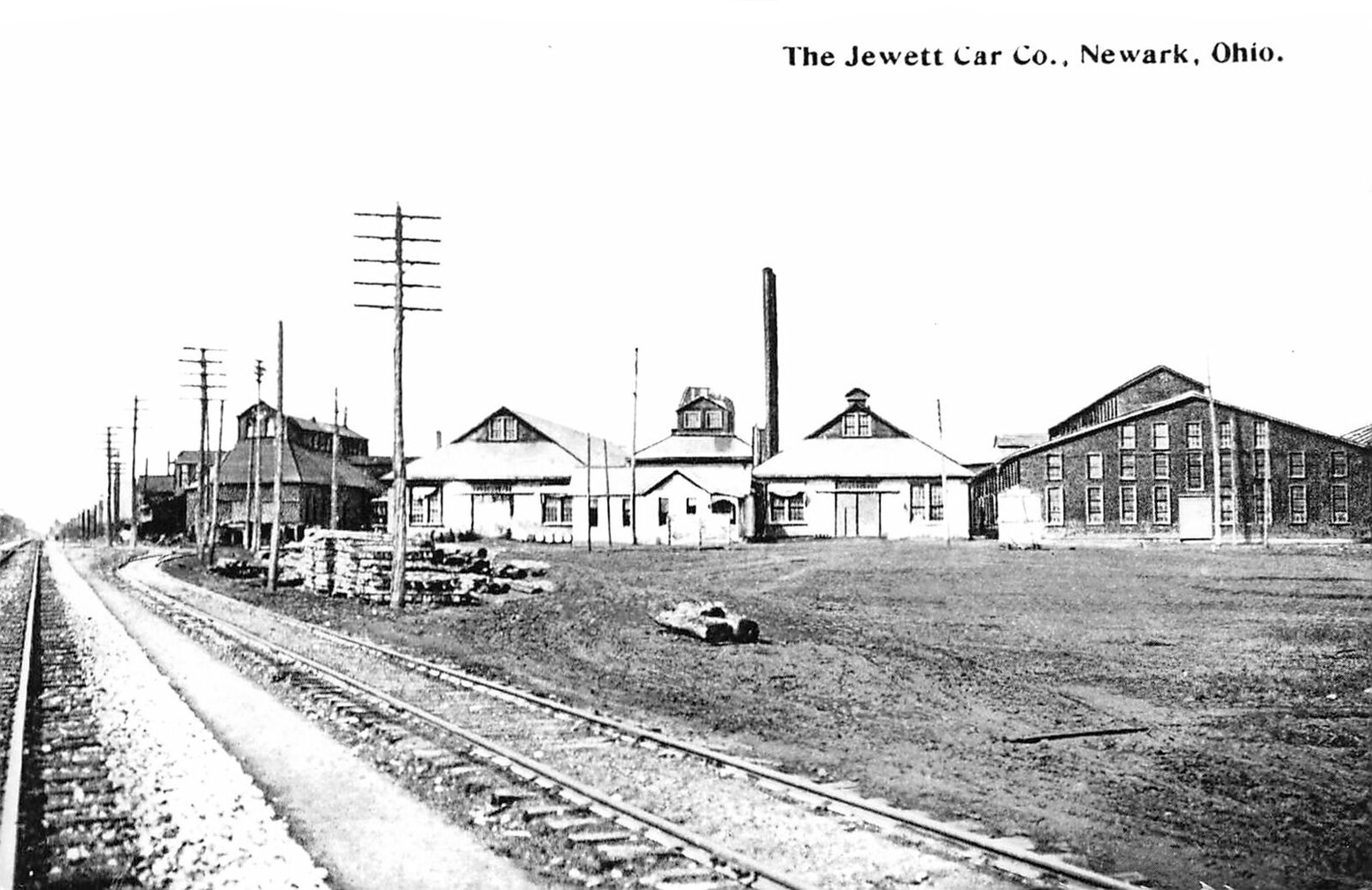 The Jewett Car Company's 10-acre facility along South Williams Street in Newark, Ohio. It moved to this location in 1910 from Jewett, Ohio but maintained its original name. The plant sat beside the Pennsylvania Railroad's "Panhandle Route" and Baltimore & Ohio's line to Columbus.
Located about 70 miles south of Akron, the town quickly jumped at the chance of being home to a new car builder and without hesitation donated the needed ground.
The new facility, with 17,500 square feet of space, immediately put 100 folks to work when it opened in May, 1893.
Unfortunately, the timing of the company's opening could not have been worse as the financial panic of the mid-1890s put Jewett into bankruptcy. With little sales and a marginal debt it was purchased by a group from Wheeling, West Virginia in 1897.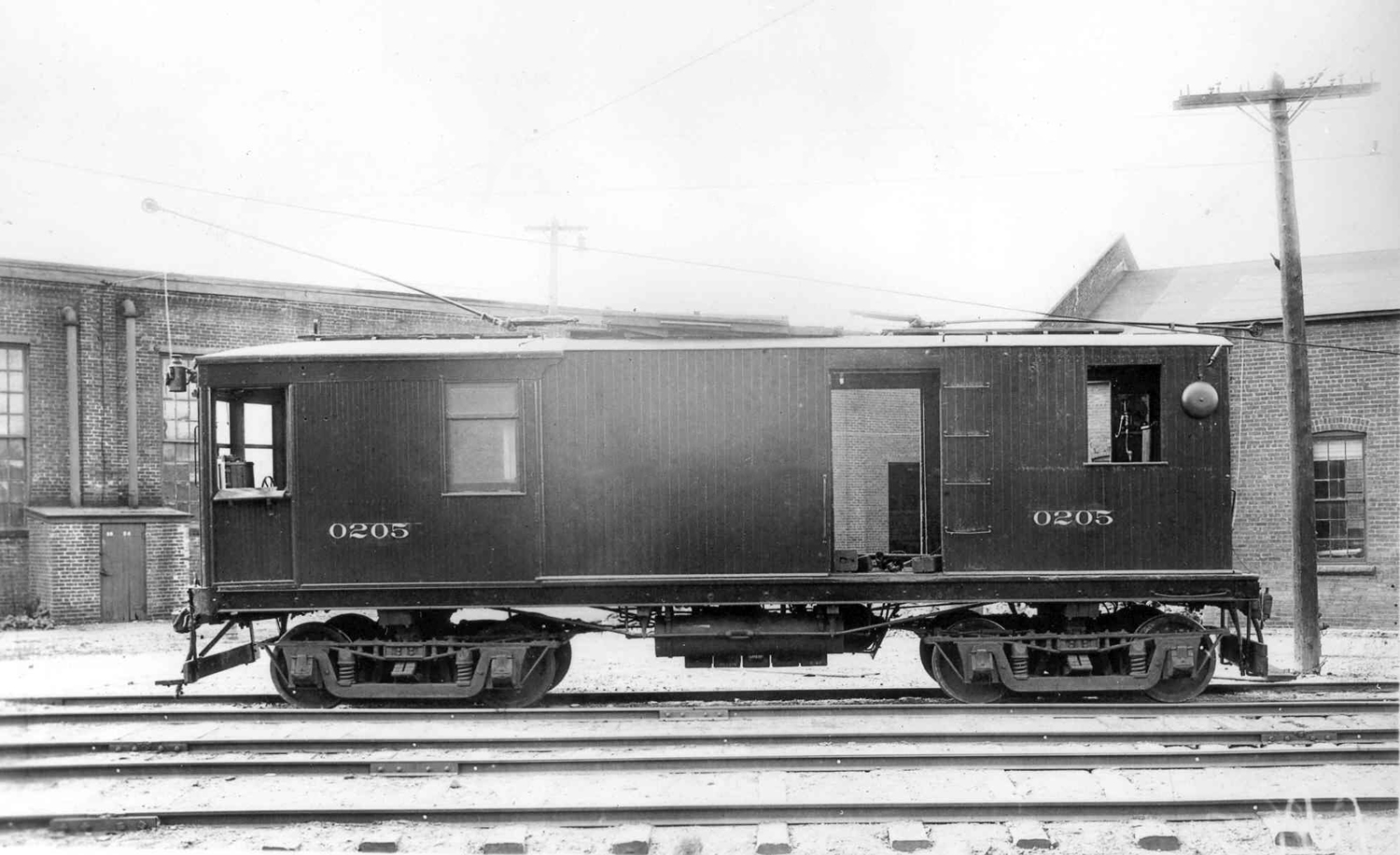 New York State Railways maintenance-of-way car #0205 circa 1909, originally built as Rochester & Eastern Rapid Railway #0 by the Jewett Car Company in 1903.
Under new ownership, the name of the operation was changed to the Jewett Car Company & Planing Mill.
By the end of the 19th century the economy was recovering and with new capital infused into the company an 8,000 square-foot addition to the complex was built to increase production.   
Around this time the interurban industry was exploding with growth as many saw it as the wave of the future for local travel (remember that this was still 10 to 20 years before the automobile took off) and Jewett's sales likewise took off with sales to lines in West Virginia, Ohio, Missouri, Illinois, and Indiana.

Like most other car builders, Jewett always relied heavily on street railways and subway lines for sales. As such, sales to streetcar lines came first with interurbans a secondary market although also like most other companies Jewett is best remembered for its interurban designs.
In any event, as orders for Jewett's cars outstripped its capacity, a new plant was needed and by 1904 the company had moved to Newark, Ohio which provided 10 acres of space to further increase production.
During the first few years of the new century Jewett was producing hundreds of cars for subway and streetcar lines in Chicago, New York, and Pennsylvania.
Interestingly, its designs were actually nothing fancy; standard-sized electrically powered cars that somewhat resembled early railroad coaches and featuring doors along with end for patrons to enter and exit.

Jewett's cars, however, were noted for their elegance and high quality of construction.
While the company never had any notable designs patented to its name such as the St. Louis Car Company's Electroliner or the J.G. Brills' Brilliners and Bullet cars, Jewett was one of the first to introduce rolling bearings greatly reducing its cars' maintenance costs.
The downfall of the Jewett Car Company & Planing Mill follows the trend of the streetcar and interurban industries.
As 1920 neared the American public began to invest more heavily into their own cars and began abandoning local rail services. Because of this car builders began seeing sales slowly erode away.  
---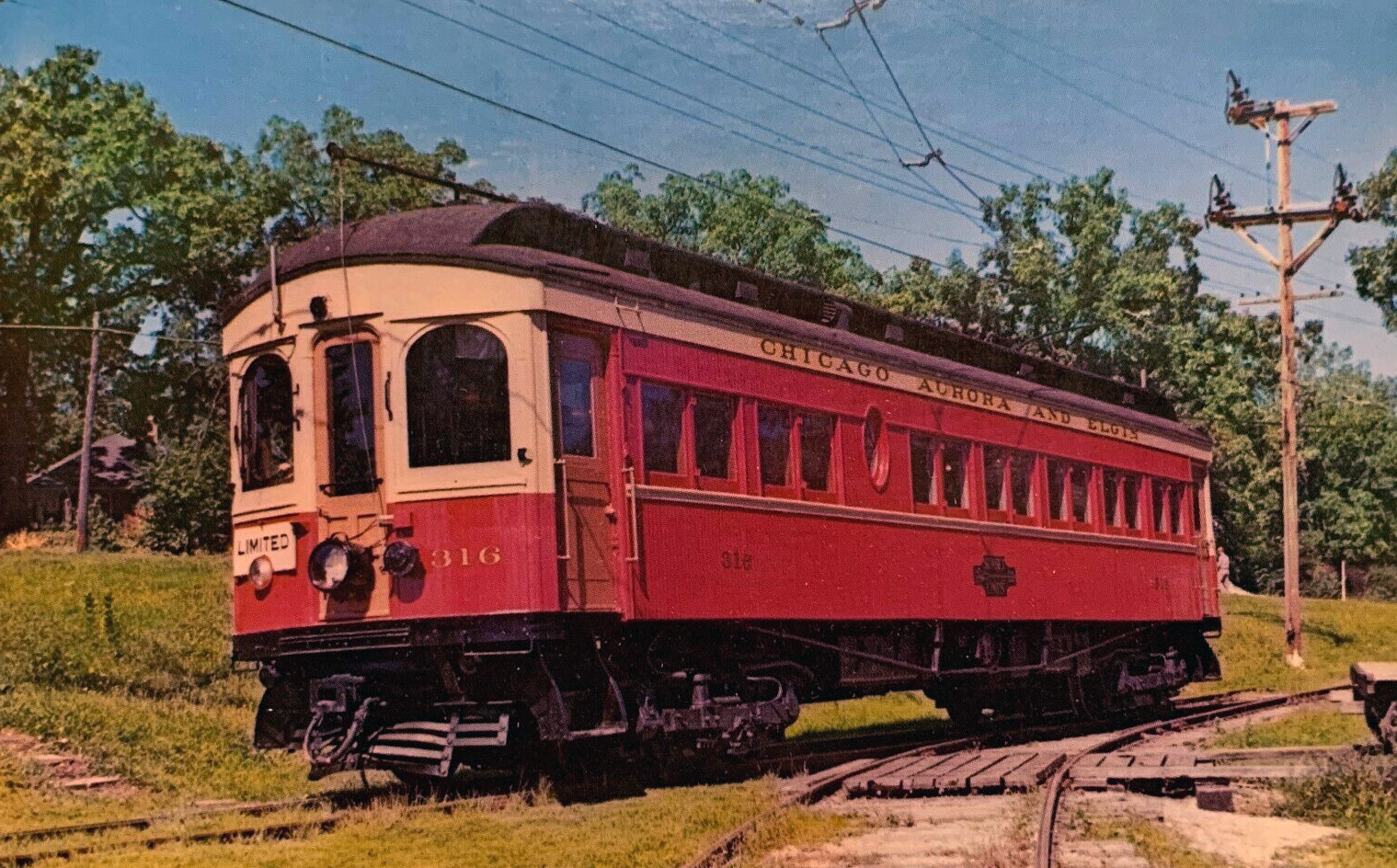 Like sister #320 pictured above, Chicago, Aurora & Elgin car #316 was also manufactured by Jewett, completed in 1913. She remained in use on the "Roarin' Elgin" until 1957. The unit is seen here preserved at the RELIC (Railway Equipment Leasing and Investment Corporation) during the latter 1960's. Today, this group is known as the Fox River Trolley Museum.
For Jewett this happened much faster than other companies.
The company missed out on the chance to reap huge profits from the World War I effort by manufacturing needed materials for the government because one of its major investors was German.
This also resulted in the company missing further sales opportunities when the government needed thousands of new main line railroad cars built, as the United States Railroad Association (USRA) controlled the national network during that time.
As such, by December, 1918 with declining sales and missed opportunities Jewett went into receivership. A year later the company permanently closed.