B&O's M&K Junction

Last revised: June 20, 2023
By: Adam Burns

As trains became larger and heavier the Baltimore & Ohio realized that it needed a centrally located facility to service locomotives.

It upgraded what was known as M&K Junction at Rowlesburg, West Virginia for this purpose, a location where a branch split from its West End main line and headed for Morgantown. 
It was also an area that sat between two steep grades.  Along the way the branch served coal mines and the junction became busy enough to warrant the construction of a tower to protect train movements, which amazingly survived in service until the 2000s. 
The junction was also not far from the a notable short line, the West Virginia Northern.  
The small WVN interchanged with the B&O at Tunnelton where, at one time, the railroad served some 14 different mines during the early 20th century. 
Today, the WVN is a memory and M&K has lost most of its importance under successor CSX Transportation; the facilities are gone (servicing is now performed at Cumberland or Grafton), the branch has been abandoned, and all that remains is the main line.
The Baltimore & Ohio struck out west from Cumberland, Maryland during 1850 to complete its projected main line to the Ohio River. 
It took more than two years to do so but the route was finally opened to Wheeling, Virginia during December of 1852.  The project required 11 tunnels, more than 100 bridges, and the Cumberland-Wheeling segment alone had cost $5.1 million. 
Between Cumberland and Grafton the B&O was forced to cross four significant mountain grades. 
These were all located in then-Western Virginia (now West Virginia); starting from the east first was:
Seventeen-Mile Grade between Piedmont and Altamont


Cranberry Grade from Terra Alta to Rowlesburg


Cheat River Grade between Rowelsburg and Tunnelton; 


Finally, Newburg Grade from Tunnelton to East Grafton.
For many years afterward the location of Rowlesburg was just like any other small town along the B&O's main line. 
However, that changed in 1907 when the Morgantown & Kingwood Railroad was completed in 1907 between Morgantown and Rowlesburg at a location which became known as the Morgantown & Kingwood Junction (or simply M&K Junction). 
This small system, exactly 48.0 miles in length according to a later B&O timetable,  was initially financed by George C. Sturgiss and J. Ami Martin (these two individuals also came to control the nearby West Virginia Northern) to tap coal fields outside of Morgantown and Fairmont along the Deckers Creek Valley. 
To protect the location the B&O constructed M&K, or MK Tower. 

In 1922 the B&O gained control of the property and renamed its the Morgantown & Kingwood Branch (or M&K Branch for short). 
Aside from the line's originating coal traffic it also provided an inside shortcut to Morgantown, one of three the railroad owned to reach that town (the others connected via Clarksburg and Grafton). 
During the World War I era the B&O began implementing heavy Mallet articulateds on the West End.  Thanks to their considerable tractive effort and brute strength these locomotives proved well suited in slow drag service moving heavy freights over the stiff grades mentioned above. 
As a result the railroad decided that M&K Junction should be upgraded with a two-stall engine house and other maintenance/servicing facilities to keep helper locomotives ready for their next assignment.
The B&O also constructed a small yard to hold arriving local coal and other freight coming off of the M&K Branch.  Thanks to the grades near M&K Junction the railroad assigned new diesels here very early on with F7s arriving by 1949. 
As the years passed newer power took over such as GP7s, GP40s, GP9s, and various other Electro-Motive products (interestingly, covered wagons could still be found working freights through the 1970s). 
During the era of friction-bearing trucks (also known as non-roller bearing) one could regularly be treated to scenes of considerable brake smoke (resulting from oil leaking out of the bearing seals and dripping onto the wheels) as heavy, eastbound coal trains descended Cheat River Grade (once that task was completed the trains would then have to throttle/steam up for the next battle ahead over Cranberry Grade).
The M&K Junction terminal remained relatively unchanged until 1985 when Chessie System/CSX announced that it would be severing the St. Louis main line as a through route, a move that was brought about by several years of declining traffic that began during the 1960s. 
This would eventually result in the removal of the line between Clarksburg, West Virginia and across parts of Ohio.  During August of 1986 all helper dispatching, fueling, and maintenance was moved to the primary terminal in Grafton. 
This left M&K as little more than a siding location for helpers, which is still the case today.  A year after M&K's downgrading CSX began abandoning sections of the M&K Branch in 1987.  Today, little remains of the line.
---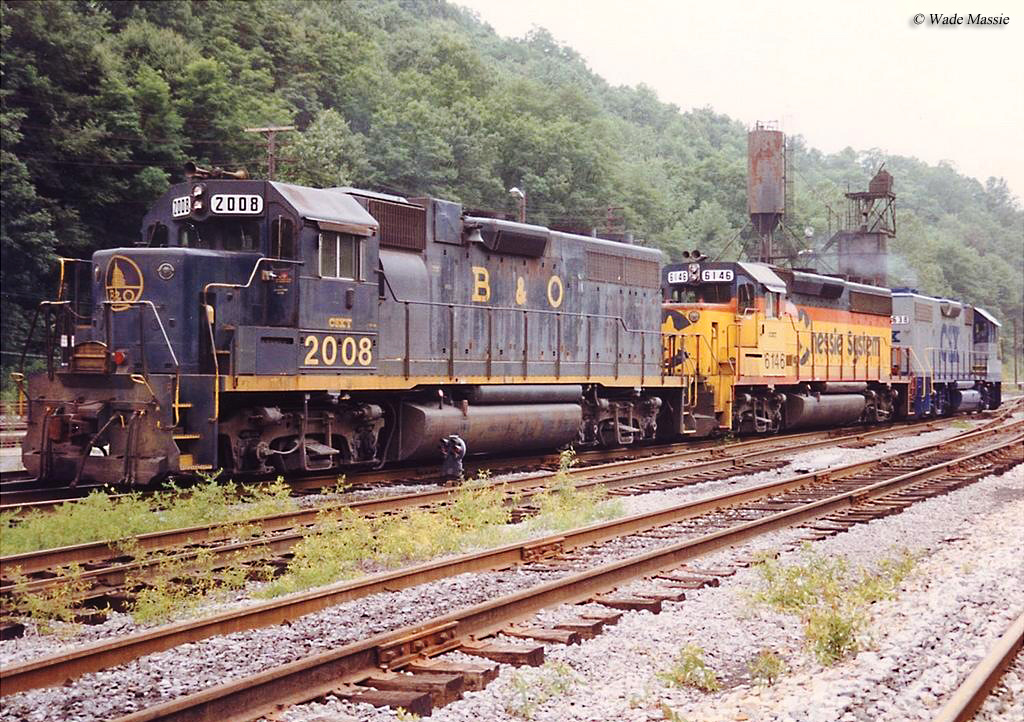 On December 8, 2010 CSX closed MK Tower after more than a century of service and it was razed soon after.  M&K Junction hasn't lost all vestiges of its past, however. 
Part of the small yard here is still in place to act as a stopover for helpers as well as store coal hoppers waiting to serve nearby mines or be picked up. 
In any event, the classic era of numerous units being serviced here and the maintenance shop busy at work will likely never be seen again since locomotives can travel much further without needing attention. 
Today, most of the B&O's fabled West End has changed drastically since the days of steam but it continues to be an important route under CSX.