Kansas Railroads In "The Sunflower State"


Kansas railroads are extremely rich in history albeit one may not think or realize it when they see that flat open farm country that defines the state. At one time Kansas ranked a whopping third in total rail mileage due to its rich agricultural base as railroads looked to tap all corners of the state to reach these areas (Kansas is regarded as one of the granger states because of its farming importance to railroads).  Beyond farming, Kansas became a battleground of tycoons who attempted to outduel one another for control of railroads in the western United States, most notably Jay Gould and Edward Harriman.  Their efforts led to thousands of miles of redundant tracks in Kansas which surprisingly remained in service well into the mid-20th century.  For these reasons, the state suffered thousands of miles of lines removed after World War II and today you can still see these old grades scarring the landscape.
While Kansas has since slipped in this category and today only carries about half of its all time high (much of this loss has been the abandonment of these agricultural branch lines during the 1970s and 1980s), railroads are still very important in the Sunflower State with Class I systems BNSF Railway, Union Pacific, Kansas City Southern all operating key routes within the state along with a number of regional and short line carriers.

Aging Santa Fe 'F' units soldier on in freight service at Emporia, Kansas in March, 1972. Nearing the end of operational service, many of these 'F' units were rebuilt into CF7's, extending their lives by several decades (some of which remain in use today). Roger Puta photo.
The state's railroads date back to the Leavenworth, Pawnee & Western, which was chartered in 1855 to connect the Missouri River with Fort Riley. Construction of the line did not actually begin until 1863 at which point it was organized under the name of the Union Pacific Eastern Division by Congress. The Union Pacific, of course, came about because of the Pacific Railroad Act of 1862 to build the country's first transcontinental railroad. The name was later changed to the Kansas Pacific Railway in 1869 after it had connected Kansas City with Denver, Colorado. In the following years Kansas would come to have several of our most revered western and granger railroads operating within its borders. 
Santa Fe 2-10-4 #5022 steams across the Heartland with a freight of boxcars and reefers circa 1950s. Photographer unknown.
Today, much of Kansas' rail network is operated by Santa Fe successor BNSF Railway, Kansas City Southern, and the Union Pacific whose Kansas City-Denver main line also cuts directly through Kansas. The rest of the Sunflower State's rails are operated by regionals (Class IIs) Kansas & Oklahoma Railroad, Kyle Railroad, Missouri & Northern Arkansas, Nebraska, Kansas & Colorado, and South Kansas & Oklahoma. Additionally, the state is home to several shortlines (Class IIIs) which include the Cimarron Valley Railroad, Dodge City, Ford & Bucklin, Hutchinson & Northern Railway, Blackwell Northern Gateway Railroad, Garden City Western Railway, Kansas City Terminal Railway, Kaw River Railroad, V&S Railway, and the Wichita Union Terminal Railway. 
Kansas City Southern SD40 #604, less than a year old, and a quartet of relatively new GP30's (1963), pass the station at Pittsburg, Kansas on July 30, 1967. Roger Puta photo.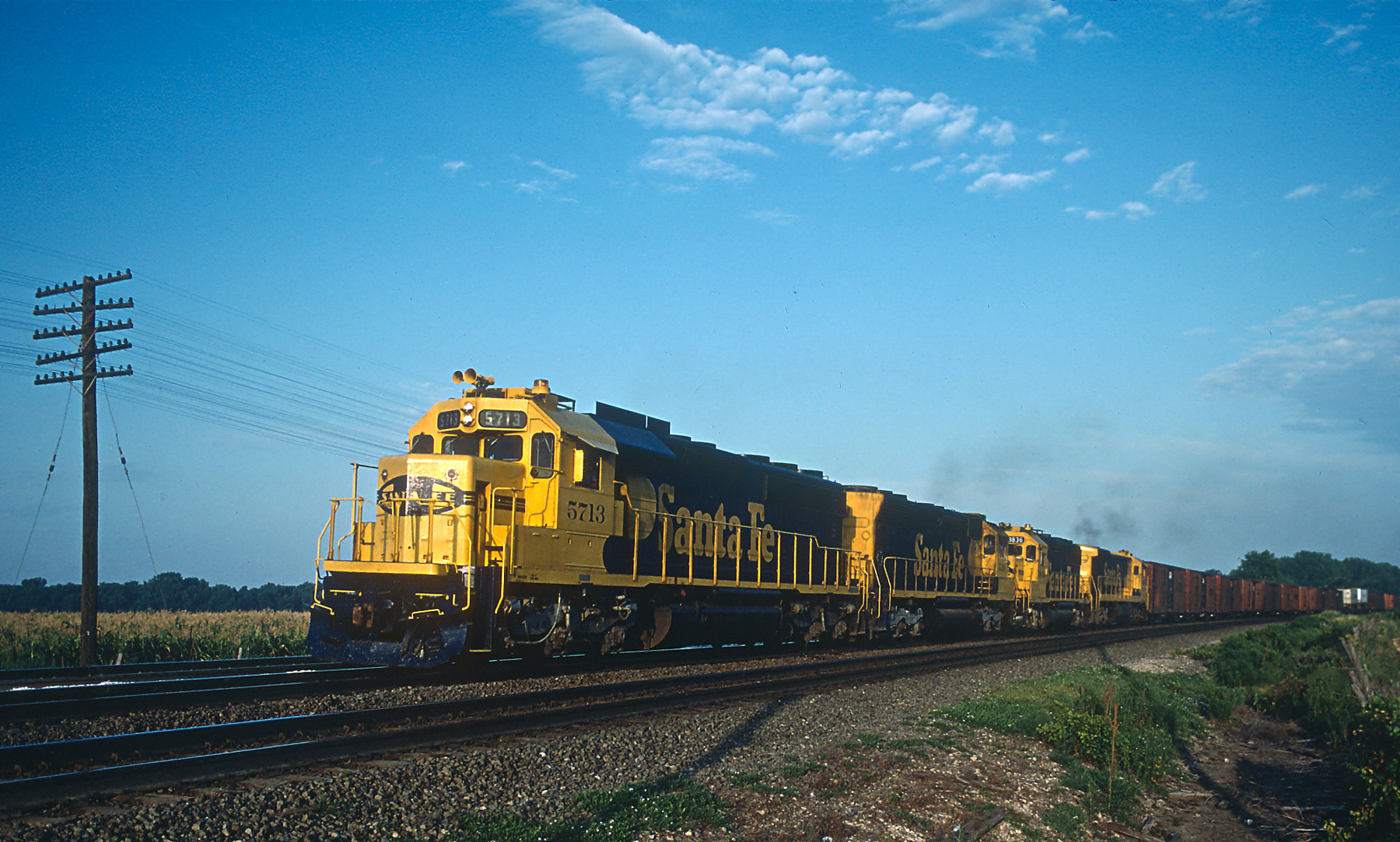 Santa Fe SD45-2 #5713 leads an eastbound manifest west of Merrick, Kansas on a late August day in 1983. Roger Puta photo.
As for the state's route mileage, today it totals fewer than 5,000 although at its peak in the 1920s that number pushed 9,400. Much of this loss was, again, due to the decline in farms shipping their products by rail although it was also caused simply by overbuilding, a similar issue affecting many granger states (there was just too much supply and not enough demand, particularly following World War II). For a more in-depth look at Kansas, in terms of its rail mileage over the years please refer to the chart above.

* Kansas's first railroad was the Leavenworth, Pawnee & Western Railroad (LP&W), chartered in 1855.  At the time the region was virtually devoid of settlement and as a result no funding could be secured for its construction.  However, when the Union Pacific was formed in 1862 to build the eastern component of the Transcontinental Railroad, the old LP&W chartered was wrapped up into the new entity whereupon it became known as the Union Pacific Railway, Eastern Division in July, 1863.  It began construction from Kansas City that September and had opened 40 miles to Leavenworth by 1864.  In 1869 it was renamed as the Kansas Pacific Railway and completed into Denver, Colorado the following year.  It went on to become an important artery under the modern Union Pacific.
---
In years past Kansas was once home to legendary passenger trains such as AT&SF's Super Chief and Union Pacific's City fleet. Today, however, passenger operations are managed by Amtrak and include only the Southwest Chief (which stops at Lawrence, Topeka, Newton, Hutchinson, Dodge City, and Garden City) that still operates over much of the same territory s the famous Super Chief.  For a historical look at the Super Chief and City fleet please click here to visit the site's streamliner section.

---
---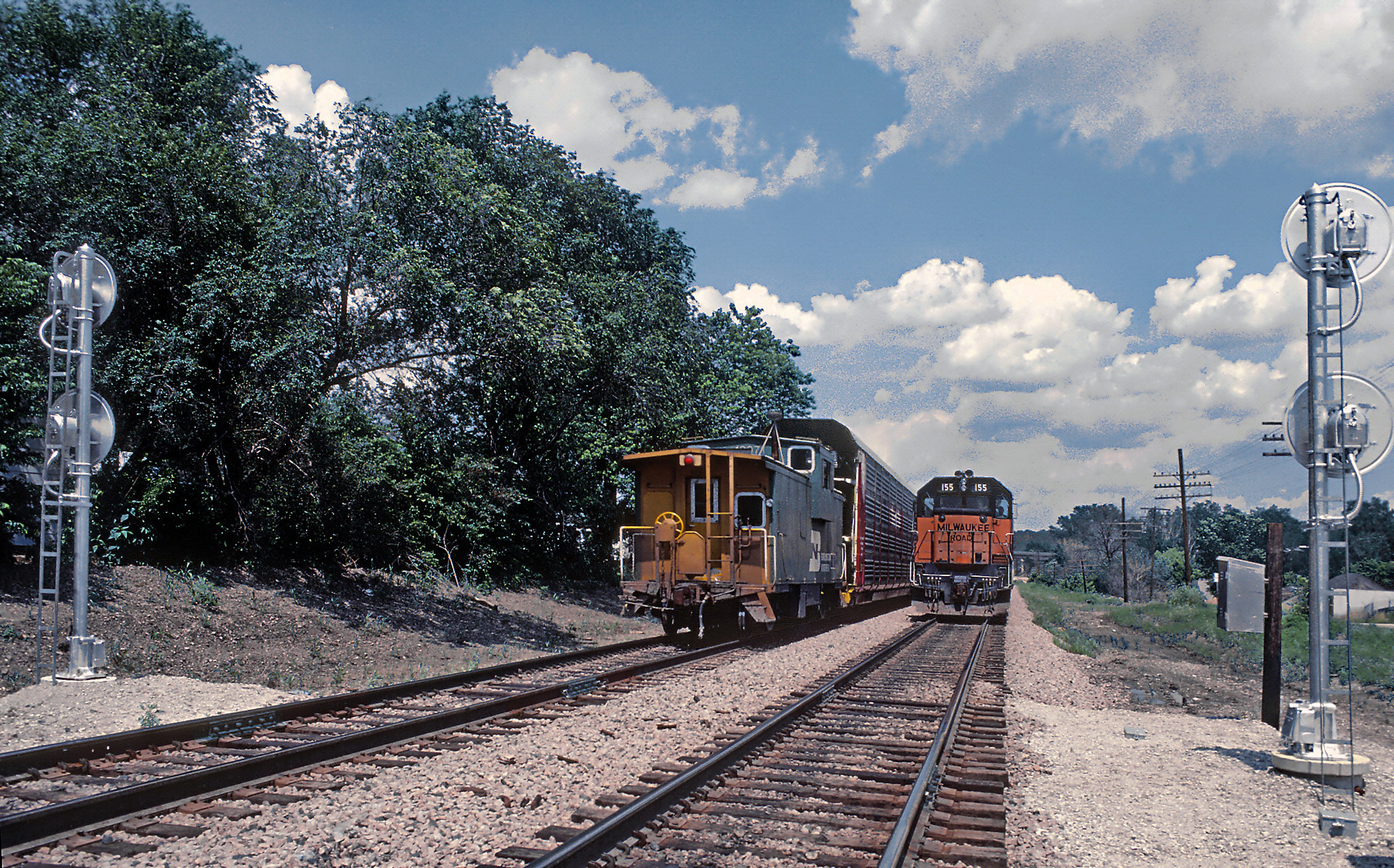 Milwaukee Road SD40-2 #155 leads what is likely a Missouri-Kansas-Texas (Katy) freight as it passes a Burlington Northern train south of Rosedale, Kansas in June, 1985. Roger Puta photo.
Kansas railroads are also home to a number of railroad museums and tourist lines that you may be interested in visiting when in the state. They include the Abilene & Smoky Valley Railroad, Ellis Railroad Museum, Great Plains Transportation Museum, Great Overland Station, Liberal Rock Island Depot, Heart of the Heartlands, Midland Railway, and the Santa Fe Depot Foundation. All in all Kansas has plenty to offer, whether you are a vacationer, railfan, or maybe even a local Jayhawk interested in some sightseeing or something to do!