Kentucky Logging Railroads
Last revised: April 16, 2023
By: Adam Burns

There were several Kentucky logging railroads in operation within the state during the late 19th and early 20th centuries.

Most of the lumber companies that used railroads to move logs to their mills did so via three-foot narrow-gauge lines.
However, a handful also operated standard-gauge routes, notably:
Brimgardner Lumber Company
Brodhead-Garrett Lumber Company
Turkey Foot Lumber Company
Leatherwood Lumber Company
Paducah Cooperage Company
S.T. Berry Lumber Company
Bond-Foley Lumber Company
Most of Kentucky's timber railroads were in use from the early 1880s through the mid-1930s when trucks finally became advanced and sturdy enough to move logs more cheaply and economically. The information also provides data on where the lines operated, dates, and which lumber company owned the property.
Also, please note that the information below lists as many logging railroads in the state for which information could be found. This is, by no means, a complete overview of every operation.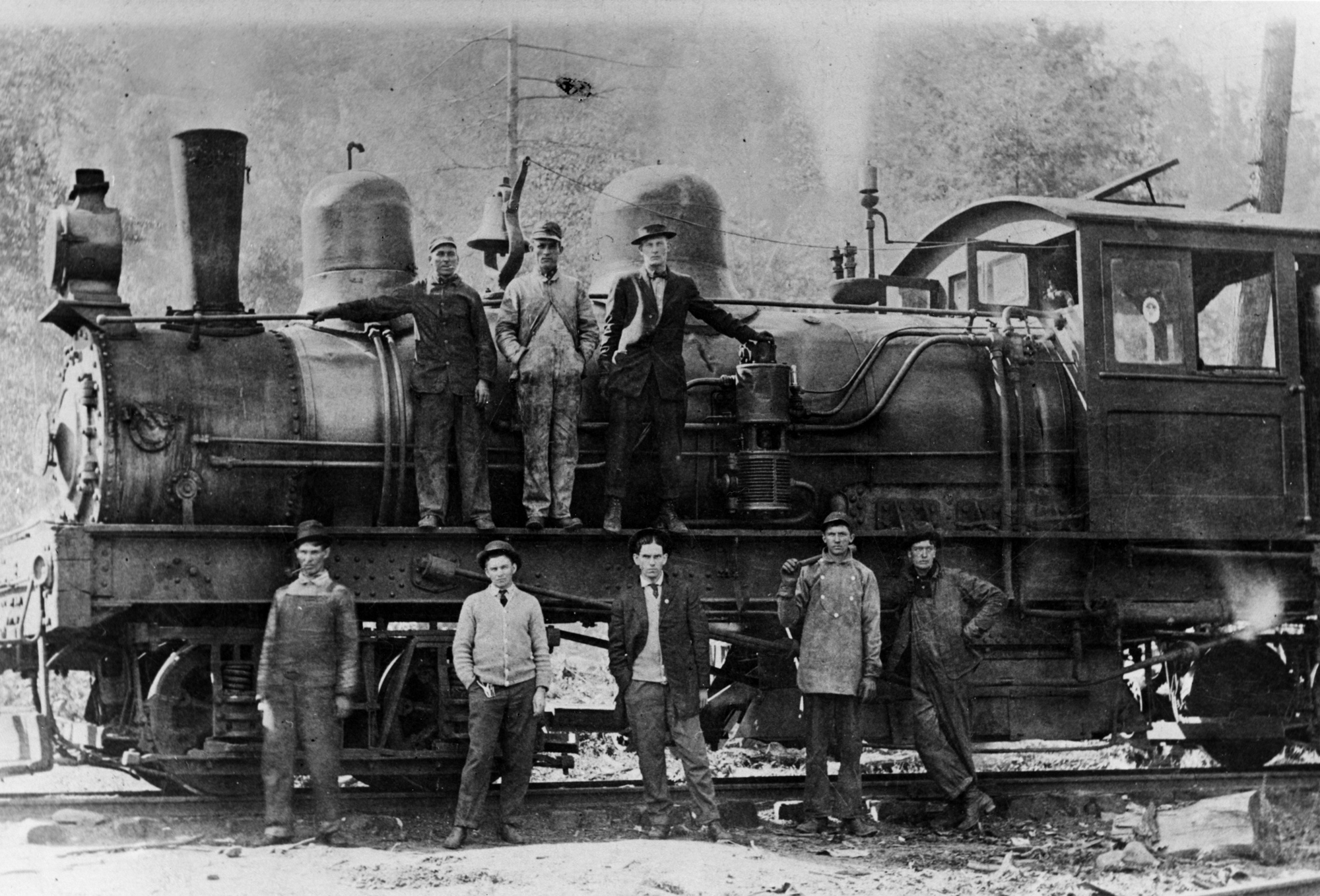 Big Woods, Red River & Lombard Railroad
The Big Woods, Red River & Lombard Railroad was owned by the Big Woods Lumber Company, which operated the line to three-foot narrow-gauge standards. Its connections to the outside world included the Lexington & Eastern Railway, where finished lumber was interchanged.
The railroad began operations in 1902 and utilized about 15 miles of track in all. It remained in use until only 1909 using two Climax locomotives, #1 and #2.
Brodhead-Garrett Lumber Company
This timber operation owned a small standard gauge railroad that served its mill near Lombard. It began operations in 1914 but was a very shortlived railroad as the tracks were taken up by 1917. The line owned two Climax locomotives, 35-ton Class B Climaxes. 
Bull's Eye Spring Narrow Gauge Railroad

This logging railroad was built early in the industry's era as it was first constructed in 1882.
The line owned about five miles in total at its peak and served the company mill, owned by Andrew Brown, located near Olive Hill. It was built to an odd narrow-gauge, 42.5 inches (about 3 1/2 feet), and utilized three small Lima-built Shays.  The railroad remained in use until only 1893.
Dana Lumber Company
The company's railroad was named directly after it and moved logs located in the Red River Gorge region to a saw mill located near Lombard.
The railroad was only a few miles in length but featured a tunnel, cut between 1911 and 1912, a rarity in the logging industry back then (usually lines were laid haphazardly through creeks and up mountainsides).
However, the tunnel served an important purpose of linking the operation to a main line interchange to ship out finished lumber.
The railroad used two Climax locomotives purchased new. Operations began in 1906 but were sold in October, 1914 to Brodhead-Garrett Lumber.
Kentucky, Rockcastle & Cumberland Railroad
This railroad was an affiliate of the Turkey Foot Lumber Company. Its mill was located at the end of the railroad where spurs were constructed to reach its timber holdings as well as the small hamlet of Caryton, where a connection with the Louisville & Nashville Railroad was established.
The railroad was chartered on December 3, 1913 taking over a few miles of track already built and completed about 18 miles of line in total. It was a standard gauge operation that utilized a fleet of five geared steam locomotives. The railroad was slowly cutback starting in 1923 and was completely abandoned by 1935.
Licking River Railroad
The Licking River Railroad was owned by the Yale Lumber Company having been organized on November 15, 1899. It dated back to the Licking River Railway that was chartered in 1896 by the Sterling Lumber Company but failed in 1899.
When Yale took over the operation 15 miles had already been completed between Yale, where the mill was located, and Salt Lick where a connection to the Chesapeake & Ohio Railway had been established.
Under Yale's ownership the railroad was vastly expanded and by 1905 reached Blackwater, giving it a total system of 35 miles. The line was always three-foot narrow-gauge and owned 13 Climax locomotives, a massive fleet for a logging operation.
Additionally, the Licking River was large enough that it also scheduled some local passenger service over the line. Unfortunately, it no longer was profitable after 1906 and was abandoned by 1913.
Mowbray & Robinson Lumber Company
This logging operation first utilized a narrow-gauge railroad around 1910 connecting its sawmills at West Irvine and Quicksand with the nearby L&N.
At its peak the railroad was operating 40 miles of track and eight geared locomotives. In 1923 the timber reserves had been exhausted and much of the property was donated to the University of Kentucky.
Big Sandy & Cumberland Railroad Company
This railroad was an affiliate of the W.M Ritter Lumber Company, the largest timber company in the United States who owned vast tracts of hardwood in West Virginia, Kentucky, and Virginia.
Likewise, Ritter operated numerous railroads to move logs to his mills as well as the finished lumber.
The BS&C was located in the corners of all three states mentioned above with a connection to the Norfolk & Western Railway at Devon, West Virginia. It was a 42 inch narrow-gauge system (3 1/2 feet) and at its peaked operated about 33 miles of track.
---
Rockcastle River Railway
This logging line was owned by the Bond-Foley Lumber Company and began operations in 1912 on a standard-gauge system.
It connected Viva to Bond, with the former location being where an interchange was established with the L&N. During peak operations the company owned nearly 27 miles of track and a fleet of seven locomotives. Operations were discontinued in 1931.
Triplett & Big Sandy Railroad
This railroad was a shortlived operation owned by the Hixson-Rodbourne Lumber Company. It began operations in 1890 on a five-mile section of track connecting Rodburn to nearby timber interests located along Christy Creek.
A narrow-gauge line it featured one geared steam locomotive and remained in use until only 1894.  For more information about the state's logging railroad history please click here.