G. C. Kuhlman Car Company

The G. C. Kuhlman Car Company was one of the early builders of streetcar and interurban equipment.  The earliest history of the company dates back to the 1890s.
It was yet another of the many manufacturers located in the state of Ohio with others being nearly all of the major builders:
Barney & Smith Car Company


Cincinnati Car Company


Jewett Car Company


Niles Car & Manufacturing Company)
During Kuhlman's early years it focused mostly on either single-truck designs or open-air cars.
However, in later years it built enclosed, all-steel equipment. The builder became a subsidiary of the J.G. Brill just as the interurban industry was taking off but it kept its name for many years until finally being renamed by its parent in the early 1930s.
Unfortunately, soon afterwards the Kuhlman company abandoned operations due to the fact that it could not sustain itself in a shrinking market as the streetcar and interurban industries withered away.
An incredible Detroit Publishing Company photo from 1917 looking up Woodward Avenue showing several Detroit United Railway double-truck cars built by G.C. Kuhlman only a year earlier.
The G.C. Kuhlman was the product of Gustav C. Kuhlman, a German immigrant who honed his skills as a master carpenter in the family business of finished hardwood floors and interior decorative work.
During the early 1880s the family began expanding into the field of horse-drawn streetcars, open-air vehicles that typically featuring two axles.
These early designs were also built almost entirely from wood and usually featured similar decorative and/or elaborate trim and moldings.
Realizing that there was a rising market for electrically powered cars in both the street railway and interurban industries Kuhlman decided to strike out on his own.
Other Car Builders
Barney & Smith Car Company 

Cincinnati Car Company 

J.G. Brill Company 

Jewett Car Company 

Niles Car & Manufacturing Company 

St. Louis Car Company 

Related Reading...
A History Of Interurbans And Streetcars

In 1892 he founded the G.C. Kuhlman Company and his early cars were quite similar to the horse-drawn models but simply powered with an electric motor (they also often were only single-truck designs).
However, this changed as Kuhlman became a more seasoned builder with two truck cars that were both enclosed and open-air.
Just as the family business was located in Cleveland, Ohio so was Kuhlman's manufacturing plant. His first facility simply employed a few old car barns located at Aetna and Broadway Streets.
However, as business began to rapidly expand a new plant was needed and by the early 20th century operations were moved to what is now Adams Street very near the tracks of the New York Central Railroad.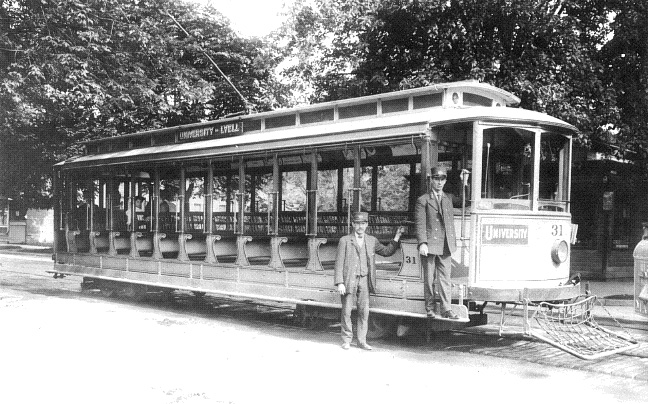 Rochester Railway streetcar #31 is seen here sometime in the early 20th century, a 1904 product of the G.C. Kuhlman Car Company.
It was also around this time, in 1901 that the company name was changed for the second, and final, time as the G.C. Kuhlman Car Company.
It should be noted that just as some builders specialized in particular industries, like the Jewett Car Company and Niles Car & Manufacturing Company primarily building interurban equipment so too did Kuhlman.
While the manufacturer did construct equipment for some interurban lines its primary market was always based in street railway equipment (making up about 85% of its total, lifetime production), which in some ways can be partially explained by the fact that it was purchased just as the interurban industry was rapidly expanding in the country.
Detroit United Railway car #3036 (a product of G.C. Kuhlman) is seen here on the Log Cabin Loop turn-around in Palmer Park along the Woodward line in August of 1917.
In 1904 Kuhlman was purchased by and became a direct subsidiary of the J.G. Brill Company of Philadelphia. One of the largest builders of both street and interurban equipment Brill was purchasing numerous smaller competitors at the time to increase its market share as the industry took off.
Despite its takeover of Kuhlman it allowed the company to retain its original name for several years. However, Brill did remove all of the original managers and Gustav Kuhlman soon retired from the company afterward.
Most of the major car builders of the era usually were recognized for a particular design trait and the G.C. Kuhlman Company was no different.
For instance, competitors like Niles were known for their opulent and classy carbodies, Barney & Smith for its angular front end layout, and Kuhlman was regarded for its center-car doors. In any event, the builder also tested other markets.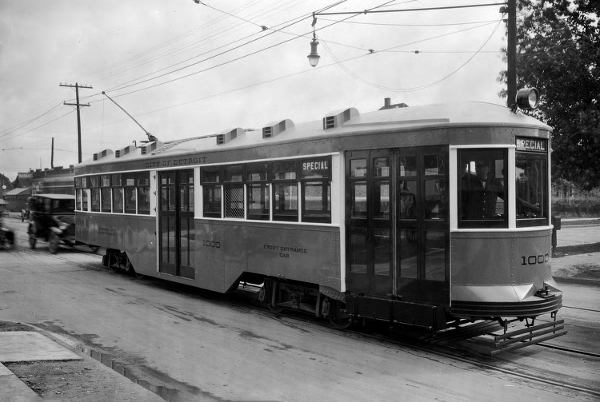 Detroit Municipal Operation "Peter Witt" streetcar #1000, a 1921 product of the G.C. Kuhlman Car Company.
Most notable was an experimentally diesel-powered rail car built for the New York Central in 1906. 
It was nearly 44 feet in length and was powered by a 220 horsepower engine.  Surprisingly, Kuhlman survived much longer than most other builders of the era.
As the 1920s wore on sales for streetcar equipment rapidly eroded as the public began purchasing more automobiles. As such, Brill diversified the company into building bodies for buses and steel diners that resembled streetcars (known as Brill Steel diners).
On February 1, 1931 the company was renamed as the J.G. Brill of Ohio but the deepening Great Depression finally put it out of business in mid-April, 1932.

---
---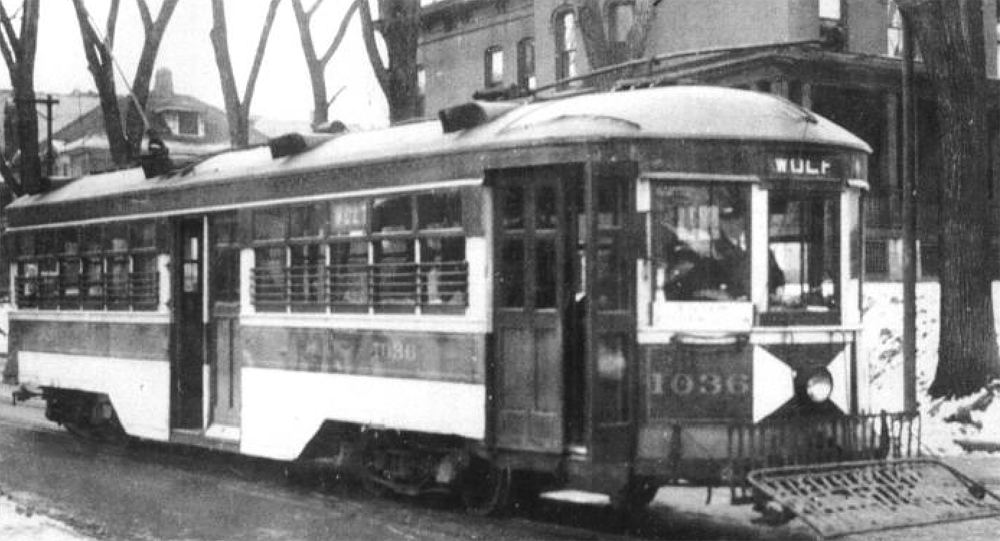 New York State Railways streetcar #1036 operating in Syracuse, a 1916 product of the G. C. Kuhlman Car Company.
If you might be interested, an excellent book highlighting the history of the interurbans, including a section detailing car builders, is The Electric Interurban Railways in America by authors George Hilton and John Due.
Many consider their book to be the quintessential resource guide to the interurban and streetcar railroad movement that was once so common in our country during the first half of the 20th century.
At nearly 500 pages the book is stuffed full of information on trolley operations and covers virtually every topic on the subject.
If you have any interest in trolleys and interurban railroads and/or would like to learn more about their history I would strongly consider Mr. Hilton and Mr. Due's book first before purchasing any other.