Kentucky Railroads In "The Bluegrass State"

Last Revised: January 1, 2022
By: Adam Burns
Kentucky, much like those in West Virginia will always be known for one thing, coal.
Ever since railroads first began building rail lines in the state in the mid-19th century they have been tapping the very lucrative black diamonds, which today still makes up a significant portion of most railroads' profits across the industry.
Today, the state's railroads still moves millions of tons of coal annually (it remains the state's top originating traffic source) and the only thing that has really changed is the number of companies doing so. 
It was the prosperous Louisville & Nashville which provided much of the state's rail service while the Southern Railway, Illinois Central, and Chesapeake & Ohio also had a presence there.
There are currently four Class Is serving Kentucky (BNSF Railway, CSX Transportation, Norfolk Southern, and Canadian Pacific), although the two eastern carriers operate the majority of the state's rail network (BNSF and CP merely pass through Kentucky's western tip).   
Additionally, a few regionals and a handful of short lines also serve the state. In any event, the information included below aims to give you a brief history and overview of Kentucky including current operations.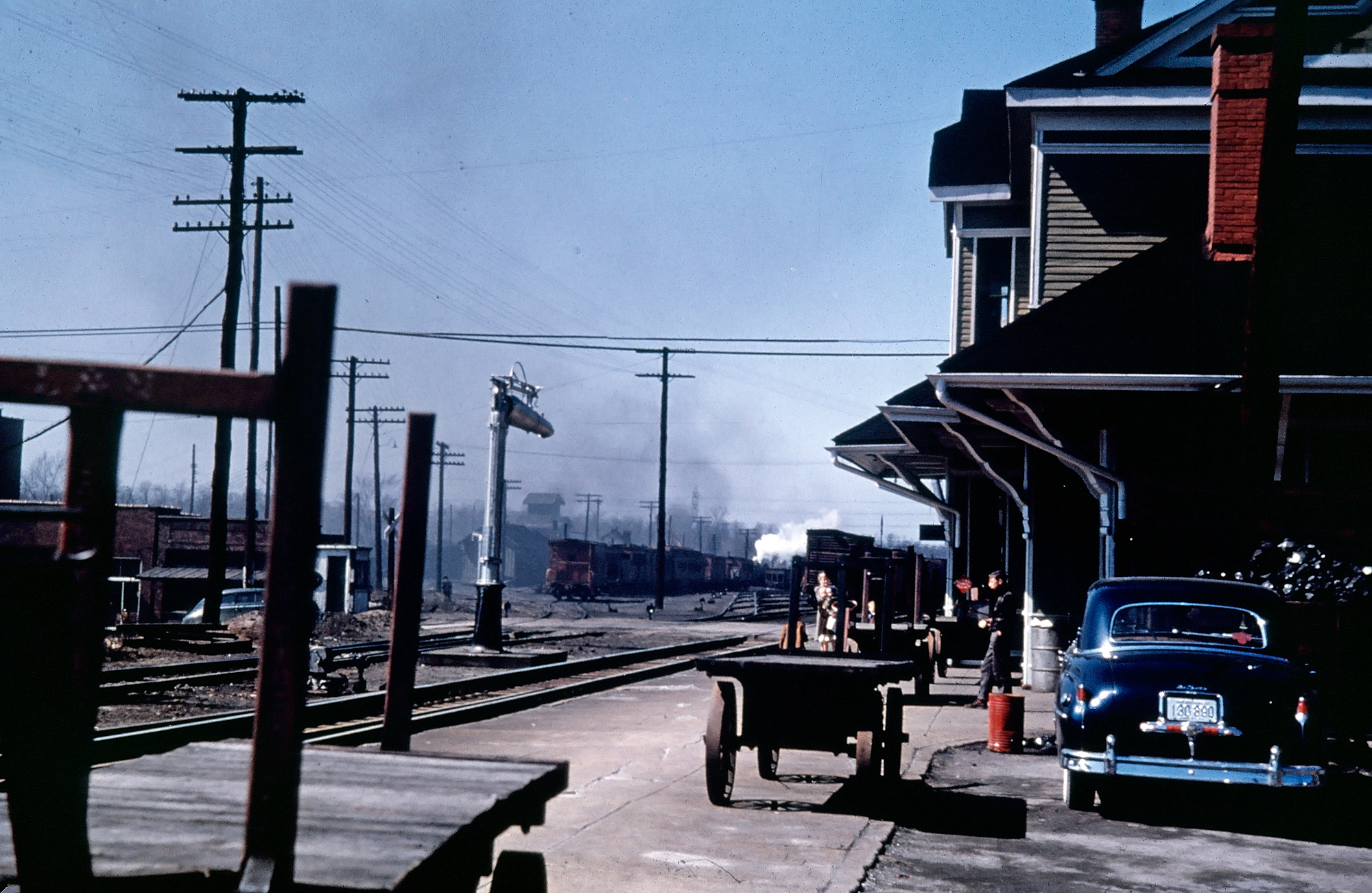 A view of the Louisville & Nashville yard in Earlington, Kentucky, circa 1955. A.C. Kalmbach photo. American-Rails.com collection.
A Brief History Of Kentucky Railroads
Kentucky railroads date back to 1830, just three years after our nation's first common-carrier, (Baltimore & Ohio) when the Lexington & Ohio Railroad was chartered to connect Frankfort with Lexington, a distance of about 31 miles.
The railroad was able to complete the line by 1834 and by 1851 had connected Louisville along the banks of the Ohio River.
The company would eventually become part of the Louisville & Nashville system and today, its original line is still operating by RJ Corman, a diversified railroad business which owns several short lines in Kentucky, Ohio, West Virginia, Pennsylvania, and other southern states.
More Reading...
Kentucky Short Lines And Regionals
Kentucky Train Rides, Information And Locations
Following the completion of the L&O, Kentucky would boast several classic eastern and southern carriers, most of which gained entry or built into the state to tap its rich coal reserves. Even some Midwestern systems reached the state given that the western region of Kentucky was geographically in both the Midwest and South.
Louisville & Nashville 4-6-2 #152 is on home rails as it enters the southern end of CSX Transportation's Corbin Yard with a special, Kentucky Railway Museum-sponsored excursion in October, 1986. Assisting on these trips was Monon BL2 #32. Roger Puta photo.
Today, Kentucky railroads are mostly the domain of Norfolk Southern and CSX mentioned before with CN and BNSF also having a small presence in the state.
While the two eastern Class Is operate Kentucky's east-west main lines they also control several miles of branch and secondary lines to tap coal reserves.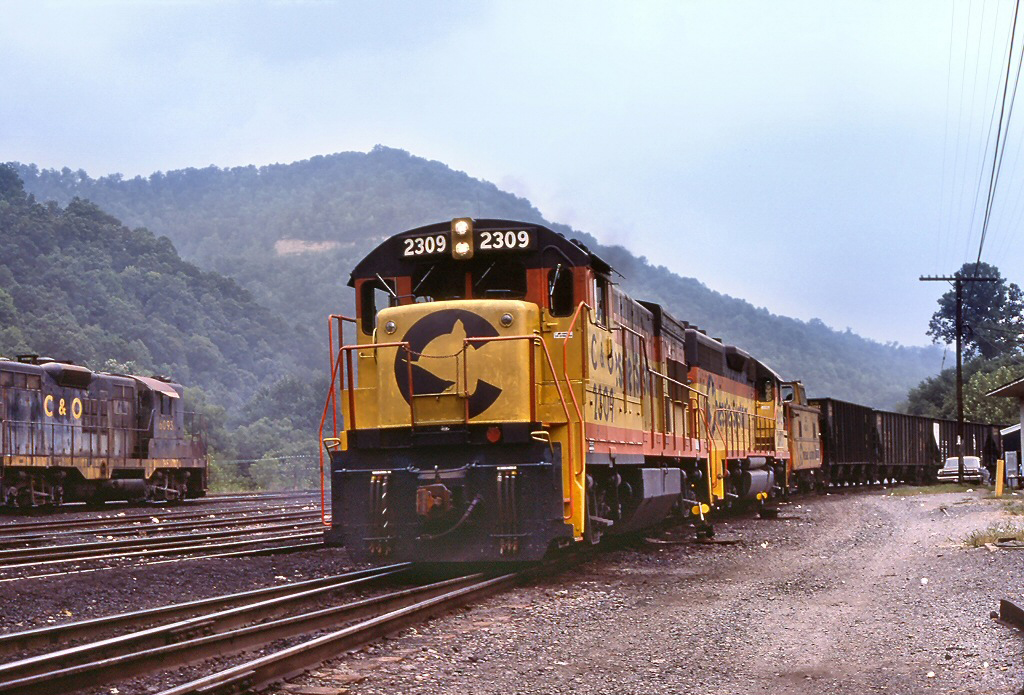 Chesapeake & Ohio U23B #2309 and Baltimore & Ohio GP40 #3690 departs Shelby Yard in Shelbiana, Kentucky with a mine shifter of empty of empty hoppers during August, 1984. Rob Kitchen photo.
Classic Railroads That Served Kentucky
St. Louis-San Francisco Railway (Frisco)
Nashville, Chattanooga & St. Louis
Aside from the Class Is Kentucky is home to regionals Paducah & Louisville and Indiana Rail Road as well as short lines RJ Corman, Kentucky West Tennessee Railway, Louisville & Indiana Railroad, Tennken Railroad, West Tennessee Railroad, and the Western Kentucky Railway.  
Today, Kentucky is home to a little over 2,600 miles of track although during the industry's heyday this number peaked to nearly 4,000 miles.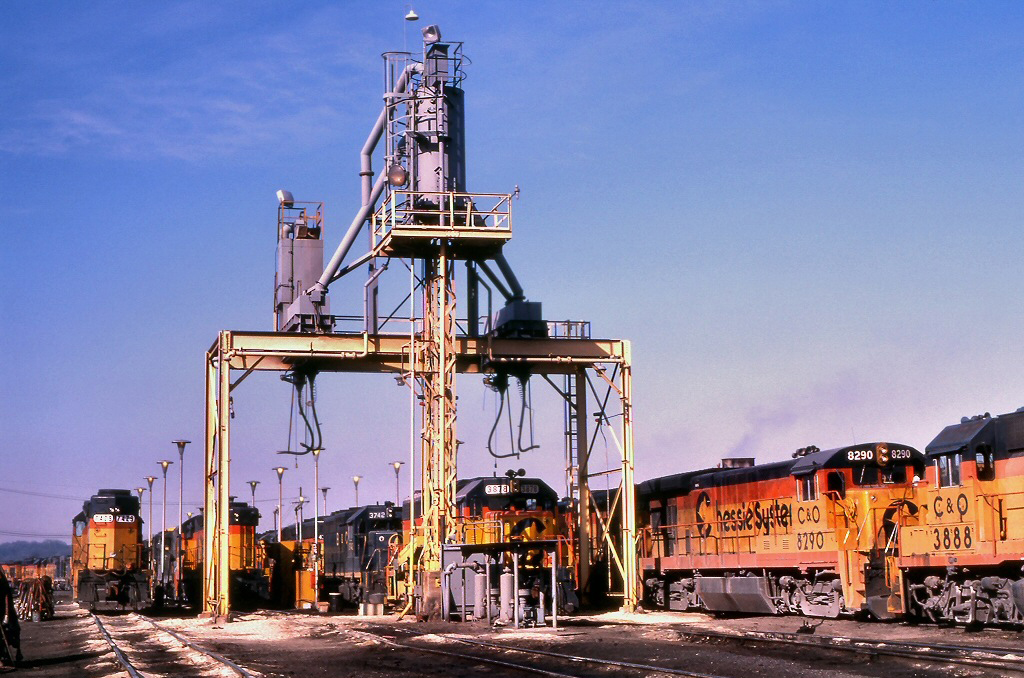 A view of Chesapeake & Ohio's major terminal in Russell, Kentucky during the late Chessie System era in January, 1983. Rob Kitchen photo.
The state has lost over 33% of its all-time infrastructure, a number not considerable terrible when compared to the national average of 50%+.   

Many of these abandoned lines were coal branches and secondary corridors; virtually all of Kentucky's through routes remain active and in service.
In any event, for a more in-depth look at Kentucky in regards to its route miles through the mid-19th century to today please refer to the chart below.
* Kentucky's first railroad was the Lexington & Ohio, incorporated on January 27, 1830.  The book, "The Lexington & Ohio Railroad, A Pioneer Venture," written by T.D. Clark in 1933, notes the L&O's was projected to link "...Lexington to one more more points on the Ohio River, these to be selected by the president and board of directors." 
In the end, the leaders decided on a route of 92.86 miles reaching Louisville via Frankfort.  Construction on the first 15 miles began with a ceremony of Federal guns being fired in honor of the endeavor on October 22, 1831. 
Following a great deal of work the initial 1.5 miles was opened on August 15, 1832 when horse-drawn car, carrying 40 dignitaries, left the upper end of the lower market house in Lexington.  The line was built with iron stringers from Messrs. Alex Brown & Sons of Baltimore, Maryland, which imported them from England. 
The 420 tons were shipped to New Orleans and then via river.  In this early period, the modern wooden cross tie had not yet been invented and so engineers utilized heavy limestone stringers.  By March, 1833 six miles were opened and within a year 29 miles were completed to Frankfort. 
In 1835 the railroad's first steam locomotive, named "Daniel Boone," was placed into service and the company finally reached Louisville in 1851 thanks to state intervention.  The L&O would go on to join the Louisville & Nashville system.
Passenger trains like the IC's City of New Orleans, C&O's George Washington, and L&N's Pan-American no longer operate through Kentucky, at least by these former railroads.
Today, Kentucky's passenger rail system is operated by Amtrak and includes the tri-weekly Cardinal between Chicago and Washington, D.C., and the City of New Orleans between Chicago and New Orleans.
---
Abandoned Railroads Of Kentucky
Kentucky has not been affected by major abandonment of its rail network; the state has only lost about 1,600 miles of track. 
A significant percentage of this was coal branches and agricultural stub-end spurs.  The state also contained its share of logging railroads, both privately operated and common-carriers.
The most significant route removed through Kentucky was Chesapeake & Ohio's Lexington Subdivision.  This line provided the C&O with through service from its main line at Ashland to Louisville, due west.
With CSX Corporation's formation in 1980 the new conglomerate began significant rationalization of its network that decade (particularly the Baltimore & Ohio) and removed most of this line.
Another interesting abandoned line was the Frankfort & Cincinnati.  It was famously known as "The Whiskey Route" for the many distilleries it served between Frankfort and Paris.
The railroad never reached anywhere near Cincinnati as intended but remained in operation until 1985 when remaining business played out. 
You can still spot various segments of the right-of-way today (abandoned in segments over the years) if you know where to look.  It was a bucolic route that traveled through some beautiful parts of Kentucky. 
---
You can learn more about the streamliners that operated through Kentucky by clicking here to visit the section of the website here covering many, including the ones mentioned above.
Additionally, please click here to visit Amtrak's website to learn more about the current services it offers in Kentucky.
---
---
Louisville & Nashville U30C #1479 leads a coal train into the yard at Ravenna, Kentucky on May 23, 1981. Doug Kroll photo.
Freight and passenger railroads aside, Kentucky is also home to a number of railroad museums and excursion trains, like the RJ Corman-owned My Old Kentucky Dinner Train based in Bardstown.
These include, Big South Fork Scenic Railway, Bluegrass Railroad Museum, Kentucky Central Railway, Kentucky Railway Museum, Paducah Railroad Museum, and the Railway Museum of Greater Cincinnati. 
All in all Kentucky railroads have plenty to offer, whether you are a vacationer, railfan, or maybe even a Bluegrass local interested in some sightseeing or something to do!