The Turboliner

Last revised: October 12, 2023
By: Adam Burns

The 1970s were a particularly turbulent time for America's national passenger carrier, Amtrak.

After its creation in May, 1971 the company was struggling to just keep operations fluid with rundown and outdated equipment handed over by the railroads which had joined it, from worn out E8s and E9s to dirty or broken down passenger cars.
In response, Amtrak was trying to get new equipment on the rails and began testing several new designs, one of which was the Turboliner designed by the French and constructed by Rohr Industries and ANF.
Just prior to this the company had been testing the United Aircraft Corporation's TurboTrain. Both trainsets were similar in that they featured a gas turbine prime mover instead of a conventional diesel engine.
The Turboliner, however, proved a far more successful design and Amtrak wound up with several sets. After a number of rebuilds the trains remained in service for four decades before finally being sidelined due to conflicts with New York state.
An Amtrak "Turboliner" set travels through Glenview, Illinois over the Milwaukee Road on May 24, 1977. American-Rails.com collection.
History
In the mid-1970s Amtrak began looking at other types of high speed trains to use on its system despite the fact that funding limitations would be an issue.
The UAC's TurboTrain had been in service since it was first tested in December of 1967. It was based from trainsets developed by Spain's Talgo and used a Pratt & Whitney Canada turboprop engine meant for use in aircraft.
Its cruising speed was well over 100 mph with horsepower ratings up to 400. However, problems with its tilting mechanism was constantly sidelining the two sets built for use in the United States (six more were used in Canada on the VIA and Canadian National).
As a result the TurboTrain was used for only a little over four years until both sets were retired in 1972. Around that time Amtrak, only a year old, began looking for a new design.
Sticking with the gas turbine propulsion system the company began studying the French SNCF Class T 2000 RTG (Rame à Turbine à Gaz) Turbotrain.
While it held the same name as the UAC design and utilized the gas turbine for power, the French trainset was actually quite different, which were designed by ANF Industrie (Ateliers de Construction du Nord de la France).
Interestingly, these trains were the precursor to the highly successful and well known French TGV (Train à Grande Vitesse) high speed electrified trainsets that were also developed during the 1970s (newer versions of the TGV remain in regular use in the country today).
Unlike the turboprop used in UAC's TurboTrain, the Turboliner would use a prime mover based from a Turbomeca (another French manufacturer) gas turbine turboshaft traditionally used to power helicopters at the time.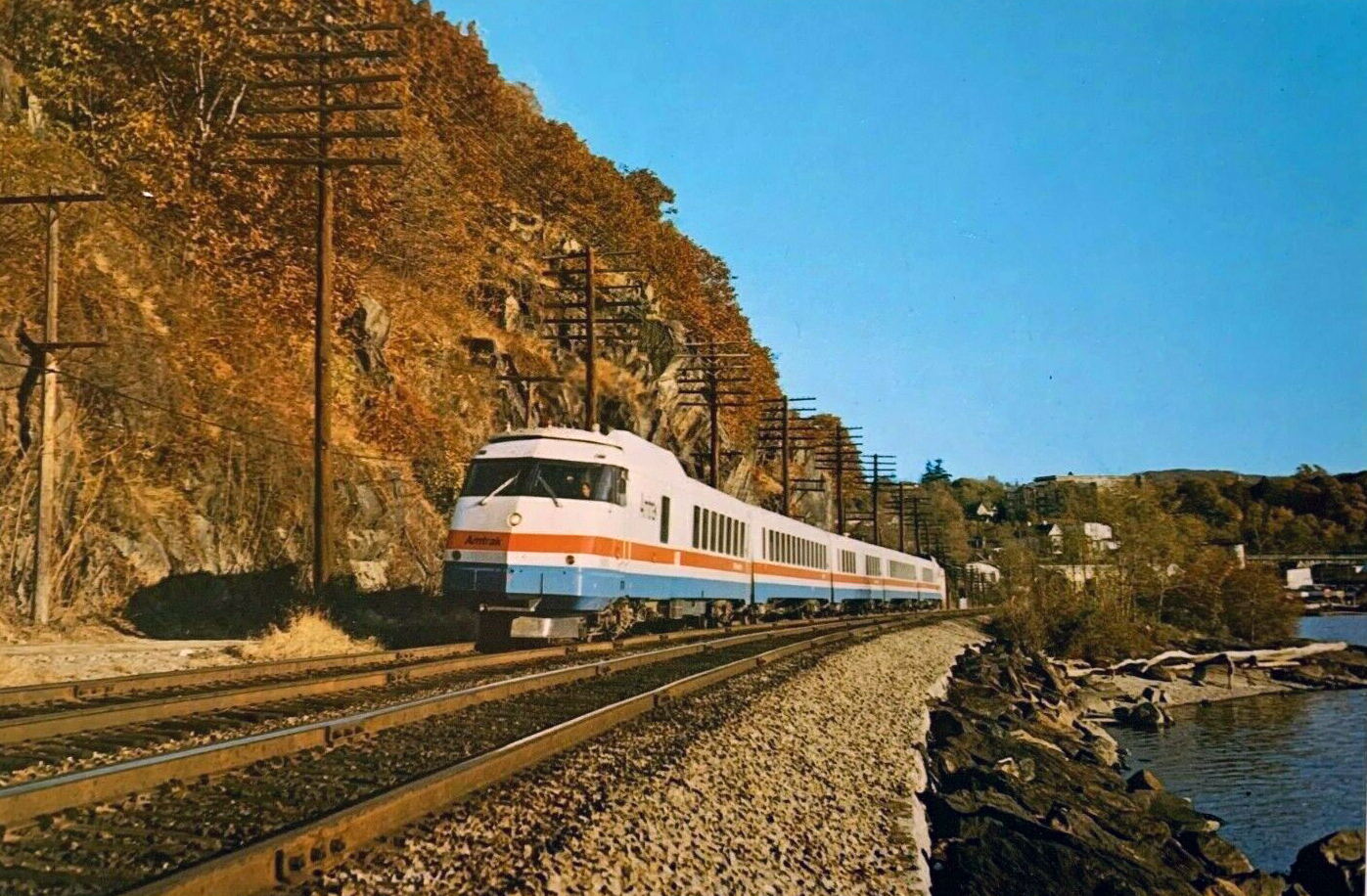 In this scene, Amtrak's 'Turboliner' hustles north through Peekskill, New York along the Hudson River over the old New York Central on November 2, 1976. The train was bound for Albany. Carl Sturner photo.
In 1973 Amtrak began receiving the first of ultimately six trainsets of the RTG model Turboliner, so named since it had been built by ANF, which equipped the units with the common European coupler design featuring buffers and turnbuckles.
The sets came equipped with five cars; two power cars, two coaches, and a basic bar/grill café car. All six units were used exclusively in the Midwest between Illinois, Ohio, Michigan, and Wisconsin.
Despite the fact that they were never meant to tilt like the TurboTrains or used on lines that could allow the trains to truly be called high speed operations the Turboliners did prove to be quite reliable, much more so than their counterparts, which allowed them to be used for many years.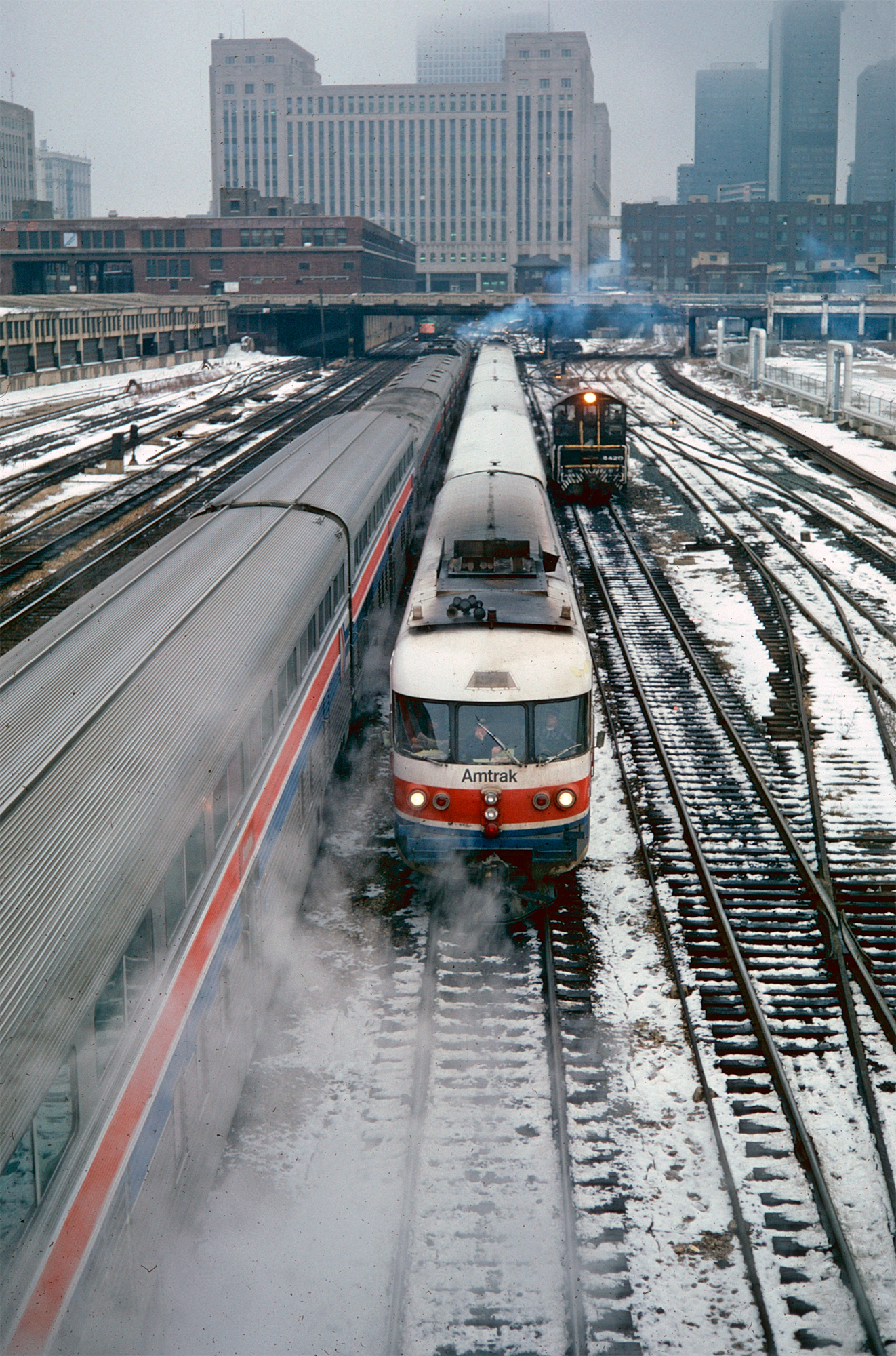 An Amtrak "Turobliner" set appears to be waiting departure from Chicago Union Station based on the crew's reactions on an overcast and dreary December 29, 1977. Author's collection.
With the success of the first six sets, Amtrak decided to order seven more. However, instead of being built by ANF they were to be manufactured by Rohr Industries based in Chula Vista, California near San Diego.
Today it is known as the Goodrich Aerostructures Group owned by the Goodrich Corporation and produces aircraft and aerospace equipment.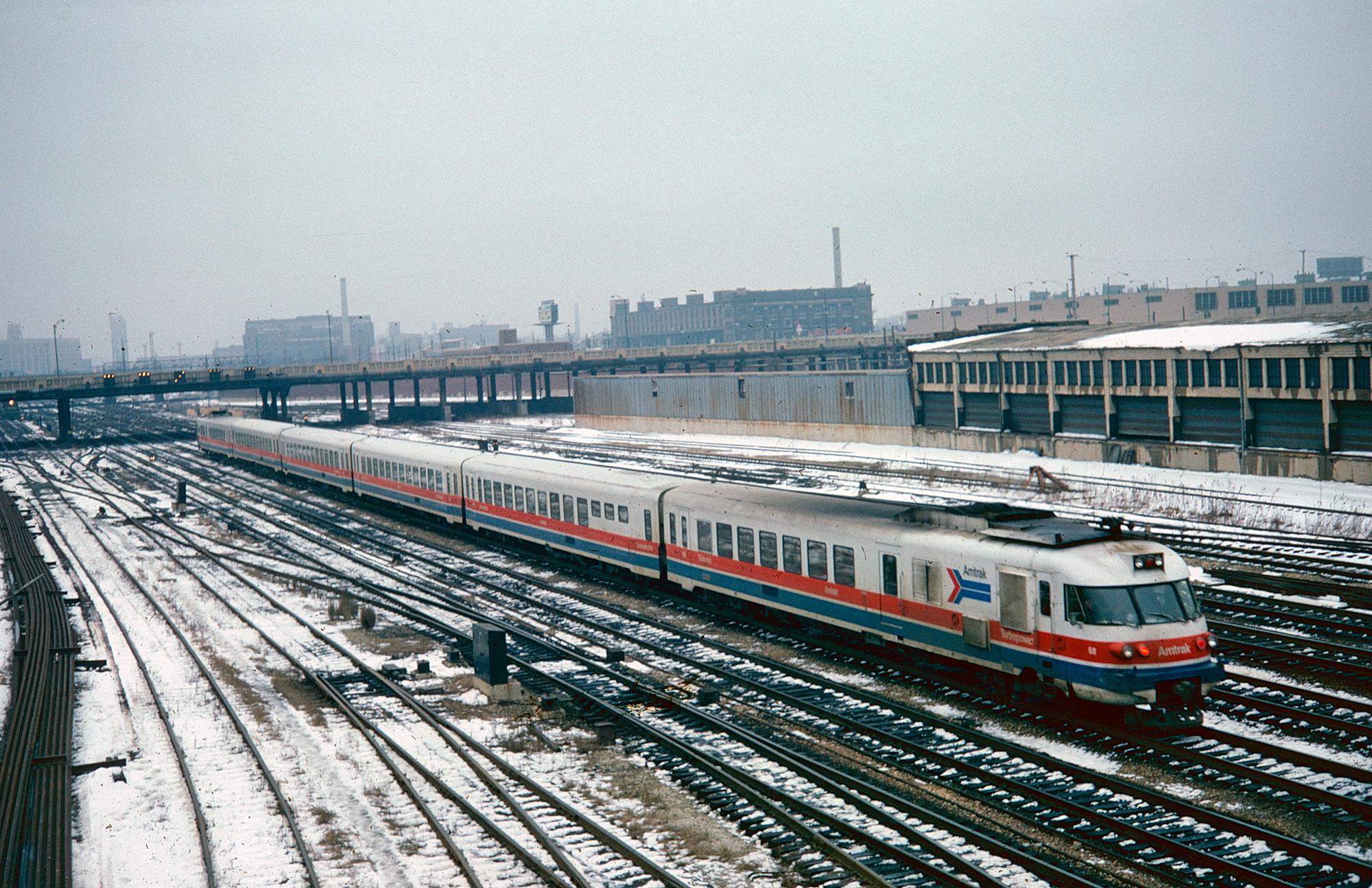 An Amtrak "Turboliner" set departs Chicago Union Station in December, 1977. Note that by this date the former Pennsylvania Railroad's massive freight station has already been demolished. Author's collection.
These trains were quite similar to the RTGs but designed with standard American couplers as well as a few other minor variations.
As such, they were reclassified as RTLs. Also unlike the RTGs, the new trainsets were used only in the east primarily throughout New York although they too never aspired to operating at truly high speeds.
Over the next two decades both styles of Turboliners remained in regular use between the east coast and Midwest.
---
Amtrak's first 'Turboliner' trainset is seen here in Rensslaer, New York following its arrival from Rohr Industries on July 22, 1976. Carl Sturner photo.
In 1995 the RTLs and RTGs were to be completely overhauled by Amerail but only one RTL and two RTG sets actually ever received any upgrades, with the former reclassified as an RTL-II.
These rebuilt trainsets began new services based out of New York City although when one of the RTGs caught fire the rest were pulled from service.
This left only the seven RTL sets in use which were to receive further upgrades in 2000 by Super Steel Schenectady and again reclassified as RTL-IIIs.
Two reentered service in 2003 although a year later New York sued Amtrak over its unfulfilled promise of high speed rail service to the state.
After a settlement the remaining trainsets were retired altogether and put up for sale. Sadly, they remain in storage in New York to this day still awaiting potential sale.