Maine Railroads In "The Pine Tree State"


Maine for the past 170+ years have been defined by two things, timber products and potatoes. Our most northern state is sometimes forgotten for its railroads. However, not only are the lines which operated in Maine "classic" fallen flags today but they also played a very important role throughout the years moving the state's biggest sources of traffic, agriculture and timber.  The state was particularly famous for its potatoes, a crop that produced the Bangor & Aroostook (BAR) considerable revenue for decades.  Alas, the floundering Penn Central lost an entire season's crop in transit heading west, costing the BAR an entire market.  For years, the Pine Tree State had no Class I railroads operating within its borders.  That changed in 2020; Canadian Pacific formally acquired the Central Maine & Quebec Railway on June 4, 2020 and CSX picked up Pan Am Railways in November, 2020.
Additionally, a few larger Class II, regionals and a handful of short lines also find a home in Maine and remain important transportation arteries for the state (so much so that Maine purchased a large section of former Bangor & Aroostook property in 2010 to save it from abandonment).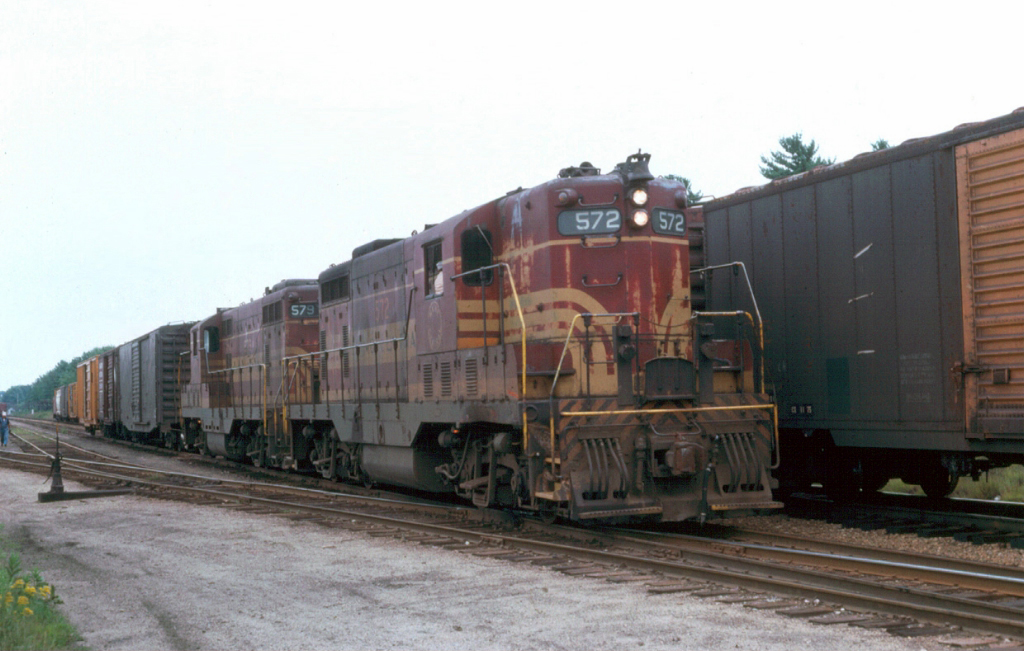 Maine Central GP7s #572 and #579 still wear their original gold and maroon liveries from the days of B&M control as the units put together a train in the Brunswick, Maine yard during early August of 1978. Randy Kotuby photo.
Maine railroads date back to 1836 when the Bangor & Piscataquis Canal and Railroad opened between Bangor and Old Town, a distance of about 12 miles. The railroad was constructed primarily to haul timber products and would go on to be joined with the Bangor and Katahdin Railroad in 1891 to form one of Maine's most remembered railroads, the Bangor & Aroostook Railroad (also referred to by its initials, the BAR). The Bangor & Aroostook wasn't the only classic line to tap Maine's rich resources. Others included the Boston & Maine (which reached Portland) and Maine Central (a major competitor of the BAR, it served much of southern Maine and stretched as far west as St. Johnsbury, Vermont).  Aside from these lines Maine also boasted numerous narrow-gauge logging lines, particularly during the 19th and early 20th centuries. In any event, to learn more about Maine's three most notable railroads please visit the below links covering their history in more detail:
Surrounding State Histories
Connecticut 

Massachusetts 

New Hampshire 

New York 

Rhode Island 

Vermont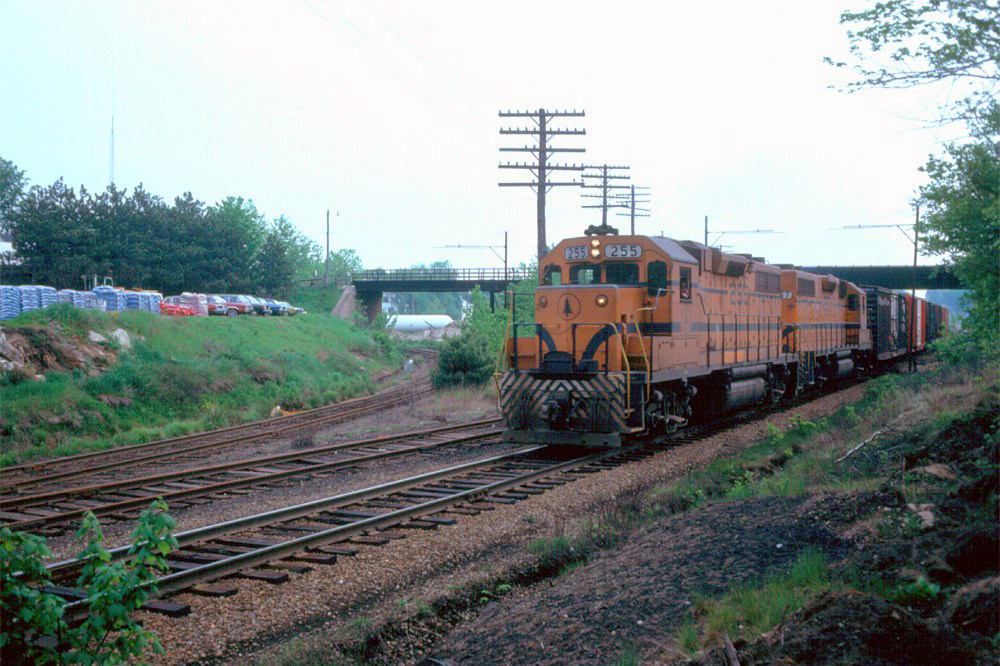 A pair of Maine Central GP38's near the yard at Brunswick, Maine on May 20, 1981. Randy Kotuby photo.
More Reading...
Maine Short Lines And Regionals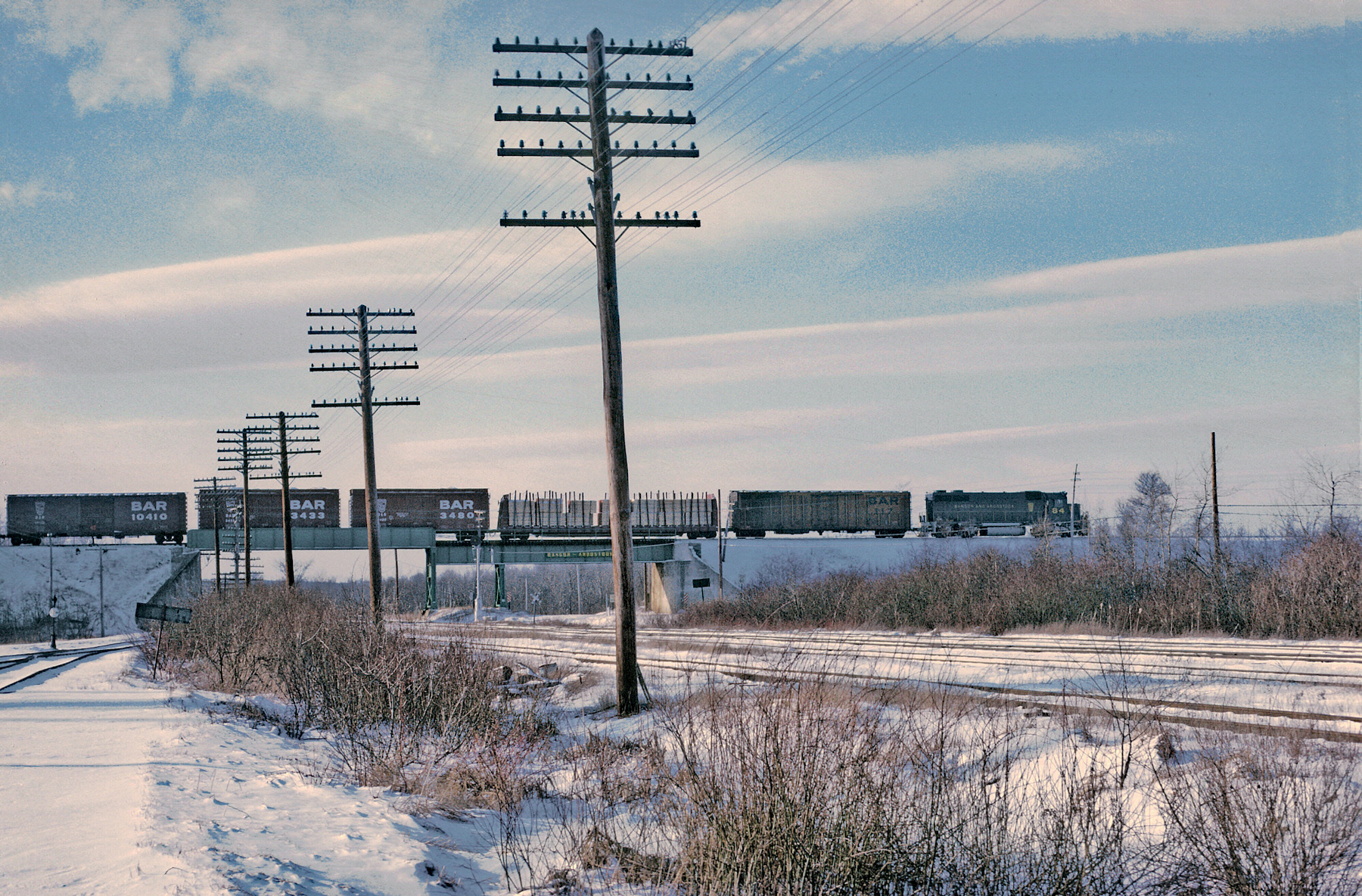 Bangor & Aroostook GP38 #84 leads its freight northbound over the Maine Central main line at Northern Maine Junction, Maine on February 5, 1970. Roger Puta photo.
Today, Maine is the the realm of regional and short line railroads only. The most notable of these are Pan Am Railways, which took over the operations of Guilford (which owned the B&M and Maine Central Railroad); the St. Lawrence & Atlantic Railway, which operates the former Grand Trunk; and the Central Maine & Quebec Railway (CM&Q), which operates much of the original BAR system.  As mentioned previously, CSX picked up Pan Am in November, 2020 and Canadian Pacific CM&Q in June, 2020.  The rest is operated by other short lines including the Maine Eastern Railroad (operated by Morristown & Erie), Eastern Maine Railroad (yes, the two aforementioned lines are different owned and operated companies), New Hampshire Northcoast Corporation, and Turners Island, LLC (a small terminal railroad).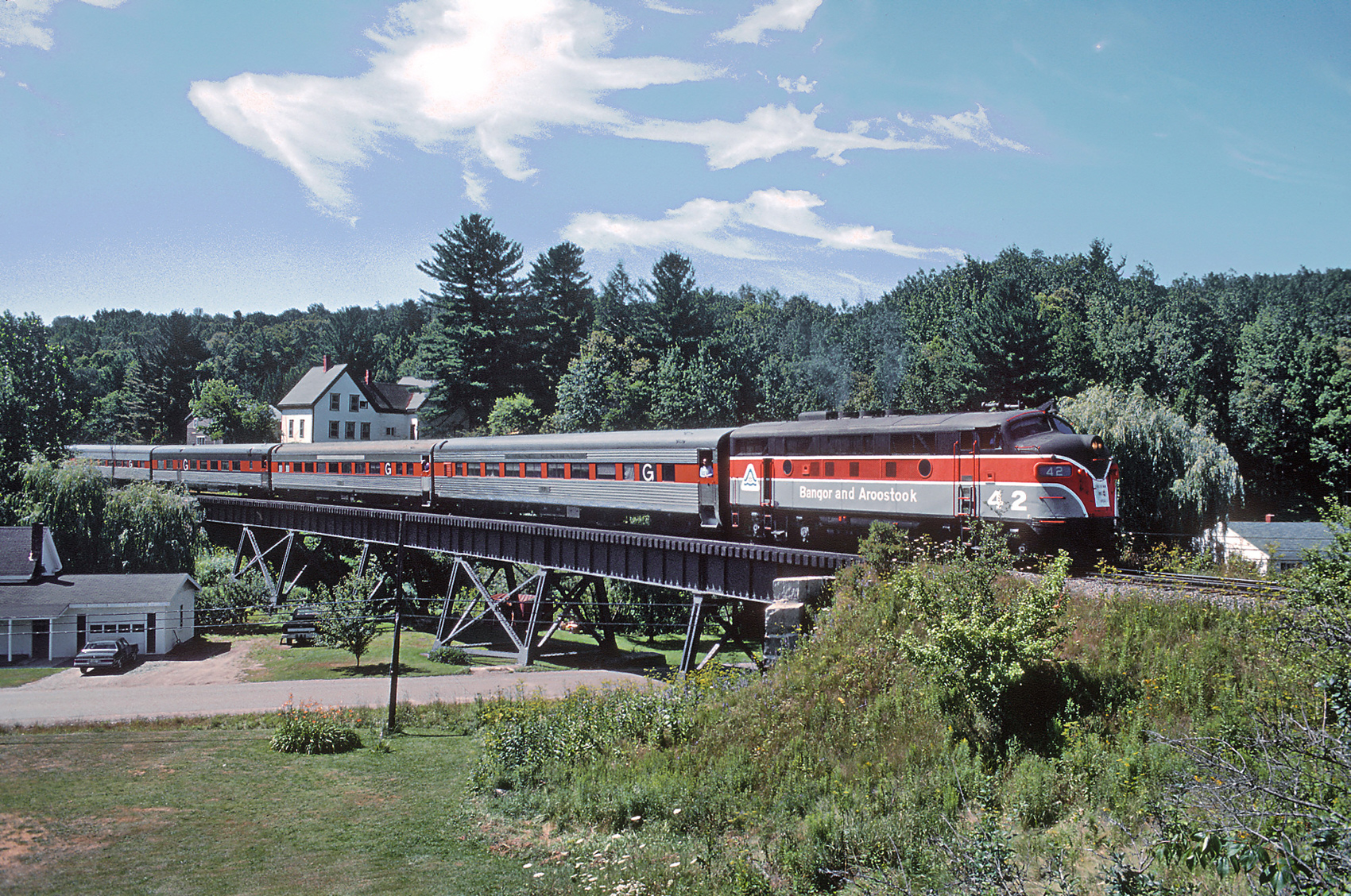 Bangor & Aroostook F3A #42 is northbound through the small town of Frankfort, Maine with a Massachusetts Bay Railroad Enthusiasts' sponsored fan trip in July, 1985. Roger Puta photo.
Classic Lines That Served Maine
* The first railroad to serve Maine was the Calais Railroad, a local operation intended to move finished lumber from the Saint Croix River (near Milltown, New Brunswick) to Calais, Maine.  It was incorporated in 1832 and, according to "Poor's Manual of Railroads, Volume 12" (1879),  opened about 1.5 miles in 1835 as a horse powered operation.   In 1849 its name was changed as the Calais & Baring after reaching nearby Baring that year.  The first steam locomotive arrived in 1852 and eventually became a part of the Maine Central's network.
---
In all this totals over 1,000 miles of active railroad in Maine although at one time the state was home to over 2,000 miles of trackage. Overall, the state has lost about 50% of its total mileage since the peak of rail operations across the country in the 1920s. This decline is about average as many states have witnessed similar losses to their rail infrastructure.  Today, passenger trains are operated by Amtrak and includes only the Downeaster although this train continues to gain support and ridership and is becoming increasingly popular. Currently the train serves three stops in Maine; Portland, Saco, and Wells. Historically, Maine was never known for famous trains passing through its countryside. However, the Maine Central did have the Flying Yankee and the Boston & Maine's State of Maine, which were more regional in nature.

---
---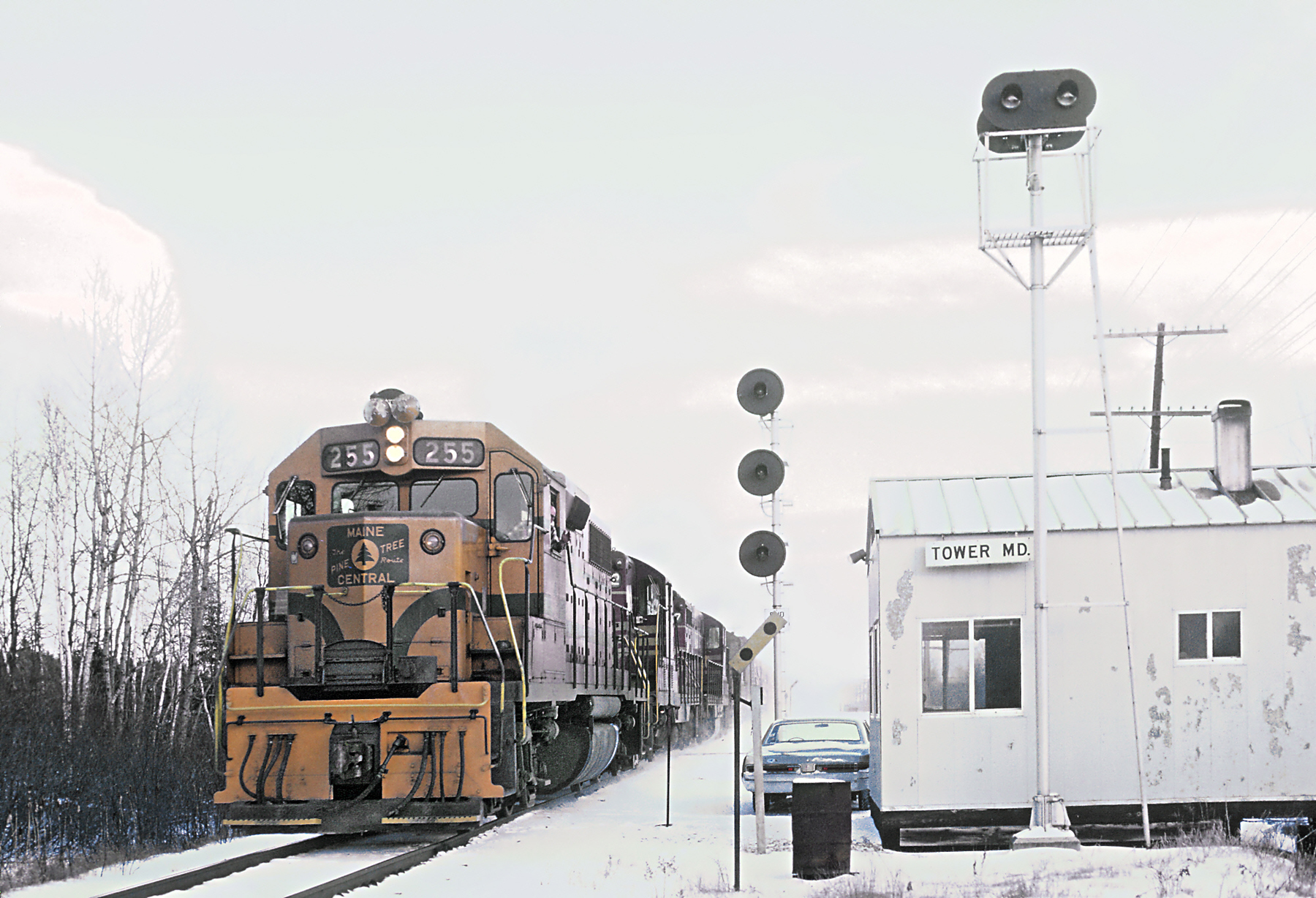 Maine Central GP38 #255 leads its train past Tower MD near Northern Maine Junction, Maine on February 5, 1970. Roger Puta photo.
Passenger and freight trains aside Maine also offers several railroad museums and excursion trains like the popular Maine Narrow Gauge Railroad Company, which currently operates one live steamer and plans to restore another to operation. Others include the Boothbay Railway Village, Cole Land Transportation Museum, Oakfield Railroad Museum, Sandy River and Rangeley Lakes Railroad, Seashore Trolley Museum, the Maine Eastern Railroad (which also offers excursion trains), and the Wiscasset, Waterville & Farmington Railway Museum (a relatively new narrow-gauge operation which has restored part of this logging/timber line).  All in all, Maine railroads offer a unique experience with rugged, mountainous operations in interior northern areas of the state and coastal operations to the south. So, if you are planning a visit to the Pine Tree State to see its railroads you certainly shouldn't be disappointed!