Minnesota Railroads In "The North Star State"

Last revised: June 15, 2023
By: Adam Burns

Minnesota has historically been known as the gateway to the Pacific Northwest for railroads such as the Northern Pacific, Great Northern, and Milwaukee Road; all boasted main lines to the Twin Cities which continued west to Seattle. 

Due to its wide variety of available freight traffic Minnesota boasted a large and diverse number of now-classic railroads looking to tap these resources.  
History
In addition to those previously mentioned these included the:
Duluth, Missabe & Iron Range


Chicago & North Western


Chicago Great Western


Chicago, St. Paul, Minneapolis & Omaha (C&NW)


Chicago, Burlington & Quincy.  
For all its diversity the state was firmly an agricultural producer. 
As such, thousands of miles of secondary lines were laid down to serve this industry, tracks later abandoned en masse.  More than 50% of its infrastructure has been pulled up since 1920 (5,000 miles).
Today, Minnesota is still home to four Class Is, two regionals (Class IIs), and several short line railroads. Please note that for your convenience, throughout this article there will be links provided to other pages here at the website (unless otherwise noted) discussing topics related to Minnesota.
Photos
A Milwaukee Road F7 set, led by #88-C, layover at Northern Pacific's Rice's Point Roundhouse in Duluth, Minnesota during September of 1957. Fred Byerly photo. American-Rails.com collection.
Minnesota railroads date back to the St. Paul & Pacific Railroad, which completed its main line between St. Paul and then-St. Anthony (now Minneapolis) in the summer of 1862, a distance of about 10 miles.
The StP&P, however, dated as far back as the Minnesota & Pacific Railroad, created by the state legislature on May 22, 1857 to take advantage of federal land grants being awarded earlier that year.
Statistics
| | |
| --- | --- |
| First Railroad | St. Paul & Pacific Railroad (1862) |
| Peak Mileage | 9,114 (1920) |
| Current Mileage | 4,233 (2020) |
| Current Railroads | 19 |
| Originated Rail Tons (2019) | 88.6 million |
| Terminated Rail Tons (2019) | 69.7 million |
| Originated Carloads (2019) | 1,111,201 |
| Terminated Carloads (2019) | 966,637 |
The M&P never actually built any track, although it had surveyed and graded its route prior to being reorganized as the St. Paul & Pacific (mostly due to financial difficulty, it simply ran out of money with the only capital it ever owned being ties).
The railroad eventually became part of the James J. Hill's (the "Empire Builder") Great Northern system.
Current Railroads
Today, Minnesota's network is comprised of a variety of Class I's and short lines/regionals including:
BNSF Railway


Union Pacific


Canadian National


Canadian Pacific


Northern Plains Railroad


Red River Valley & Western Railroad
Cloquet Terminal Railroad


Ellis & Eastern Railroad



Minnesota Commercial Railway


Minnesota, Dakota & Western Railway


Minnesota Northern Railroad


Minnesota Prairie Line


Northern Lines


Northern Plains Railroad


Otter Tail Valley Railroad


Progressive Rail, Inc.


Rapid City, Pierre & Eastern Railroad



St. Croix Valley Railroad


Twin Cities & Western Railroad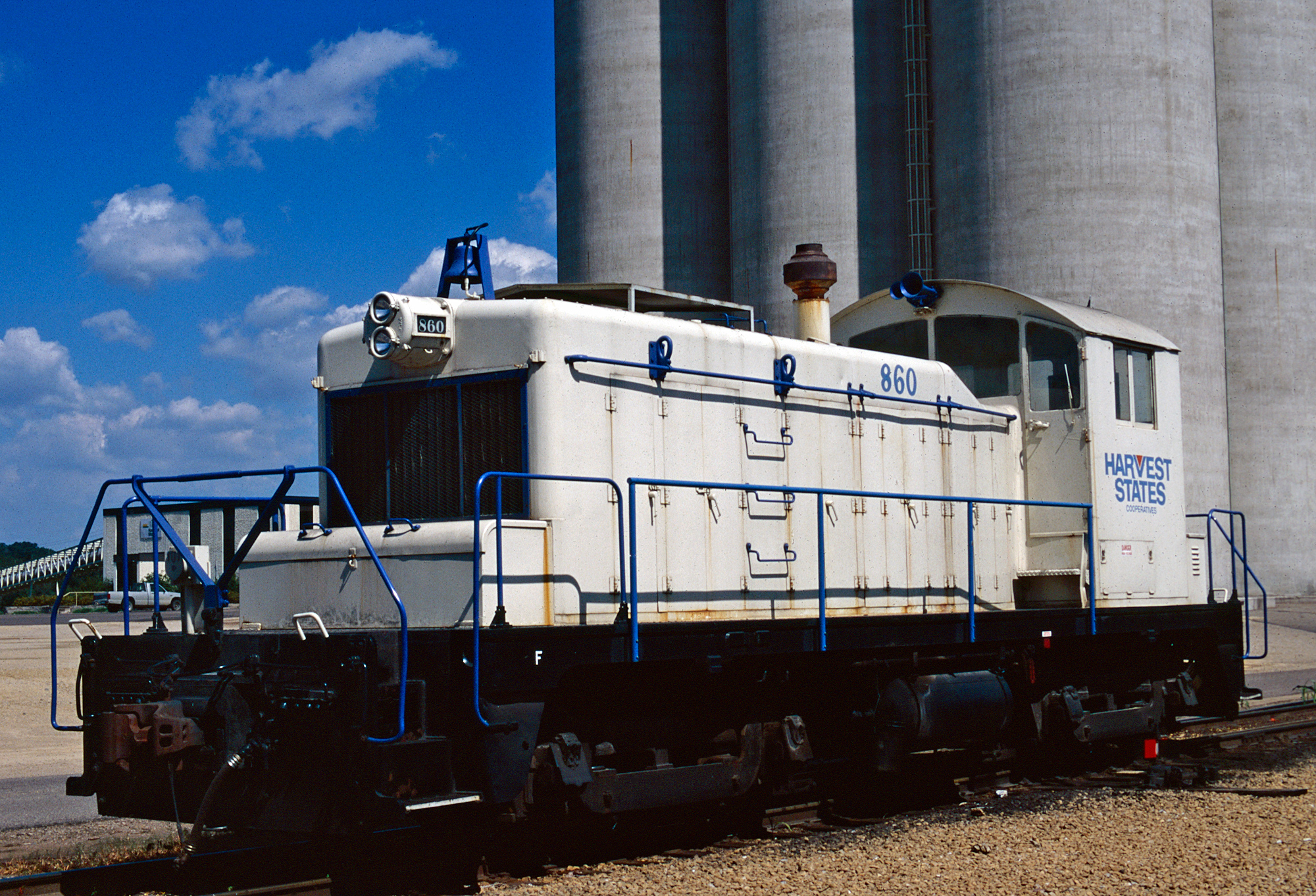 Harvest States SW1 #860 (built as Milwaukee Road #1613 in 1940) is tied down for the weekend at the grain elevator in Savage, Minnesota on Sunday, August 31, 1997. American-Rails.com collection.
Today, the state's railroads operate around 4,600 miles of track although during Minnesota's heyday with trains it featured over 9,100 miles.
Since the 1920s the state has witnessed a decline of almost exactly 50% of its railroad infrastructure, a number that is comparable to what other states have experienced in that time.
---
Abandoned Lines
Alas, Minnesota has been hit especially hard by abandonments.  The state has lost roughly 5,000 routes miles since the 1920's.  Of this figure, around 4,000 miles have been removed since just the mid-1960s.
Minnesota was unique for railroads; not only did it provide rich land for agriculture but was also home to the gateway cities to the Pacific Northwest; Minneapolis and St. Paul.
As a result, early railroads out of Chicago aimed for Minnesota while systems like the St. Paul & Pacific attempted to build east out of the Twin Cities area.
In addition, James Hill's future Great Northern Railway, as well as the Northern Pacific Railway, used the cities to launch their push for the Puget Sound.
All of the major granger roads served Minnesota and all have seen components of the original networks abandoned across the state.
Frankly, the state simply contained too much trackage; midwestern roads like the Minneapolis & St. Louis, Chicago & North Western (along with subsidiary Chicago, St. Paul, Minneapolis & Omaha Railway), Chicago Great Western, Soo Line, and Milwaukee Road all fiercely competed for agricultural traffic here.
Unfortunately, most of the CGW and M&StL network has been removed, following their acquisition by the C&NW.  In addition, the C&NW itself, along with the CStPM&O has also witnessed significant cutbacks.
Doing a just a little research will reward explorers with a plethora of abandoned routes across the state.  A good place to start is AbandonedRails.com.
---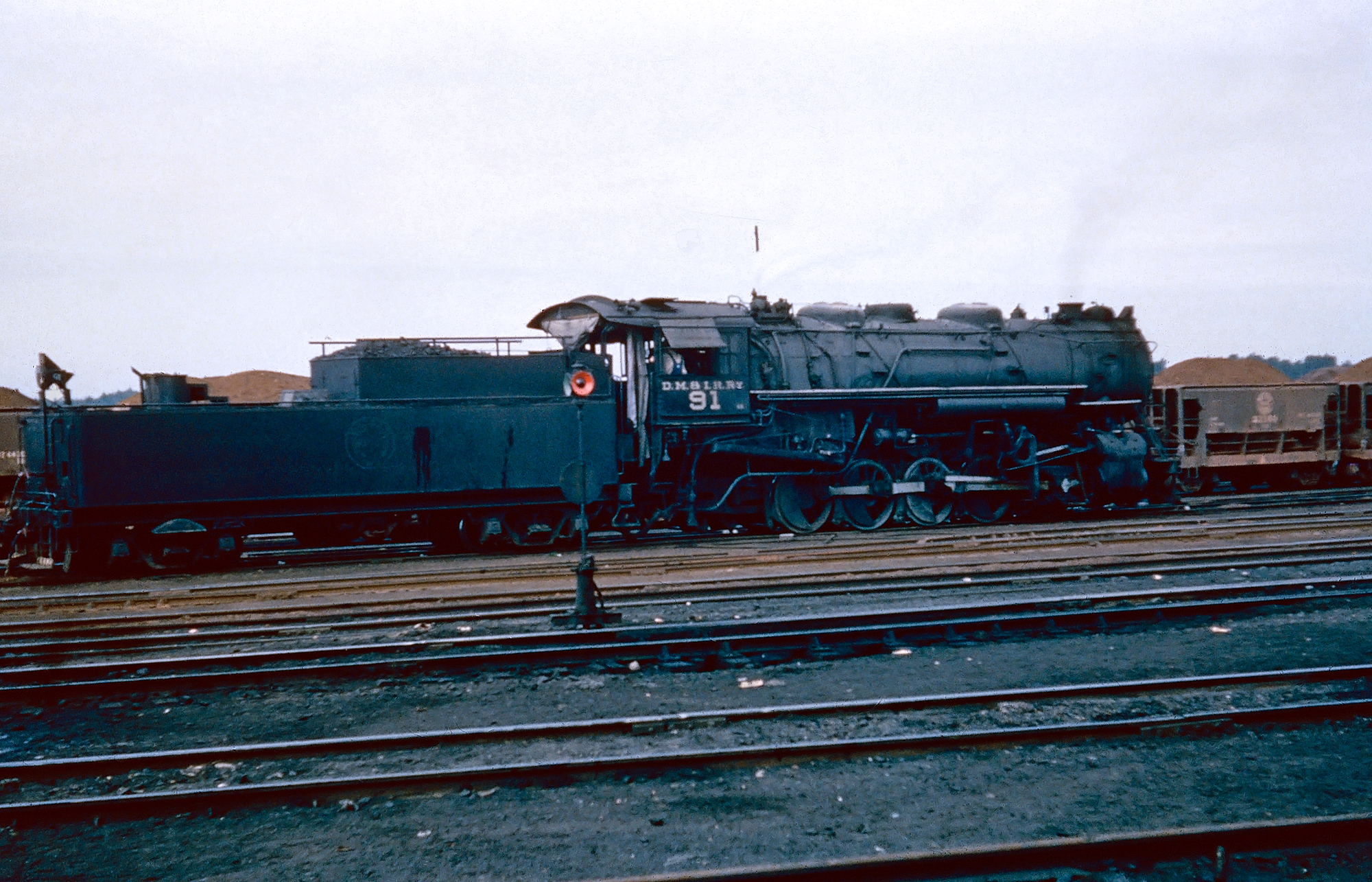 Duluth, Missabe & Iron Range 0-10-0 #91, one of the road's huge switchers assigned to switching chores of loaded ore jennies, is seen here at the yard in Proctor, Minnesota, circa 1955. American-Rails.com collection.
Most of Minnesota's important through, main lines remain in place although it has lost much of its secondary and branch lines, notably those serving agricultural interest.
For a more in-depth look at Minnesota railroads, in terms of route mileage over the decades please take a look at the chart below.
State Mileage Chart
First Railroad
* Minnesota's first railroad was the St. Paul & Pacific Railroad, which opened 10 miles between St. Paul and St. Anthony in 1862.  The StP&P began as the Minnesota & Pacific Railroad of 1857 which had great difficulty in securing needed capital to launch the project.  The StP&P was later acquired by the affluent James J. Hill who went on to build the second corridor to Puget Sound, the Great Northern Railway. 
Even though Minnesota has never seen many famous passenger trains two distinctly stand out, Great Northern's legendary Empire Builder and Northern Pacific's North Coast Limited.
While today the Great Northern may no longer operate the legendary Empire Builder it carries on under the Amtrak banner still holding much of the prestige it once did.
Today the train makes stops at Winona, Red Wing, St. Paul, St. Cloud, Staples and Detroit Lakes.
Also, while Minnesota currently operates a short 12-mile section of light rail between Minneapolis and the Minneapolis-St. Paul International Airport the state has much bigger plans.
In 2009 the highly anticipated Northstar Commuter Rail service began operations around the Twin Cities region, and hopes to become a primary means of transportation for commuters to help in reducing congestion.

State Map
Minnesota is also home to a number of museums and historic railroad equipment, like the famous Milwaukee Road 4-8-4 #261, whose home base is in Minneapolis.
For 16 years it was operated by the Friends of the 261 participating in annual excursions until 2009 when it need a major overhaul. After initially being turned back over to then-owner the National Railroad Museum in Green Bay it was sold to the Friends in 2010. 
After more than a year and somewhat tense discussions, the museum finally agreed to sell the locomotive outright to the Friends. 
In 2013, #261 returned to excursion service.  Since that time the big 4-8-4 has once again been awing the public as it hosts excursions across the Midwest.

---
Museums and Excursions
Other interesting places and excursion trains in Minnesota include the:
Como-Harriet Streetcar Line


End-O-Line Railroad Park and Museum


Jackson Street Roundhouse


Kandiyohi County Historical Society Depot


Lake County Historical Society Railroad and Depot Museum


Lake Superior & Mississippi Railroad


Lake Superior Railroad Museum


North Shore Scenic Railroad


Minnehaha Depot


North Shore Scenic Railroad
All in all, Minnesota railroads offer an interesting mix of railroading not often found in other parts of the country, such as its unique iron ore operations near the Great Lakes.
And, if you tire of watching the ore or main line operations, take a ride on the popular and picturesque North Shore Scenic Railroad!