Guide To Amtrak/Passenger Trains In Minnesota (2023)
Published: July 13, 2023
By: Adam Burns

Minnesota, known as the "Land of 10,000 Lakes," offers an abundance of natural beauty and vibrant urban areas. To fully experience the state's diverse landscapes and cities, hopping on a passenger train is a fantastic option.
While Minnesota's passenger rail options may not be as extensive as some other states, it still provides convenient and scenic travel options. In this article, we will delve into the current services available, highlighting their routes, amenities, and attractions along the way.
Photos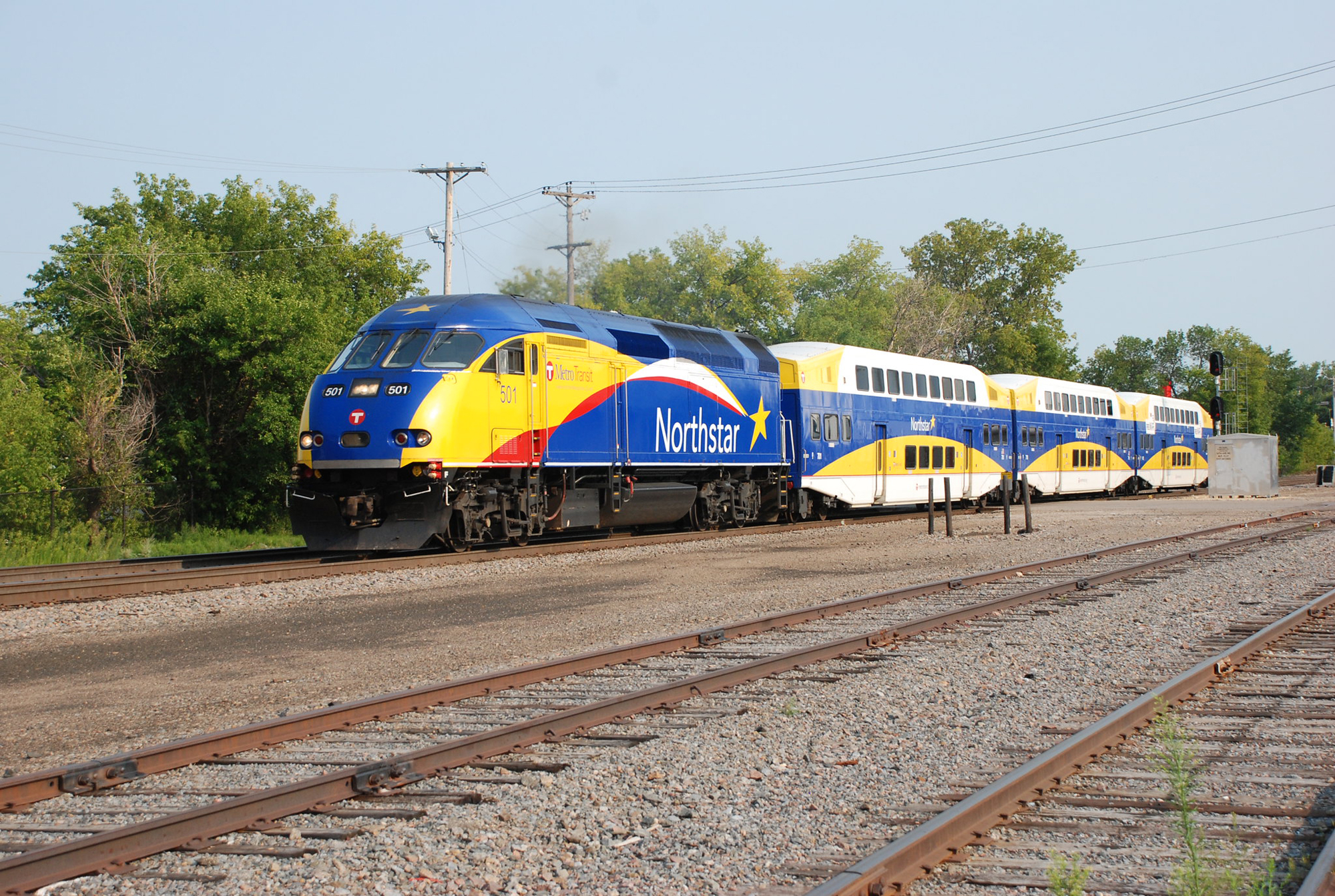 Northstar MP36PH-3C #501 is northbound at Minneapolis Junction on August 26, 2015. Northstar began service on 40 miles of BNSF trackage in 2009. Doug Kroll photo.
Empire Builder
Amtrak's Empire Builder is the primary passenger train service in Minnesota, traversing the state from east to west. This iconic route starts in Chicago, Illinois, and travels through Minnesota before reaching its final destination in either Seattle, Washington, or Portland, Oregon.
The Empire Builder stops at three major cities in Minnesota: St. Paul, Red Wing, and Winona.  It also makes stops at St. Cloud, Staples, and Detroit Lakes 
Passengers can enjoy comfortable accommodations, including coach seats, roomettes, and sleeping cars. The train offers breathtaking views of the Mississippi River, scenic landscapes, and the opportunity to explore Minnesota's charming towns.
Within the Minneapolis-Saint Paul metropolitan area, the Twin Cities Metro Transit operates a light rail system. The METRO Blue Line, formerly the Hiawatha Line, connects downtown Minneapolis with the Minneapolis-Saint Paul International Airport and the Mall of America in Bloomington.
This efficient and convenient rail service provides a great way to explore the vibrant cityscape, access notable attractions, and conveniently reach the airport.
The Northstar commuter rail service, operated by Metro Transit, provides a convenient and comfortable transportation option for those traveling between downtown Minneapolis and the northern suburbs. 

Northstar operates on a 40-mile route, connecting downtown Minneapolis with Big Lake, a city located northwest of the metro area. The rail service makes stops at several stations along the way, including Fridley, Anoka, Coon Rapids, and Elk River.
The well-planned route allows for efficient travel and serves both commuters and leisure travelers alike. Northstar operates on weekdays, providing multiple trips during morning and evening rush hours to accommodate the commuting needs of passengers.
The trains offer a stress-free alternative to driving in congested traffic. Commuters can relax and unwind during their journey, using their travel time productively or simply enjoying the comfortable seating and scenic views. The rail service allows passengers to avoid the hassles of parking, reduces their carbon footprint, and offers a reliable timetable for a predictable daily commute.
Northstar trains are designed to provide a comfortable and enjoyable travel experience. The railcars feature spacious seating with ample legroom, providing a relaxing environment for passengers.
The trains also offer onboard amenities such as power outlets, allowing commuters to charge their electronic devices during the journey. Additionally, free Wi-Fi is available, enabling passengers to stay connected and make the most of their travel time.
Passengers can easily transfer to and from the light rail lines operated by Metro Transit, providing convenient access to downtown Minneapolis, the Minneapolis-Saint Paul International Airport, and various other destinations within the metro area.
This integration ensures that commuters have a well-connected and comprehensive transportation network at their disposal.
Whether you're a daily commuter looking for a hassle-free journey or a visitor exploring the vibrant city of Minneapolis, the Northstar Commuter Rail service provides a reliable and enjoyable way to travel. So, hop aboard the Northstar, sit back, and enjoy the convenience and comfort of this efficient rail service, connecting Minneapolis with the northern suburbs.
Minnesota, with its diverse landscapes and natural beauty, is a captivating destination for travelers seeking unique and memorable experiences. One delightful way to immerse yourself in the state's charm is by hopping aboard a tourist train.
From scenic rides along picturesque lakeshores to historic locomotives that transport you back in time, the state offers a range of tourist train experiences. In this article, we will explore some of the most notable tourist trains in Minnesota, highlighting their routes, attractions, and the enchanting journeys they offer.
North Shore Scenic Railroad
The North Shore Scenic Railroad offers a delightful journey along the picturesque North Shore of Lake Superior. Departing from Duluth, the train travels along a scenic route to the town of Two Harbors.
The railroad provides various excursion options, including narrated tours, family-friendly rides, and special themed events. Passengers can relish the stunning views of Lake Superior, rugged cliffs, and dense forests during this memorable journey.
Osceola & St. Croix Valley Railway
Situated on the eastern border of Minnesota, the Osceola & St. Croix Valley Railway offers a nostalgic train experience. The railway operates vintage trains that traverse the beautiful St. Croix River Valley.

Passengers can enjoy leisurely rides while relishing the serene river views and observing the picturesque landscapes. Special events such as scenic brunches, dinner trains, and holiday-themed rides make the experience even more delightful.
Lake Superior & Mississippi Railroad
Nestled in the quaint town of Duluth, the Lake Superior & Mississippi Railroad offers a scenic journey through the Minnesota countryside. This volunteer-operated railway takes passengers on a historic train ride, hauled by a vintage steam locomotive.
The train winds through forests, over bridges, and along the scenic St. Louis River, providing a nostalgic and immersive experience. With its vintage appeal and charming setting, the Lake Superior & Mississippi Railroad is a hidden gem for train enthusiasts and nature lovers.
---
Conclusion
While Minnesota's passenger train services may not be as extensive as in some other states, they offer unique and memorable travel experiences.
From the majestic Empire Builder, which spans the state and beyond, to the scenic rides along Lake Superior's North Shore and the quaint vintage trains in the St. Croix River Valley, each service provides a distinct glimpse into Minnesota's diverse landscapes and cultures.
Whether you're exploring the bustling Twin Cities or seeking tranquility in the state's natural wonders, hopping aboard a passenger train in Minnesota is an excellent choice for both residents and visitors alike. So, grab your ticket and embark on an unforgettable rail adventure through the Land of 10,000 Lakes.