The Rocky Mountaineer
Last revised: April 11, 2023
By: Adam Burns

The 'dayliner' Rocky Mountaineer is North America's leading tourist train, and for good reason.  Having transported more than 2 million passengers since 1990, it offers first class accommodations and breathtaking views of the Canadian Rockies. 

The service was launched by VIA Rail to test the tourism market during a time when such trains were drawing interest throughout North America. 
Back then the train was a single-car affair; today, it maintains a large fleet and operates several trips traveling north, east, and south from Vancouver, British Columbia. 
The current Rocky Mountaineer, adorned in a stunning livery of deep blue with gold and white trim, features 65 different packages.  These trips have a variety of choices depending on one's interest such as hotel accommodations, self-driving options, and bus connections.  
The train, whose GoldLeaf service provides 24/7 glass solarium (dome) viewing, always runs during the daylight hours for maximum viewing. 
In this article the train and its history will be briefly highlighted.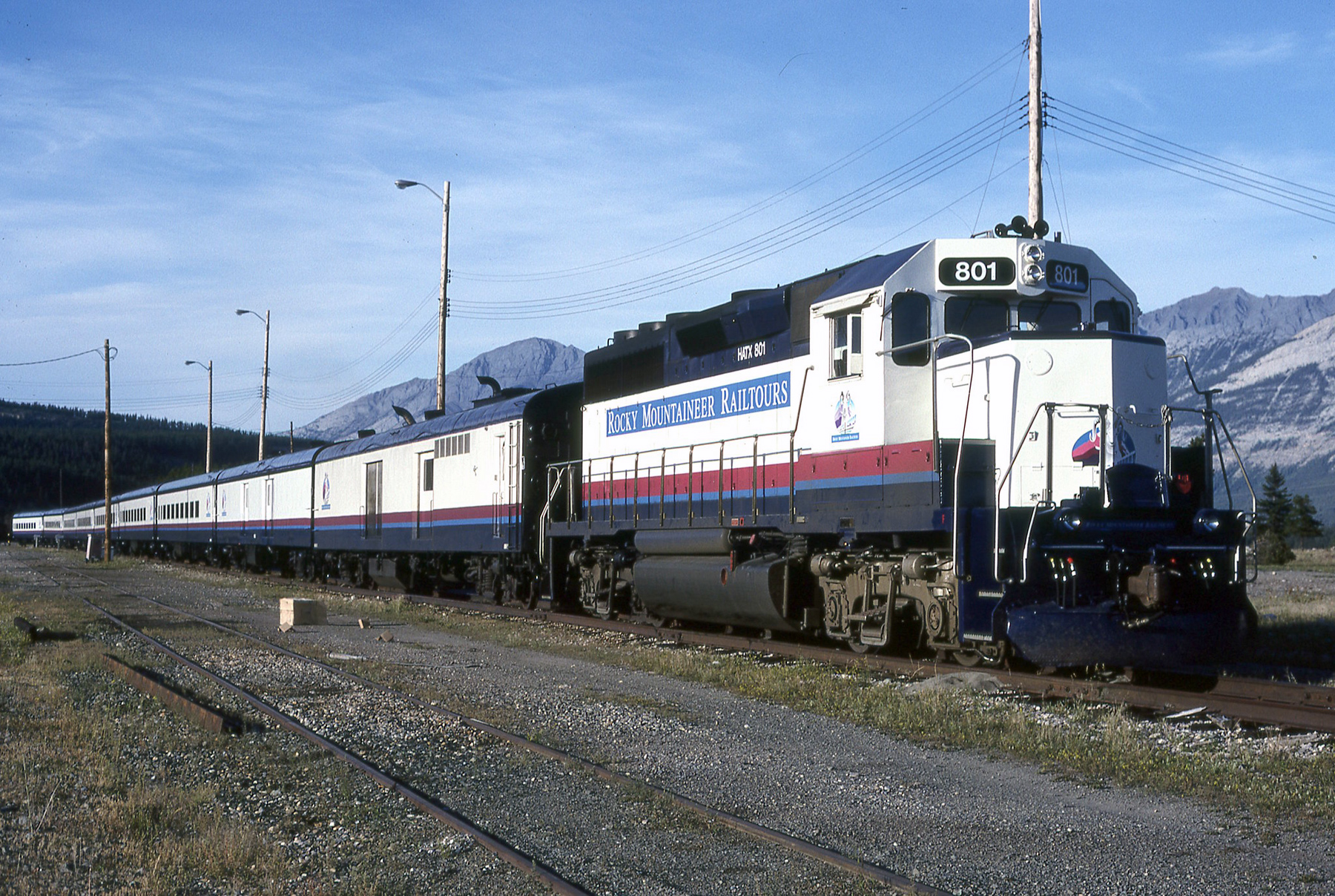 History
The Rocky Mountaineer would have never been possible if not for the Canadian Northern's (Canadian National) and Canadian Pacific's efforts to link their country by rail over a century ago. 
When the Dominion of Canada was formed on July 1, 1867, the plan for a transcontinental railroad took on even greater importance for a multitude of reasons, ranging from an American takeover to improved transportation. 
As a private company, the Canadian Pacific Railway was formed in February, 1873. The modern CP, designed exclusively to run through Canada, was incorporated in 1881, and began construction from Callander, Ontario. 
Its promoters' ultimate goal was to reach British Columbia and the Pacific coast.  This railroad was an incredibly complex project involving many moving parts. 
From the west, work was undertaken at Yale, British Columbia in May, 1880 along the Fraser River. 
It was led by Andrew Onderdonk, an American engineer from New York.  The line he selected ran north through the Fraser Canyon before turning northeasterly along the Thompson River Canyon where it hugged its eastern bank into Kamloops Lake. 
This particular corridor would cover 127 miles and eventually meet its eastern counterpart heading west out of Calgary, Alberta.
This section was built by another American, Major Albert Bowman (A.B.) Rogers.  He envisioned a line crossing three mountain passes and following river canyons.  Naturally, this meant a right-of-way squeezing through narrow valleys and blasted from solid granite rock. 
Heading out of Calgary it followed the Bow River before crossing the Canadian Rockies at 5,338-foot Kicking Horse Pass.  
From there it snaked its way along the Kicking Horse River, turned west to the Columbia River, and headed slightly north before crossing Rogers Pass within the Selkirk Mountains. 
It then headed west along the stunning Illecillewaet River where towering mountain peaks maintain a watchful gaze.  Next, rails passed through the community of Revelstoke before again meeting the Columbia. 
The last mountain crossing was Eagles Pass; Bowman's route concluded by following Shuswap Lake's shoreline before meeting Onderdonk's segment at Kamloops.  CP's initial western terminus was Port Moody with the first train leaving Montreal to the west coast on June 28, 1886. 
The former was soon switched to nearby Granville (later renamed Vancouver) for better port facilities in 1886.  Through the early 20th century CP continued to expand, such as 1916's completion of the Kettle Valley Railway. 
This particular corridor, as Tom Murray notes in his book, "Canadian Pacific Railway," offered a second line into Vancouver via Coquihalla Pass.  It linked up with the original line at Hope in July, 1916. 

The Rocky Mountaineer's service to Jasper was constructed by the Canadian Northern Railway (CNoR), which later became part of Canadian National's transcontinental network.
According to the book, "History Of The Canadian National Railways," by author G.R. Stevens the CNoR was formed on January 13, 1899 as a joint effort of William Mackenzie and Donald Mann to break Canadian Pacific's transcontinental monopoly. 
In brief, it began by acquiring the Winnipeg Great Northern Railway (Gladstone - Winnipegosis, Manitoba) in 1896.  Over the following decade, the project slowly worked its way westward and by 1906 boasted a route from Port Arthur, Ontario to Prince Albert, Saskatchewan. 
During the next few years MacKenzie and Mann continued pushing west, eventually reaching Edmonton.  They then pushed the railroad through the Canadian Rockies at Yellowhead Pass before turning southwesterly towards Vancouver.  
The line was completed when a final spike was driven at Basque, British Columbia in 1914; on January 1st that year the CNoR opened as a fully coast-to-coast carrier.  
Canada's most well known railroad not named Canadian National or Canadian Pacific was the Pacific Great Eastern (PGE).  From a historical standpoint, it was a very late entrant, not incorporated until 1912.   
It was originally designed as a private system, jointly funded by Canadian and American investors to serve much of British Columbia.  Envisioned as a north-to-south routing it would connect Vancouver with Prince George where interchange would be opened with the Grand Trunk Pacific Railway. 
Unfortunately, financial troubles resulted in decades of delays.  According to the article "To Alaska Or Bust On A Mixed Train" by Steve Patterson and Joe McMillan from the August, 1986 issue of Trains Magazine, it finally opened to Prince George in 1952 and boasted through service to Vancouver by 1956. 
In the succeeding years it continued to expand, pushing as far north as Fort Nelson and Jackson with the main line splitting at Odell. 
There were hopes of opening an extension to Dease Lake and potentially complete the long-sought connection to Alaska although lack of funding killed this dream.  It was renamed as the British Columbia Railway in 1972 and today is leased by Canadian National.
Route
The rail tour business never really ended when Amtrak took over most intercity rail services in the United States in 1971. 
However, its creation not only shifted resources away from private investment but also caused trains to slip further from the public eye. 
In the U.S., largely due to the availability of surplus equipment, such attractions grew in number during the 1980's.  Unfortunately, most were either poorly executed or hampered by steep fixed costs. 
The most famous was the American-European Express launched in 1989. This ultra-luxurious experience struggled and was canceled within a year. 
However, its successor, the American Orient Express, proved much more successful and remained in service until 2008.  Its most important contribution to the market was the so-called "cruise train" concept, launched in 1997 when TCS Expeditions took over operations. 
It was based on the cruise ship principal whereby accommodations and the train functioned and acted like an ocean-going vessel with lavish service and breathtaking views; today, no, true rail tours like this currently exist in America, aside from Amtrak's general offerings. 
There are many reasons for their absence, ranging from cost to profit potential.  A primary factor, however, is the private railroads' hostility towards passenger trains.
In Canada it is much different where less stringent regulations have allowed such services to prosper, none more-so than the Rocky Mountaineer. 
In his article, "Luxury West: Is Anything Finer Than Through The Rockies By Rail?  I Don't Think So," from the February, 2002 edition of Trains Magazine, author Bob Johnston notes the train began in 1988 when VIA Rail decided to experiment in the tourism market. 
Utilizing surplus reclining seat, leg-rest coaches its first trains were launched in June on a weekly schedule from Vancouver to Calgary via what was dubbed, "Canadian Rockies By Daylight." 
Just as American investors learned, making money in the rail travel business is extremely difficult.  Nevertheless, VIA persisted and renamed the train the Rocky Mountaineer in 1989, unveiling an overnight stop to Kamloops that year. 
With interest building the train was sold to the Great American Railtour Company in 1990.  The privately-owned venture made its first run on May 27th and a new attraction was forever born. 
That decade, the Rocky Mountaineer launched its now-signature "GoldLeaf" service and grew from a single car to ten.  As planners soon realized, passengers love the views afforded on dome cars, which significantly add to the overall experience.
With the market for second-hand domes limited, the Rocky Mountaineer elected to purchase new equipment. 
These cars were a sort of hybrid, originally designed by Tom Rader and Bob Steele, inspired from the Atchison, Topeka & Santa Fe's popular Hi-Level cars first introduced on its all-coach El Capitan in 1954. 
Revolutionary at the time, they were a type of bi-level coach, featuring a full-length curved glass solarium on the top floor for maximum viewing.  When Amtrak was awarded funding in the 1970's, it ordered cars based on this design. 
Known as the "Superliner," Pullman-Standard built 284 "Superliner I's" between 1975–1981 (the legendary builder's final order) and Bombardier Transportation added another 195 "Superliner II's" between 1991–1996. 
For Rader and Steele their concept used former Southern Pacific bi-level commuter coaches for Princess Cruise trains in Alaska. 
They were a major hit and Rader's Colorado Railcar, launched in 1988 to build rail tour cars, eventually constructed sixteen "GoldLeaf" domes for the Rocky Mountaineer between 1995 and 2007 according the news release "Rocky Mountaineer Adds Capacity, Offers Discounts" by Bob Johnston from Trains Newswire's February 8, 2019 edition. 
---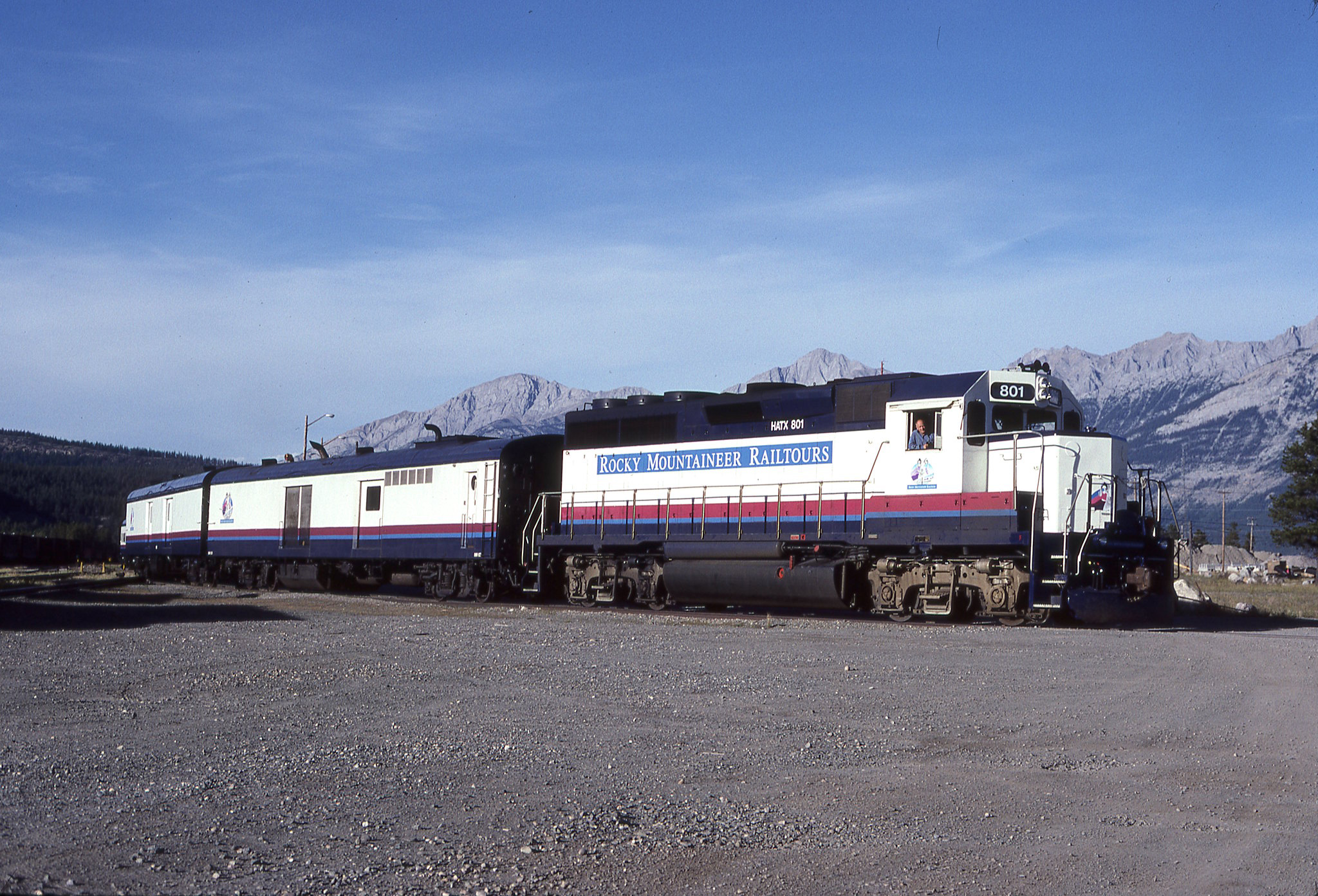 Naturally, the new cars proved phenomenally successful.  Today, the Rocky Mountaineer is a fully domed train featuring a fleet of 58 cars. 
In 2018 it added new equipment for the first time in over a decade when four arrived that year.  Products of Switzerland's Stadler Rail A.G. they feature many new perks, such as dimmable tinted upstairs glass and European-type air-spring trucks. 
However, their overall appearance will still match the original "GoldLeaf" equipment built by Colorado Railcar to maintain the train's streamlined appearance.  For power, the Rocky Mountaineer relies on former Canadian National GP40-2L's and GP40-2R's of Penn Central heritage. 
The former were originally built by Electro-Motive's General Motors Diesel Division (GMDD) of London, Ontario while the latter at its La Grange, Illinois facility. Under its current format, the train (now operated by Great Canadian Railtours Company) is strictly seasonal (late April through mid-October) in an effort to avoid western Canada's harsh, unforgiving winters. 
There are currently four routes available:
First Passage to the West (Vancouver – Lake Louise/Banff/Calgary)


Journey Through the Clouds (Vancouver – Jasper)


Coastal Passage (Seattle – Jasper, Lake Louise, or Banff)


Rainforest to Gold Rush (Vancouver – Jasper via Whistler/Quesnel)
Along the way you will pass through seven mountain ranges; Cascades, Rockies, Coast Mountain, Cariboo, Selkirk, Centennial, and Premier.