Guide To Amtrak/Passenger Trains In Maryland (2023)
Published: July 11, 2023
By: Adam Burns

Maryland, known for the Appalachian Mountains to the west and Chesapeake Bay to the east, offers a variety of passenger train services that connect the state's major cities and provide convenient transportation options for residents and visitors alike.
Whether you're commuting to work or embarking on a leisurely adventure, Maryland's commuter and long-distance rail service offer comfort, efficiency, and scenic views. This article highlights key trains in the state and the experiences they provide.
Photos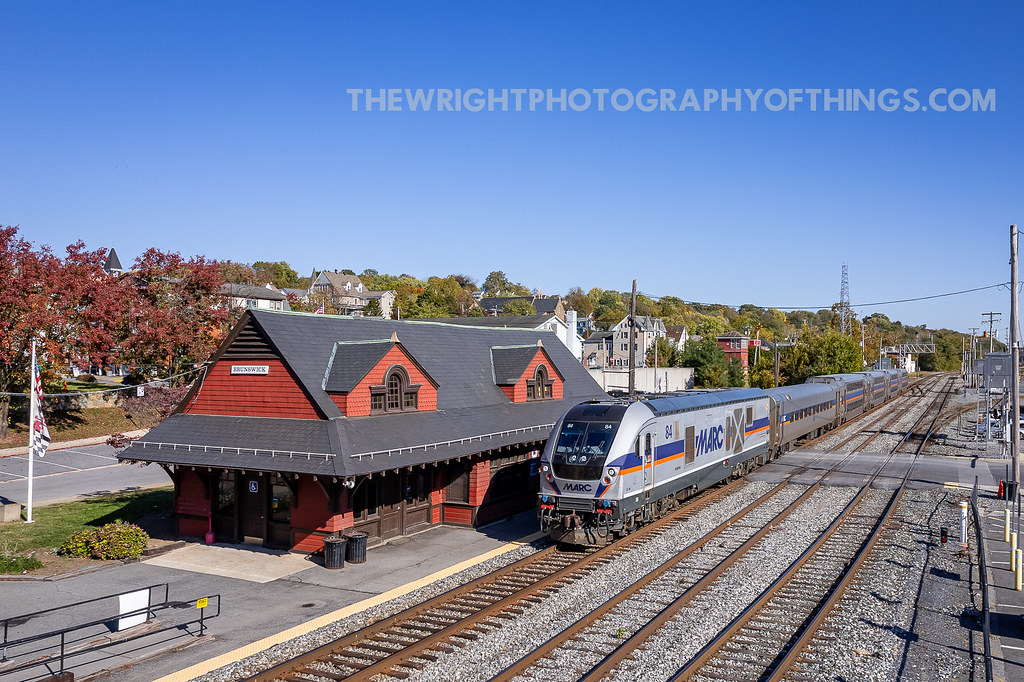 MARC Train SC44 "Charger" #84 has train P871 out of Washington, D.C. arriving at Brunswick, Maryland on October 21, 2022. Jon Wright photo.
Amtrak
Northeast Regional
Amtrak's Northeast Regional service extends through Maryland, forming a crucial link in the bustling Northeast Corridor. This popular service connects major cities like Baltimore, BWI Airport, and Aberdeen to destinations such as Philadelphia, New York City, and Boston.
In total, the Northeast Regional service spans 682 miles between Boston and Roanoke/Richmond/Norfolk/Newport News, Virginia. 
Passengers can enjoy spacious seating, power outlets, and Wi-Fi while experiencing the convenience of frequent departures and reduced travel times between key metropolitan areas.
Acela Express
For those seeking a premium travel experience, Amtrak's Acela Express offers high-speed train travel along the Northeast Corridor. With stops in Baltimore and BWI Airport, the Acela Express connects Maryland to cities like Washington, D.C., Philadelphia, New York City, and Boston. 
The Acela Express is synonymous with high-speed luxury travel along the bustling East Coast of the United States. Offering a unique combination of speed, comfort, and convenience, the train has revolutionized rail travel since its debut in 2000, providing a premium experience for passengers commuting between major cities or embarking on business or leisure trips. 
The Acela Express is well-known for its impressive speeds, currently offering the fastest trips by rail in North America. Traveling at speeds of up to 150 mph (240 km/h) at various points, the train reduces travel times significantly, allowing passengers to reach their destinations swiftly and efficiently.
Whether you're traveling from Boston to New York City or Washington, D.C., the high-speed capabilities of the Acela Express ensure that you spend less time in transit and more time at your destination.  In Maryland, the train makes stops at Baltimore's Penn Station and near the BWI Marshall Airport.
The train offers an array of premium amenities that cater to the needs of discerning travelers. Passengers can enjoy complimentary Wi-Fi throughout the train, allowing them to stay connected, catch up on work, or browse the internet at high speeds.
Power outlets at each seat ensure that electronic devices remain fully charged, while overhead storage compartments offer convenient space for luggage. Additionally, the Acela Express provides an onboard café service, offering a delectable selection of snacks, beverages, and light meals for passengers to enjoy during their journey.
Whether you're a business traveler seeking efficiency or a leisure traveler embracing the thrill of high-speed rail, the Acela Express ensures an unforgettable and exceptional experience as you explore the vibrant cities and breathtaking landscapes of the East Coast.
The Baltimore Light RailLink provides a convenient and eco-friendly means of transportation within Baltimore and its surrounding suburbs. This light rail service connects key destinations like Camden Yards, Inner Harbor, and the Baltimore-Washington International Thurgood Marshall Airport.
Whether you're exploring the city's vibrant neighborhoods, visiting cultural attractions, or catching a game, Light RailLink offers a seamless way to navigate Baltimore with ease.
Baltimore's Metro SubwayLink offers a rapid transit service that connects various neighborhoods in the city. The subway's single line spans from Owings Mills in the northwest to Johns Hopkins Hospital in the east, covering essential locations such as downtown Baltimore, the University of Maryland, and the Maryland Zoo.
The Metro SubwayLink provides residents and visitors with a convenient option for commuting, shopping, and exploring the vibrant city of Baltimore.
The Metro SubwayLink connects several important neighborhoods and destinations throughout Baltimore. Downtown Baltimore, known for its bustling streets, historic landmarks, and cultural attractions, is easily accessible via the subway system.
Additionally, the Metro SubwayLink provides convenient access to prominent institutions such as the University of Maryland, the Maryland Zoo, and Mondawmin Mall. With the Metro SubwayLink, navigating Baltimore's diverse neighborhoods and reaching popular destinations becomes effortless.
The Maryland Area Regional Commuter (MARC) train service is a vital transportation network that connects Maryland's suburbs and neighboring regions. With three lines—the Penn Line, Camden Line, and Brunswick Line—MARC trains serve cities such as Baltimore, Washington, D.C., Frederick, and many more.
MARC trains are known for their punctuality and adherence to schedules, making them a dependable choice for commuters. Each line is strategically designed to serve different regions of the state, catering to the specific needs of commuters from various areas. Whether you're traveling from Baltimore to Washington, D.C., or from Frederick to Silver Spring, MARC trains provide a convenient and time-saving transportation solution.
As a link to the suburbs located west of these cities the train runs as far west as Harpers Ferry and Martinsburg, West Virginia.  Commuters benefit from comfortable coaches, onboard amenities like Wi-Fi, and reliable schedules tailored to accommodate peak and off-peak travel times.
Chesapeake & Ohio 2-6-6-2 #1309 climbs out of Helmstetter's Curve, west of Cumberland, Maryland with a Western Maryland Scenic Railroad excursion on October 12, 2022. Jon Wright photo.
If you are looking for a leisurely train ride, Maryland offers a unique opportunity for visitors to immerse themselves in the state's beauty and charm via heritage railroads.  Most notable is, perhaps, the Western Maryland Scenic Railroad which operates the largest Mallet steam locomotive in the United States, Chesapeake & Ohio 2-6-6-2 #1309.
Western Maryland Scenic Railroad
One of Maryland's most beloved tourist train experiences, the Western Maryland Scenic Railroad, takes passengers on a nostalgic journey through the Allegheny Mountains.
Departing from Cumberland, this heritage railroad offers scenic excursions aboard vintage diesel locomotives and restored heritage cars. As the train winds through the picturesque countryside, passengers can marvel at breathtaking vistas, including the stunning views of the Potomac River and the majestic Cumberland Narrows.
The Western Maryland Scenic Railroad also offers themed excursions and special events throughout the year, including fall foliage tours and holiday-themed rides.
Walkersville Southern Railroad
Located in Frederick County, the Walkersville Southern Railroad invites visitors to step back in time and enjoy a leisurely ride through the Maryland countryside. This volunteer-operated heritage railroad offers excursions aboard historic diesel locomotives and vintage passenger cars.
The scenic route takes passengers through charming farmlands and picturesque landscapes, providing a delightful glimpse into Maryland's rural beauty. The Walkersville Southern Railroad offers various themed excursions, such as wine and cheese tastings, murder mystery dinners, and seasonal events.
B&O Railroad Museum
While not a traditional tourist train, the B&O Railroad Museum in Baltimore is a must-visit destination for train enthusiasts and history buffs.
This captivating museum showcases the rich heritage of the Baltimore & Ohio Railroad, one of the nation's oldest and most significant railroads. Visitors can explore an extensive collection of historic locomotives, rolling stock, and artifacts that tell the story of America's railroad history.
The museum also offers train rides on select days, allowing visitors to experience the thrill of riding on vintage passenger cars pulled by a historic steam locomotive.
From historic steam locomotives to modern-day railway adventures, Maryland's tourist trains provide an unforgettable way to experience the region's picturesque landscapes, vibrant cities, and cultural heritage. In this guide, we'll explore some of the must-visit tourist trains in Maryland, each offering a distinct and captivating experience.
---
Amtrak P42DC's pass the historic Baltimore & Ohio station in Brunswick, Maryland with the westbound "Capitol Limited" on March 11, 2019. The station, located at 100 Sout Maple Avenue was built in 1891, and serves as a stop for westbound MARC commuter trains. Jon Wright photo.
Conclusion
From the commuter-focused MARC trains to the extensive Amtrak services and Baltimore's Light RailLink and Metro SubwayLink, Maryland's modern passenger train services offer a range of options to suit different travel needs.
Whether you're commuting to work, exploring the state's attractions, or embarking on a long-distance journey, Maryland's passenger trains provide efficient, comfortable, and scenic transportation experiences. Embrace the convenience and charm of train travel as you discover all that Maryland has to offer.