North Carolina Railroads In "The Tar Heel State"

Last revised: June 19, 2023
By: Adam Burns

North Carolina railroads offer a wide variety of operations, found in few other southeastern states; from coastal and mountainous operations to high-speed main line freight and passenger trains, including plenty of local short line services.

And, as Southern states typically go, North Carolina offers spectacular scenery as a backdrop to railroading operations, whether you are along the coast, in flatlands of the Piedmont, or high in the Smoky Mountains.
History
The Tar Heel State also has a rich railroading heritage dating back to the early 1830s and during its peak was home to no fewer than four eastern Class I railroads with the highly profitable and respected Atlantic Coast Line headquartered in its coastal and port city of Wilmington until 1960. 
North Carolina has suffered its share of abandoned corridors (over 2,000 miles) but much of its network is still intact.  The graph below illustrates these changes.
In recent years the state has worked hard to develop commuter rail from Asheville to Wilmington.  That project still ongoing and its unclear if it will be completed.   
In any event, the article here also provides additional links to other pages here at the site which relate to either North Carolina's railroad history or present day operations. Be sure to check them out.
Photos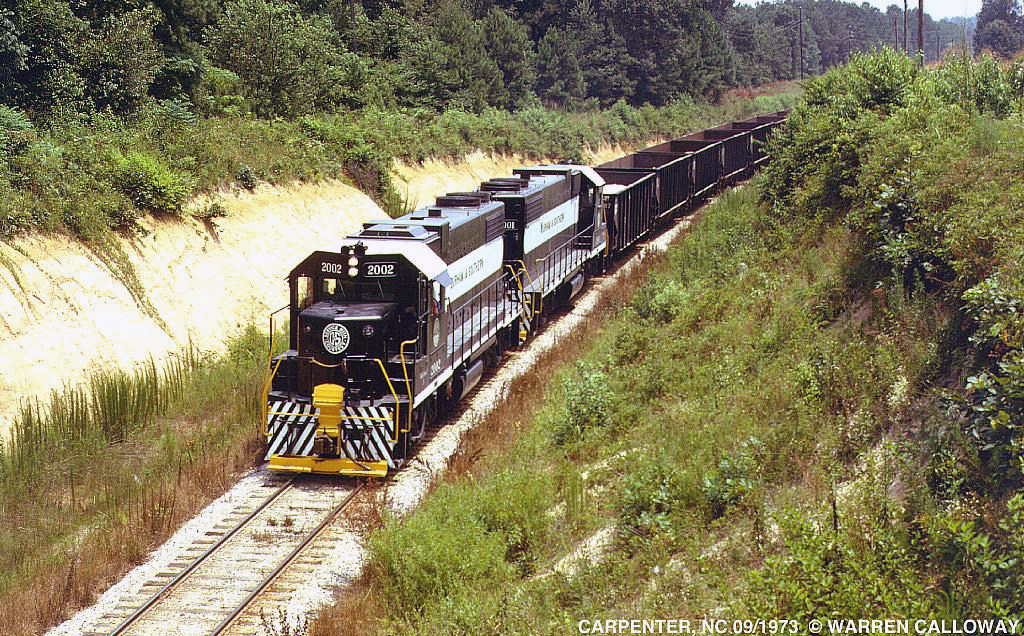 A pair of new Durham & Southern GP38-2's pull empties through Carpenter, North Carolina in September of 1973. Warren Calloway photo.
North Carolina's first system dates back to 1833 when the Wilmington & Weldon Railroad was charted to connect its namesake cities, which it completed on March 7th, 1840.
By doing so the railroad became the longest railroad operated in the world at that time, spanning some 161 miles! By the turn of the century the W&W would become part of the ever-growing Atlantic Coast Line system.
Following the W&W's opening, North Carolina quickly became an important traffic generating and terminating state as it not only grew much tobacco and cotton but also became heavily industrialized, particularly in textiles. In time the Tar Heel State would become home to four of the South's best-remembered railroads.
Today, North Carolina is mostly the realm of CSX and Norfolk Southern Railway with NS's ex-Southern main line running through Charlotte and Greensboro (along with numerous other secondary lines) and CSX's ex-Clinchfield in the mountains and SAL and ACL main lines near the coast.
Current Railroads
CSX Transportation


Norfolk Southern
Aberdeen & Rockfish Railroad


Aberdeen, Carolina & Western
Atlantic & Western railway

Blue Ridge Southern Railroad
Chesapeake & Albemarle Railroad



Carolina Coastal Railway
 Carolina Southern Railroad
Clinton Terminal Railroad
Kinston & Snow Hill Railroad



Laurinburg & Southern Railroad
Morehead & South Fork Railroad
North Carolina & Virginia Railroad


RJ Corman/Carolina Lines
Virginia Southern Railroad

Winston-Salem Southbound Railway



Wilmington Terminal Railroad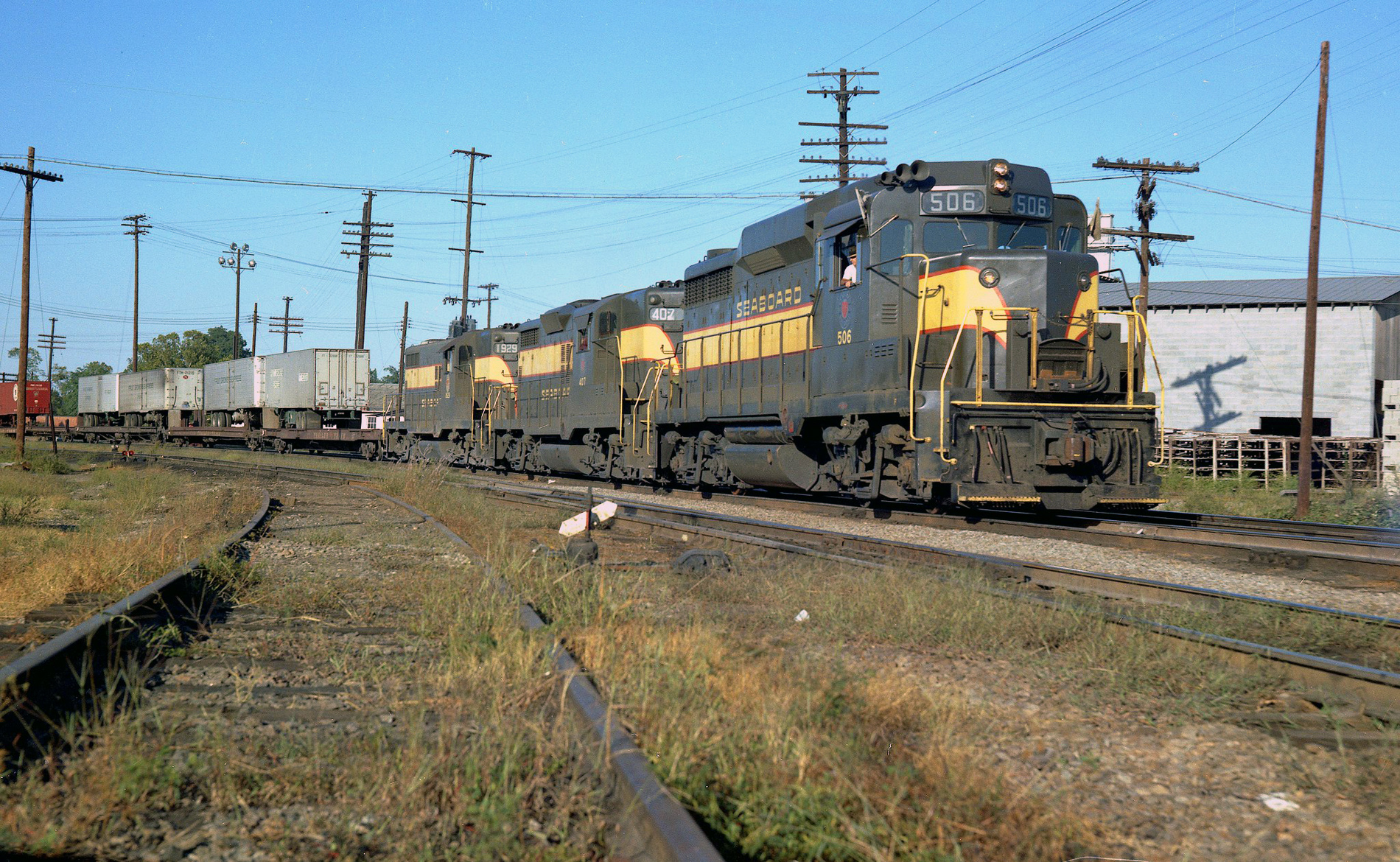 Seaboard Air Line GP30 #506, GP18 #407, and GP9 #1929 lead train TT-23 through Raleigh, North Carolina during a summer's day, circa 1965. Warren Calloway photo.
Having visited North Carolina on countless occasions throughout my life I must say that its railroading is very unique and interesting as it really does offer a little of everything from an operational standpoint.
I have seen both the Laurinburg & Southern and Chesapeake & Albemarle Railroads in operation and enjoyed every bit of it.
I also was lucky enough to have a friend give me a quick tour of Raleigh's rail operations (which includes both NS and CSX) and was as fascinated by the scenes of history still present, as the trains themselves.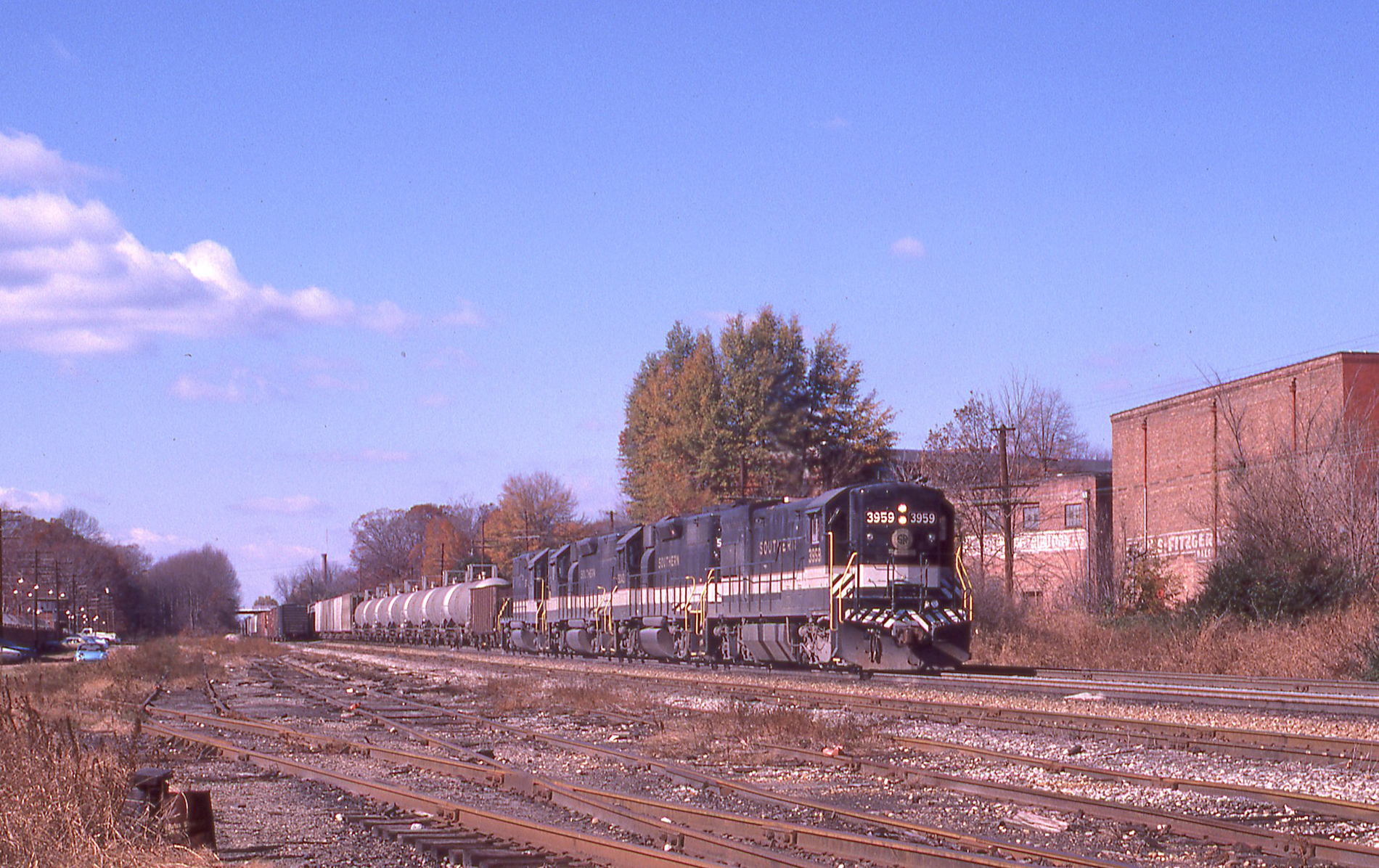 Southern Railway U23B #3959 and a trio of EMD units lead a long freight through Raleigh, North Carolina in November, 1977. Warren Calloway photo.
Today, North Carolina is home to just over 3,000 miles of trackage, which is about 59% of its one-time total of more than 5,500 in the 1920s.
With a loss of about 41% of its railroad infrastructure since then, North Carolina has fared better than the national average of 45%-50%.
Additionally, in recent years the state has been proactive in preserving rail corridors for potential future use. For more information on North Carolina in terms of route mileage over the years please take a look at the chart below.

State Mileage Chart
First Railroad
* While America's railroad first could be found in New England the South wasn't far behind.  Business leaders and plantation owners saw this new form of transportation as a major boon to production and profits, not to mention its ability to bolster the region's ports (notably Wilmington, North Carolina and Charleston, South Carolina). 
 North Carolina's first railroad was the Wilmington & Raleigh, chartered in 1834 to link its namesake cities.  After political wrangling was ironed out, the road was completed on March 7, 1840 at a distance of 161.5 miles.  Its name was changed to the Wilmington & Weldon in 1855 and would go on to join the modern Atlantic Coast Line system.
Passenger and commuter rail in North Carolina are, to put it bluntly, a step above the rest of the country. The Tar Heel State is being proactive in recognizing the benefits of rail and has planned accordingly.
Not only does the state own the North Carolina Railroad (NCRR), which owns a rail corridor running between Charlotte and Morehead City but also owns significant abandoned rights-of-way in the state that it deems important for possible future rail service. 
Map (1909)
Today, the NCRR is leased to Norfolk Southern, which handles freight service over much of the route (between Charlotte and Raleigh) and oversees the ongoing upgrades being paid for by the State of North Carolina.

The state also subsidizes its own passenger trains over the line. With the help of Amtrak, North Carolina operates the Charlotte-New York Carolinian and Raleigh-Charlotte Piedmont (in addition Amtrak also operates its own Crescent and Silver Service through the state).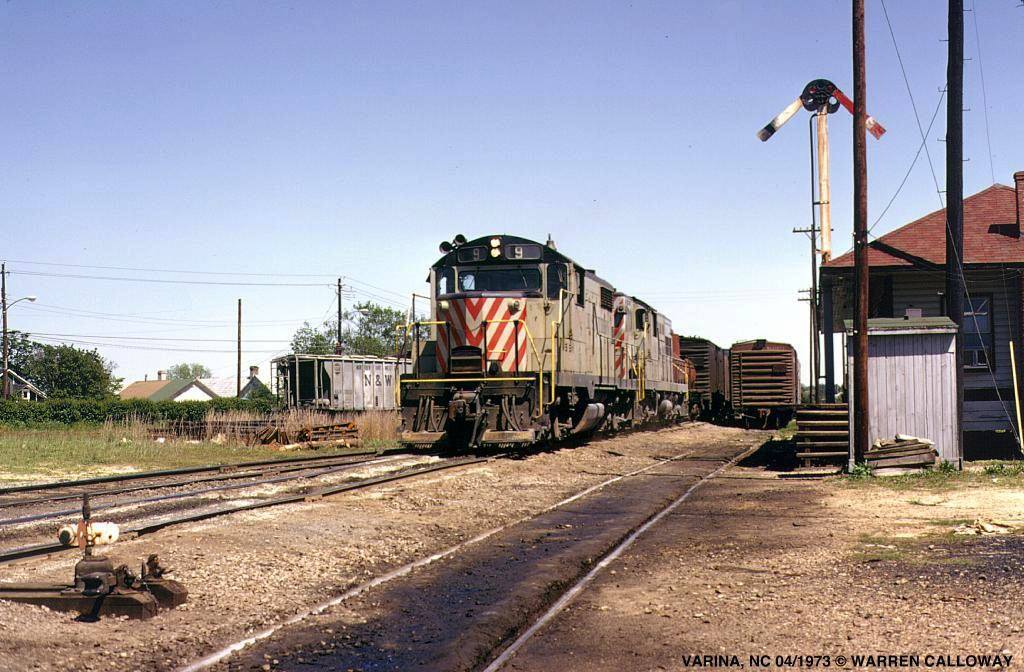 Norfolk Southern GP18 #9 and an AS416 have a local freight heading west past the small depot in Varina, North Carolina during April, 1973. The building still stands today. Warren Calloway photo.
The future of North Carolina's commuter railroad operations looks very bright.
The state has paid for the restoration of numerous historic railroad depots along its route to be used for daily passenger service and is currently planning operational extensions as far east as Wilmington and as far west as Asheville.
And, what's more, North Carolina plans to develop all of this trackage into a high-speed corridor. 
 Museums and Attractions
North Carolina also features several museums and tourist railroads such as the North Carolina Transportation Museum in Spencer which is home to the largest still-standing roundhouse at 37 stalls.

---
Abandoned Lines
The state of North Carolina was an important originator and terminator of freight traffic for railroads.  Not only did it produce everything from agriculture to textiles and merchandise but also exported goods through the port of Wilmington.
Ironically, most rail service to the state's largest port city is abandoned today (all of which were components of Atlantic Coast Line).  
North Carolina has worked to renew rail service to Wilmington, not only for freight but also commuter/regional rail.  Unfortunately, this has yet to occur.
In the eastern/coastal regions, large sections of the old, original Norfolk Southern system are abandoned, or see little freight today.
You can also find most of the historic short line Durham & Southern removed today, abandoned in the early CSX era following its acquisition by Seaboard Coast Line in 1979.
Other notable abandonments include:
Parts of the Piedmont & Northern, a successful electrified interurban throughout much of the 20th century.


Parts of the historic short line Atlantic & Western east of Sanford.


Numerous secondary branch and agricultural lines operated by all of the major railroads serving North Carolina.
---
Others include the Great Smoky Mountain Railway in Dillsboro and Bryson City that offers spectacular views of the Smokies. 
All in all, the  state offers some fantastic and unique operations, with spectacular scenery that only a Southern state could provide.
If you are planning a trip you may want to focus on one specific area that interests you most, such as the mountains, Piedmont region or coastal plains as there is far too much to see unless you have lots of time to visit all three parts of the state.
---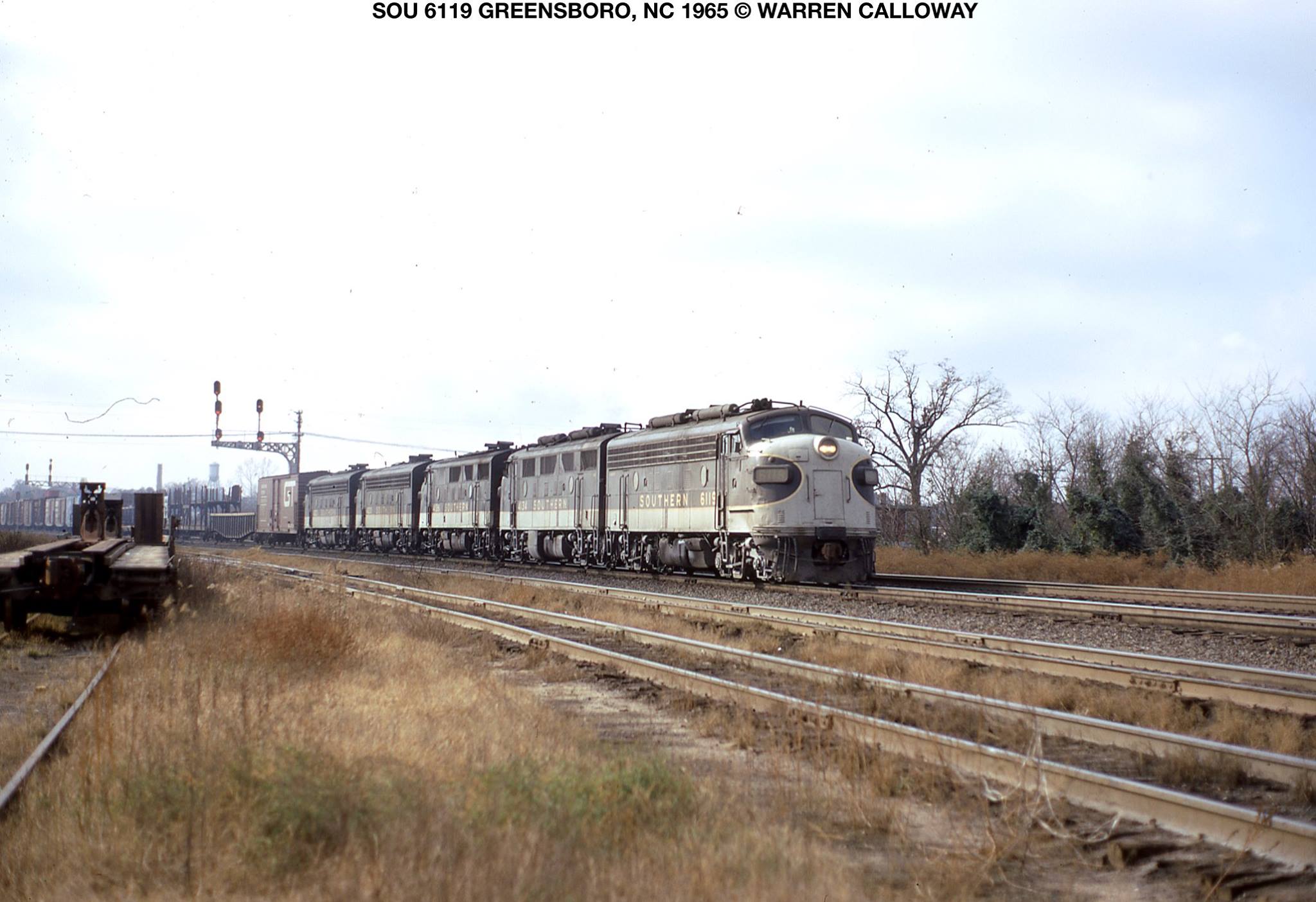 Southern Railway F7A #6119, a pair of F3A's, and two other covered wagons are ahead of a mixed freight passing through Greensboro, North Carolina in 1965. Warren Calloway photo.
Lastly, for more information about North Carolina railroads in general please click here to visit my good friend Dan Robie's personal website about trains in the Tarheel State.
The site is still a lengthy work in progress so please be patient as more material is added. And on that note, here are few final recommendations you may want to visit:
First, although it no longer sees trains NS's torturous Saluda Grade (the steepest main line railroad in America at 4.7%) is a marvel to see.


Second, CSX's main line to Wilmington features the longest stretch of straight, tangent track in the country at nearly 79 continuous miles.


Third, both CSX and the Norfolk Southern Railway have winding loops to gain elevation in the western mountains at Old Fort (NS) and Spruce Pine (CSX). Whatever you decide, have fun as there is plenty to see in North Carolina!
Contents