Guide To Amtrak/Passenger Trains In North Carolina (2023)
Published: July 15, 2023
By: Adam Burns

North Carolina, known for its picturesque landscapes, vibrant cities, and rich history, offers a variety of passenger train services that connect travelers to key destinations within the state and beyond.
Whether you're looking to explore the urban charm of Charlotte or discover the Research Triangle, North Carolina's rail network provides a convenient and scenic way to reach your desired destinations.
In this article, we will delve into the current passenger train services available in the Tarheel State and highlight the key routes and amenities they offer.
Photos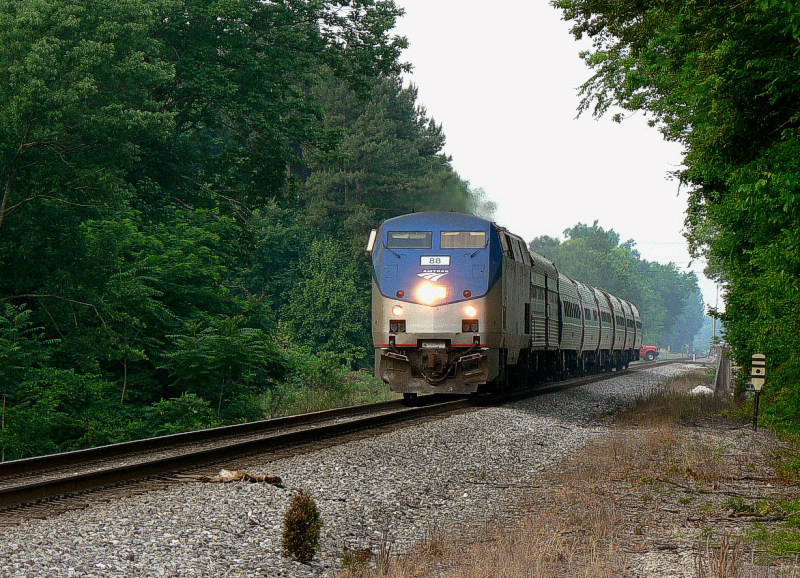 Train #80, the "Carolinian," led by P42DC #88 has just cleared the crossing at China Grove, North Carolina on June 9, 2006. Dan Robie photo.
Amtrak
Carolinian
Amtrak's Carolinian connects New York City and Charlotte, passing through major cities such as Raleigh and Durham along the way. This daily train service offers comfortable seating, onboard amenities such as Wi-Fi and power outlets, a café car serving snacks and beverages, and ample luggage space. With multiple departures throughout the day, the Carolinian provides a convenient option for travelers heading to or from North Carolina's largest city.
Piedmont Service
Along with California, North Carolina is one of the only states which sports its own Amtrak-inspired livery. The Tarheel State has been at least partially subsidizing passenger rail service within its borders since the 1980s when it partnered with Amtrak to inaugurate the Carolinian.
However, it was during the 1990s that things truly began to take off when an additional train was launched, today known as the Piedmont Service between Charlotte and Raleigh.
The state's current hope includes pushing passenger trains across the state to its largest cities, notably Asheville in western mountains and the port of Wilmington along the Atlantic coast.
Additionally, it hopes to eventually operate trains at speeds reaching 100 mph, which is a very real possibility as demand continues to grow for the trains.
The corridor now used by the Piedmont Service was once part of Southern Railway's route across North Carolina, which stretched from Morehead City to Raleigh, Greensboro, Salisbury, Asheville, and even Murphy.
While the Southern did provide local services across the Tarheel State, it never hosted a named or expedited regional train between Morehead City and Raleigh. By the time Amtrak began on May 1, 1971 the Southern had long since abandoned most local and regional services.
North Carolina's first venture into partially subsidized rail service began in the early 1980s when it partnered with Amtrak to provide a train, known as the Carolinian, that would connect Charlotte, Greensboro, and Raleigh with Richmond, Virginia.
From that point Amtrak would offer through service wishing to reach Washington, D.C., New York City, and all major points in between. The train debuted on October 28, 1984 but survived only a year due to poor revenues (despite high ridership).
Six years later the train was relaunched, debuting on May 12, 1990, but this time was extended into the Northeast.  As ridership and demand grew North Carolina began exploring the possibility of adding an additional corridor.
Five years later on May 26, 1995 it debuted the Piedmont which served the cities of (east to west) Raleigh, Cary, Durham, Burlington, Greensboro, High Point, Salisbury, Kannapolis, and Charlotte (which is 173 miles in length).
The major difference between this train and its counterpart is that the state fully owns all of the rolling stock used for the service, just like California. 
As demand grew the state elected to enter a second train into service over the corridor which renamed the route as the Piedmont Service. Today, the trains complete trips in about 3 hours and 10 minutes.  As services have grown so has ridership.
The route between Charlotte and Raleigh is also now owned by the state, known as the North Carolina Railroad (which in total owns 317 miles of track) with rights leased to Norfolk Southern to provide freight service.
Silver Star/Silver Meteor (Silver Service)
North Carolina is also served by Amtrak's Silver Star and Silver Meteor routes, which connect New York City and Miami, Florida. These trains, colloquially known as the Silver Service, make stops in major North Carolina cities, including Rocky Mount, Wilson, Selma, and Fayetteville.
The Silver Star and Silver Meteor offer a range of amenities such as comfortable seating, onboard dining options, Wi-Fi, power outlets, and sleeping accommodations for overnight journeys. These routes provide an excellent opportunity to explore the state or embark on a longer cross-country adventure.
Palmetto
Amtrak's Palmetto offers travelers an exceptional opportunity to experience the beauty and charm of the American South. Connecting New York City and Savannah, Georgia, via the Carolinas.
The route covers a distance of approximately 829 miles, starting from New York City's Penn Station and ending in Savannah, Georgia.
Along the way, the train makes stops at several notable destinations, including Philadelphia, Baltimore, Washington, D.C., Richmond, Charleston, and Jacksonville. This scenic journey allows passengers to witness the diverse landscapes and cultural heritage of the Eastern Seaboard.
The Palmetto offers an onboard café car where passengers can enjoy a variety of delicious snacks, light meals, and beverages throughout the journey. From hot and cold sandwiches to fresh salads and refreshing drinks, the café car provides a convenient and satisfying dining experience.
For travelers wishing to embark on a longer journey, the Palmetto offers sleeping accommodations in the form of Roomettes and Bedrooms.
Roomettes provide cozy, private spaces with comfortable seating during the day and transform into sleeping quarters with beds at night. Bedrooms are larger and feature private bathrooms, offering added comfort and convenience for overnight travelers. These options allow passengers to relax and rest during the journey, waking up refreshed at their destination.
The Palmetto route offers an array of unique experiences and opportunities to explore remarkable destinations. From the historic landmarks of Philadelphia and Baltimore to the political hub of Washington, D.C., and the southern charm of Charleston, passengers have the chance to immerse themselves in the rich history, culture, and cuisine of these iconic cities.
Additionally, the train's final destination, Savannah, delights visitors with its historic squares, vibrant riverfront, and renowned Southern hospitality.
As one of the fastest-growing cities in the United States, Charlotte, North Carolina, offers a vibrant blend of modern amenities, Southern charm, and a rich cultural scene.
Navigating this bustling city can sometimes be a challenge, but fortunately, Charlotte's Lynx light rail service provides residents and visitors with a convenient and efficient way to explore the Queen City. In this guide, we'll delve into the features and benefits of the Lynx light rail service and how it enhances transportation options in Charlotte.
The Lynx light rail service is operated by the Charlotte Area Transit System (CATS) and serves as an integral part of the city's public transportation network. With its sleek and modern trains, the Lynx offers a reliable and efficient mode of transportation for both commuting and leisurely travel. The light rail line runs from the I-485/South Boulevard to the UNC Charlotte Main Station, via Uptown Charlotte (downtown), covering a distance of 19.3 miles.
The Lynx light rail service encompasses 26 stations strategically located throughout Charlotte, making it easily accessible to various neighborhoods, business districts, educational institutions, and entertainment venues. Whether you're planning to visit the bustling Uptown area, explore the eclectic NoDa neighborhood, or catch a game at the Spectrum Center, the Lynx has you covered. The stations are well-maintained, safe, and equipped with amenities such as seating, ticket machines, and real-time arrival information.
The NC By Train service, operated by the North Carolina Department of Transportation in junction with Amtrak, offers passenger rail connections between Raleigh and Charlotte, with intermediate stops in Cary, Durham, Burlington, Greensboro, High Point, and Kannapolis.
This service provides several departures daily, making it an attractive option for commuters and leisure travelers. The trains are equipped with comfortable seating, Wi-Fi, power outlets, and a café car serving light refreshments. The NC By Train service offers a reliable and cost-effective alternative to driving between these major North Carolina cities.
---
Amtrak's "Carolinian" led by P42DC #70 rolls through Linwood, North Carolina on the evening of September 21, 2008. Dan Robie photo.
Conclusion
Whether you're seeking a quick journey between Charlotte and Raleigh or planning a longer trip along the East Coast, Amtrak's Carolinian, Piedmont, Silver Star, and Silver Meteor routes offer comfortable accommodations, amenities, and efficient transportation options.
Additionally, the NC By Train service provides a reliable and cost-effective choice for commuters and travelers within North Carolina. Embrace the scenic beauty of the state and enjoy a stress-free travel experience with North Carolina's passenger train services.