North Dakota Railroads In "The Peace Garden State"

Last revised: October 11, 2023
By: Adam Burns

North Dakota is usually thought of for two things, lots of originating grain and other agricultural products (of which 70% makes up the state's total overall originating freight) and main lines heading to the Pacific Northwest.

At one time North Dakota was home to no less than three main lines heading to the west coast. Today, only one operates as a through route (Great Northern).
While the state was once home to a number of classic railroads. the majority of the state's trackage was operated by Northern Pacific, Great Northern, and the Soo Line. 
With agriculture dominating the state's industry, North Dakota was (and remains) part of America's Heartland.  As such, with railroading's great decline in the 1970's many superfluous branches were abandoned. 
Today, the Peace Garden State has lost over 2,000 miles of railroads, as illustrated in the graph below.
Today, the state's service is largely provided by BNSF Railway and Canadian Pacific Railway (operating ex-Soo Line trackage).
In addition, a handful of short line railroads continue to operate there as well (about a half-dozen), most of which move large amounts of agricultural products and serve several grain elevators.
Photos
Soo Line GP38-2's (#4446, #4419, and #4426) lead a northbound freight near Valley City, North Dakota on August 19, 1994. Doug Kroll photo.
History
North Dakota railroads date back to 1872 when the Northern Pacific Railway reached the Fargo Territory (well before any of the land in the region reached statehood) building towards the west coast.
The Northern Pacific was the first railroad building towards the Pacific Northwest and given the lack of transportation infrastructure and technologies of the time it did not reach Portland, Oregon until 1883.
Along with the Northern Pacific, in the coming years the state would find itself home to the Great Northern and the Chicago, Milwaukee, St. Paul & Pacific Railroad (the Milwaukee Road), which also were building west.
The Great Northern, headed for years by legendary railroad mogul James J. Hill came into being by 1889.
Interestingly, with the NP already established and improved building techniques the GN completed its main line to Seattle in just four years, opening in 1893.
The Milwaukee Road was the last to build its line to Seattle, not embarking on the task until around the turn of the 20th century, completing the route to Seattle by 1909. 
---
Abandoned Lines
North Dakota was served primarily by the Northern Pacific and Great Northern; both roads' transcontinental main lines passed through the state and each system maintained numerous agricultural branches that largely handled grain and wheat.
They served tiny communities like Hannah, Sarles, Hansboro, Antler, Sherwood, Northgate, Leeds, Esmond, Turtle, and Killdeer.
Most were dead-end branches and once customers left, they were no longer needed. 
In addition, both railroads maintained important connections to Winnipeg, Manitoba where they were able to establish interchanges with Canada's largest systems, Canadian National and Canadian Pacific.
Following GN and NP's merger in 1970 (along with the Chicago, Burlington & Quincy and Spokane, Portland & Seattle) to form Burlington Northern, many of their agricultural branches were removed but some still remain today.
In addition to these you can find segments of the Soo Line removed, which once had its own extensive network throughout North Dakota.
While largely through lines, some sections have been abandoned over the years under successor Canadian Pacific.
---
While the Milwaukee's main line skirted the southwestern corner of North Dakota it actually had very minor operations in the state.
Along with the three railroads which predominantly operated in North Dakota the Chicago & North Western Railway also had a few branch lines into the southeastern corner of the state. 
Burlington Northern SD60M's are on the Twin Cities Division hustling a unit coal train through Spiritwood, North Dakota on August 19, 1994. Doug Kroll photo.
Today, North Dakota is almost exclusively the realm of successors BNSF Railway and Canadian Pacific (the latter of which operates the former Soo Line and remaining Milwaukee Road trackage).
Current Railroads
Dakota, Missouri Valley & Western Railroad


Northern Plains Railroad


Dakota Northern Railroad


Yellowstone Valley Railroad


Red River Valley & Western Railroad.
Today, the Peace Garden State's railroads use some 3,600 miles of its original infrastructure, which topped out at over 5,300 miles during the golden era of the 1920s when mileage peaked around the country.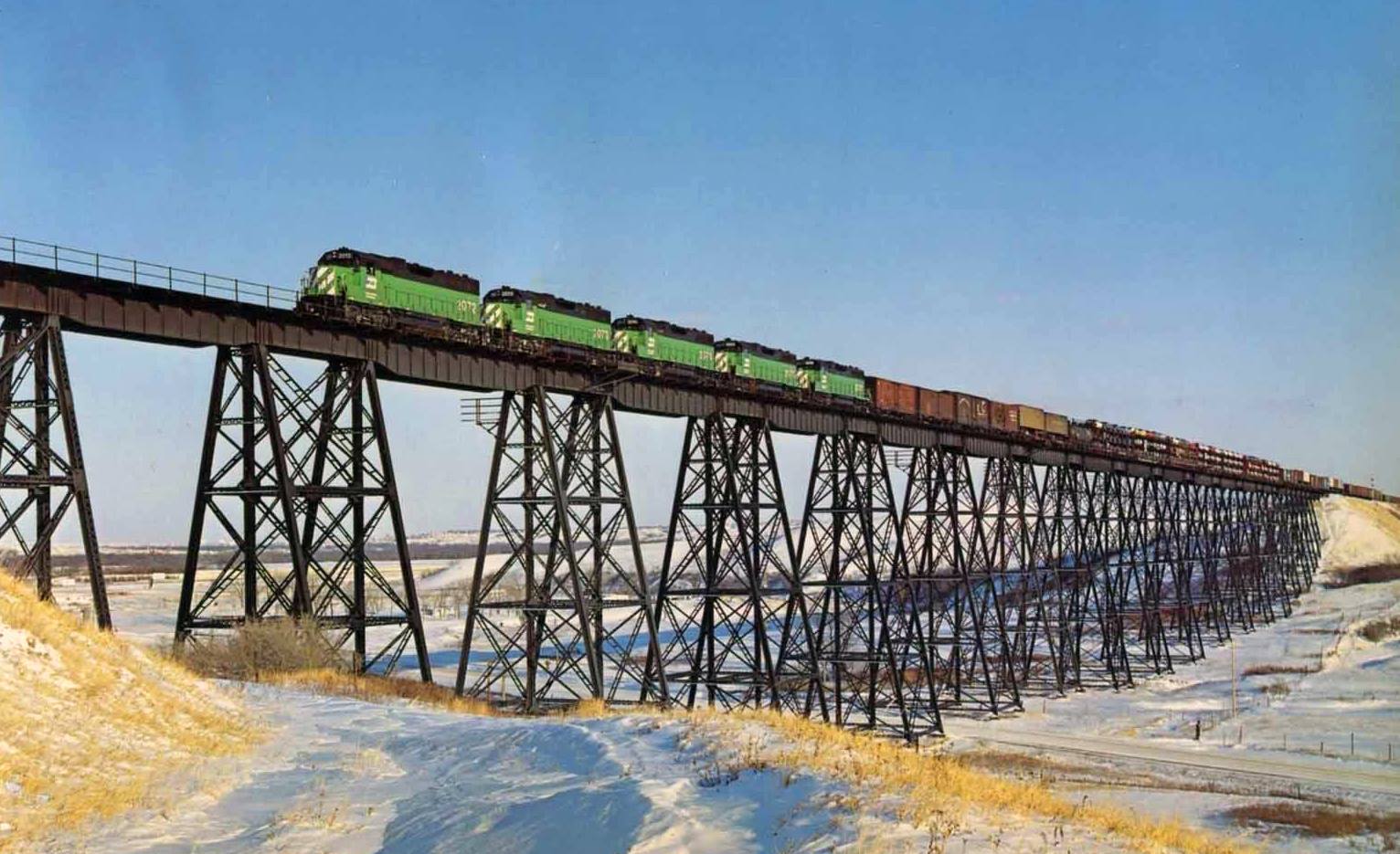 A Burlington Northern publicity photo featuring new GP38's ahead of westbound freight #97 as it crosses the Gassman Coulee Bridge near Minot, North Dakota on March 3, 1970.
Interestingly, despite the fact that North Dakota relies heavily on farming as its primary staple of rail traffic it still retains some 67% of its original infrastructure, likely due to the through routes that still travel through the state.

State Mileage Chart
First Railroad
* North Dakota's history with the railroad begins with the Pacific Northwest's first transcontinental corridor, the Northern Pacific.  Chartered in 1864, construction launched from Thomsons Junction, Minnesota (Duluth) in early 1870.
Initially led by Jay Cooke's banking firm it had reach Fargo, Dakota Territory in June, 1872 and Bismarck later that year.  Despite considerable financial trouble it was completed in 1883.  For railroads, North Dakota generated considerable agriculture resulting in numerous secondary branches. This setup continues today.
For more information about the state's railroads, in terms of route mileage over the years please refer to the chart above. 
North Dakota no longer features famous passenger trains like the GN's Empire Builder, NP's North Coast Limited or Milwaukee's Hiawatha's.
State Map
However, Amtrak does continue operating the legendary Builder through the state, one its most popular and recognized long distance passenger trains with stops at Fargo, Rugby, Stanley, Williston, Minot, Devils Lake and Grand Forks.

---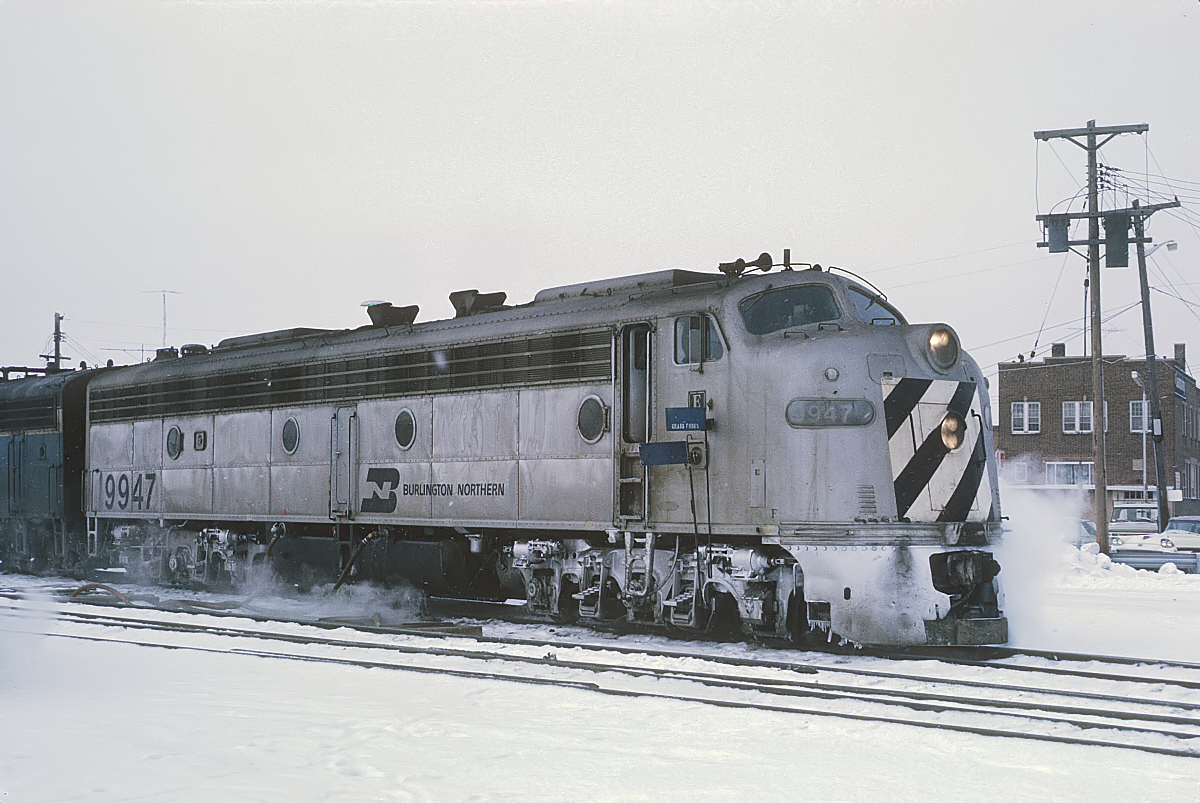 Burlington Northern E8A #9947 has the "Western Star" at Grand Forks, North Dakota on December 21, 1970. Roger Puta photo.
Railroad Museums and Attractions
Passenger and freight trains aside North Dakota is also home to three railroad museums you may be interested in visiting.
These include the Fort Lincoln Trolley, North Dakota State Railroad Museum and Railroad Museum of Minot.  In all, North Dakota railroads feature some interesting operations in the Northern Plains region that are well worth a visit.
For instance, if you plan a trip north don't miss, among other things, BNSF Railway's spectacular bridges; the 3,860-foot Highline Bridge in Valley City and the 1,792-foot Gassman Coulee Bridge near Minot.