Nebraska RailroadsIn "The Cornhusker State"

Last revised: June 15, 2023
By: Adam Burns

Nebraska can somewhat be compared to the aviation term "flyover country," in that the state sees plenty of through trains heading to either Chicago or the West Coast.

The term, however, is in no way meant to be demeaning to Cornhuskers as one can witness quite a parade and variety of trains hitting 70 mph on their way east or west with their only stop a quick refueling at places like Union Pacific's Bailey Yard in North Platte.
History
Prior to today's mega-merger movement, Nebraska was regarded as another of the "granger states", with several classic railroads reaching across its borders to tap its many agricultural interests. 
One notable route here was Chicago & North Western's so-called "Cowboy Line" which ran as west as Lander, Wyoming.  It was the company's attempt to open its own transcontinental corridor.  
Alas, the C&NW ran out of money before accomplishing the feat and the route became little more than a long branch line. 
Today, the state still boasts five of the seven Class Is, two regionals, and a number of short lines.
All in all, Nebraska railroads are best known for traveling through flat, open country, lots of trains, plenty of grain, the Union Pacific, and long drags of coal heading east from Wyoming's Powder River Basin.
Photos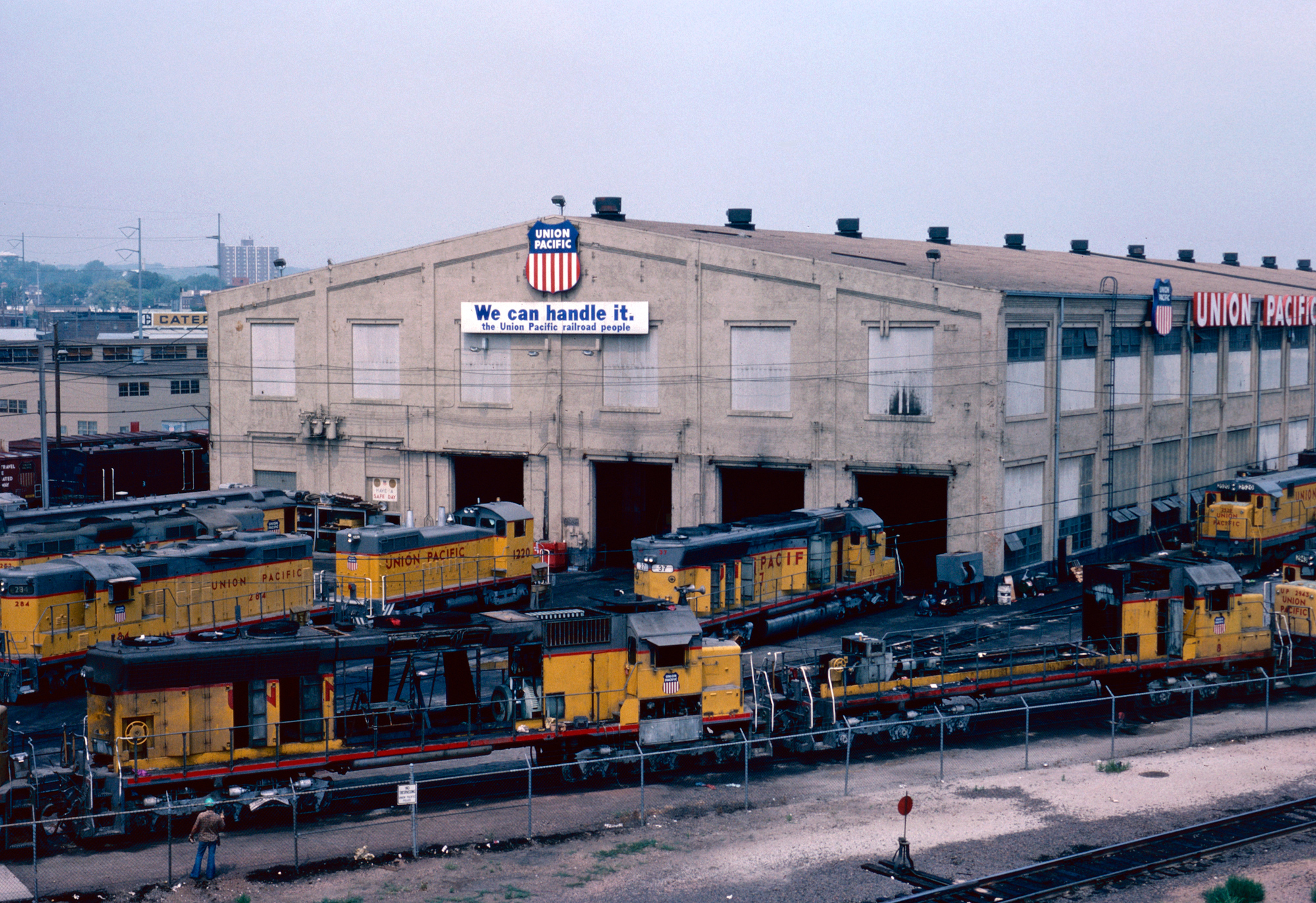 Union Pacific power (and shells) at the shops in Omaha, Nebraska; June, 1981.This facility closed in 1988 to make way for a convention center. American-Rails.com collection.
Nebraska's trains date back to 1862 when the Pacific Railroad Act (signed into law by President Abraham Lincoln) allowed for construction to begin on the Transcontinental Railroad, with the Union Pacific heading west from Omaha (and the Central Pacific building eastward from Sacramento, California).
The Union Pacific, of course, would go on to becoming one of the West's largest railroads reaching Portland, Oregon and Los Angeles via its own lines.
---
Abandoned Lines
Nebraska was a classic granger state and handled significant agriculture traffic.  In addition, it was the eastern terminal of the Transcontinental Railroad at Omaha.
While the Rock Island (main line to Denver/Colorado Springs), Missouri Pacific (a few southern branches and service to Omaha), and Milwaukee Road (Omaha) provided some service to Nebraska it was the Burlington, Chicago &  North Western, and Union Pacific that provided the bulk of rail service here.
All three operated numerous through routes and secondary corridors all across the state.  The Burlington maintained three especially important routes (Omaha-Denver, Denver-Kansas City via southern Nebraska, and Kansas City-Montana/Wyoming that cut across the state) while Union Pacific's main line headed due west for Salt Lake City.
The C&NW was perhaps the most interesting.  The railroad had a major Chicago-Omaha route and a main line heading due west from Omaha to Lander, Wyoming.
What famously became known as the "Cowboy Line" was originally intended to become a direct route to the Pacific coast. 
However, the railroad ran out of funds before this line could be completed.  It eventually became a very long agricultural branch and surprisingly remained in service until the early 1990's.
Today, stretches of the right-of-way can be seen across Nebraska and Wyoming while a large section has been converted into a trail.
Many of Nebraska's abandoned lines are, in fact, former C&NW corridors.  In addition, you can find old branches of the Union Pacific, Burlington, and Missouri Pacific.
For interurban historians/fans you might be interested in exploring Omaha's two abandoned lines, the Omaha & Southern Interurban Railway and Omaha & Lincoln Railway & Light Company.
The other notable, the  Omaha, Lincoln & Beatrice Railway ("The Big Red Line") has remained active since 1903 and today serves Lincoln as a successful short line freight railroad. 
---
Statistics
| | |
| --- | --- |
| First Railroad | Union Pacific (1862) |
| Peak Mileage | 6,166 (1920) |
| Current Mileage | 3,062 (2020) |
| Current Railroads | 9 |
| Originated Rail Tons (2019) | 33.6 million |
| Terminated Rail Tons (2019) | 20.2 million |
| Originated Carloads (2019) | 359,618 |
| Terminated Carloads (2019) | 198,786 |
It grew exponentially following the 1950s buying out several classic lines like the Missouri Pacific and Southern Pacific making it the largest operating Class I in the country and the oldest to never have its name changed through merger or takeover.
Interestingly, UP retains its headquarters in the city that started it all, Omaha.  Along with the Union Pacific, Nebraska would be home to a number of other well known railroads.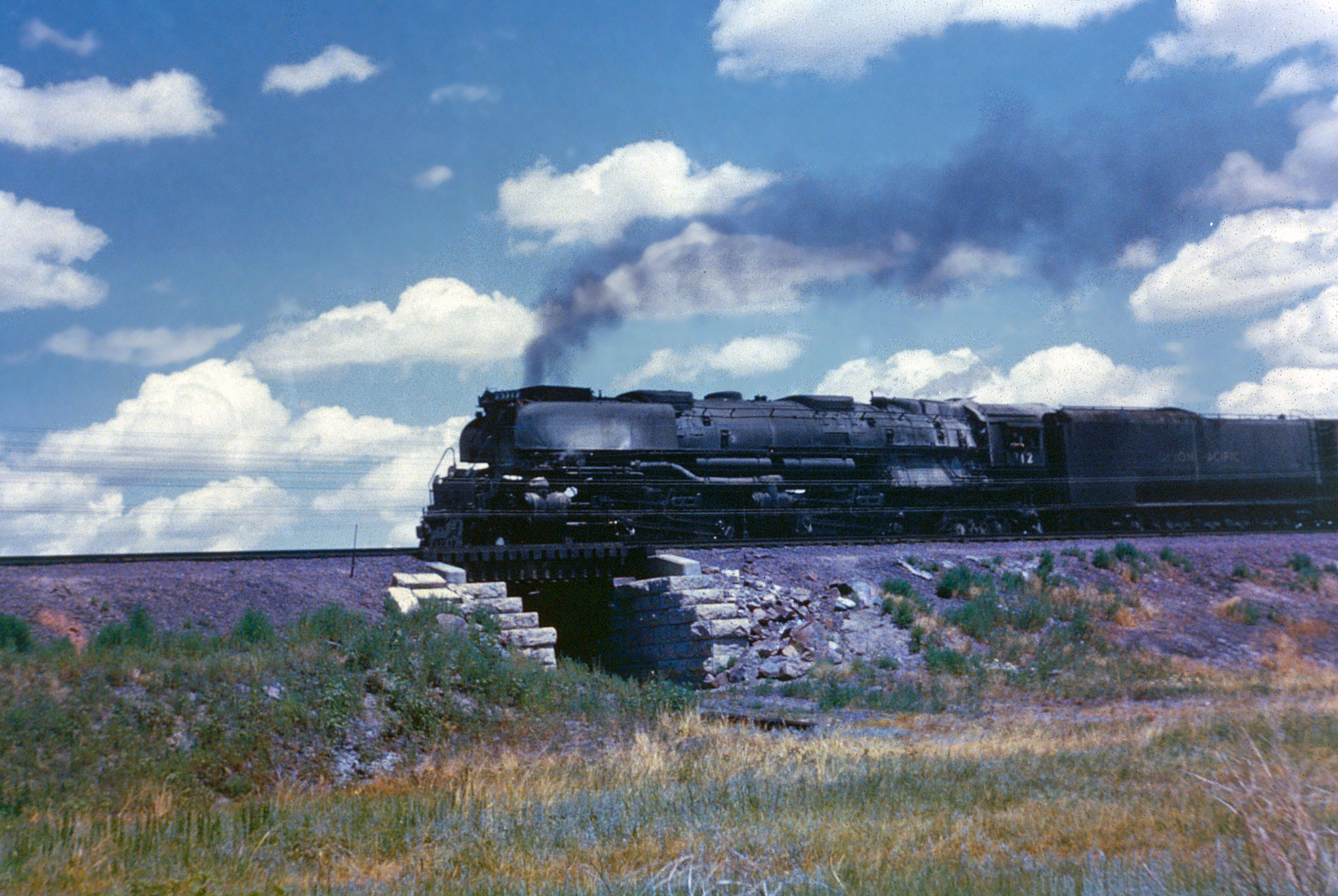 Union Pacific 4-6-6-4 #3712 hustles west near Sidney, Nebraska on July 18, 1959. Richard Wallin photo. American-Rails.com collection.
Current Railroads
Union Pacific


BNSF Railway


Canadian National


Canadian Pacific


Kansas City Southern


Nebraska, Kansas & Colorado Railway


Manning Railroad
Brandon Railroad


Nebraska Central Railroad


Nebraska Northeastern Railway


Omaha, Lincoln & Beatrice Railway


Sidney & Lowe Railroad


Rapid City, Pierre & Eastern Railroad

Today, Nebraska's rail network consists of around 3,400 miles. During the industry's "Golden Age", however, the state boasted some 6,100+ miles of track.
With a decline of about 45% of its infrastructure, this is about average with what other states have experienced.
State Mileage Chart
First Railroad
* Nebraska's first railroad was, of course, the Union Pacific, established by the Pacific Railroad Act signed into law by President Abraham Lincoln on July 1, 1862.  It was intended to connect with the Central Pacific building east from Sacramento, California in opening the nation's first transcontinental railroad. 
Despite such plans UP was very slow in actually launching construction.  In his book, "The Men Who Built The Transcontinental Railroad: 1863-1869," author Stephen Ambrose notes the railroad did not lay its first rail until July, 1865! 
By the end of that year authors Joe Welsh and Kevin Holland point out in their book, "Union Pacific Railroad," the company was finally able to open 40 miles west of Omaha. 
Six years later it would meet the Central Pacific at Promontory Summit, Utah on May 10, 1869 although a direct connection with the national network was not opened until 1872 when a bridge was finally completed over the Missouri River between Omaha, Nebraska and Council Bluffs, Iowa.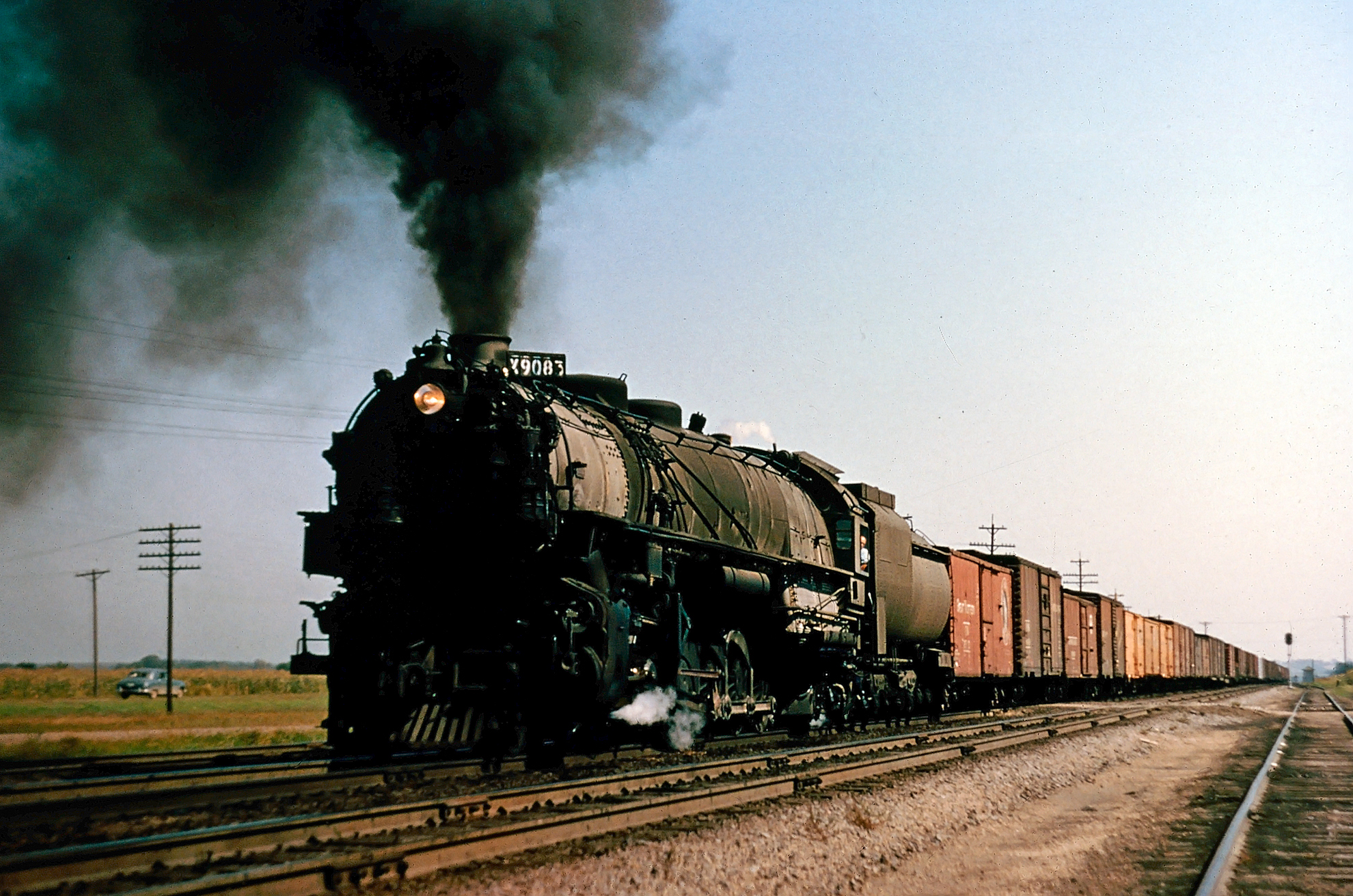 One of Union Pacific's big 4-12-2's, #9083, leads a westbound through the small community of Big Springs, Nebraska in the summer of 1952. Jim Hinkhouse photo. American-Rails.com collection.
However, Nebraska has fared better than many other granger states, which were hit hard by abandonments and cutbacks as several experienced staggering losses upwards of 60% or more.
In any event, for more information about Nebraska, in terms of rail mileage over the years please have a look at the chart below. 
State Map (1909)
While Nebraska once featured famous passenger trains like the Union Pacific's City fleet and Burlington's Zephyrs, today only Amtrak's California Zephyr operates through the state serving Lincoln, Hastings, Holdrege, McCook and Omaha.

To learn more about many of these famed passenger trains please click here to visit the streamliner section of the site, which highlights the City and Zephyr fleets among others.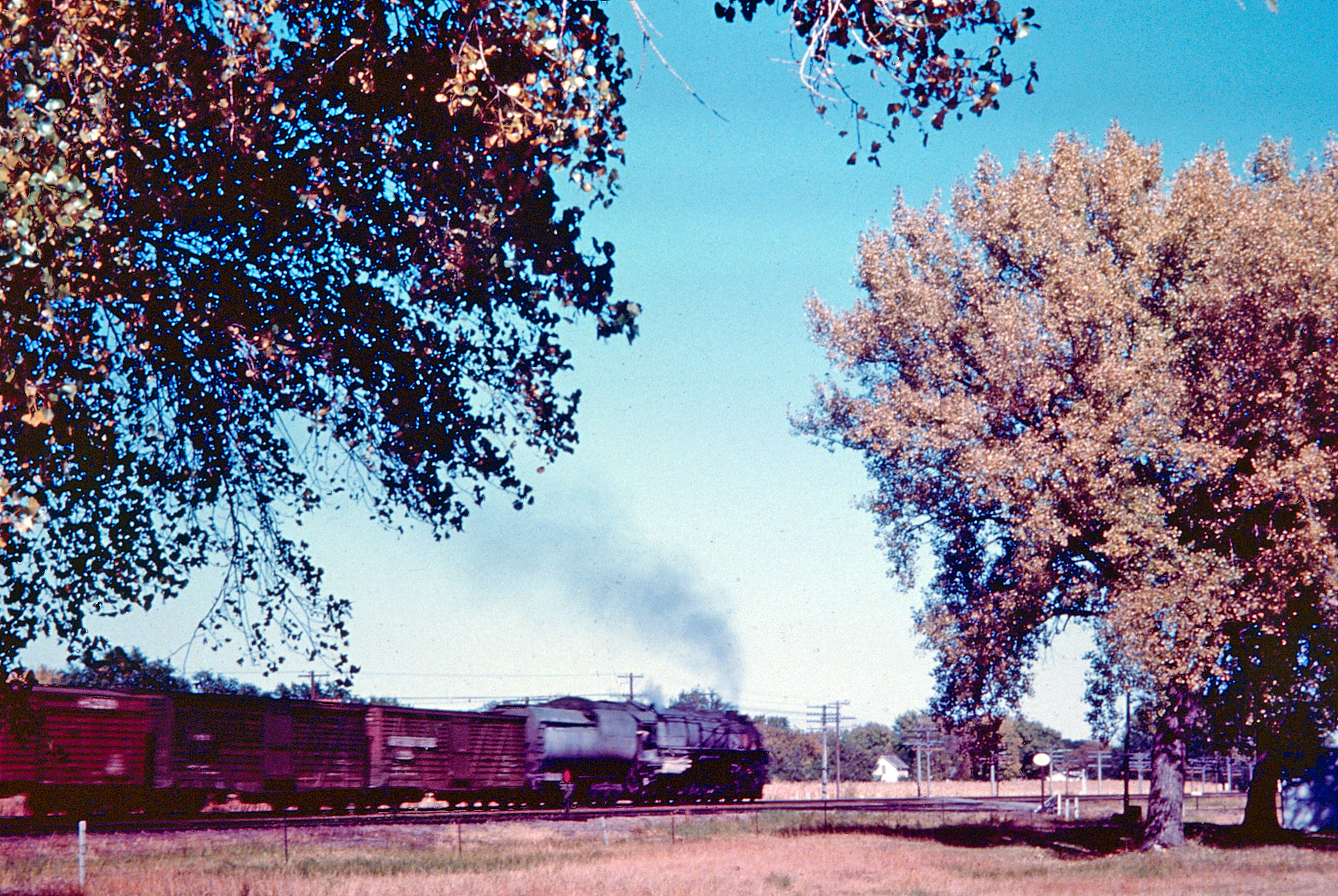 A Union Pacific 4-8-4 leads a string of livestock cars and other freight west through western Nebraska during the 1950s. Ed Olsen photo. American-Rails.com collection.
Lastly, be sure and stop by one of the state's several museums or better yet, ride the Fremont Dinner Train based in Fremont!
---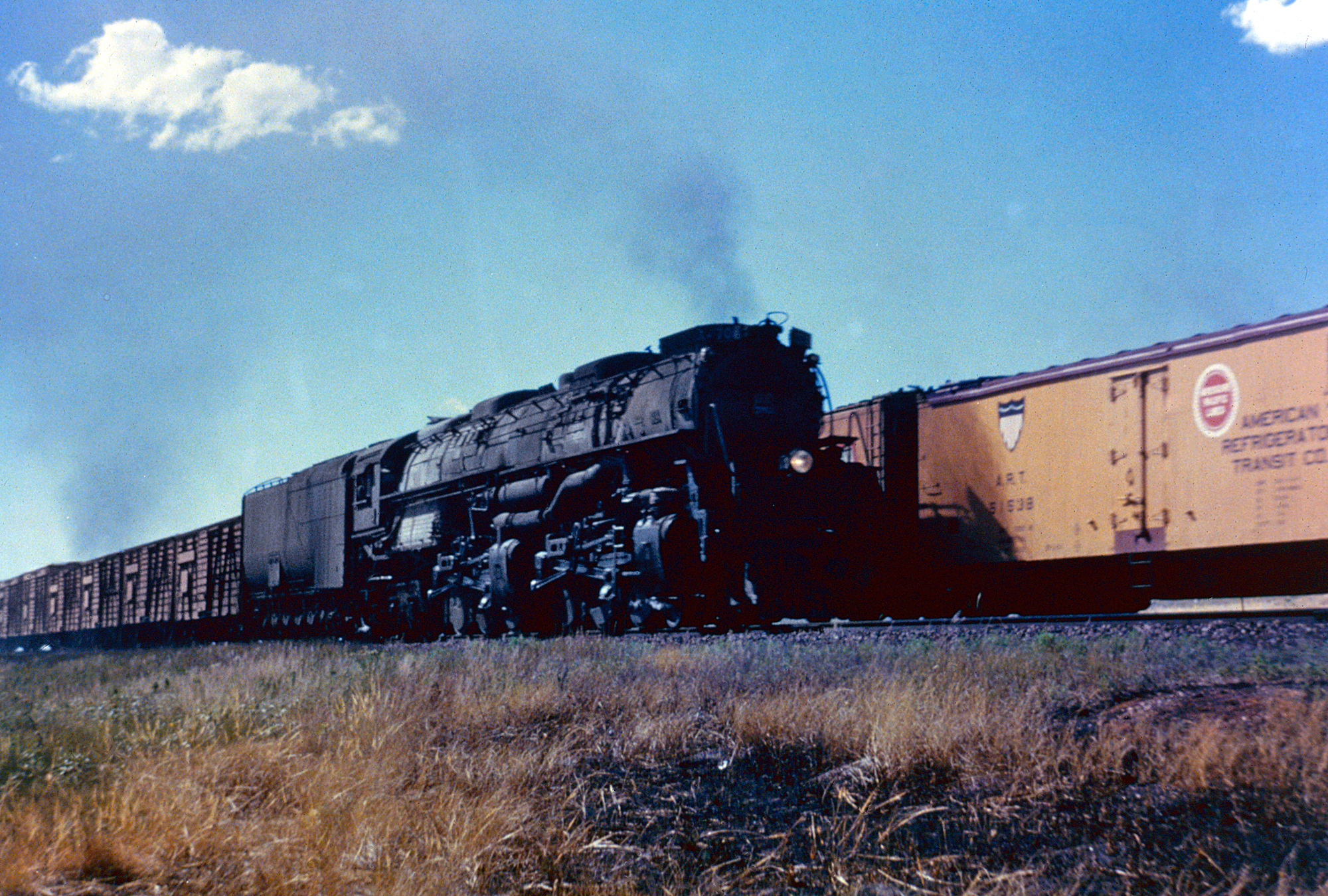 Union Pacific 4-6-6-4 #3702 heads east with livestock cars near Sidney, Nebraska on July 10, 1959. Richard Wallin photo. American-Rails.com collection.
Aside from the Fremont Dinner Train you can visit the Durham Western Heritage Museum, Fremont & Elkhorn Valley Railroad, Stuhr Museum of the Prairie Pioneer, and Trail & Rails Museum to learn more about Nebraska's rail heritage.
In all, while Nebraska may look only like flat, boring farmland it offers an exciting and interesting mix of railroad operations (few other states offer such high speed freight railroads as Nebraska!).