New Hampshire Railroads In "The Granite State"


New Hampshire features classic New England operations with rolling green hills and farmland. At one time the Granite State was home to such fabled Northeastern railroads as the Maine Central (whose famous "Mountain Division" passed through the Northern Panhandle to St. Johnsbury, Vermont) and Boston & Maine.  Today, both roads are gone, swallowed up into Pan Am Railways (now a component of CSX Transportation). Currently, New Hampshire's  railroads include one Class I/Class II (CSX/Pan Am Railways) and a small handful of short lines.  Historically, the state has never boasted more than 1,000 miles of rails.  Unfortunately, like the rest of New England, New Hampshire has lost a great deal of its infrastructure to abandonment (more than 70%).   The graph below illustrates this great loss.
There were simply too many railroads constructed in the 19th century within this region.  They served a concentrated region which could not support so many corridors once manufacturing and other business disappeared.  While today, the state may only operate a few hundred miles of track it continues to offer some spectacular views of New England railroads at their finest. Please be aware that throughout the article below are included links to other pages here at the site, which relate to New Hampshire. They are included here simply for your enjoyment and interest.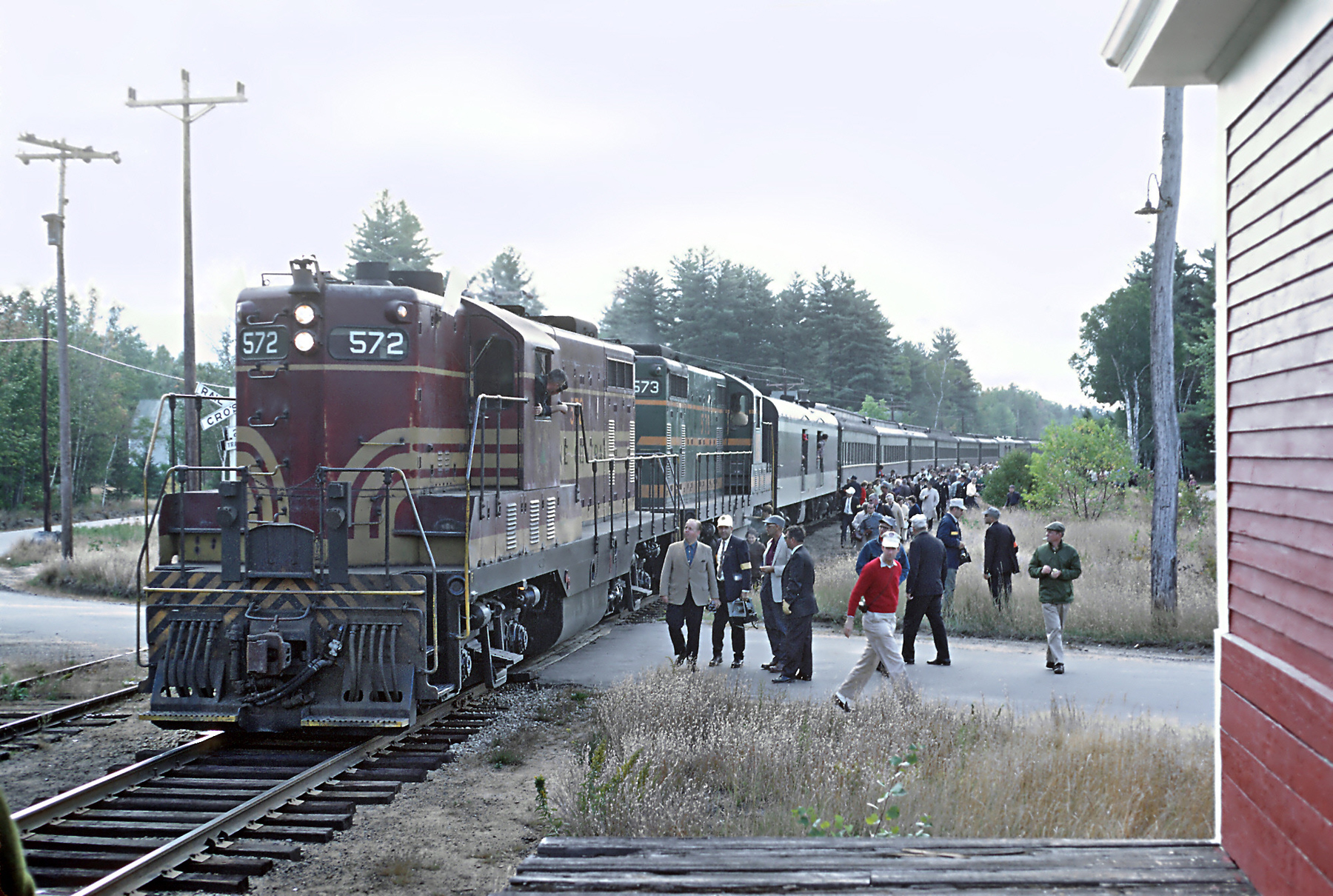 A pair of Maine Central GP7's have a fall foliage fan trip, sponsored by the Railroad Enthusiasts group, at Intervale, New Hampshire on September 29, 1969. Roger Puta photo.
New Hampshire's trains date back to 1835 when the Nashua & Lowell Railroad was chartered. The N&L was built to continue a line north from Lowell, where a connection with the Boston & Lowell Railroad was obtained (this company dated back to June of 1830, and was a predecessor to the much better known Boston & Maine Railroad), to Nashua. The B&L would grow to become a rather large railroad for its time serving Boston, eastern Massachusetts, and into New Hampshire. In any event, three years after it was created the N&L completed its main line between its namesake cities. By 1860 the B&L and N&L began to merger operations and after 1880 the latter became a full subsidiary of the former.  Following the creation of the Nashua & Lowell, New Hampshire would find a handful of New England's best remembered railroads operating lines across its borders.
Boston & Maine SW8 #804 and a caboose are tied down in the weeds at the end of its branch to Lincoln, New Hampshire on September 29, 1968. The Plymouth-Lincoln segment of this corridor was originally built by the Pemigewasset Valley Railroad, opening on March 1, 1883. Passenger service survived until January 5, 1965 when it became freight-only. In 1973 washouts resulted in the B&M embargoing the line north of Meredith; in an effort to save the route, New Hampshire stepped in and acquired the entire line from Concord to Lincoln on October 30, 1975. Today, sections host public excursions (Winnipesaukee Scenic Railroad and the Hobo Railroad) while the New England Southern Railroad provide freight service. Roger Puta photo.
The Boston & Maine became New Hampshire's largest provider of rail service, operating all through the state from Berlin in the north to Dover and Portsmouth along the coast. Virtually all of the state's largest and most significant towns and cities were served by the B&M. Today the B&M is still officially on the books (the oldest railroad still on paper in North America), although it survives now mostly in name only and it is unlikely the railroad will ever be spun off from the Pan Am system, which has a significant presence in New Hampshire today.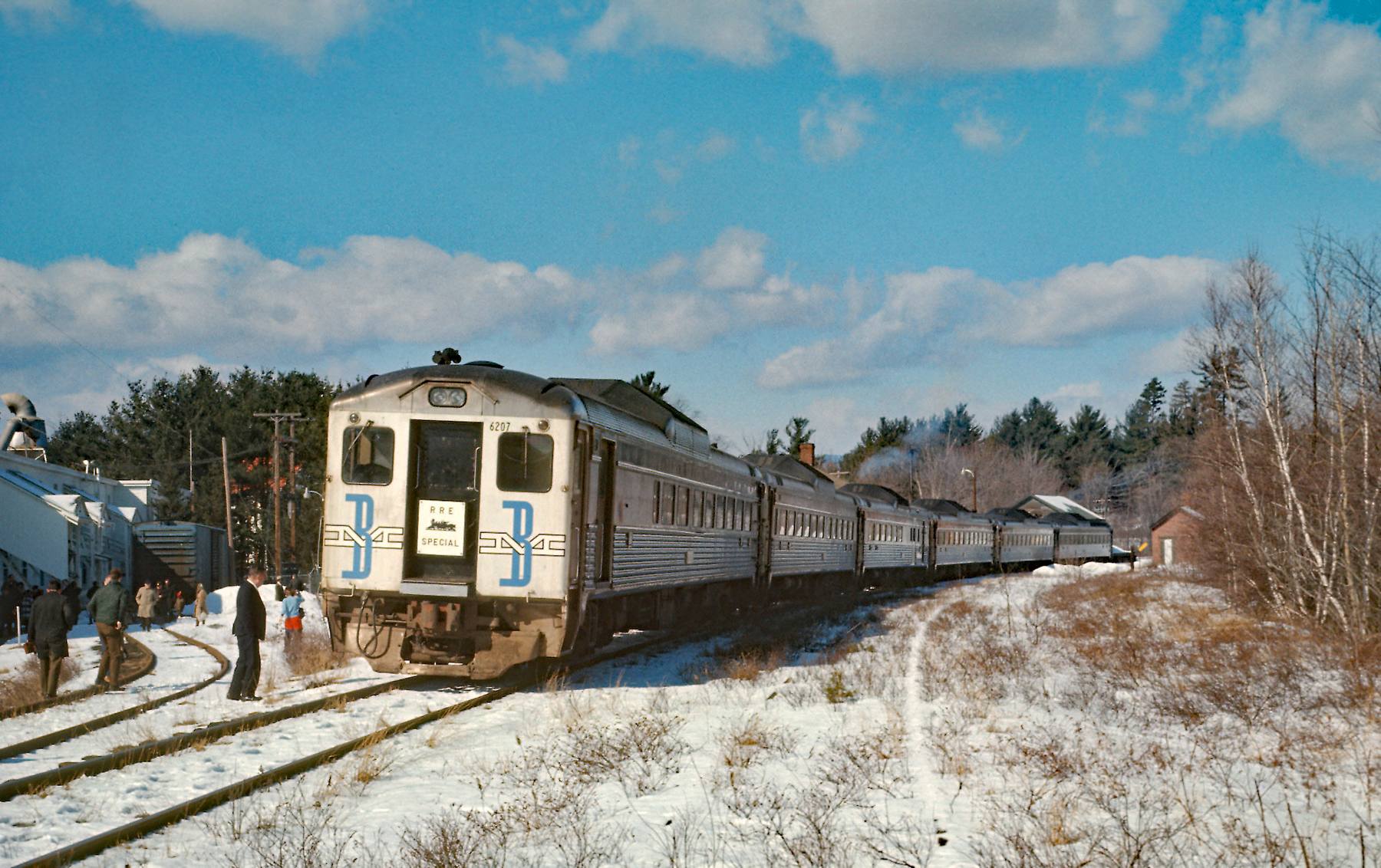 A long string of Boston & Maine RDC's have the Railroad Enthusiasts' sponsored "Snow Train" stopped at Mt. Whittier, New Hampshire on February 21, 1970. Roger Puta photo.
Of course, the B&M has not been an independently operated entity long before it was handed over to Pan Am. In 1983 the railroad was purchased by the Guilford Transportation Industries owned by Timothy Mellon and remained so until Guilford became Pan Am Railways in early 2006.   Aside from the Pan Am's operations other railroads operating in New Hampshire include the St. Lawrence & Atlantic Railway (part of the Genesee & Wyoming family of short lines), the historic Claremont & Concord Railroad, Milford-Bennington Railroad, New England Central Railroad, New England Southern Railroad, and the New Hampshire Northcoast Corporation.

Classic Lines To Serve New Hampshire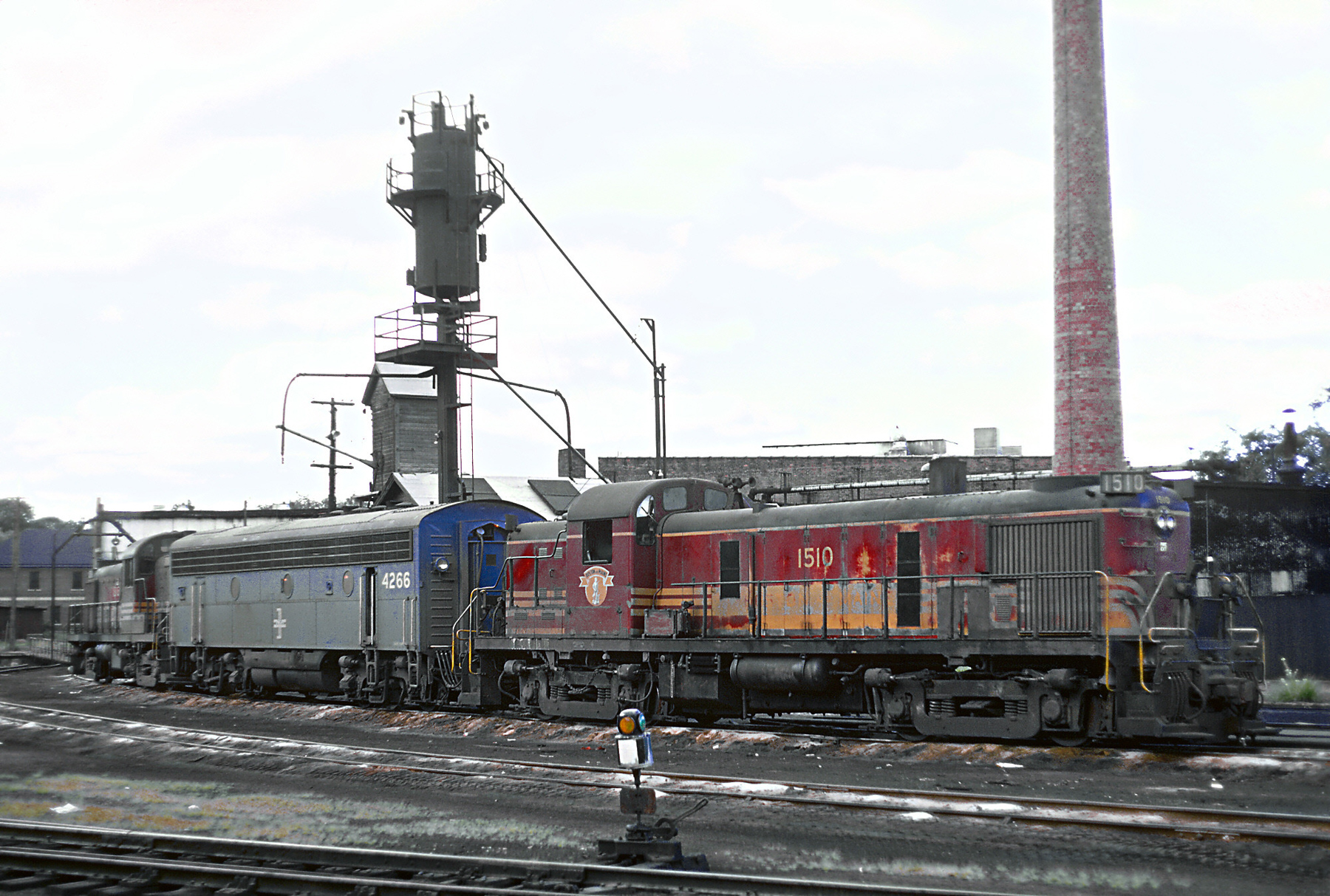 Boston & Maine RS3 #1510, F7B #4266, and another RS3 layover at the yard in West Lebannon, New Hampshire on August 8, 1968. Roger Puta photo.
In total, New Hampshire railroads operate a little over 400 miles of trackage today although at one time the state was home to over 1,200 miles (the state also currently owns some 300 miles of railbanked right-of-way). While the state has never held a significant amount of rail infrastructure it has nevertheless been hit hard by abandonments and cutbacks. Since the 1920s when mileage peaked in the state (and around the country), New Hampshire has seen its rails decline by more than 67% (the average for most states is around 45%-50%). For more information on New Hampshire, in terms of route mileage over the years please refer to the chart below.
* Railroads in America trace their genesis to the New England region.  As a result, New Hampshire was one of the initial states to its arrival.  Its first was the Nashua & Lowell Railroad (N&L), chartered in New Hampshire on June 26, 1835 to connect with the Boston & Lowell at Lowell, Massachusetts and extend northwesterly along the Merrimack River to Nashua, New Hampshire.  Its promoters' vision was to see a through route eventually open from the eastern seaboard to the Great Lakes.  While this would not materialize the N&L was completed in late 1838 and eventually wound up as part of the modern Boston & Maine.
---
While New Hampshire has never been known for famous passenger trains like the Super Chief or 20th Century Limited there have been trains like the B&M's Day White Mountains and Maine Central's Mountaineer operated in the Granite State. Today, passenger operations are exclusively the domain of Amtrak and include the daily Vermonter, with stops at Claremont Junction and the Downeaster, with stops at Exeter, Durham and Dover.
---
---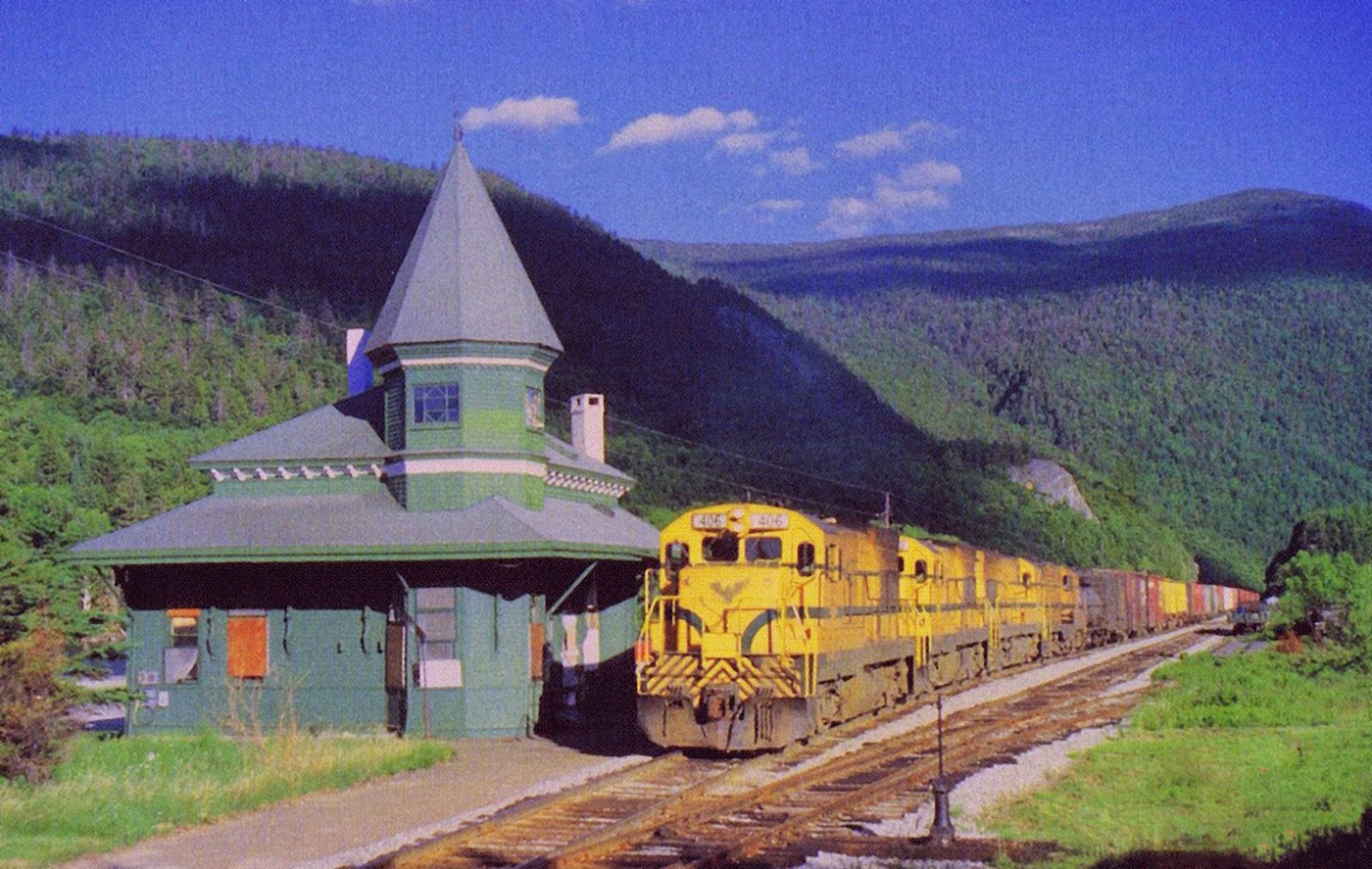 Maine Central U18B's have westbound freight RY-2 (Portland, Maine - St. Johnsbury, Vermont) running the fabled Mountain Division as the train passes the beautiful depot at Crawford Notch, New Hampshire on July 3, 1978. Jim Shaughnessy photo.
Aside from passenger and freight trains you may want to also ride one of the state's tourist railroads that can take you through the breathtaking New England countryside or through New Hampshire's gorgeous White Mountains, like on the White Mountain Central Railroad. New Hampshire is also home to the famous Mount Washington Cog Railway, which goes straight up Mount Washington! If, however, you're not into excursion trains be sure and visit one of the state's railroad museums like the Sandown Historical Society and Museum.  All in all, whether it is a ride up Mount Washington or watching the Pan Am Railway serve the state's coastal regions, New Hampshire railroads are most definitely an interesting and unique experience that will not be forgotten!