New Jersey Railroads In "The Garden State"

Last revised: April 27, 2023
By: Adam Burns

While New Jersey today may only consist of less than 1,000 miles of trackage it once offered a dizzying variety of high-speed, local/short line and excursion operations.

The Garden State also has a very rich railroading history with numerous classic lines having once operated within its borders, partly due to its strategic location to New York City.
Many of their landmarks can still be seen in the state such as the Jersey Central's Jersey City Terminal and the Delaware, Lackawanna & Western's Hoboken Terminal and New Jersey/Lackawanna Cutoff.
If you were a railfan between the 1940s to 1970s New Jersey offered some of the best variety of railroading to be found anywhere in the country. 
Today, while all of the fabled railroads of the past are gone most of their key routes through the remain, operated between commuter services, short lines and Conrail Shared Assets for CSX and Norfolk Southern.
Please note that there are links provided throughout this page leading to other areas of the website here, which relate in some way to New Jersey railroads.

Photos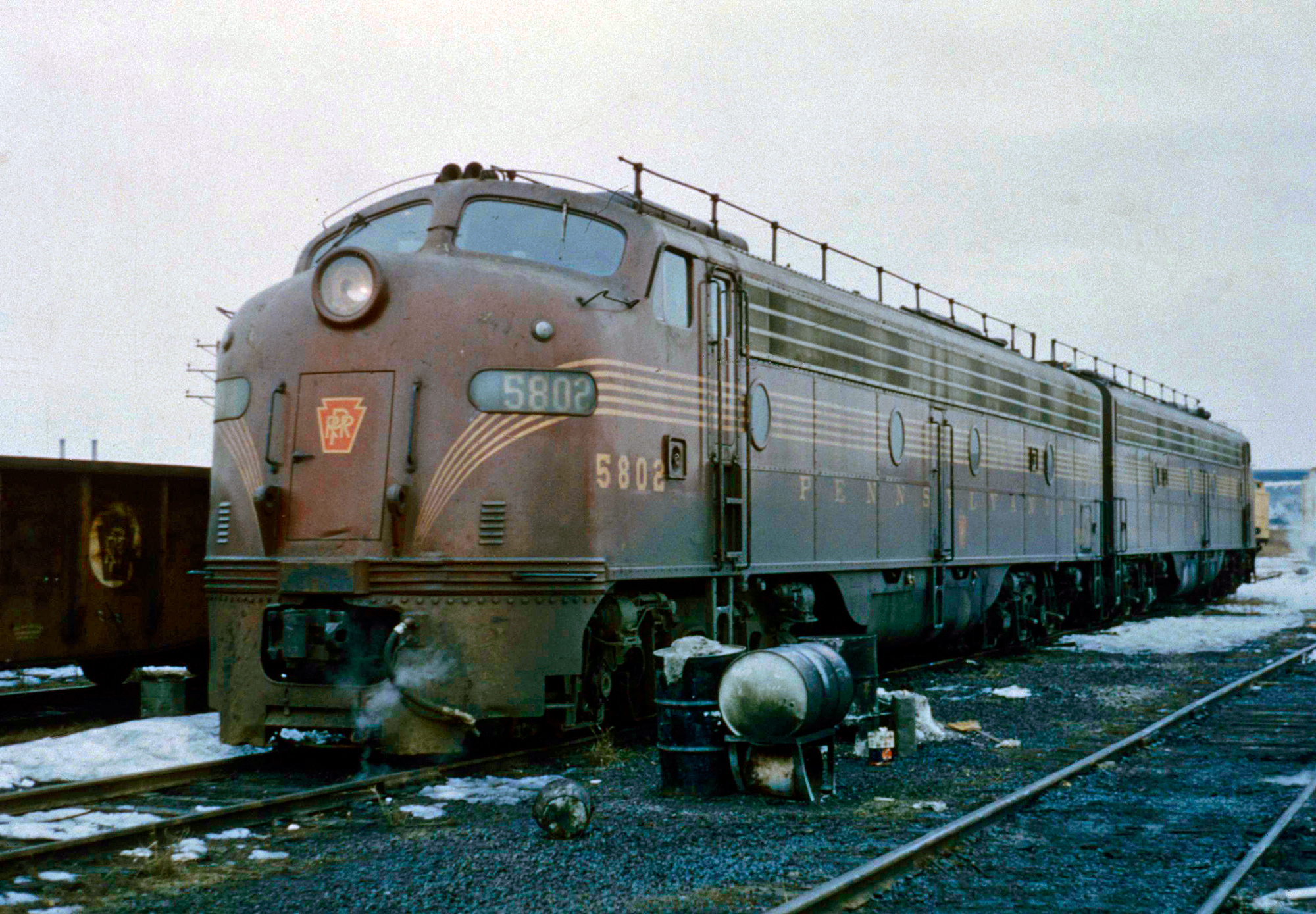 Pennsylvania Railroad E8A's layover in Harrison, New Jersey; February 23, 1957. American-Rails.com collection.
History
New Jersey's history of trains date back to the the historic Camden & Amboy, which completed its original main line in 1833 between Bordentown and Amboy.
However, the C&A had a history dating all of the way back to 1815 when its founder, John Stevens, convinced the state legislature to pass legislation on February 6th, enabling the construction of a railroad between Trenton and New Brunswick.
The creation of the New Jersey Railroad Company was the first of its kind in the United States (established more than 10 years before the Baltimore & Ohio).
However, the original NJRR never made it further than the paper it was printed on. The Camden & Amboy Railroad was not officially chartered until February 4, 1830 and after opening its original line in 1833 soon extended its line further to Camden.
By 1839 the C&A opened a route between Bordentown, Trenton and New Brunswick, and Stevens' original dream of connecting the towns finally became reality.
At A Glance
| | |
| --- | --- |
| First Railroad | Camden & Amboy Rail Road & Transportation Company (1832) |
| Peak Mileage | 2,352 (1920) |
| Current Mileage | 1,039 (2020) |
| Current Railroads | 20 |
| Originated Rail Tons (2019) | 14.4 million |
| Terminated Rail Tons (2019) | 25.4 million |
| Originated Carloads (2019) | 642,921 |
| Terminated Carloads (2019) | 771,957 |
The C&A's history lasted only until February 1, 1867 upon which time it was merged with the new New Jersey Rail Road and Transportation Company to form the United New Jersey Railroad and Canal Companies, a subsidiary of the Pennsylvania Railroad.
With the C&A now connecting both Camden and South Amboy, the NJRR reached Philadelphia and New York City.
These two railroads, of course, comprised the PRR's primary line between New York and Philly, which became known as its highspeed, four-track Northeast Corridor.
Today, the line retains its four-track alignment and is an important artery in Amtrak's network.
Erie Railroad 4-6-2's are lined up at Midvale, New Jersey following their afternoon commuter runs on May 7, 1950. American-Rails.com collection.
In the following years after the C&A began operations the Garden State would be home to fabled railroads like the Pennsylvania Railroad, Erie, Reading, and New Jersey's own, the Central Railroad of New Jersey.
Railroads such as the PRR and CNJ would build four-track main lines through New Jersey and, in the case of the CNJ and DL&W, construct colossal terminals across the river from downtown Manhattan such as the Hoboken Terminal (built by the Lackawanna, it is still in active use) and the Jersey City Terminal (built by the CNJ, today a state park). 

State Map
Today, New Jersey no longer features commuter trains of the PRR and CNJ, and passenger trains like the The Blue Comet (CNJ's premier train) and the Reading's Crusader but several state transit services continue to ferry commuters from suburbia to downtown Manhattan and other urban locations in the region.
These include the ever-busy Northeast Corridor that sees over 300 daily trains of Amtrak and NJ Transit along with the latter's extensive commuter operations like the Hudson-Bergen line, Newark Light Rail line, and the RiverLINE between Trenton and Camden.
PATH (Port Authority of New York) trains also serve Hoboken Terminal and Newark Penn Station, connecting both with points across the river such as Lower and Midtown Manhattan.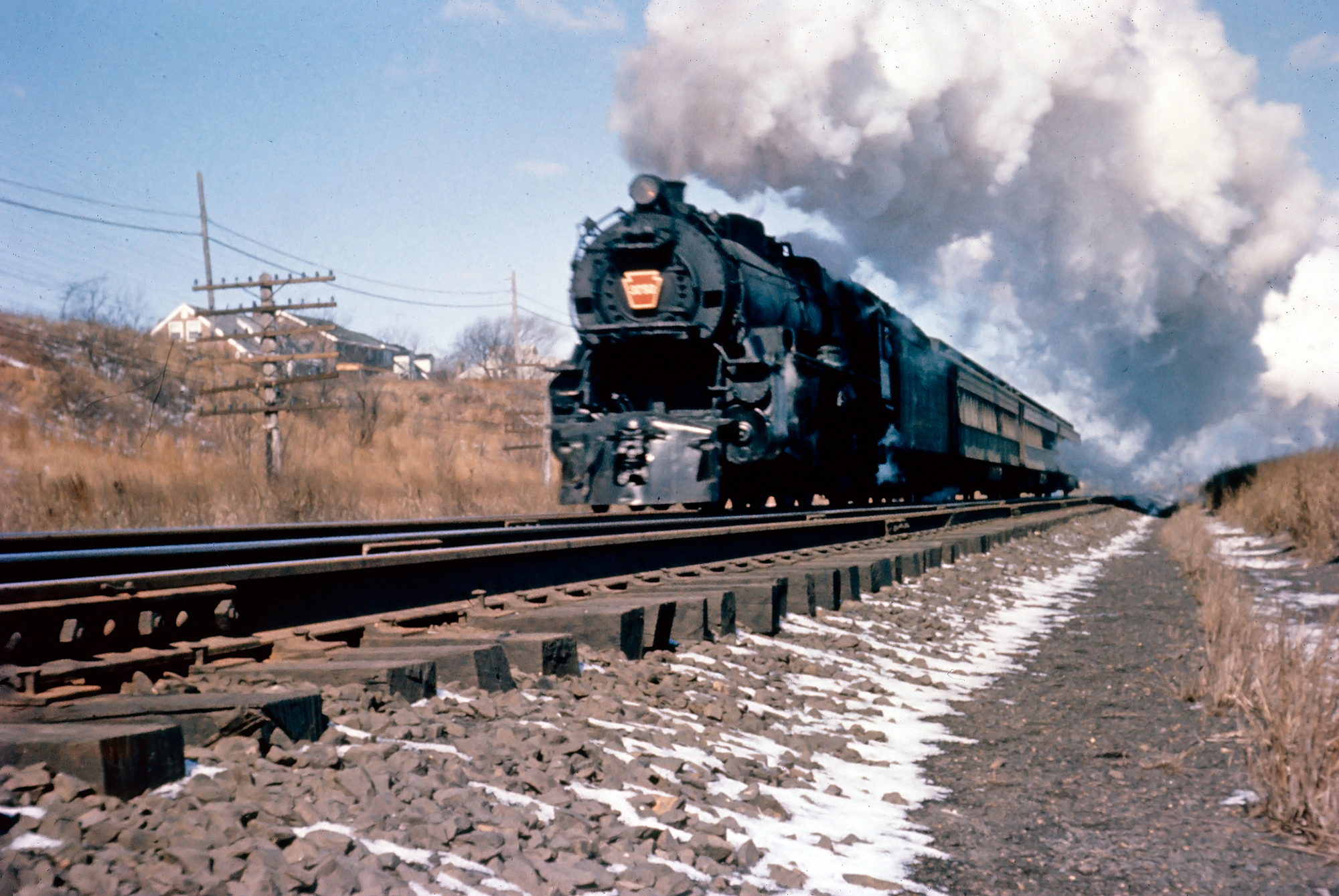 Pennsylvania 4-6-2 #3752 (K-4s) leads a commuter run on the New York & Long Branch at Morgan, New Jersey, circa 1955. Meyer Pearlman photo. American-Rails.com collection.
Current Railroads
Conrail Shared Assets (NS/CSX)
New York, Susquehanna & Western
Belvidere & Delaware River Railway


Black River & Western Railroad
Dover & Delaware River Railroad



Dover & Rockaway River Railroad


Central New York Railroad


Cape May Seashore Lines


East Jersey Railroad & Terminal Company


Hainesport Industrial Railroad


Morristown & Erie Railway



New Jersey Rail Carriers


Port Jersey Railroad


SMS Rail Service


Raritan Central Railway


Winchester & Western


Morristown & Erie Railway


Southern Railroad Company of New Jersey
State Mileage Chart
First Railroad
* New Jersey holds a special place in the history of America's railroad industry; it is home to one of the nation's earliest systems, the Camden & Amboy Rail Road & Transportation Company formed in 1830 by Robert Stevens. 
It was planned to link connecting the Delaware River and the city of Philadelphia with the Raritan River, which provided a direct waterway link into New York City.  After just a few years the line was opened from Bordentown, New Jersey to Hightstown, New Jersey on October 1, 1832, a distance of about 13 miles.  The C&A would eventually wind up as part of the modern Pennsylvania Railroad.
In total New Jersey today is home to just 950 miles of trackage.
During the height of rail operations in this country the state boasted some 2,350 miles of track and has stunningly lost 60% of its infrastructure since the 1920s (in comparison, the average percentage loss among states is about 45%-50%).
This can be attributed to two factors; first, of course, is the decline the industry experienced during World War II, particularly amongst Northeastern railroads that resulted in many lines serving New Jersey to be abandoned or cutback after most were absorbed into Conrail.
---
Abandoned Lines
At 8,729 square miles, New Jersey, ranking it at 47th in terms of land size.  Despite its stature, its population, which now stands at over 9 million, makes it the most densely populated state in the Union.
Even in the 19th century, New Jersey was a fast growing state thanks to its location between two of the United States' largest cities, Philadelphia and New York.
As a result, it boasted one of the nation's earliest railroads (Camden & Amboy, 1832) and by 1920 was home to more than 2,300 miles of track. 
All of the northeast's major anthracite railroads and trunk lines (outside of the New England carriers) boasted at least a few miles in New Jersey, even New York Central.
With rail lines so dense throughout New Jersey it is not surprising there were widespread abandonments; by 1965, 500 miles had been removed with another 900 pulled up in the succeeding decades.
Today, you can abandoned rights-of-way scattered all across New Jersey.   They run the spectrum from the Pennsylvania and Jersey Central to Erie Railroad, Lehigh & Hudson River, and Lehigh & New England.
Southern New Jersey is particularly noteworthy where much of the Pennsylvania-Reading Seashore Lines is now gone, as is CNJ's old Southern Division.
---
Additionally, the state has never been very rail-friendly since the 1960s and has had no problem in seeing or wanting rail corridors to be cutup or turned into trails. For a more in-depth look at the state's rail mileage over the years please have a look at the chart above. 
Rahway Valley 70-tonner #16 at Aldene, New Jersey, circa 1960. Meyer Pearlman photo. American-Rails.com collection.
Museums and Attractions
If you tire of the commuter trains, however (which are prolific throughout the state), or are just looking for something different, New Jersey also feature several railroad museums and tourist railroads like the New York, Susquehanna & Western 2-8-2 #142 that operates seasonally and the New Jersey Museum of Transportation, which owns the famous sunken 1850-era 2-2-2s.

---
It's the early Erie Lackawanna era as a former Delaware, Lackawanna & Western 44-tonner, #52, lays over in Jersey City, New Jersey. This unit was built new for the DL&W in November, 1948. American-Rails.com collection.
Today, while the CNJ's Jersey City Terminal no longer serves as a commuter rail station the Lackawanna's Hoboken Terminal is alive and well.
What's more, the historic building is being completely restored with the ferry slips the final phase yet to be opened at which point passengers heading across the river to downtown Manhattan can once again board their ferry directly from these historic slips. 
While the CNJ's famous four-track main line, Jersey City Terminal and legendary Newark Bay Bridge either no longer stand or serves in its original capacity, New Jersey railroads are rich in history and feature a wide variety of operations that should appeal to whatever interests you may have from commuter and high-speed rail to freight trains and railroad museums.