Guide To Amtrak/Passenger Trains In New Jersey (2023)
Published: July 6, 2023
By: Adam Burns

Despite New Jersey's small size, its eastern seaboard location, history, and close proximity to several large cities - notably Philadelphia and New York - made it an important state for railroads. 
Today, part of its historic network continues to move passengers and freight connecting various cities, suburbs, and major transit hubs, contributing significantly to the overall transportation infrastructure.
This article explores and evaluate the current level of passenger train services offered throughout the state, highlighting key features, benefits, and areas for potential improvement.
Photos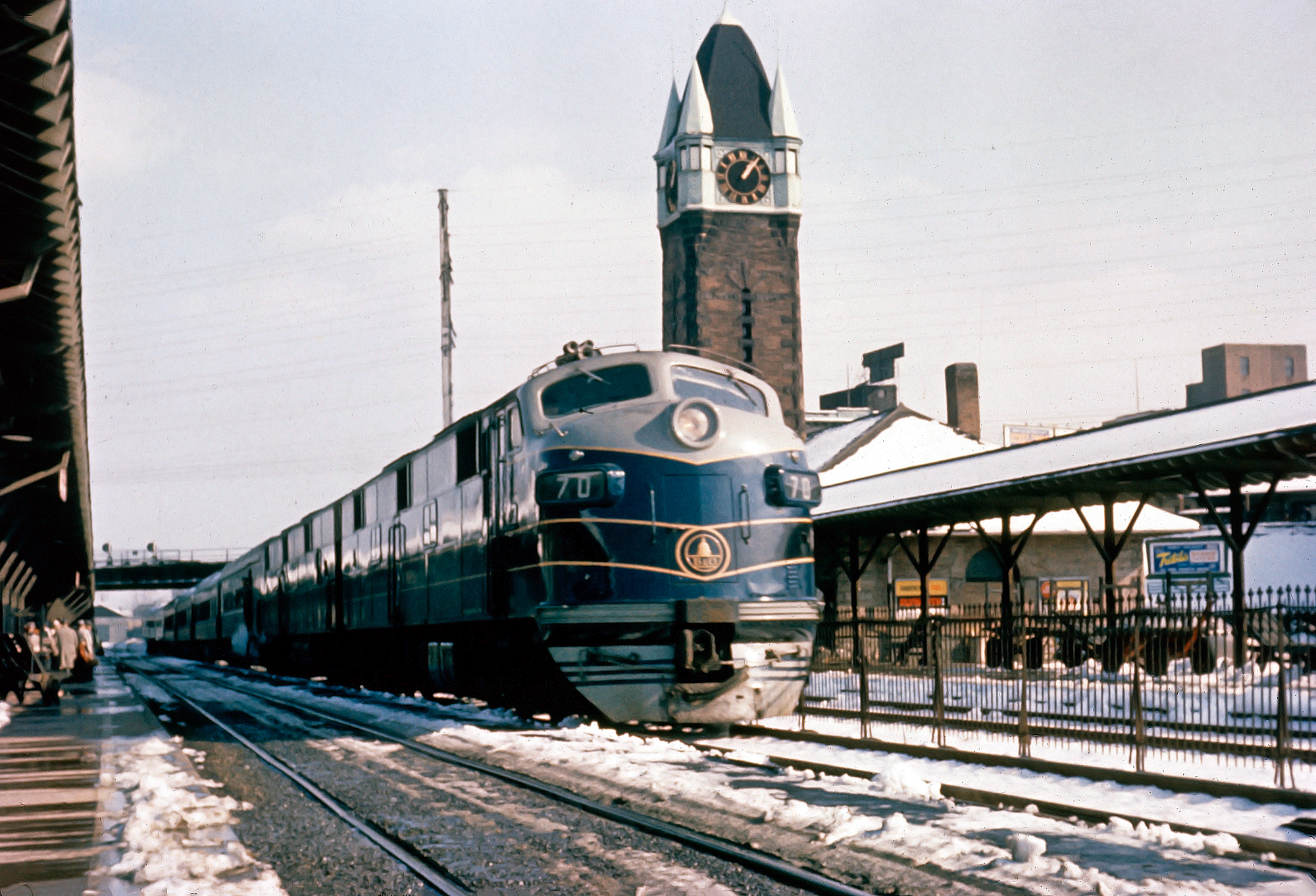 Running along the Jersey Central's then-busy, four-track main line a handsome set of Baltimore & Ohio E7's, led by #70, are stopped at Elizabeth, New Jersey with the westbound "Capitol Limited," circa 1952. Today, the CNJ right-of-way lies empty although the station is preserved. Meyer Pearlman photo. American-Rails.com collection.
New Jersey's rail network encompasses a comprehensive system of commuter and regional train lines operated by multiple agencies.
The backbone of this network is the New Jersey Transit (NJ Transit) system, which operates both commuter rail and light rail services, connecting major cities such as Newark, Jersey City, Hoboken, and Trenton.
Additionally, Amtrak, the national intercity rail service, operates several lines passing through New Jersey, including the Northeast Regional and Acela Express.
Amtrak operates several routes that pass through and have stops within New Jersey, serving as a significant link in the broader national rail network. The most prominent line is the Northeast Corridor (NEC), which stretches from Boston to Washington, D.C.
The history of this corridor can be traced back to the Pennsylvania and New Haven railroads; today it is operated as a single, continuous line under Amtrak. 
Northeast Regional
The Northeast Regional is Amtrak's primary service on the NEC, providing frequent and reliable connections between major cities along the corridor.
In New Jersey, the route includes stops at Trenton, Princeton Junction, New Brunswick, Metropark, and Newark Penn Station, among others. The Northeast Regional offers a range of seating options, including Coach and Business Class, accommodating different traveler preferences and needs.
Acela Express
Amtrak's flagship Acela Express service operates on the NEC, offering high-speed travel between major metropolitan areas. While not all Acela Express trains have stops in New Jersey, select trains provide service to Newark Liberty International Airport, Newark Penn Station, and Trenton. The Acela Express is renowned for its speed, comfort, and amenities, catering to business travelers and those seeking a premium travel experience.
Commuter Rail
NJ Transit, the New Jersey state-owned public transportation corporation, plays a vital role in providing comprehensive and convenient transit services to residents and visitors.
The origins of NJ Transit can be traced back to the mid-19th century when railroad companies began establishing passenger services throughout New Jersey operated by companies like the Pennsylvania Railroad (PRR) and Central Railroad of New Jersey (CNJ).
As many companies fell into bankruptcy during the 1960s and 1970s, especially in the east and including both Penn Central (PRR's successor) and the CNJ, states looked to save the important commuter services offered by these railroads.  As a result, NJ Transit was formed on July 17, 1979.
Specially, it consolidated the operations of various agencies, including the New Jersey Department of Transportation's Division of Mass Transportation, to create a unified entity responsible for managing and providing public transportation services across the state.
NJ Transit's commuter rail services are an essential mode of transportation for thousands of New Jersey residents commuting to employment centers in New York City, Philadelphia, and other metropolitan areas.
The system comprises multiple lines, including the North Jersey Coast Line, Raritan Valley Line, Morris & Essex Line, and others, catering to the needs of different regions within the state. Commuter trains generally operate during peak hours, providing frequent service and comfortable transportation options for commuters.
In addition to commuter rail, New Jersey benefits from Amtrak's Northeast Corridor (NEC) previously mentioned, one of the busiest and most vital rail corridors in the country.
The NEC provides high-speed intercity service, connecting cities such as Boston, New York, Philadelphia, Baltimore, and Washington, D.C. With multiple stops in New Jersey, including Newark, Trenton, and Metropark, the NEC offers convenient travel options for both local and long-distance passengers.
Light Rail
New Jersey's light rail system contributes to enhancing regional connectivity, offering efficient transportation options within urban areas and suburban communities. NJ Transit operates three light rail lines: Hudson-Bergen Light Rail, Newark Light Rail, and River Line.
These lines provide connections between various urban centers, transit hubs, and major attractions, offering an alternative to driving and reducing congestion on roadways.
The passenger rail services in New Jersey offer numerous benefits to commuters and travelers. Firstly, they provide a reliable and efficient mode of transportation, reducing reliance on private vehicles and mitigating traffic congestion.
Commuter and regional rail services help reduce the environmental impact of transportation, as trains generally produce fewer emissions compared to individual cars. Moreover, passenger trains contribute to the economic growth of the state by facilitating the movement of people and fostering connectivity between cities, suburbs, and employment centers.
NJ Transit also operates an extensive bus network, connecting various regions within New Jersey and providing links to neighboring states.
The bus services encompass local routes, suburban routes, and interstate services, catering to the diverse travel needs of residents. With a vast fleet of buses and a comprehensive route system, NJ Transit's buses offer a flexible and accessible transportation option for both urban and suburban areas.
NJ Transit's Access Link is a specialized paratransit service designed to meet the transportation needs of individuals with disabilities who cannot use regular bus or rail services. Access Link provides door-to-door service within specific service areas, ensuring that people with disabilities have equitable access to public transportation and the ability to travel independently.
The system continues to focus on modernization and improvement efforts to enhance service quality and meet the evolving needs of its passengers. The agency has undertaken infrastructure upgrades, such as track and signal improvements, to ensure safe and reliable operations.
Additionally, it has been exploring initiatives to improve customer experience, such as real-time passenger information systems, mobile ticketing options, and enhanced accessibility features.
While New Jersey's passenger train services offer significant advantages, there are areas where improvements can be made. One key aspect is the need for ongoing infrastructure upgrades and maintenance to ensure reliable and safe operations.
Investments in modernizing tracks, signaling systems, and station facilities will enhance service quality and capacity. Furthermore, efforts to increase frequency during off-peak hours and weekends would encourage more individuals to choose trains as their preferred mode of transport, promoting a sustainable and balanced transportation system.
---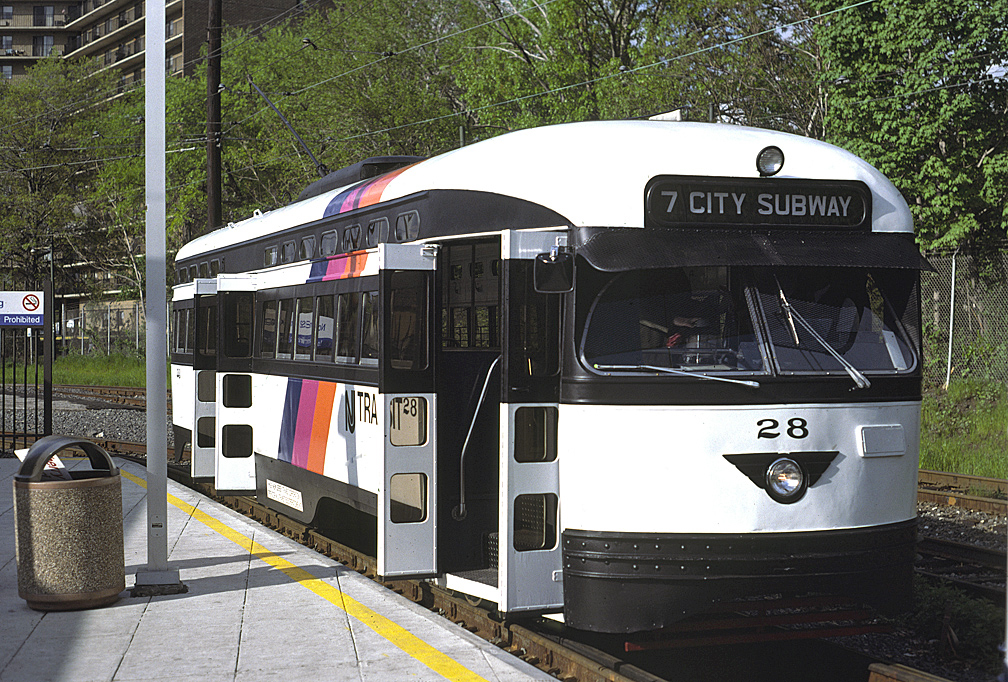 New Jersey Transit car #28 waits to begin its return trip to downtown Newark in April, 1985. This car would later be sold to the City of Bayonne for a future heritage streetcar line. Drew Jacksich photo.
Passenger train services in New Jersey, provided by NJ Transit and Amtrak, form a critical component of the state's transportation infrastructure. Commuter rail, regional rail, and light rail services collectively offer a comprehensive network, facilitating convenient and efficient travel for residents and visitors alike.
While these services provide numerous benefits, continuous investment in infrastructure improvements and expansion of service frequency will further enhance the passenger train experience and promote sustainable transportation options.
If you are simply interested in a relaxing train ride and learning more about New Jersey's rich history with railroads, check out one of the state's many heritage railroads offering excursions to the public.
There are several to choose from such as the, Black River & Western Railroad, Cape May Seashore Lines, Delaware River Railroad Excursions, Whippany Railway Museum, and Woodstown Central Railroad.  These organizations offer a wide range of different trips holiday "theme" trains.