New Mexico Railroads In "The Land of Enchantment"

Last revised: June 19, 2023
By: Adam Burns

Like the roadrunner, New Mexico is historically known for high-speed trains flying across the desert in a hurry to reach either Chicago or the West Coast.

In the last 100+ years this scene has changed little as successor railroads like the BNSF Railway and Union Pacific still speed across New Mexico on their way to far away destinations, with the only interruption in this chorus being fuel stops and inspections.
Historically, the state was once home to a handful of well known classic railroads and its Native American tribes helped to inspire much of the historic Atchison, Topeka & Santa Fe's image (from its livery to its legendary passenger trains). 
Also of note was the Rio Grande's "Chili Line" reaching Santa Fe.  The narrow-gauge route was attempt for the then-Denver & Rio Grande to finally provide a direct link to southern markets but was never successful.  It was ultimately abandoned in 1941.
New Mexico is also home to a tucked away treasure for those who don't know about it, the famous narrow-gauge Cumbres & Toltec Scenic Railway located in the northwestern corner of the state.
Finally, as you may notice reading through the article here there are several links to other pages within the website. These relate in some way to New Mexico railroads and are included here only for your interest.

Photos
Rio Grande 2-8-2 #498 (K-37) leads a short train eastbound at the U.S. 84 grade crossing east of Monero, New Mexico with the final revenue run on the San Juan Extension in August, 1968. American-Rails.com collection.
History
New Mexico railroads date back to 1881 when the second transcontinental system was completed between the Atchison, Topeka & Santa Fe (building west) and Southern Pacific (building east) at Deming. These two railroads came to define the West.
While the Southern Pacific carried a more southerly route serving much of the Pacific coast between Oregon and California, stretching through south Texas and Louisiana the AT&SF reached Chicago, Dallas, Los Angeles, San Francisco and other points across the Southwest.
---
Abandoned Lines
Like many states across the Southwest, New Mexico is defined by through routes and many remain active into the modern era.
These include Santa Fe's "Transcon" (Los Angeles-Chicago), Southern Pacific's "Sunset Route" (Los Angeles-New Orleans), and Southern Pacific's "Golden State Route" (via Tucumcari, New Mexico and the old Rock Island main line).
The one notable loss here is the Rock Island's former "Choctaw Route" from Tucumcari to Memphis, Tennessee via northern Texas, Oklahoma, and Arkansas.
This corridor was the only through line to provide Memphis with direct service to Los Angeles.  However, following the Rock's 1980 liquidation, a purchase price for the line could never be agreed upon and it was ultimately abandoned.
The western section from Tucumcari to the Texas state line is now abandoned (as is most of the route further east).
Elsewhere, must of the old El Paso & Southwestern is now gone throughout New Mexico.  The only notable segment still in use in the former main line from El Paso to Tucumcari, which became part of SP's "Golden State Route."
Finally, to the north you can find remnants of the Denver & Rio Grande Western's former narrow-gauge lines.  Of particular note is the old "Chili Line," Rio Grande's connection to Santa Fe which branched south from Antonito, Colorado.
Unfortunately, the line was far too circuitous and steep to be of much value and was abandoned in 1941.  
---
While the Southern Pacific is revered for its passenger trains (like the Daylights and Sunset Limited) and providing exemplary services throughout California the Santa Fe is world famous (even today) for its Navajo-inspired paint schemes (the Warbonnet) and iconic passenger trains like the Super Chief and El Capitan).

At A Glance
| | |
| --- | --- |
| First Railroad | Atchison, Topeka & Santa Fe (1879) |
| Peak Mileage | 2,972 (1920) |
| Current Mileage | 1,873 (2020) |
| Current Railroads | 6 |
| Originated Rail Tons (2019) | 9.0 million |
| Terminated Rail Tons (2019) | 6.4 million |
| Originated Carloads (2019) | 134,645 |
| Terminated Carloads (2019) | 140,746 |
While the Southern Pacific and AT&SF both had key routes traveling through New Mexico, most of the other lines to reach into the state did so via branch or secondary lines (save for perhaps the Rock Island, which interchanged traffic regularly with the Southern Pacific as well as worked in  conjunction on a number of passenger trains).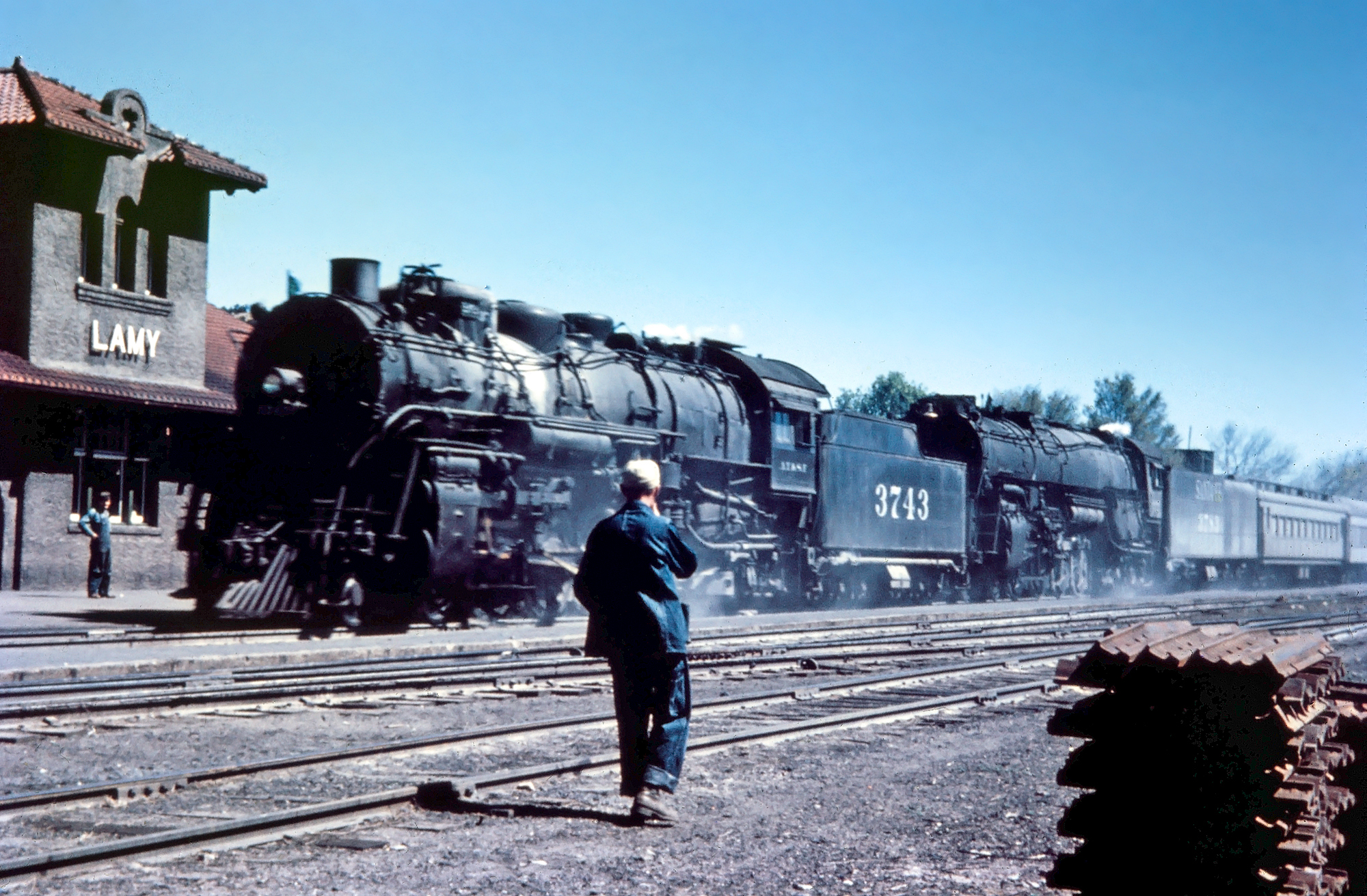 Santa Fe 4-8-2 #3743 and 4-8-4 #3783 double-head a passenger consist at Lamy, New Mexico, circa 1950. Ed Olsen photo. American-Rails.com collection.
Today, New Mexico is mostly the domain of Union Pacific (the successor to Southern Pacific) and BNSF Railway, which moves expedited merchandise, intermodal (the majority of traffic operating through the state) and other freight moving east and west.
While this is predominantly the type of railroading you can find in the Land of Enchantment, few other states or locations offer such a dizzying display of trains (each railroad runs dozens of trains through New Mexico each day) at such a high rate of speed.
Current Railroads
BNSF Railway


Union Pacific


Arizona Eastern Railway


Santa Fe Southern Railway
Santa Teresa Southern Railroad



Southwestern Railroad


Texas-New Mexico Railroad
In total, New Mexico now is home to nearly 2,000 miles of trackage although at one time the state was home to nearly 3,000 miles. Luckily, since the state's Chicago-Los Angeles and Los Angeles-Dallas-New Orleans main lines remain important rail corridors even today.

State Mileage Chart
First Railroad
* The Atchison, Topeka & Santa Fe was the first railroad to arrive in New Mexico.  According to Steve Glischinski's book, "Santa Fe Railway," in its quest to drive further westward, spearheaded by leader William Barstow Strong, it had pushed some 178 miles into New Mexico by the end of 1879. 
The book, "History Of The Atchison, Topeka And Santa Fe Railway," by author Keith Bryant, Jr. goes on state that after the tunnel over Raton Pass opened that September (1879) the AT&SF could provide through service across the state.  When it met the Southern Pacific at Deming, New Mexico on March 8, 1881 the second transcontinental route had been established.
As such, New Mexico has only seen its rail infrastructure decline by about 33% since the 1920s (when mileage in the country peaked).
This number is well under the 45% to 50% average most states have experienced. In any event, for more information on the state's railroads in terms of mileage over the decades please take a look at the chart above. 
State Map
Lastly, if you tire of the main line action be sure and visit one (or more) of New Mexico's railroad museums or tourist railroads, such as the Cumbres & Toltec Scenic, which operates former Rio Grande narrow-gauge trackage in northwestern New Mexico and southwestern Colorado (if you are interested in breathtaking scenery and historic steam locomotives, the C&T can delivery!). 

---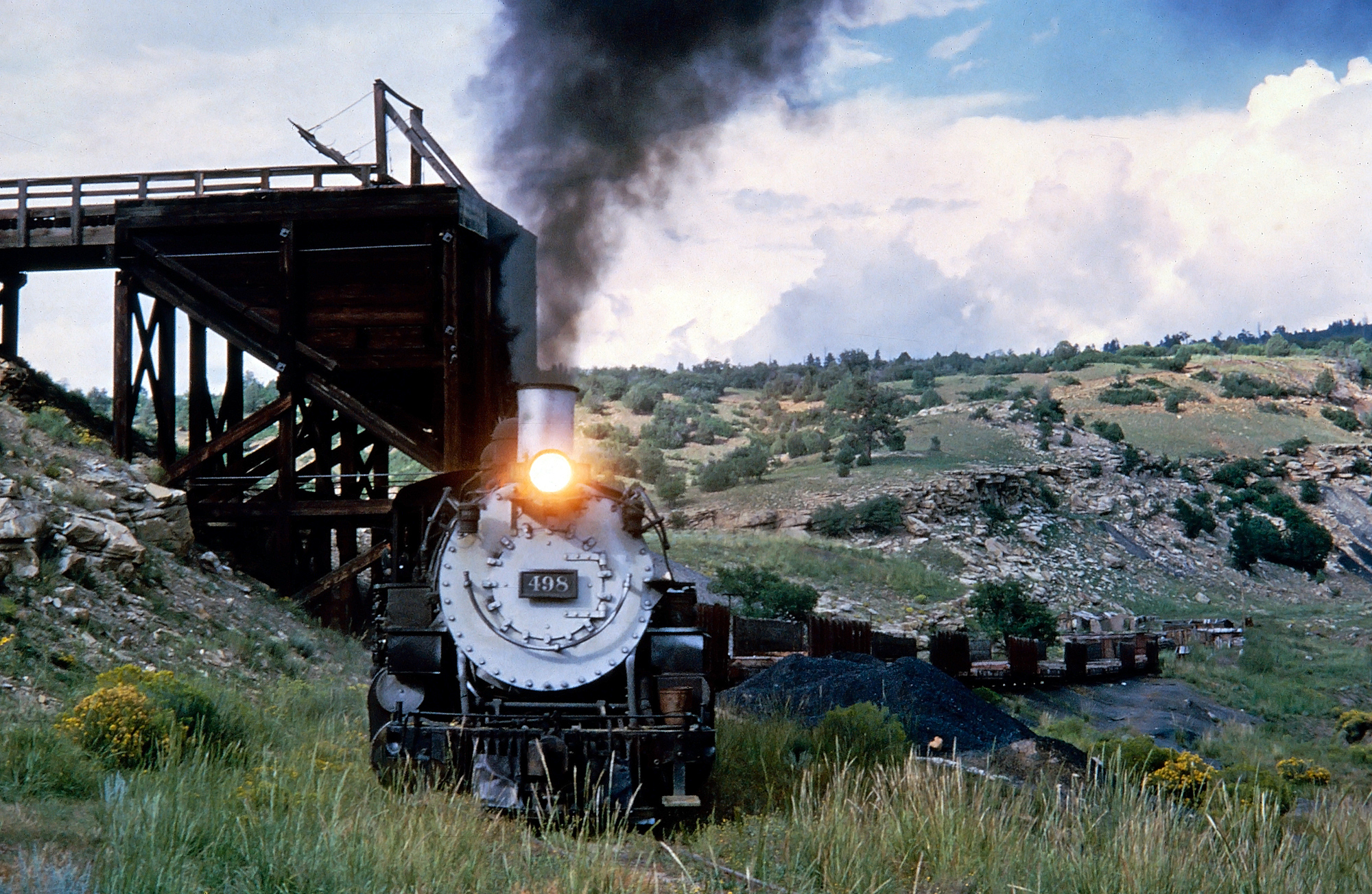 Rio Grande 2-8-2 #498 (K-37) steams through Monero, New Mexico with the final eastbound revenue run on the San Juan Extension in August, 1968. American-Rails.com collection.
While New Mexico may no longer feature passenger trains run by either the AT&SF or Southern Pacific Amtrak still operates the SP's Sunset Limited and AT&SF's Southwest Chief through the state.
Also, be sure and check out, or even ride, New Mexico's newest commuter rail service, the Rail Runner Express, which began operations in 2006 and has become quite popular in recent years.  
All in all, while isolated in most locations, New Mexico railroads offer a unique experience rarely found elsewhere throughout the country so a trip to the Land of Enchantment is sure to be quite memorable!