Ohio Railroads In "The Buckeye State"

Last revised: June 14, 2023
By: Adam Burns

Ohio is a paradise if you are a railfan, as rail lines run every which direction featuring Class I main lines, regionals and even local short lines.

In comparison to the state's size, Ohio is loaded with action! What's more, the Buckeye State was also the home to the famous Lima Locomotive Works (based in Lima) that built durable, high quality steam locomotives through the early 1940s.
There was an even noteworthy builder of interurban equipment located here, in the tiny town of Jewett.  Other notable Ohio railroad tidbits include:
Historic Cincinnati Union Terminal that is still served by Amtrak


Winton Engine Company, based in Cleveland, which became part of diesel-builder Electro-Motive Corporation (EMC), a later division of General Motors
Aside from Ohio's significant railroading operations today the state is very rich in history as well, as every major eastern trunk line operated through the state along with several other more regional systems.
Please be aware that to more thoroughly cover the state's history and present day operations with trains other pages of the website here are highlighted, which relate to Ohio.
Photos
Baltimore & Ohio GP35 #3548 and GP40-2 #4225 pause at the Norfolk & Western (ex-Nickel Plate) depot in Coshocton, Ohio on December 17, 1976. American-Rails.com collection.
History
Ohio railroads officially date back to 1836 when the Erie & Kalamazoo Railroad completed its main line between Adrian, Michigan and Toledo, Ohio.
The E&K later became part of the much larger Lake Shore & Michigan Southern Railway, which itself became a subsidiary of the New York Central System in 1914.
Statistics
| | |
| --- | --- |
| First Railroad | Mad River & Lake Erie (1835) |
| Peak Mileage | 9,002 (1920) |
| Current Mileage | 5,330 (2020) |
| Current Railroads | 41 |
| Originated Rail Tons (2019) | 54.6 million |
| Terminated Rail Tons (2019) | 66.8 million |
| Originated Carloads (2019) | 986,851 |
| Terminated Carloads (2019) | 1,110,131 |
The first railroad to operate solely in Ohio, however, was the Mad River & Lake Erie Railroad, which began construction in 1835 to connect Sandusky with Springfield and which was eventually completed by 1847.
Interestingly, the MR&LE used a wide gauge of 4 feet, 10 inches instead of the more standard 4 feet 8 1/2 inches (remember, too, that during the time of its construction there was no uniform gauge in the country).
It's the early Norfolk Southern era as a former Southern Railway SD40, #3184, switches The Andersons grain elevator in Maumee, Ohio; November, 1989. American-Rails.com collection.
The railroad would become part of the Cleveland, Cincinnati, Chicago, & St. Louis (the "Big Four") in 1892, another predecessor of the NYC.
Following the MR&LE's opening, Ohio quickly became vitally important with:
Coal mines located in the state's southeastern regions.


Steel mills in Youngstown.


Glass manufacturers in Toledo.


Rubber production in Akron.
Notable port cities along Lake Erie including Cleveland, Lorain, Sandusky, Ashtabula, Conneaut, Huron, and Toledo.


Important cities like Cincinnati, Toledo and Akron.


Main lines stretching to western markets like Detroit, Chicago, Indianapolis and St. Louis. 
Virtually every large eastern Class I carrier of its day reached Ohio to some extent and included the four trunk lines of the Baltimore & Ohio, Pennsylvania Railroad, New York Central, Erie Railroad as well as several others.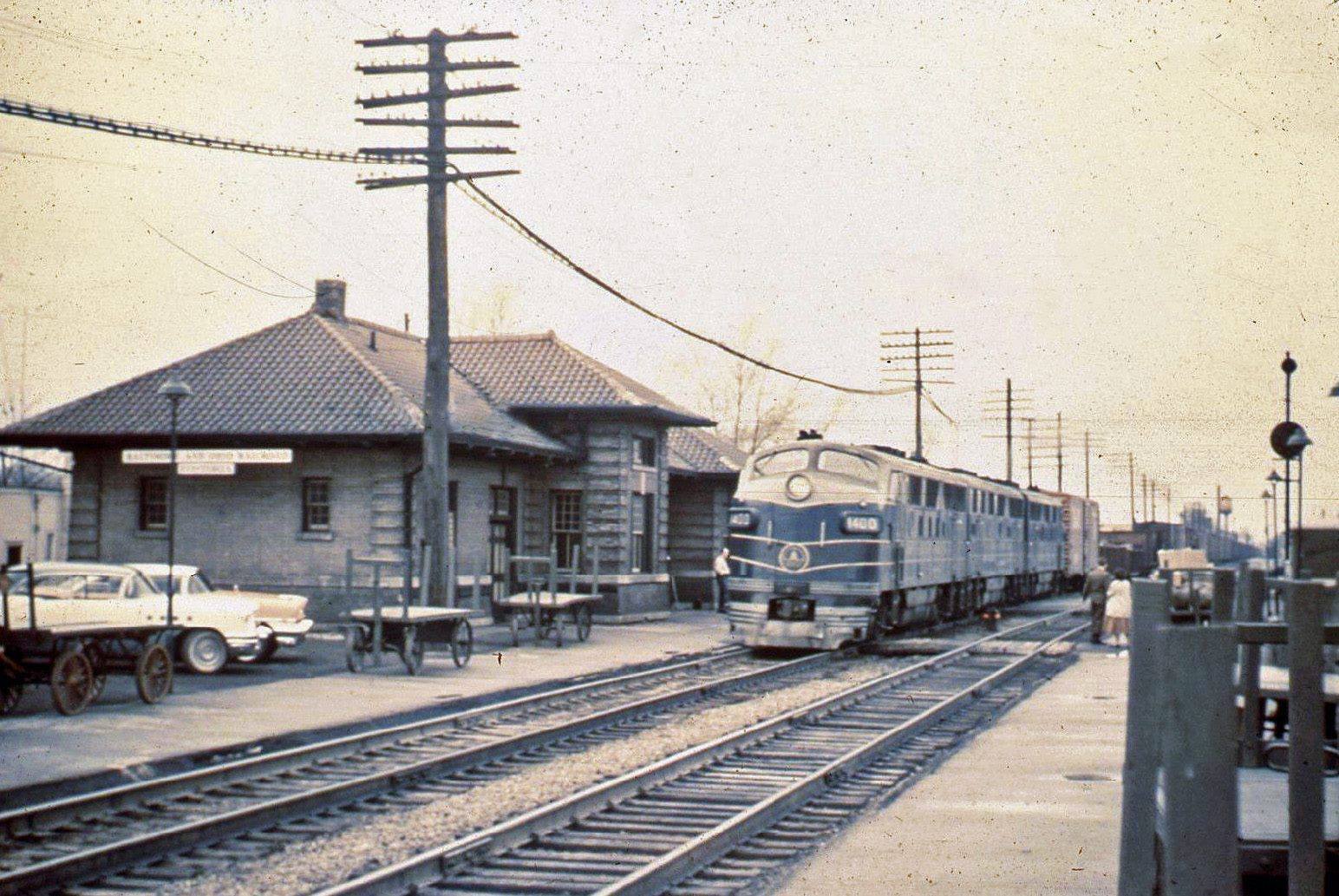 An A-B-A set of Baltimore & Ohio F3's, led by #1400, have a mixed freight at the very busy junction of Fostoria, Ohio during April of 1957. There were many railroads which passed through this town including the B&O, New York Central, Nickel Plate, and Chesapeake & Ohio. It remains a busy location today under CSX and Norfolk Southern. Photographer unknown.
One of the state's most venerable railroads was the Baltimore & Ohio. Today, the B&O's lines in Ohio are drastically different under CSX's management.
While its main line to Chicago remains intact and later upgraded to double-track under CSX, its St. Louis main line did not fair so well.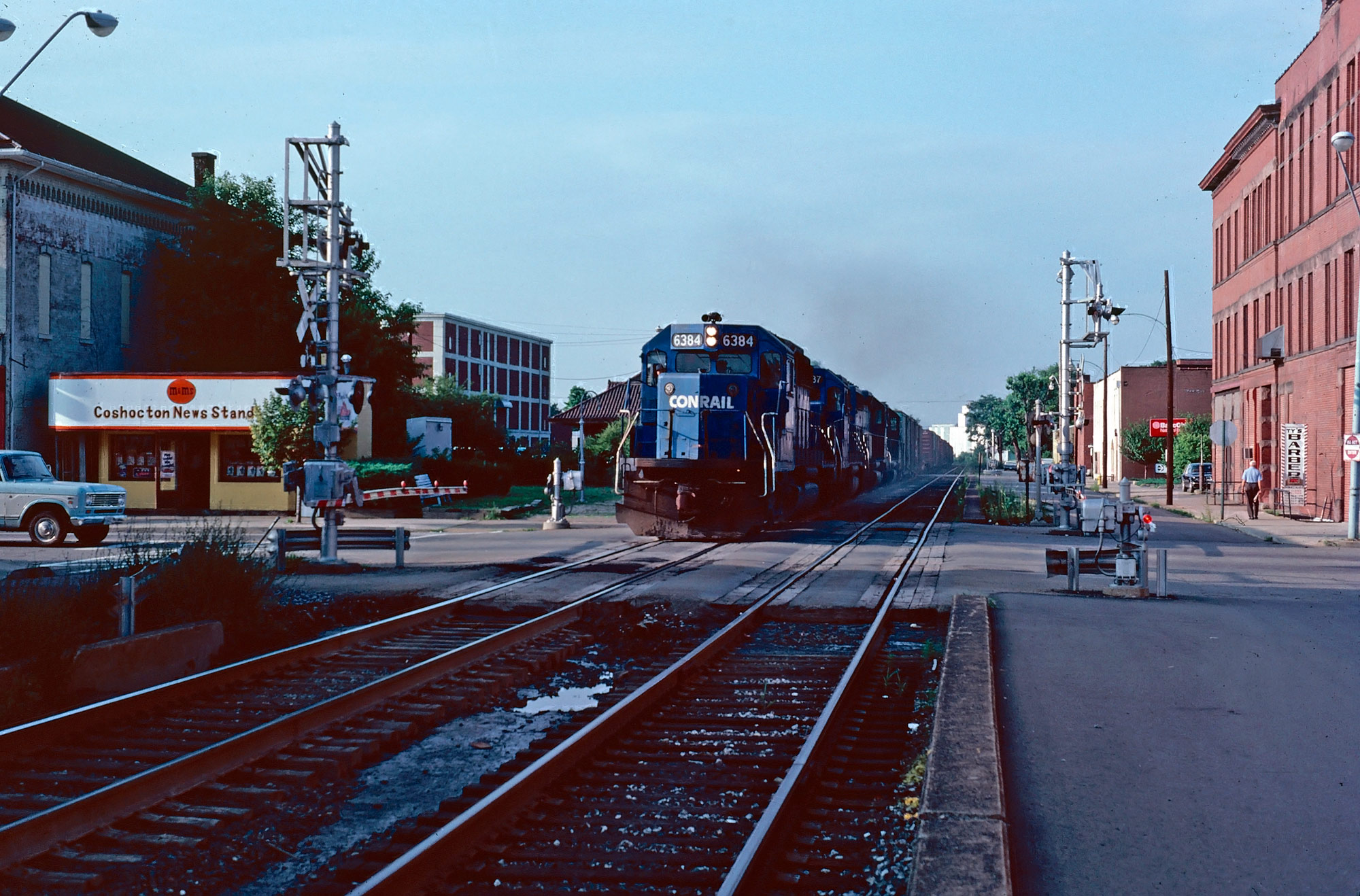 Conrail SD40-2 #6384 leads eastbound COEN-2 over the Main Street grade crossing at Coshocton, Ohio on July 22, 1981. Roger Beighley photo. American-Rails.com collection.
In 1985, then-Chessie System severed the route east of Greenfield to Belpre, Ohio along the Ohio River (it is also severed east of Parkersburg, WV to Clarksburg, WV), with much of the rest of the trackage west of Greenfield sold to Ohio short line Indiana & Ohio.

A large percentage of the B&O's branch lines have likewise been abandoned or ripped up in the Buckeye State (and northern West Virginia).  
Sadly, aside from the railroad's Chicago main line, and a handful of other corridors, today's CSX has abandoned or sold off most of the historic B&O system since 1980.
Even though Ohio likewise no longer includes the former Erie main line as a through route, the Buckeye State is still home to both the ex-PRR and ex-NYC main lines to St. Louis and Chicago that see heavy amounts of traffic on a daily basis.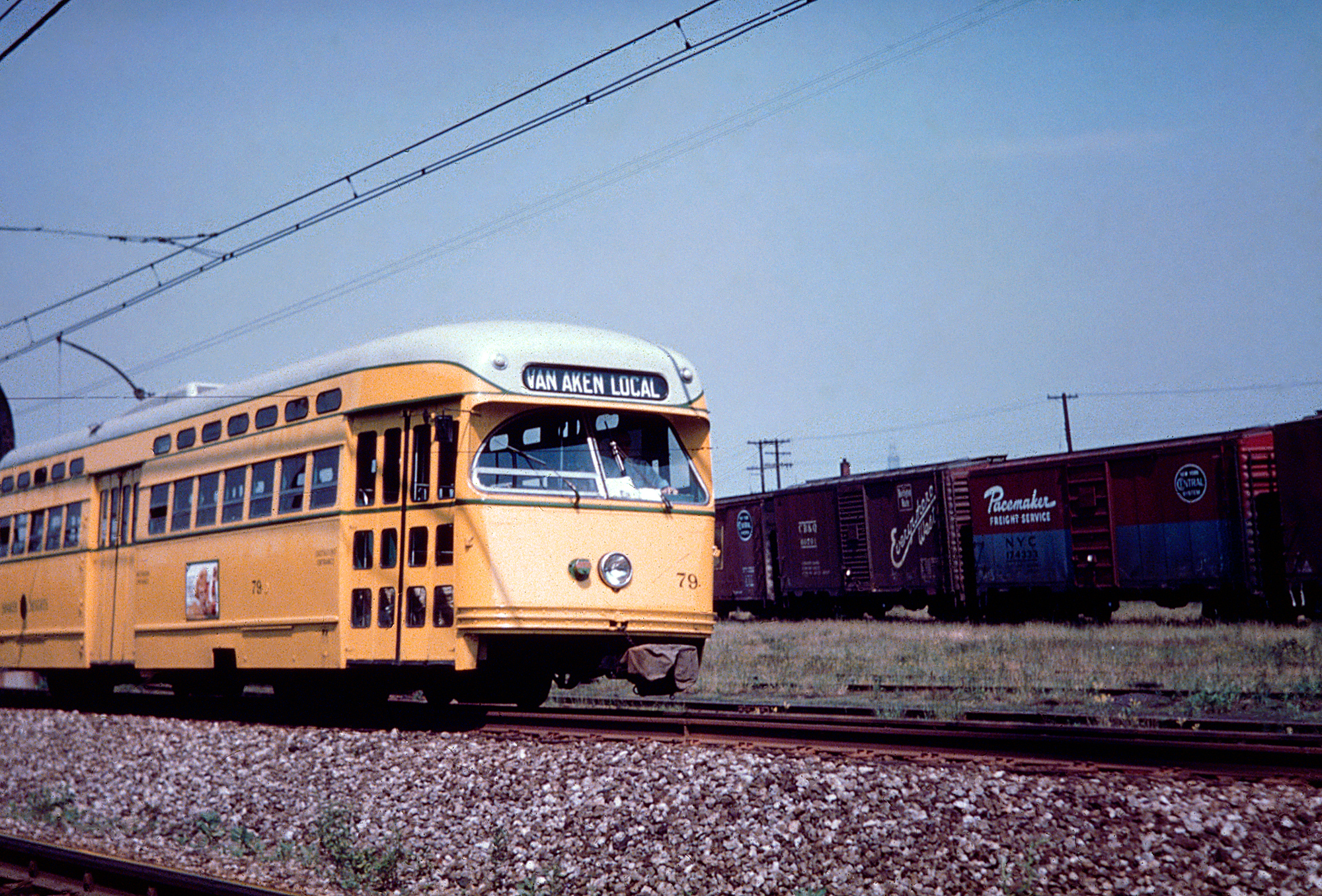 Shaker Heights Rapid Transit PCC #79, a 1947 product of Pullman-Standard, approaches the East 55th Street Station in Cleveland. The New York Central's East 55th Street Yard can be seen in the background. American-Rails.com collection.
For instance, some locations in Ohio where activity is the busiest includes:
Fostoria (a railfan's dream, it sees dozens of CSX  and NS trains daily and is still protected by F Tower where both railroads cross)


Queensgate Yard in Cincinnati


B&O's Willard Terminal


Columbus


Berea, where you can dine in the city's restored Union Station and watch CSX and NS freight trains pass within waving distance from one another
These places are just a few interesting railroading locations in Ohio as there are far too many to highlight here.  Aside from CSX and NS, Ohio also features numerous shortlines and regionals.
These include the Ohio Central System (the parent company of numerous short lines in Ohio), RJ Corman, Indiana & Ohio, and the Wheeling & Lake Erie just to name a few. 
---
Abandoned Lines
As noted in the graph below, Ohio has lost roughly 4,000 miles of railroads since the 1920's; most has been abandoned since only the 1960's.
Notable abandonments, or truncations, include segments of the Erie/Erie Lackawanna's Chicago main line, Pennsylvania's "Panhandle" main line, and Baltimore & Ohio's Ohio Division.  
The latter two corridors were components of both railroads' St. Louis routes.  Ironically, all three lines remained quite busy until their abandonments under Conrail and Chessie System in the 1980's.
In addition, north-south secondary routes reaching the important port cities of Cleveland, Lorain, Sandusky, Ashtabula, Conneaut, Huron, and Toledo in the handling of iron ore to steel mills (Youngstown, Pittsburgh, Weirton, etc.) have also been abandoned.
With most of these mills since shuttered, the ports became redundant. Other important lines since pulled up include B&O's Ohio & Little Kanawha Branch (Zanesville-Marietta), Pennsylvania's former Cleveland & Marietta Railway (largely removed), and segments of the B&O's route to Columbus.
All of the major eastern trunk lines served Ohio and components of each railroad's system has since been pulled up. 
You can also find sections of the Wabash and Nickel Plate removed in central and western Ohio.  Finally, the Detroit, Toledo & Ironton has been removed south of Washington Court House; pulled up between 1981-1984.  
---
Current Railroads
Akron Barberton Cluster Railway



Ann Arbor Railroad
Ashtabula, Carson & Jefferson Railroad



Camp Chase Industrial Railroad



Central Railroad of Indiana


Chicago, Fort Wayne & Eastern Railroad



Cincinnati Eastern Railroad



Cleveland Commercial Railroad



Cleveland Harbor Belt



Columbus & Ohio River Rail Road



Flats Industrial Railroad



Grand River Railway



Indiana & Ohio Railway



Indiana Eastern Railroad



Indiana Northeastern Railroad



Kanawha River Railroad



Lake Terminal Railroad



Mahoning Valley Railway



Napoleon, Defiance & Western Railroad



Newburgh & South Shore Railroad



Northern Ohio & Western Railway
Ohi-Rail Corporation



Ohio Central Railroad



Ohio South Central Railroad



Ohio Southern Railroad
Ohio Terminal Railway



Republic N&T Railroad



R.J. Corman Railroad - Cleveland Line



R.J. Corman Railroad - Western Ohio Lines



Republic Short Line



U.S. Rail Corporation



Warren & Trumbull Railroad



Wheeling & Lake Erie Railway



Youngstown & Austintown Railroad



Youngstown Belt Railroad


Youngstown & Southeastern Railroad

Today, Ohio continues to operate over 5,300 miles of the state's original infrastructure that at one time topped more than 9,000 miles in the 1920s during the industry's height.
Overall, Ohio has lost about 41% of its peak rail network, which isn't bad considering the average per state is between 45% and 50%. For more information about the state, in terms of route mileage over the years please refer to the chart below.
State Mileage Chart
First Railroad
* Ohio's first railroad put into service was the Mad River & Lake Erie (MR&LE) chartered in 1835.  By 1839, the system was open from Sandusky to Republic (30 miles) and had reached Tiffin by 1842.  In 1890 it was acquired by the Cleveland, Cincinnati, Chicago & St. Louis, a future component of the modern New York Central System.
Ohio's unique history, location, and economy historically made the state a major railroad hub. 
There were numerous cities that manufactured important components like rubber, glass, and steel requiring products like sand, coal, and ore. 
In addition, these products were required to make items like home goods, automobiles, tires, and numerous other things. 
Finally, the state boasted numerous through routes headed to major cities throughout the Midwest. 
Despite the abandonment of thousands of miles the state still retains a great importance as a manufacturing center and location of through routes. 
While it equally seems unlikely any of these corridors will be rebuilt the state has floated the idea from time to time in restoring sections for commuter rail service in an effort to reduce highway congestion.
State Map
Famous passenger trains like the National Limited, Capitol Limited, 20th Century Limited, and Broadway Limited may no longer pass through Ohio.
However, Amtrak still operates a number of trains through the state including the tri-weekly Cardinal which serves Cincinnati and the Lake Shore Limited and Capitol Limited, which serves state's northern areas like Cleveland and Toledo.  
Museums and Attractions
Passenger and freight trains aside, Ohio railroads also feature plenty of museums and excursion trains. For instance, there is the:
Age Of Steam Roundhouse in Sugarcreek that contains numerous restored steam locomotives.


Warther Carving Museum that features the expertly, one-of-a-kind handcrafted locomotives by the late Ernest Warther.
---
Chessie System/B&O GP40-2 #4205 is ahead of an eastbound, hotshot "Philadelphia Trailer Jet" in a company photo taken along the Ohio Division near Athens, Ohio in February of 1979, a few years before the Baltimore & Ohio's main line was closed (1985). Today, part of this right-of-way has been taken over by an expanded Route 50.
These are just a few of the interesting attractions located in Ohio. Others include:
AC&J Scenic Line Railway


Buckeye Central Scenic Railroad


Cedar Point & Lake Erie Railroad


Cincinnati Railroad Club


Cuyahoga Valley Scenic Railroad


Dennison Railroad Depot Museum


Hocking Valley Scenic Railway


Jefferson Depot


Lorain & West Virginia Railway


Mad River & NKP Railroad Museum


Marion Union Station Association


Minerva Scenic Railway


Northwest Ohio Railroad Preservation


Ohio Railway Museum


Orrville Railroad Heritage Society


Toledo, Lake Erie & Western Railway & Museum


Train-O-Rama


Turtle Creek Valley Railway
All in all Ohio offers the railfan just about anything he or she wants! Whether you are after main line railroading, steam action or simply strolling abandoned rights-of-way of once-important lines; the Buckeye State offers it all.