Oregon Railroads In "The Beaver State"

Last revised: June 19, 2023
By: Adam Burns

Perhaps more than anything else Oregon is known for offering beautiful scenery with the Cascades, Columbia River and of course, northern Pacific Coast all found within the state.

Today the Beaver State is the realm of the Union Pacific, and to a lesser extent BNSF Railway.  In the industry's classic era the state was served primarily by Southern Pacific (fondly remembered by railfans for its rugged branch lines tapping local timber interests and serving coastal communities) which operated the Shasta Route into Portland. 
In addition to the Great Northern (snaking its way southward to reach the Western Pacific at Bieber, California, a project, the so-called 'Inside Gateway', completed in 1931) and Union Pacific.
History
Also of note was the great Oregon Electric system, an interurban linking Portland with Eugene (and controlled by the Spokane, Portland & Seattle). 

Its extensive freight operations have enabled its former main line to remain in active use today, a rarity among interurbans. 
In recent years short lines (and a few regionals) have also carved out a living in Oregon such as the Port of Tillamook Bay Railroad and Idaho, Northern & Pacific.
Also, please note that throughout the article here there are links included to other pages within the site that relate to Oregon railroads.

Photos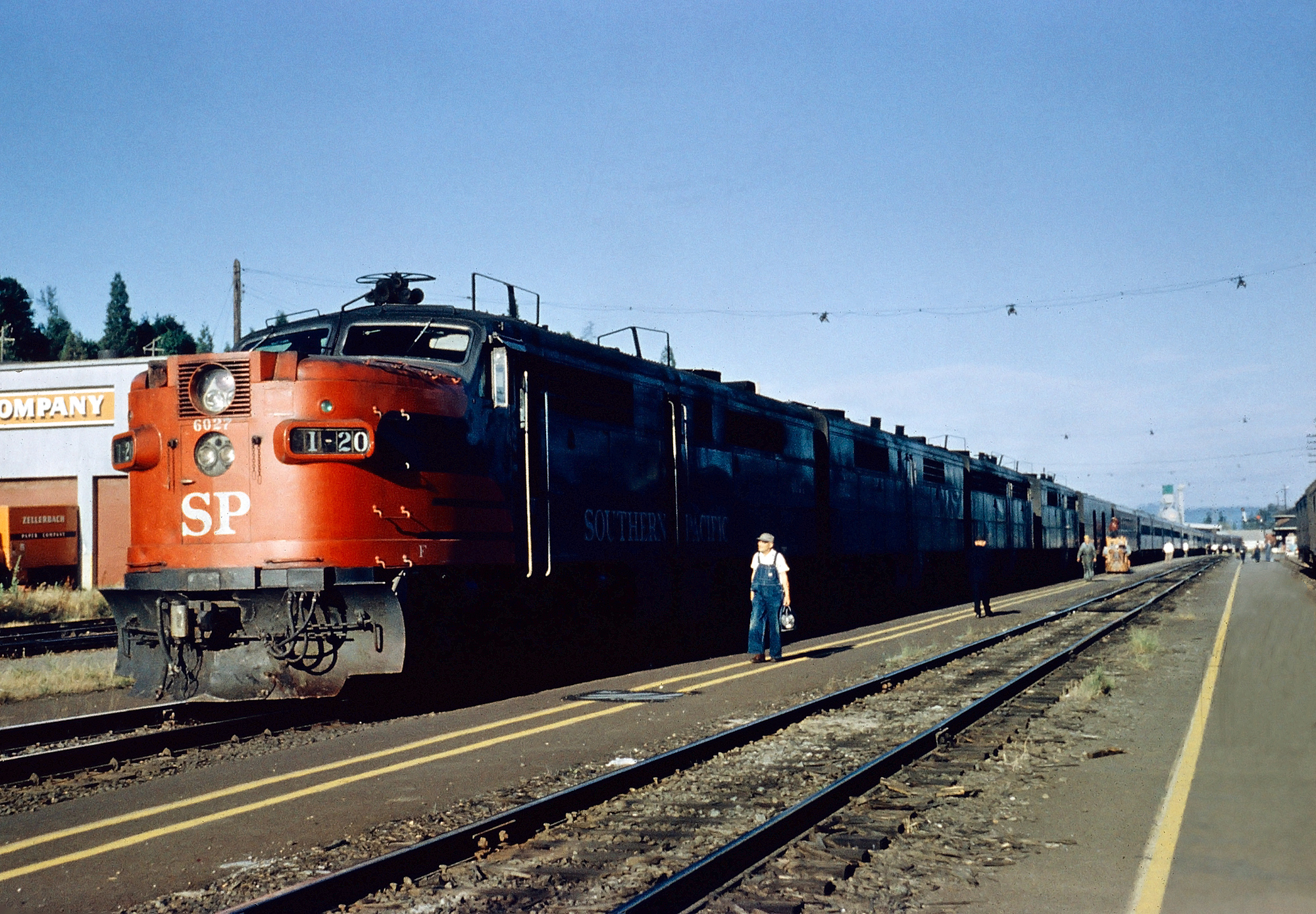 Southern Pacific PA-2 #6027 is stopped in Eugene, Oregon on the Shasta Route with northbound train #20 (Oakland - Portland), circa 1964. American-Rails.com collection.
Oregon's first railroads date back to May 20, 1861 when the small 5-mile Oregon Portage Railroad took over for mules hauling goods between Tanner Creek to the head of the Cascade Rapids (the railroad had dated as far back as 1858 using horse and mule power).
The railroad's first locomotive, the Oregon Pony was also the first steam locomotive to operate in the Pacific Northwest and today is preserved in Cascade Locks, Oregon.
The railroad eventually grew to a length of fifteen miles and its use ebbed and flowed throughout the 19th century as demand warranted.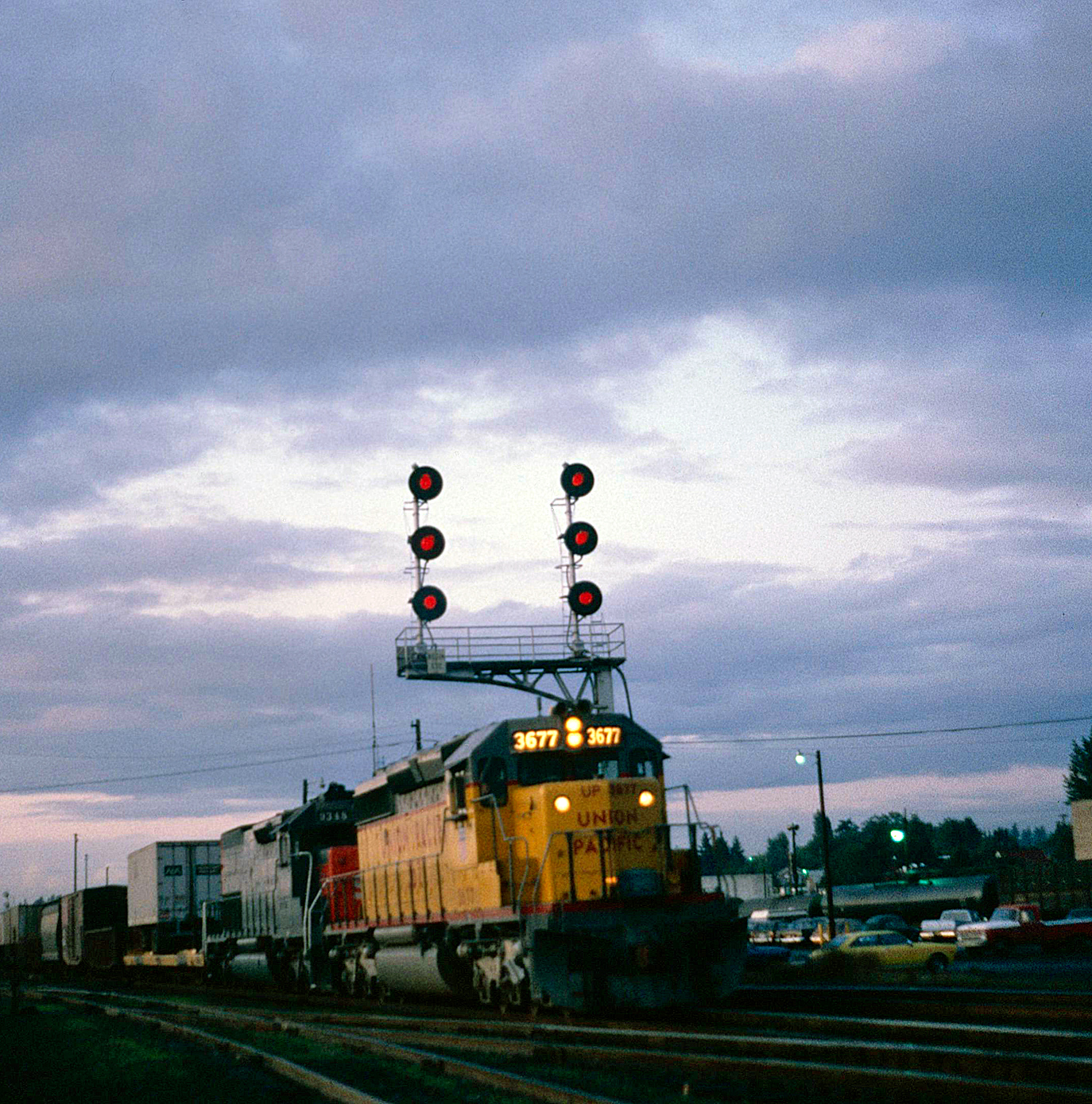 Union Pacific SD40-2 #3677 and Southern Pacific SD45T-2 #9348 depart Portland, Oregon on an October evening in 1981. American-Rails.com collection.
In 1891 it was reactivated as a three-foot narrow-gauge operation but it would finally cease altogether in 1896. 
In succeeding years following the completion of the Transcontinental Railroad in 1869, the venerable Southern Pacific would come to dominate rail operations in the state although other classic lines could also be found in Oregon.
Portland Terminal Railroad (of Oregon) S4 #43 carries out switching chores at Lake Yard in Portland, Oregon during September of 1981. American-Rails.com collection.
Today, Oregon's railroad network is mostly the realm of Union Pacific although, as mentioned before, BNSF also has a small presence in the state.
Current Railroads
BNSF Railway


Union Pacific


Central Oregon & Pacific


Portland & Western
Albany & Eastern


City of Prineville Railway


Clackamas Valley Railway


Coos Bay Rail Link



Goose Lake Railway


Idaho, Northern & Pacific


Klamath Northern


Lake County Railroad


Oregon Eastern Railroad
Oregon Pacific Railroad


Palouse River & Coulee City


Peninsula Terminal Company


Port of Tillamook Bay


Portland Terminal Railroad


Rogue Valley Terminal Railroad Corporation



Wallowa Union Railroad


 Willamette Valley Railway
State Mileage Chart
First Railroad
* As Dr. George Hilton notes in his book, "American Narrow Gauge Railroads," Oregon had boasted mule-powered tramways (an early type of rail system) along the Columbia River since the 1850's.  However, the earliest was destroyed by flooding in 1861. 
 Its first steam-powered operation was the Oregon Portage Railway, which began construction of a 4.5 mile line along the river's south bank between Tanner Creek and the Cascade Locks in 1858. 
 Built to a gauge of 5 feet, it was initially mule powered when it opened on May 20, 1861.  That changed when the little 0-4-0 named, Oregon Pony (manufactured by the Vulcan Locomotive Works in San Francisco in 1861 at a cost of $4,000), debuted about a year later on May 10, 1862. 
 The Oregon Portage would go on to join Henry Villard's Oregon Railway & Navigation Company (OR&N), which later became part of Union Pacific's vast network.  The OR&N was also Oregon's first, true main line railroad, enabling the Northern Pacific to initially complete its connection to the Puget Sound at Tacoma via Wallula, Oregon where the two roads connected.
Today, Oregon is home to nearly 2,500 miles of rails with its one-time high of about 3,300 miles occurring during the 1920s.
Interestingly, the state has only lost about 25% of its infrastructure, a remarkably low number considering most states have lost between 45% and 50%. 
State Map
This can largely be explained by its rugged topography; virtually all main lines remain active, the only abandonments have been branch lines and secondary corridors.

For more information about Oregon in terms or route mileage over the years please have a look at the chart above. 
---
Abandoned Lines
The state of Oregon has not witnessed considerable rail loss.  As a mentioned above, the region's ruggedness, and routes linking key markets like Seattle and Portland with California have kept its through routes intact and in high demand.
In addition, Union Pacific continues to serve the Pacific Northwest via the Plains and Midwest (Wyoming/Kansas/Nebraska/Chicago).
Most abandonments across Oregon today are either former Southern Pacific branches along the coast (which handled primarily timber/lumber) or Oregon Short Line (Union Pacific) branches.
Also of note is Oregon's two notable interurbans; the Oregon Electric Railway (OE) and Portland Traction Company.  The former grew quite substantially and served the entire northwestern region of Oregon while the latter was contained predominately to Portland.
Today, a few sections of the old OE remain active but for the most part, both systems are all gone today.
---
Although Union Pacific's famous City of Portland and Southern Pacific's Shasta Daylight passenger trains no longer calls to Portland Union Station Amtrak still does with its Empire Builder and Coast Starlight services (and the building has also been completely restored).
Aside from these services Amtrak operates the Cacades from Portland to Seattle four times a day with two trips daily to Eugene as well. 
---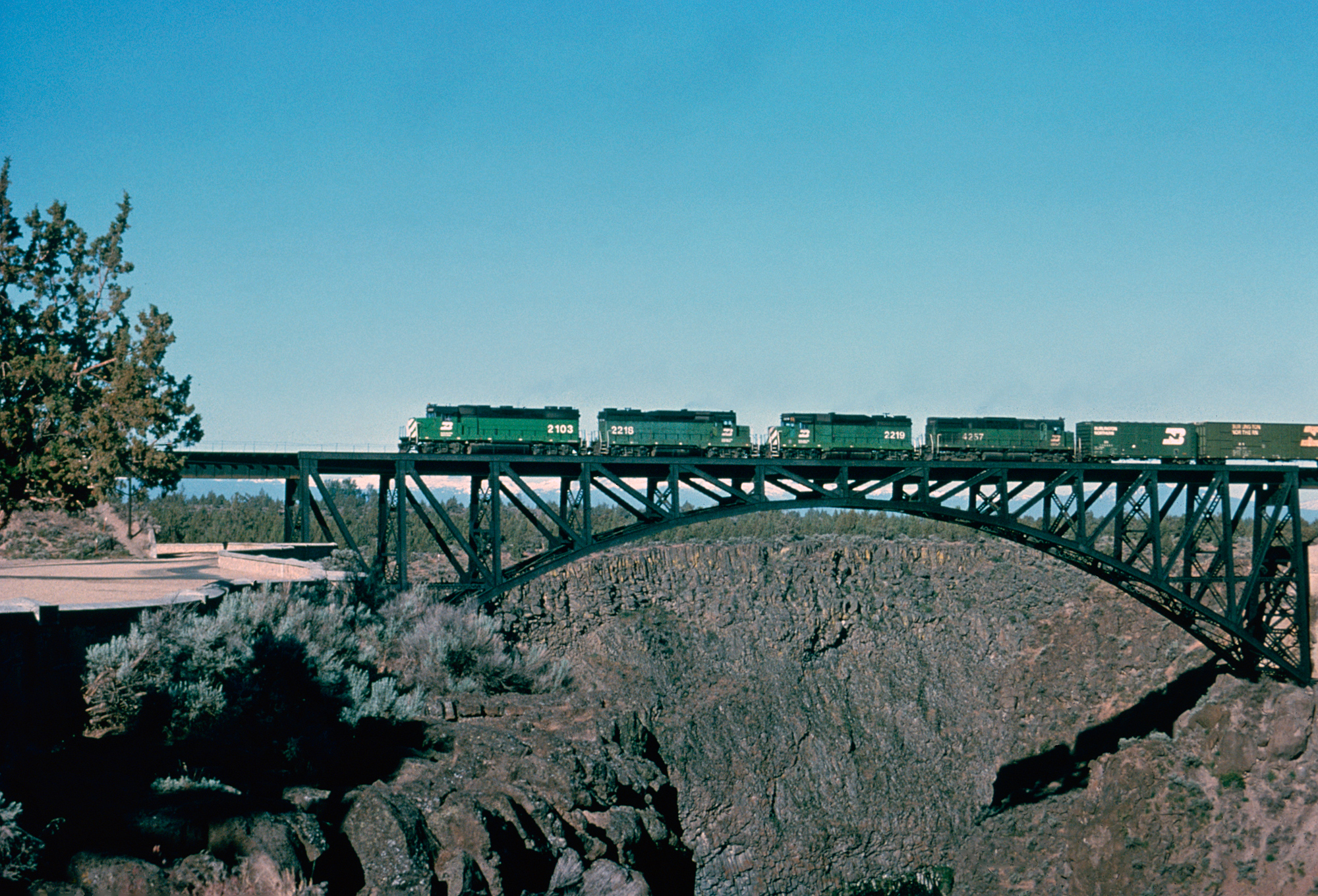 Burlington Northern GP38-2 #2103, GP30's #2216 and #2219, and C425 #4257 lead a southbound freight over the Crooked River Bridge just north of Terrebonne, Oregon during the 1970s. This was part of the Great Northern's link to Bieber, California and a connection with the Western Pacific. American-Rails.com collection.
To learn more about the classic streamliners that served Oregon please click here.  
Aside from the passenger and freight trains, Oregon is home to several museums and tourist railroads such as the Oregon Electric Railway Museum and very popular Moot Hood Railroad, which features spectacular views of Mount Hood (and even includes a dinner train).  
In all, Oregon railroads feature some of the most stunning scenery one can find anywhere in the country whether you are after main line railroading, local short line service or just a ride on a train to enjoy views of the Oregon countryside.