The 
Owl
Last revised: May 7, 2023
By: Adam Burns

The Owl was a secondary Southern Pacific train that certainly carried an appropriate name.   It operated on an overnight schedule between Los Angeles and San Francisco/Oakland where it began service just prior to the 20th century. 

For many years it was the railroad's only overnight run between the two cities, operating along the San Joaquin Route.  However, its unique standing was short-lived with the inauguration of the all new, Lark during the early 20th century. 
The Owl was normally assigned coaches only and, of course, several Pullman sleepers.  During its tenor it was predominantly a heavyweight affair  As ridership declined the train was slowly cutback and made its final run during the 1960s, interestingly only a few years before the SP also cancelled the once-proud Lark as well.

Photos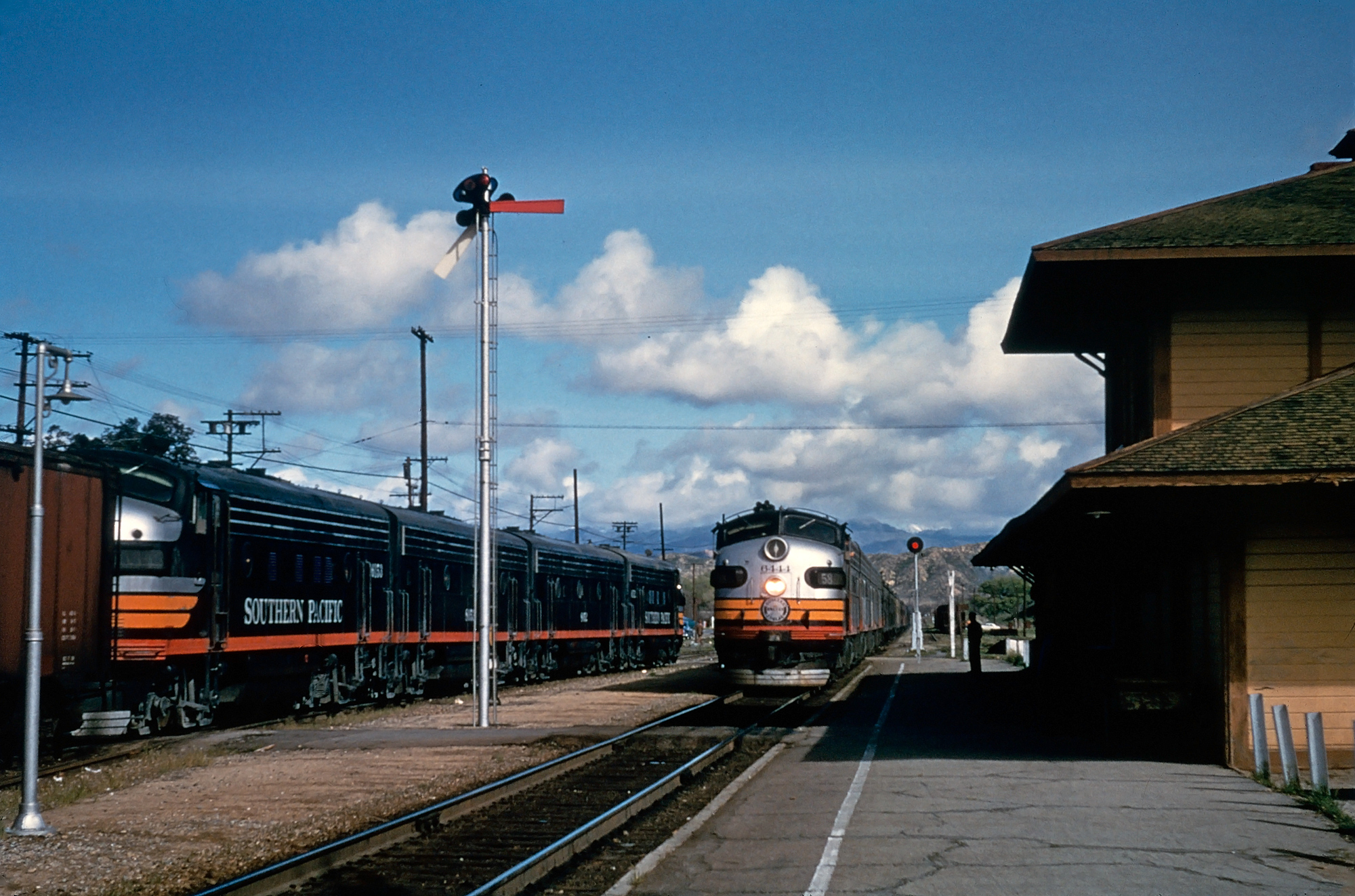 Southern Pacific F7A #6444 arrives at Saugus, California with train #58, the southbound "Owl," circa 1956. The overnight service between San Francisco/Oakland - Los Angeles is nearing the completion of its run. Gordon Glattenberg photo. American-Rails.com collection.
History
With the completion of the Coast Line in 1901, running via San Louis Obispo, the Southern Pacific boasted two main lines between San Francisco/Oakland and Los Angeles. 
The original San Joaquin Route reached the City of Angels by running east to Lathrope and then south via Fresno and Bakersfield along a corridor of 478 miles. 
The Owl first went into service on December 18, 1898 known then as the Owl Limited listed as train #25 and #26 on SP's timetable (to avoid confusion it should be noted that the railroad also operated another overnight Owl between Dallas and Houston, which was discontinued in the 1960s).  
Its original name was brief and became known simply as the Owl around 1900.  The new Coast Line quickly surpassed the older corridor not only due to its shorter route but also thanks to the incredible beauty it afforded passengers, offering unobstructed views of the Pacific Ocean for more than 100 miles. 
At A Glance
Route

San Francisco/Oakland - Los Angeles

Service History

December 18, 1898 - April 11, 1965

Train Numbers

58 (Southbound)

57 (Northbound)

Travel Time

14 Hours and 30 Minutes (1954)

Distance

482 Miles

End Terminals

Market Street Ferry (San Francisco)/16th Street Station (Oakland)

Terminal Passenger Terminal (Los Angeles)
The Espee was soon launching many trains over this route such as the Coast Line Limited, Coaster, and Shore Line Limited according to Brian Solomon's book Southern Pacific Railroad. 
In May of 1910 the railroad inaugurated the all-Pullman Lark, proclaimed as the first such train in the western United States and from that time forward the Owl took a backseat in Southern Pacific's overnight services. 
In the era before reliable highways and automobiles or the speed of airplanes and jetliners overnight passenger trains like the Owl and Lark were quite popular with the traveling public wishing to reach a destination the following day, particularly those on business. 
During the early years the Owl was powered by 4-4-2 Atlantics, followed by 4-6-2 Pacifics and then during the late steam era 4-8-2 Mountains could be seen on the head-end along with 4-8-4 "Golden States."

Consist and Timetable (April 27, 1952)
The Owl slipped further into the shadows when the Lark was rechristened during the summer of 1941 as a complete streamliner with new equipment from Pullman-Standard and powered by a Class GS-4 "Golden State" wearing the fabled Daylight livery (in contrast the cars wore a two-tone grey scheme). 
Following the end of World War II the Owl was renumbered as 57 and 58.  At this time its consist included several head-end mail and express cars, coaches, sleepers, and a diner. 
After the war the Southern Pacific continued upgrading its streamliner fleet, launching the all-new Shasta Daylight to Portland during April of 1949 and in the mid-1950s began equipping several trains with home-built dome cars.  This constituted the peak in passenger, as by the end of the decade the railroad was losing interest following the public's abandonment of trains for highways and automobiles. 
Read Down
Time/Leave (Train #58)
Milepost
Location
Read Up
Time/Arrive (Train #57)
8:00 PM (Dp)
0.0

San Francisco, CA (Market Street Ferry) (PT)

8:15 AM (Ar)
8:40 PM
4

Oakland Pier, CA

7:35 AM
8:50 PM
6

Oakland, CA (16th Street Station)

7:25 AM
9:02 PM
9

Berkeley, CA

7:14 AM
9:15 PM
15

Richmond, CA

7:00 AM
9:46 PM
29

Crockett, CA

6:35 AM
10:08 PM
35

Martinez, CA

6:20 AM
10:24 PM
49

Pittsburg, CA

5:53 AM
F 10:49 PM
62

Brentwood, CA

5:32 AM
11:15 PM (Ar)
82

Tracy, CA

5:10 AM (Dp)
11:25 PM (Dp)
82

Tracy, CA

5:00 AM (Ar)
11:57 PM
107

Patterson, CA

4:24 AM
12:10 AM
120

Newman, CA

4:10 AM
12:42 AM
140

Los Banos, CA

3:45 AM
2:15 AM (Ar)
205

Fresno, CA

2:15 AM (Dp)
2:30 AM (Dp)
205

Fresno, CA

1:55 AM (Ar)
2:50 AM
221

Selma, CA

1:25 AM
2:56 AM
226

Kingsburg, CA

1:15 AM
3:30 AM
250

Tulare, CA

12:46 AM
4:05 AM
281

Delano, CA

F 12:08 AM
4:45 AM (Ar)
313

Bakersfield, CA

11:30 PM (Dp)
4:55 AM (Dp)
313

Bakersfield, CA

11:20 PM (Ar)
F 6:35 AM
360

Tehachapi (The Loop), CA

9:44 PM
7:15 AM
380

Mojave, CA

9:02 PM
7:44 AM
405

Lancaster, CA

8:29 PM
7:55 AM
414

Palmdale, CA

8:17 PM
F 9:18 AM
450

Saugus, CA

7:04 PM
9:43 AM
461

San Fernando, CA

F 6:32 PM
10:01 AM
472

Burbank, CA

6:17 PM
10:10 AM
477

Glendale, CA

6:08 PM
10:30 AM (Ar)
482

Los Angeles, CA (Union Passenger Terminal) (PT)

5:50 PM (Dp)
Between 1949 and 1953 SP acquired sixteen FP7s and a handful of F7s equipped with boilers for passenger operations, some of which were assigned to the Owl originally as far south as Bakersfield. - At first these diesels wore the railroad's attractive "Black Widow" livery of black with red and orange trim. 
However, by the 1960s they sported the Southern Pacific's more drab "Bloody Nose" scheme of grey and red. - Until 1956 the beautifully streamlined Class GS-4 4-8-4s were still assigned to the train south of that point after which time diesels took over permanently.  During this era one might occasionally see a lightweight car or two intermixed within the consist but overall the Owl still carried a number of heavyweights.
Consist (1954)
By the 1960s Southern Pacific was implementing system-wide cutbacks within its passenger fleet in an effort to reduce losses.  The classic Daylight livery was shed in favor of the simpler "Bloody Nose" scheme previously mentioned.
The railroad no longer seemed to care about its heralded trains that only a decade before were still the talk of the nation with names like the Sunset Limited, Golden State, Sunbeam, and of course the long list of popular Daylights. 
Of course, there was good reason for this newfound resentment; by the 1960s the SP was losing millions of dollars hosting these streamliners and numerous other secondary runs after it had spent just as much on new equipment only ten years earlier.  In the process the SP dropped its cordial "Friendly Southern Pacific" moniker.

---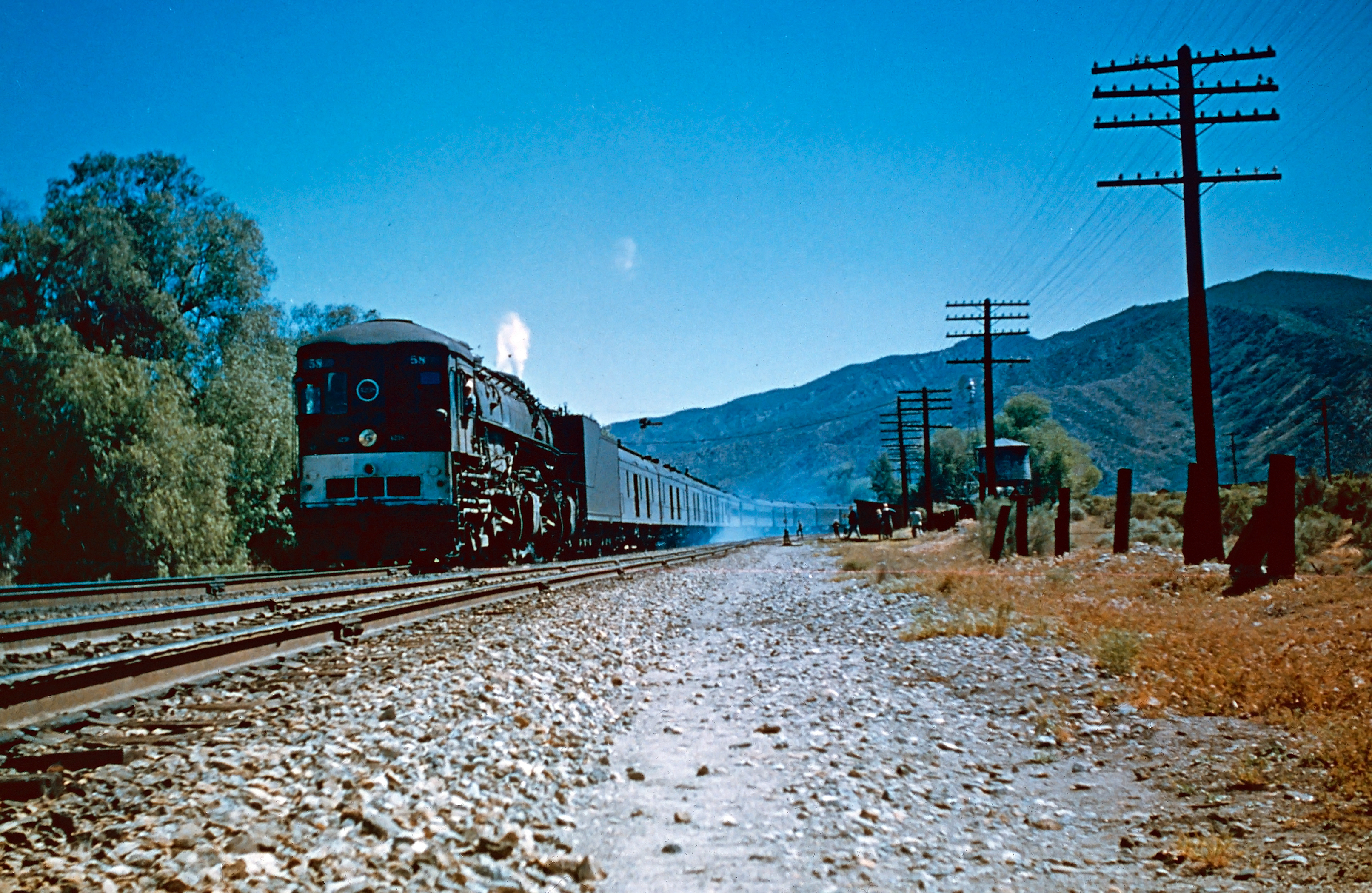 Southern Pacific 4-8-8-2 "Cab Forward" #4238 (AC-10) brings train #58, the southbound "Owl," into Los Angeles at Newhall, California, circa 1954. American-Rails.com collection.
Final Years
Looking back it was a sad fall from grace for a railroad once so proud of the classic trains it had created.  It is also interesting to note how different companies viewed passenger operations. 
While the Espee took great steps to cut its losses and eliminate as many trains as it could the Union Pacific, in comparison, took great care and effort to maintain a high level of service on its City trains, complete with sparkling, all-matching consists until the very day Amtrak took over intercity operations on May 1, 1971. 
For its part, the Owl did not survive until Amtrak.  During its final years it was essentially a mail and express consist, making its last run on April 11, 1965 as the longest surviving Southern Pacific train up until that time at nearly 67 years old.