Pennsylvania Railroads In "The Keystone State"

Last revised: June 14, 2023
By: Adam Burns

Pennsylvania is tops in the east and in terms of diversity and density, as few other places can match it around the country save for perhaps California.

Historically, the state was home to many of the Northeast's most revered classic railroads, particularly the anthracite roads being that the coal was predominantly located in Pennsylvania.
History
Today, the Keystone State offers everything from numerous main lines that see dozens of hotshot trains daily to no less than fifty short lines.
And, on top of that, Pennsylvania is also home to several museums and tourist railroads, as well as General Electric's Erie facility that still builds new diesel locomotives. 
Alas, its rich history has also meant thousands of miles of abandoned corridors now pepper its borders; over 6,000 miles of railroad have been shuttered since the 1920's, most of which were scrapped after the 1970's.
In all, the state is nearly unmatched in what is available to see and experience. So, if you are after everything Pennsylvania has to offer believe me when I say it will certainly take more than one visit to the Keystone State!
Photos
Delaware, Lackawanna & Western FT's are on point of a westbound freight stopped at Pocono Summit, Pennsylvania just after cresting the eastern slope of the Pocono Mountains on May 10, 1959. In the background is another westbound freight approaching. Ken Von Stueben photo. American-Rails.com collection.
Pennsylvania railroads date back to 1827 when the Mauch Chunk Switchback Gravity Railroad began operations to serve a local mine at Summit Hill by moving coal on a downhill inclined plane, roughly 14-miles away to the Lehigh Canal in Mauch Chunk (today, known as Jim Thorpe).
Because grading of such a railroad was not a major priority, after construction began in January of 1827, the line was open for business by May 5th the same year.
By 1846 the railroad replaced its mules with steam power and added an additional track to meet demand, soon being renamed as the Mauch Chunk, Summit Hill & Switchback Railroad.
It remained an important freight railroad until the more efficient Panther Creek Railroad began operations in 1872, which itself later became part of the Central Railroad of New Jersey.
Statistics
| | |
| --- | --- |
| First Railroad | Mauch Chunk Switchback Gravity Railroad (1827) |
| Peak Mileage | 11,551 (1920) |
| Current Mileage | 5,189 (2020) |
| Most Notable Railroad (Historic) | Pennsylvania Railroad |
| Current Railroads | 61 |
| Originated Rail Tons (2019) | 55.5 million |
| Terminated Rail Tons (2019) | 61.1 million |
| Originated Carloads (2019) | 899,157 |
| Terminated Carloads (2019) | 1,200,328 |
Interestingly, the history of the switchback did not end there. The CNJ sold the Panther Creek to the new Mauch Chunk Switchback Railway Company in 1929 which was able to survive until the Great Depression finally forced it into bankruptcy by 1932.
The original incline system also remained in use until 1939 as an early roller coaster. Other railroads quickly followed the Mauch Chunk and by 1840 the Keystone State ranked first in rail mileage at over 700 miles, and by 1880 was home to over 6,000 miles!
When one thinks of Northeast railroading, most of the railroads that defined it were situated in, or operated through Pennsylvania.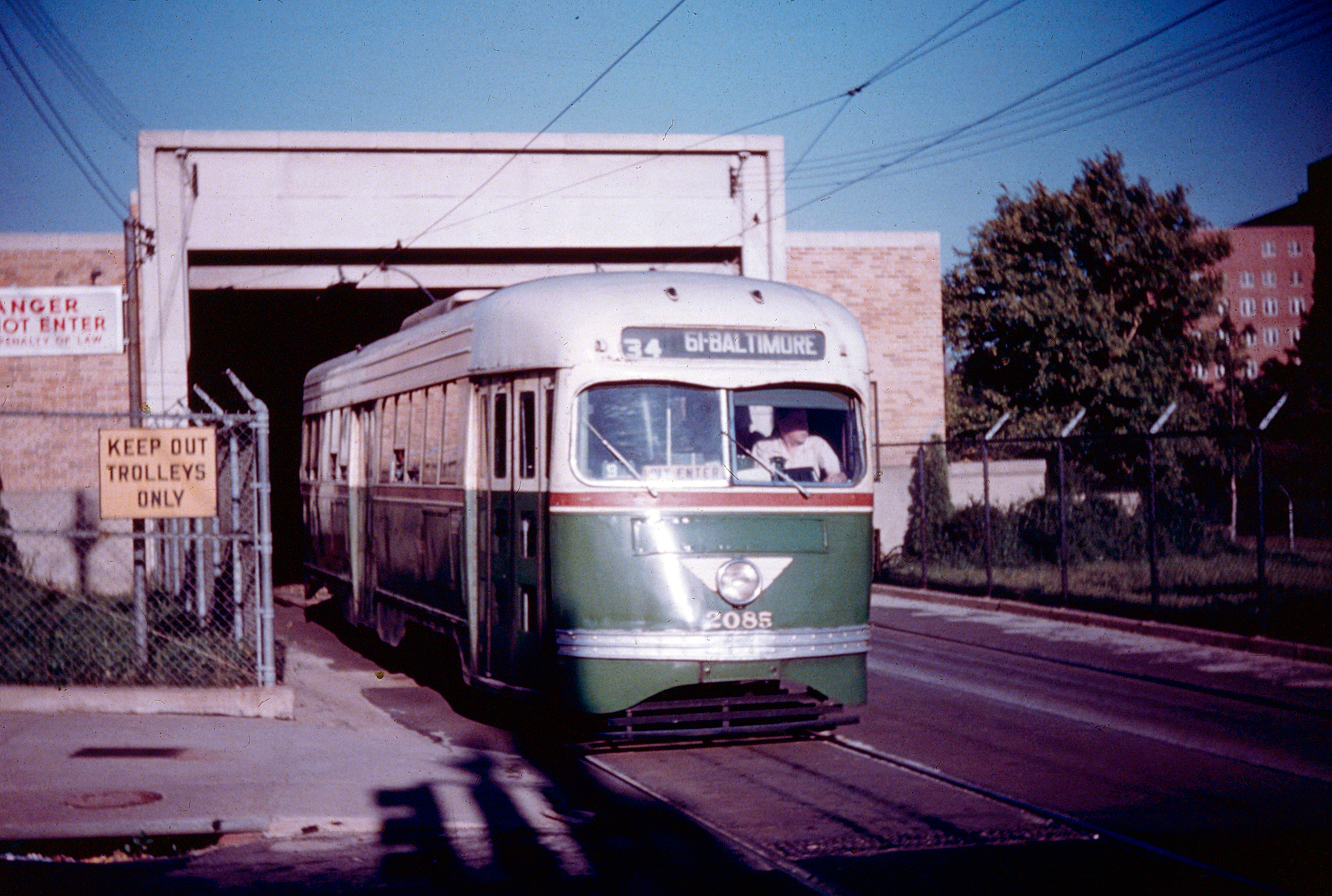 Philadelphia Transportation Company PCC #2085 exits from the subway entrance at 40th Street, bound for the 61st Street station and loop on Baltimore Avenue during the 1960s. American-Rails.com collection.
Today, Pennsylvania's rail network, after the splitting of Conrail in 1999, is mostly operated by CSX and Norfolk Southern. Additionally, there are several regionals and short lines that also operate in the Keystone State.
Current Railroads
CSX Transportation


Norfolk Southern
New York, Susquehanna & Western 


Wheeling & Lake Erie
Aliquippa & Ohio River Railroad
Allentown & Auburn Railroad


Allegheny Valley Railroad
Belvidere & Delaware River Railway
Brandywine Valley Railroad
Buffalo & Pittsburgh Railroad
Conemaugh & Black Lick Railroad
Delaware-Lackawanna Railroad
East Broad Top Connecting Railroad
East Penn Railroad



Everett Railroad



Gettysburg & Northern Railroad



Juniata Valley Railroad



Landisville Terminal & Transfer Company



Lehigh Railway



Lehigh Valley Rail Management



Luzerne & Susquehanna Railway



Lycoming Valley Railroad



Maryland Midland Railway


Middletown & Hummelstown
New Castle Industrial Railroad



New Hope Railroad


Nittany & Bald Eagle Railroad 


Northampton Development Center (NDC) Railroad



North Shore Railroad



Oil Creek & Titusville Lines



Pennsylvania Northeastern Railroad



Pennsylvania & Southern Railway



Pennsylvania Southwestern Railroad



Pittsburgh & Ohio Central Railroad



Pittsburgh, Allegheny & McKees Rocks Railroad



R.J. Corman Railroad - Allentown Lines



R.J. Corman Railroad - Pennsylvania Lines



Shamokin Valley Railroad



SMS Rail Service, Inc.



Southwest Pennsylvania Railroad



Stourbridge Railway


Tyburn Railroad



Union County Industrial Railroad



Union Railroad



Upper Merion & Plymouth Railroad


Wellsboro & Corning Railroad



Western New York & Pennsylvania Railroad
York Railway



Youngstown & Southeastern Railroad

In total, today's railroads in Pennsylvania operate just over 5,000 route miles, which is well under half the state's all-time high of more than 11,500 miles.
---
Abandoned Lines
By mileage, no state comes close to the abandonments suffered in Pennsylvania, which now amounts to roughly 6,500 miles.
Abandoned grades can be found everywhere here but are particularly concentrated to the southeast. 
There are thousands of miles of former PRR secondary and branches lines, alone, scattered throughout Pennsylvania.
Many of these lines served coal mines (anthracite and bituminous) while others were agricultural in nature.
In eastern and northeastern Pennsylvania, where the state's rich seams of anthracite coal were located you can find scars of old branches operated by Lehigh Valley, Lehigh & New England, Central Railroad of New Jersey, and the Reading.
To the west, components of the Baltimore & Ohio's subsidiaries Buffalo, Rochester & Pittsburgh and Buffalo & Susquehanna have been removed.
Interestingly, most main lines across the state remain active; two notable through routes since closed include the PRR's Baltimore-Harrisburg main line (the double-tracked Northern Central Railroad, which once handled its "Spirit Of St. Louis" streamliner) and Western Maryland's Connellsville Extension (Cumberland-Connellsville).
Finally, be sure and check out the remnants of the fabled Ma & Pa short line, the Maryland & Pennsylvania Railroad.  This bucolic system operated a roundabout, circuitous and steep route from Baltimore to York.
---
Since the 1920s Pennsylvania has lost about 57% of its rail infrastructure due to so many abandonments of anthracite railroads and low-density branch/secondary lines.
For a more in-depth look at Pennsylvania's rail mileage over the years please have a look at the chart below.
State Mileage Chart
First Railroad
* Pennsylvania's very first railroad system was the Lehigh Coal & Navigation Company's Mauch Chunk Switchback Gravity Railroad.  Built to a gauge of 3-feet, 6 inches, which later became recognized as narrow-gauge, it handled coal from a mine near Mauch Chunk (Jim Thorpe).   Its first 9 miles utilized an old wagon road and operated on a gravity system with mules for power.  As coal demand increased it upgraded to a steam funicular system in 1846.  After freight operations ceased in 1874 it operated as a roller-coaster tourist attraction until 1932.
Pennsylvania also features a blanket of transit, commuter and passenger rail services from Amtrak's Northeast Corridor (which operates through the southeastern corner of the state) to SEPTA and the Harrisburg electrification extension.
While Pittsburgh and western PA sees far less commuter and passenger trains Amtrak does operate its Capitol Limited, Lake Shore Limited and Pennsylvanian through Pittsburgh on their way to the Midwest (Chicago).
State Map
However, east of Harrisburg is where the real action occurs. With the help of Pennsylvania, the Harrisburg main line was upgraded to operate at 110 mph and has trimmed travel time between Philly and Harrisburg to 90 minutes (which used to take two hours).

SEPTA (Southeastern Pennsylvania Transit Authority) is king in and around Philly and typically moves over 5 million commuters annually with Amtrak seeing over 100 trains a day operating in or through Philadelphia.
Historic Landmarks and Museums
Of course, if it's historical railroad landmarks you are interested in few states top what can be found in the Keystone State.
There are far too many to name here but first and foremost is the PRR's legendary Horseshoe Curve located near Altoona which still sees 50 to 60 trains a day and includes a triple-track main line.
The spot is also home to the Horseshoe Curve National Historic Landmark, where you can climb to track level and watch the railroad action live. 
Altoona is also home to the PRR's famous Juniata Shops and today the railroad's former master mechanics building (and adjoining parcel of land) is home to the Altoona Railroaders Memorial Museum.
Other famous museums include the Steamtown National Historic Site in Scranton, located in the former Lackawanna shops.
The museum (home to several pieces of historic railroad equipment) is a federally funded and operated site with interactive exhibits to learn about the history of the steam locomotive and railroad (there are also restorations efforts ongoing to completely restore one of the Pennsylvania's vaunted Class K-4 Pacifics to operation).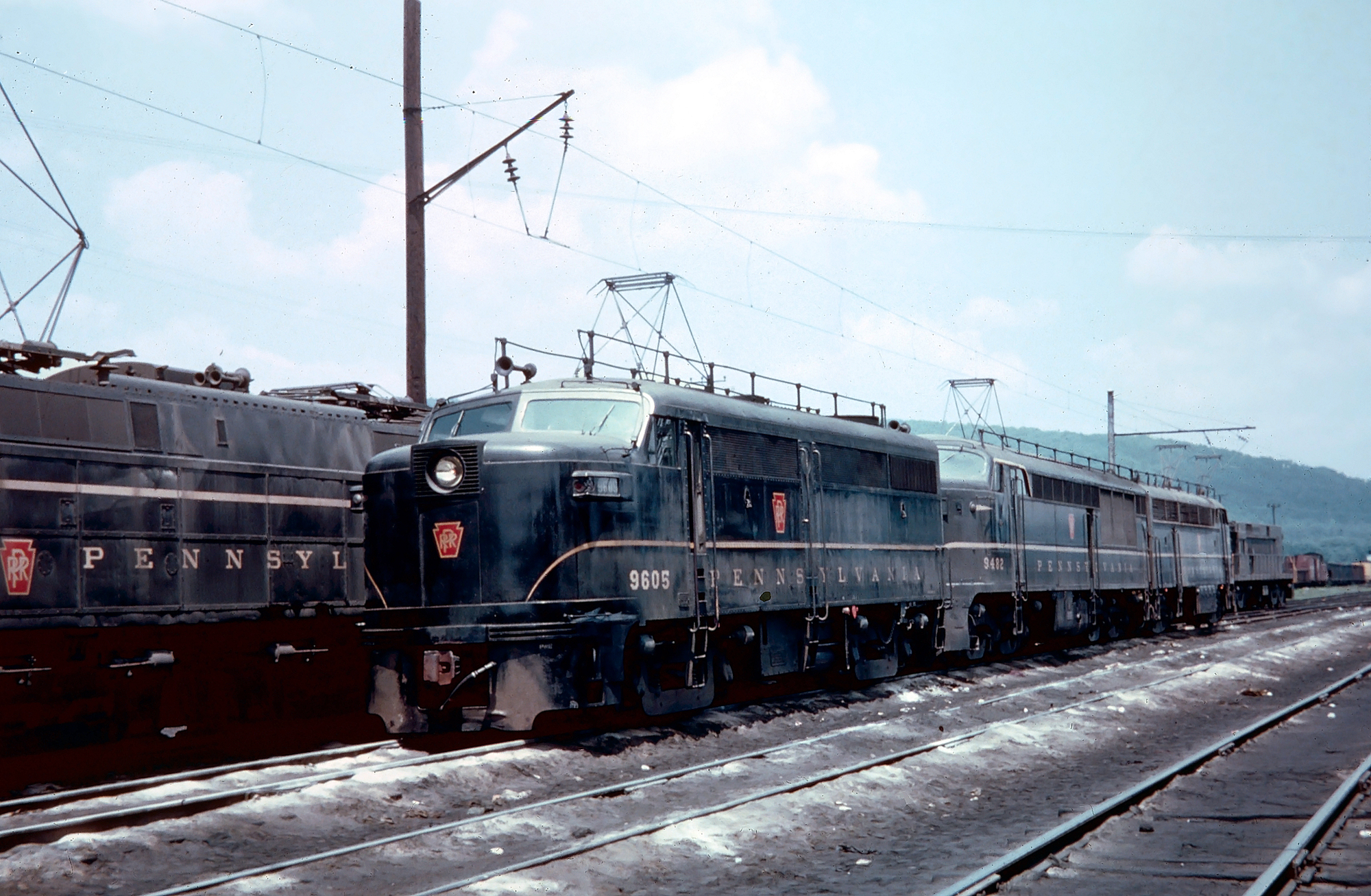 Pennsylvania FA-1 #9605, Erie-Built #9482-A, and what appears to be a "C-Liner" at Enola, Pennsylvania, circa 1960. Fred Byerly photo. American-Rails.com collection.
Other famous locations include:
Rockville Bridge at Harrisburg, a colossal stone-arch bridge of the PRR that crosses the Susquehanna and is wide enough to include four tracks (although only three remain in place today)


Philadelphia, which was once home to the famous steam builder, Baldwin Locomotive Works and the Pennsylvania Railroad herself


Kinzua Viaduct of the former Erie Railroad that stood 301 feet high until 2003 when an F1 tornado demolished the structure


PRR's massive 30th Street Station that is still used by Amtrak; FreightCar America that builds new rail cars at Johnstown


ACF Industries which does likewise at Milton


Knuckle-coupler producer McConway & Torley at Pittsburgh


Erie's  Starrucca Viaduct used by NS


Tunkhannock Viaduct used by Canadian Pacific


B&O's Sand Patch Tunnel, now operated by CSX
Lastly, Pennsylvania railroads include a plethora of tourist railroads and excursion trains.
First and foremost is the renowned Strasburg Railroad, which has continuously operated steam locomotives since 1832.
Located in the heart of Pennsylvania Dutch Country not only does the railroad operate through beautiful rolling hills and valleys but also is the busiest tourist railroad in the lower 48 with some 400,000 visitors annually.
The Strasburg is also well known for its shop complex, which is regularly called on to service steam locomotives such as Union Pacific's 4-8-4 #844 and 4-6-6-4 #3985.

---
A trio of Pennsylvania GP9's, led by #7075, have a long freight under the wires at Columbia, Pennsylvania, circa 1966. Fred Byerly photo. American-Rails.com collection.
Strasburg is not the only steam tourist railroad in Pennsylvania, however.
There is also the East Broad Top. Located in Rockhill Furnace, the railroad operates several Baldwin built steam locomotives.  In all, Pennsylvania is a unique experience all in their own.
Whether you are interested in main line railroading, commuter operations, live steam locomotives or even a stay at a bed & breakfast located right along a busy main line railroad, the Keystone State offers it all and much, much more!
Heck, to be completely satisfied in seeing everything Pennsylvania has to offer it will quite likely take more than one visit so you may want to plan accordingly for your first trip!