The Pacific Electric Railway has its roots dating back to the Pasadena & Pacific Railroad, which was opened in 1895 to connect downtown Los Angeles with Pasadena to the northeast. The P&P itself was a merger of two failed railroads, the Pasadena & Los Angeles Railway and Los Angeles & Pacific Railway, which couldn't raise enough money to pay its bondholders. Six years later the P&P came under the control of Henry Huntington (the nephew of famed tycoon Collis P. Huntington, upon which he received quite an inheritance after his uncle passed away) and his newly incorporated Pacific Electric Railway. Unfortunately for Huntington he would only have control of his new railroad for a short time as the Southern Pacific took over the PE in 1911, which it controlled until the end.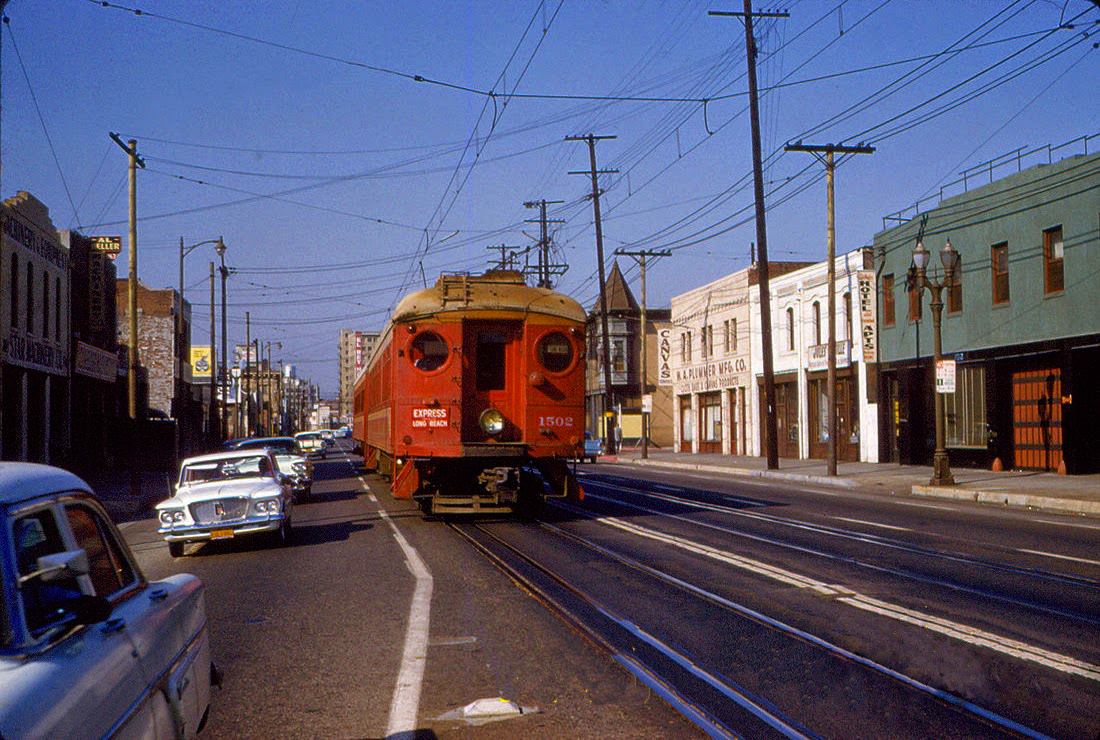 Although Huntington lost control of the PE, the railroad would prosper. Under SP ownership that same year on September 1, 1911 the PE grew exponentially by taking over several other small railroads (coincidentally also owned by Huntington) in the Los Angeles area. Dubbed the "Great Merger" the Pacific Electric instantly became the largest interurban in the world boasting a 1,000+ mile system!  The PE's main lines mostly extended around the Los Angeles reaching cities such as Long Beach/San Pedro, Redondo Beach, Santa Ana, Whittier, Santa Monica, Glendale and others. However, its vast web of branch lines served virtually every neighborhood and suburb around Los Angeles and also stretched to such areas as San Fernando, Alpine Tavern, Corona and the greater San Bernardino area.
Of course, during those days highways and automobiles were still in their infancy, thus for Los Angeles and its surrounding neighbors the Pacific Electric Railway was the primary means of not only getting to and from work but also traveling in general. For passenger operations the PE used a vast fleet of street and interurban cars built by the Pullman Company, Jewett Car Company, St. Louis Car Company, J. G. Brill and others. Bedecked in a catchy bright red livery with orange trim the scheme became so legendary that it lives on today under the Los Angeles County Metropolitan Transportation Authority's light rail transit (LRT) operations.
Despite the PE's vast reach and high ridership the railroad still found it difficult, like with most interurbans to earn a profit through passenger service. Along with its freight business the railroad's most profitable venture lie in real estate, which owned vast amounts of in and around Los Angeles. Unfortunately, though, this was shortlived as by 1920 most of its holdings had been purchased and developed. However, its operations did not peak until the mid 1920s when its system stretched over 1,000 miles and featured over 2,700 daily trains. Unfortunately, from this point forward the PE found it harder and harder to stay profitable, even with its freight operations helping to subsidize passenger services. When cutting back operations the railroad typically replaced its trains with buses and this practice began as early as the late 1920s.
Even before the traffic boom of World War II hit the PE began scaling back its operations. The Great Depression hit the railroad hard and in 1938 it discontinued service between Whittier and Fullerton followed by Redondo Beach to Riverside in 1940 and San Bernardino in 1941. After the war cuts continued as it ended service on its entire Northern District in 1951, which included Pasadena, Monrovia, Glendora and Baldwin Park. During this same time the railroad ended service to Santa Ana, Venice, Santa Monica and the San Fernando Valley.
Sadly, the famous Red Cars were rapidly disappearing and what was now left of the Pacific Electric's passenger operations was sold to Metropolitan Coach Lines in 1953 with the railroad focusing solely on freight services. The MCL quickly began dumping the remaining passenger rail service to bus operations. While the PE incurred the same problems as other interurbans in losing its passenger traffic to other modes of transportation it also suffered from a rundown physical plant and worn out equipment. Unable to earn enough money to properly maintain its track and cars by the 1950s both were in desperate need of overhaul, which never came.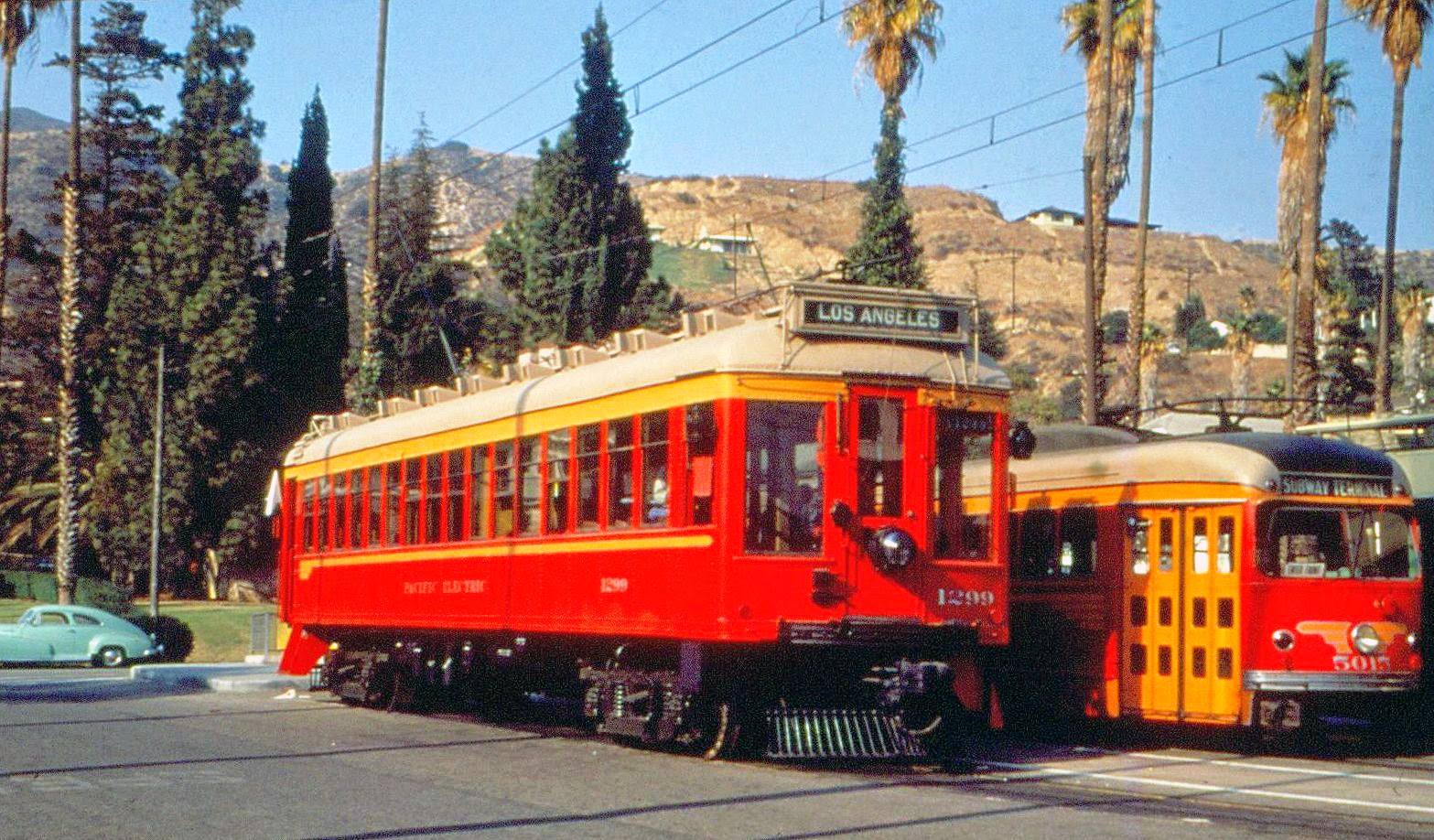 The PE itself soldiered on after it sold off its remaining passenger service and began converting its freight services to from electric to diesel locomotives. Its electric fleet had consisted of B+B 1600 Class "Juice Jacks", which became almost as common on the railroad as its famous "Red Cars". In 1958 MCL sold off its remaining rail operations to the Los Angeles Metropolitan Transit Authority (later known as MTA) and on April 9th, 1961 the last Red Car made its final revenue run on the Long Beach line, the only remaining line still in operation (ironically it was the Long Beach branch that first built by the Pacific Electric).  

Finally, the now freight-only Pacific Electric Railway was quietly absorbed by parent Southern Pacific in 1965 with SP picking up the remaining freight operations itself. Thus closed the books on California's most interesting railroad that likely will never be duplicated in terms of its scale of coverage for an interurban operation.  California's stance on passenger and commuter rail is interesting. During the time of the PE's downsizing and the state was more than happy to see the railroad cutback operations in favor of bus operations. The 1940s and 1950s also saw the state rapidly building new highways and a major reason for the Northern District's total closure was because the PE did not want to have to pay for track relocation because of new roadways being constructed.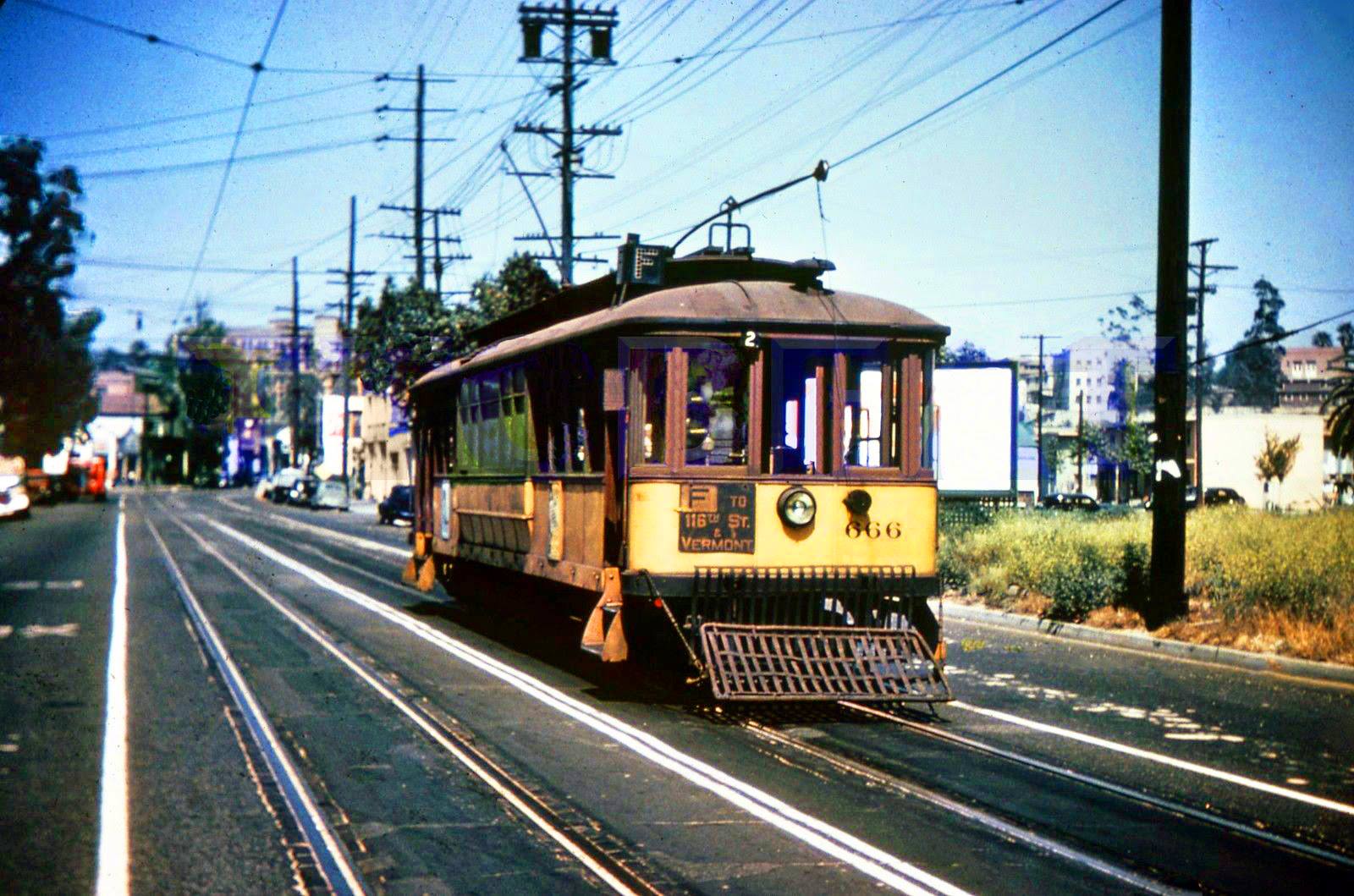 However, today California has a very strong commitment to passenger rail so much so that it is one of the leading states promoting the service. In an interesting twist of fate the PE's original Long Beach branch was reopened on July 14, 1990 by the Los Angeles County Metropolitan Transportation Authority, known as the Metro Blue Line. Other new routes since opened in the region include the Gold Line (an ex-AT&SF line) connecting Pasadena to downtown Los Angeles (this line is also to be extended to connect East Los Angeles to the downtown area) and a short segment along the San Pedro waterfront. In remembrance of its history, the LRVs (light rail vehicles) used are painted in the Pacific Electric's classic red and orange livery.  

Related Reading You May Enjoy


Home

›

Trolleys And Interurbans

› Pacific Electric Railway