The 
Palmland
Last revised: May 6, 2023
By: Adam Burns

Concurrent with railroads in the South the Palmland name stirred thoughts of the warm subtropical climate and sunny beaches pervasive in that part of the country.  The train was operated by the Seaboard Air Line whose system made a bee-line through the southern states connecting central Virginia with Florida. 

It was a secondary run that ran behind not only the well-known Silver streamliners but even the heavyweight Orange Blossom Special, fielding a leisurely schedule of nearly a day-and-a-half. 
The Palmland was a favorite for those who were either not interested in the pizazz of the streamliner or could not afford it but also catered towards vacationers. 
Originally launched in the early 1940s by replacing an earlier named train it survived under successor Seaboard Coast Line on a truncated route until the start of Amtrak in the spring of 1971.
The Seaboard Air Line is fondly remembered for its fleet of streamliners including the Silver Comet, Silver Star, and Silver Meteor. 
The latter two trains served New York and Florida but prior to their inauguration the railroad's premier services to the Sunshine State included the New York-Florida Limited and Southern States Special. 
Following the launch of the streamliners, beginning with the Meteor in 1939, the two heavyweights were renamed as the Palmland (formerly the Limited) and Sun Queen (formerly the Special) during late 1941 and fell into a secondary status with a schedule of around 36 hours, more than 12 hours slower than both the Meteor and Orange Blossom Special.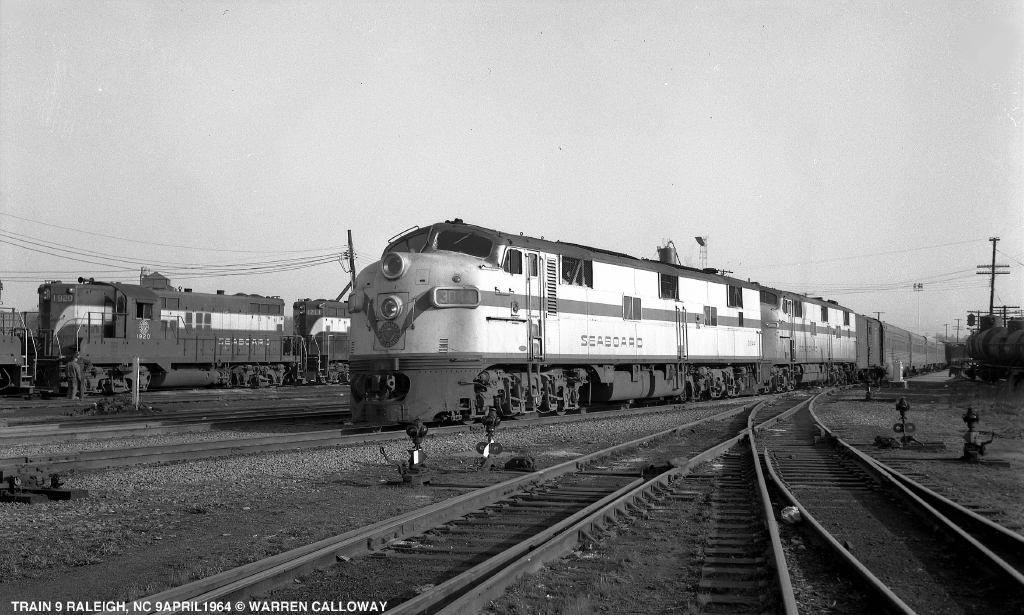 Seaboard Air Line's train #9, the southbound "Palmland," is seen here in Raleigh, North Carolina at 8:40 AM on April 9, 1964. Warren Calloway photo.
History
Through the 1940s the Palmland remained a steam-powered train, usually pulled by a Class M 4-8-2.
Its equipment continued to be heavyweight in nature throughout the decade offering Pullman sleepers to both the Atlantic and Gulf coasts of Florida (according to Larry Goolsby's book, "Seaboard Air Line Passenger Service, In The Streamlined Era" up to six Pullmans could be found running the northern section of the route during the winter months) along with three to five coaches, a diner, and a few head-end cars. 
Steam locomotives continued pulling the Palmland until 1949 when enough new Electro-Motive E7 diesels (the Seaboard wound up with 35 A and B examples of this model) had arrived to replace the remaining hold outs on the Floridian sections. 
The train may have offered a very slow schedule but in essence it was never intended to reach its destination in a hurry.  For that, one should have planned their trip via a Silver train.
Instead, the Palmland offered travelers flexibility, intentionally making multiple stops along the way.  It became a particular favorite for those wishing to golf the beautiful courses at Southern Pines and Pinehurst in North Carolina, reached by via Hamlet. 
The Seaboard spent great effort promoting the train in this manner and also highlighted its more economical ticket prices.  Perhaps these two factors are what helped the Palmland remain on the timetable for so many years. 
As ridership dropped considerably after World War II (Mr. Goolsby's book notes passenger income fell from $38 million in 1945 to $21 million a year later), Seaboard looked to cut some services on its secondary trains.  These measures cost the Palmland its diner north of Raleigh where a grill car was implemented.
Palmland Timetable (1952)
A further retrenchment of full dining services was carried out in the 1960s when the train carried a diner only between Raleigh and Hamlet. During the summer of 1954 the first lightweight equipment arrived by way of a 10-room/6-double bedroom sleeper between New York and Hamlet. 
As the years passed more and more streamlined equipment could be found within its consist, predominantly of which were Pullmans (by the spring of 1959 all standard sleepers were gone). 
Despite these setbacks the Palmland still provided respectable accommodations, especially as passenger services industry-wide eroded throughout the 1950s and 1960s; it continued offering through sleepers across Florida and was the only secondary train still carrying Pullmans between New York and Miami after rival Atlantic Coast Line discontinued these services.

Palmland Timetable (1969)
Read Down Time/Leave (Train #3/Penn Central Connection)
Location
Read Up
Time/Arrive (Train #2/Penn Central Connection)
3:00 PM (Dp)

Boston, MA (South Station)

12:05 PM (Ar)
3:21 PM

Route 128, MA

11:46 AM
3:56 PM

Providence, RI

11:13 AM
6:10 PM

New Haven, CT

8:58 AM
7:30 PM (Ar)

New York, NY (Grand Central Station)

7:30 AM (Dp)
Time/Leave (Train #147/Penn Central)
Location
Time/Arrive (Train #140/Penn Central)
9:00 PM (Dp)

New York, NY (Pennsylvania Station)

7:00 AM (Ar)
9:15 PM

Newark, NJ

6:39 AM
10:04 PM

Trenton, NJ

5:50 AM
10:41 PM

North Philadelphia, PA

5:23 AM
11:01 PM

Philadelphia, PA (30th Street Station)

4:50 AM
11:29 PM

Wilmington, DE

4:14 AM
12:37 AM

Baltimore, MD

3:05 AM
1:35 AM (Ar)

Washington, DC (Union Station)

2:25 AM (Dp)
Time/Leave (Train #9-75/Richmond, Fredericksburg & Potomac)
Location
Time/Arrive (Train #10-76/Richmond, Fredericksburg & Potomac)
2:10 AM (Dp)

Washington, DC (Union Station)

12:50 AM (Ar)
2:28 AM

Alexandria, VA

12:20 AM
2:55 AM

Quantico, VA

11:44 PM
3:21 AM

Fredericksburg, VA

11:25 PM
4:40 AM (Ar)

Richmond, VA (Broad Street Station)

10:30 PM (Dp)
Time/Leave (Train #9/Seaboard Coast Line)
Location
Time/Arrive (Train #10/Seaboard Coast Line)
5:35 AM (Dp)

Richmond, VA (Broad Street Station)

9:30 PM (Ar)
6:25 AM

Petersburg, VA (Commerce Street Station)

8:27 PM
F 7:22 AM

La Crosse, VA

7:23 PM
F 7:45 AM

Norlina, NC

7:00 PM
8:05 AM

Henderson, NC

6:38 PM
8:20 AM

Franklinton, NC

6:08 PM
8:30 AM

Wake Forest, NC

5:53 PM
9:05 AM (Ar)

Raleigh, NC

5:35 PM (Dp)
9:15 AM (Dp)

Raleigh, NC

5:35 PM (Ar)
9:47 AM

Moncure, NC

10:00 AM

Sanford, NC

4:45 PM
10:30 AM

Southern Pines, NC

4:15 PM
F 10:36 AM

Aberdeen, NC

4:00 PM
11:10 AM (Ar)

Hamlet, NC

3:30 PM (Dp)
11:35 AM (Dp)

Hamlet, NC

3:00 PM (Ar)
12:00 Noon

Cheraw, SC

2:25 PM
F 12:28 PM

McBee, SC

1:55 PM
F 12:36 PM

Bethune, SC

F 1:45 PM
12:55 PM

Camden, SC

1:24 PM
1:45 PM (Ar)

Camden, SC

12:45 PM (Dp)
Both railroads held a unique position at the end of privately operated passenger trains; because they provided direct rail service to the Sunshine State vacationers continued riding their trains in large numbers throughout the 1960s. 
During the end of the Seaboard years the Palmland still ran on a 36-hour schedule providing several through sleepers with power provided by new SDP35 diesels; while more powerful these machines showcased none of the classic streamlining found on the E series locomotives (of course, by then, such classy measures had largely been abandoned).  The train also began carrying several head-end, mail and express which helped stave off ridership losses. 
Unfortunately, even this once-lucrative traffic slowly dried up and was all but gone after U.S. mail contracts were discontinued in 1967.  Additionally, a few years earlier the Palmland had lost its Wildwood-Tampa section, directly related to the loss of this business.
---
Palmland Consist (1952)
Into the Seaboard Coast Line era the Palmland carried on much as it had before until the end of 1968 when the train was truncated to a New York-Columbia (South Carolina) run. 
Its 1969 timetable notes its consist included a single 4-section, 4-roomette, 5-double bedroom, 1-compartment (owned by Hamburg Industries, Pullman had exited the business that year), a baggage (New York-Richmond), baggage-mail, two reclining seat coaches (not reserved), and a café-lounge (Richmond-Hamlet). 
Overall, the train's amenities were still fairly good considering that most other passenger services around the country had all but disappeared or were coach-only affairs.  The Palmland more or less ran this way until it disappeared into Amtrak on May 1, 1971.