The 
Peninsula 400
Last revised: June 26, 2023
By: Adam Burns

The Chicago & North Western found its original 400 serving Chicago and the Twin Cities a rousing success, even more so following the train's rechristening as a complete streamliner during 1939. 

This led to the railroad launching an entire fleet of similarly named trains serving most of the railroad's system across the Midwest. 
One of these was the Peninsula 400, introduced in the early 1940s when new diesels and lightweight equipment arrived. 
The appropriately-named train served the U.P. of Michigan reaching the northern fringes of the railroad at Ishpeming although its most popular corridor was the densely populated region between Milwaukee, Chicago, and Green Bay. 
As patronage declined during the 1950s the C&NW quietly dropped the train's name during the late 1960s although it continued on via a truncated routing.
Following the success of its initial 400 the 'North Western rushed to launch as many new versions of the original as it could. 
This process began in January of 1942 when the first sets of lightweight equipment arrived from Pullman-Standard.  According to Jim Scribbins in his book The 400 Story four new sets entered service at this time and closely mirrored the original of 1939. 
In all, these trains included:
Shoreland 400/Valley 400 between Chicago and Green Bay (albeit operating via separate routes between those two points)


Capitol 400 between Chicago and Madison


Peninsula 400 between Chicago and Ishpeming (Michigan) via Green Bay


Commuter 400/City of Milwaukee 400 between Chicago and Milwaukee
Photos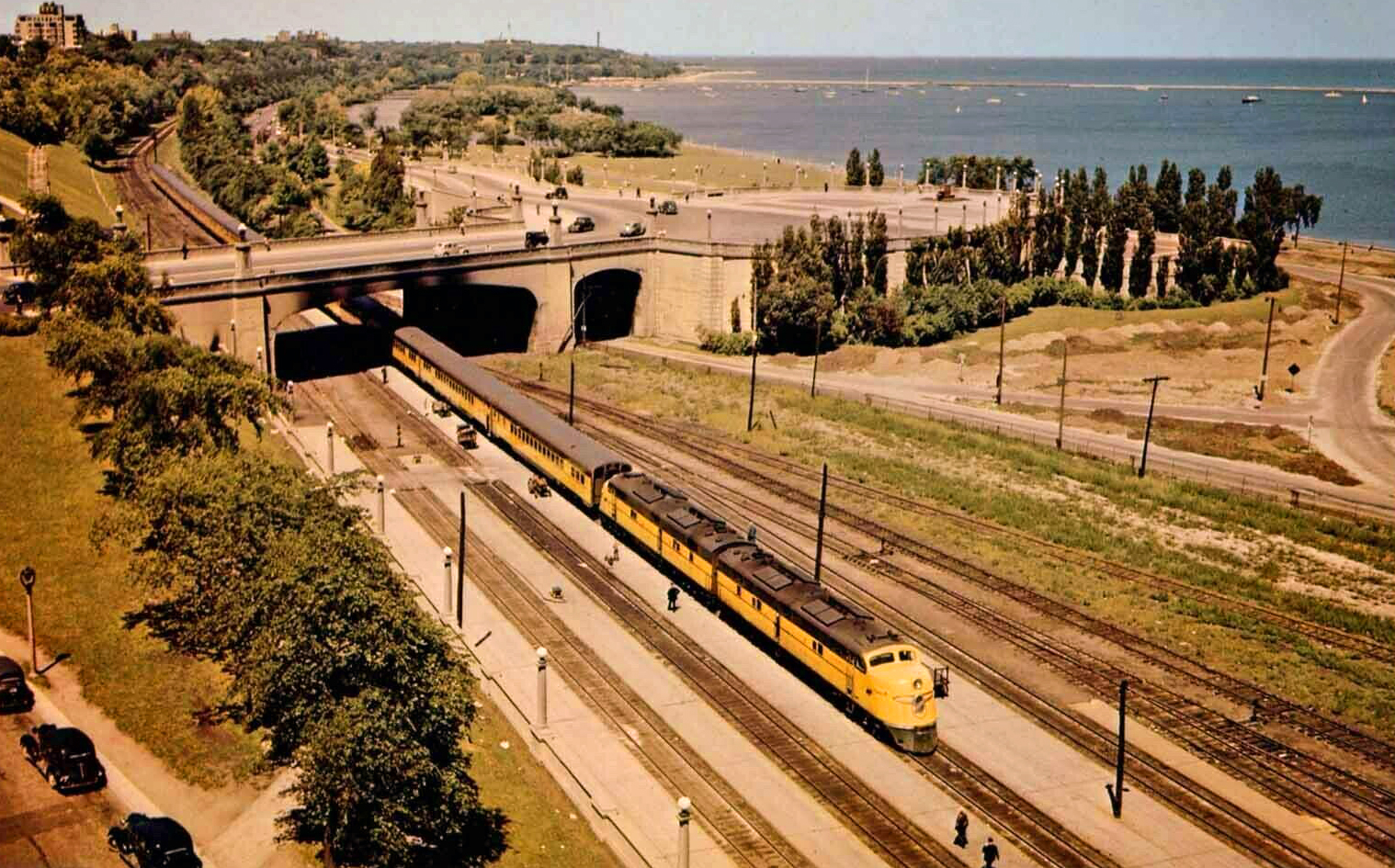 This panoramic view overlooking Lake Michigan features Chicago & North Western's southbound "Peninsula '400'," led by E3As, arriving at the Lake Front Depot in Milwaukee, Wisconsin during the early 1940s. C&NW publicity photo.
History
The Peninsula was listed on C&NW's table as trains #209 northbound and #214 southbound. 
According to Scribbins it wasn't long before this 400 surpassed the original in terms of patronage, becoming so popular that it wasn't uncommon to see 14 cars within the consist south of Green Bay and as a result was regularly assigned a pair of diesels to meet demand (the other 400s could normally do with a single head end unit). 
The Peninsula, along with the rest of the 400s running at this time normally carried a tavern-lunch counter, diner, parlor, and at least four coaches (sometimes more, such as on the Peninsula, when demand required such). 
Interestingly, unlike many other Midwestern roads the 'North Western never utilized domes on any of its trains, a feature that could have certainly drawn more patronage and lessened the blow of declining ridership during the 1950s.

One particularly interesting feature of the train, which had nothing to do with its on board services, was the motive power. 
While the C&NW mostly stuck with Electro-Motive's beautiful E series diesels for its streamliners the company also acquired a single model DL-107 from the American Locomotive Company (Alco), #5007A, that was usually assigned to the Peninsula. 
This locomotive was the builder's first cab series it ever cataloged in 1939 with a sleek look and long nose created by famed industrial designer Otto Kuhler. 
It was the only cab model ever built to sport a unique three-piece front windshield and featured Alco's early model 539T prime mover. 
Unfortunately, the troublesome engine proved the DL-107's downfall and few were sold among a handful of variants manufactured through the mid-1940s. 
Aside from this unique locomotive the train could normally be found operating with Electro-Motive E3s or E6s during these early years and then later was pulled by E7s or E8s (and sometimes even an F7 during the late era prior to Amtrak).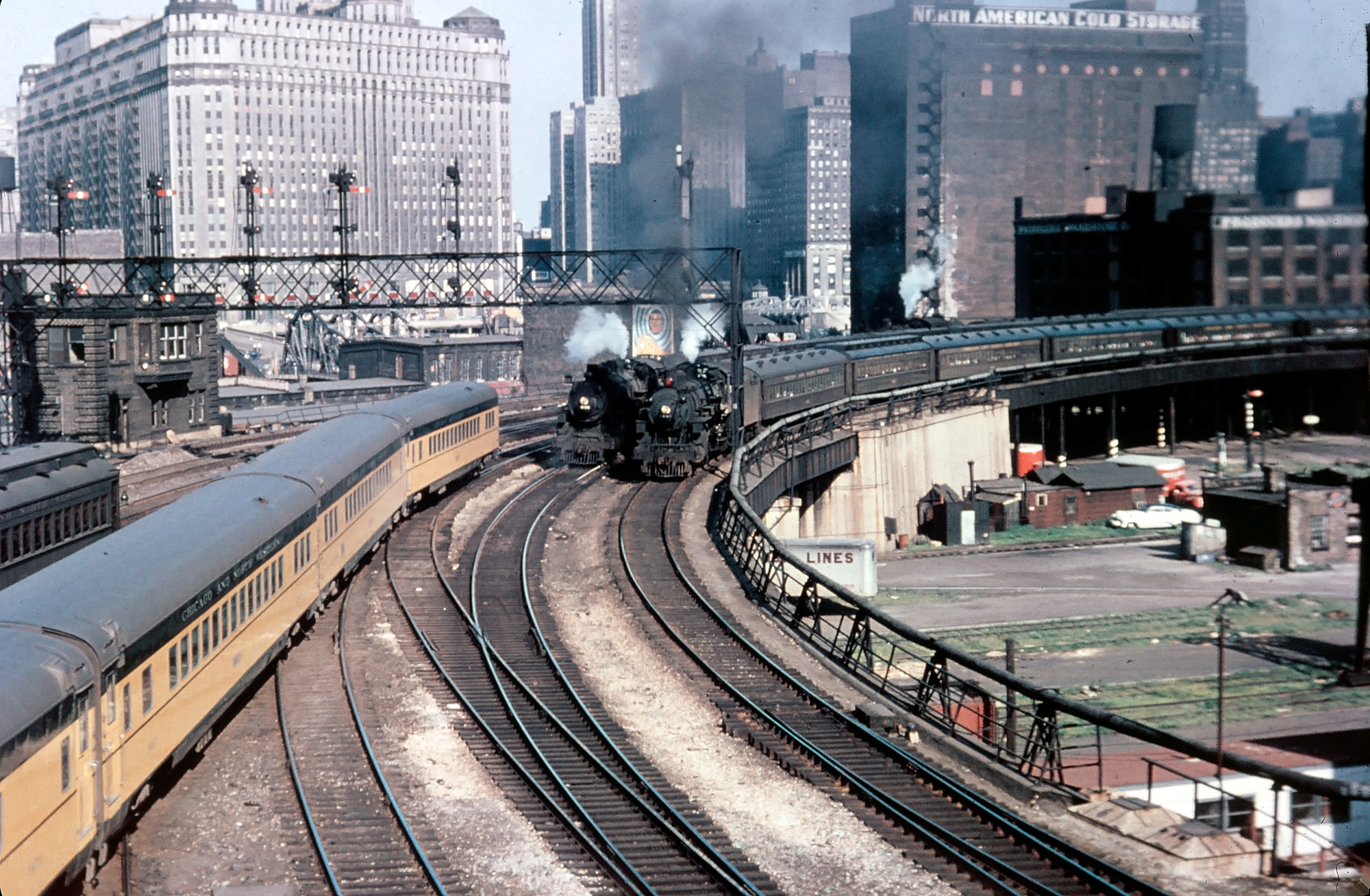 The tail end of Chicago & North Western's "Peninsula '400'" can be seen leaving Chicago's Northwestern Terminal amid the afternoon rush, circa 1953. A.C. Kalmbach photo. American-Rails.com collection.
During World War II the 'North Western experienced an incredible surge in passenger and freight traffic, which led the carrier to believe such volumes would continue after the conflict ended in 1945. 
As a result the C&NW ordered more new equipment and according to Scribbins this included some twenty lightweight 400 coaches from Pullman-Standard during 1946 making it the first western road to receive new cars after the war (the New York Central had been the very first). 
Unfortunately for the entire industry, ridership waned after the conflict and hastened as the 1950s wore on.  Late during that decade the C&NW began implementing cutbacks to help soften the losses. 
One of the most notable ways it did this was through the introduction of bi-level, gallery cars that first entered service in 1958. 
This equipment was manufactured by Pullman-Standard and through a deal with the state of Wisconsin enabled the C&NW to end 14 secondary trains that were becoming a significant liability on the balance sheets. 
---
Timetable (April 29, 1962)
| Read Down Time/Leave (Train #209) | Milepost | Location | Read Up Time/Arrive (Train #214) |
| --- | --- | --- | --- |
| 3:10 PM (Dp) | 0.0 | Chicago, IL (North Western Station) (CT) | 11:45 AM (Ar) |
| 3:30 PM | 12.0 | Evanston, IL | 11:24 AM |
| 3:55 PM | 35.9 | Waukegan, IL | 11:01 AM |
| 4:11 PM | 51.6 | Kenosha, WI | 10:48 AM |
| 4:23 PM | 61.9 | Racine, WI | 10:36 AM |
| 4:50 PM (Ar) | 84.4 | Milwaukee, WI | 10:10 AM (Dp) |
| 4:55 PM (Dp/Via Fond du Lac) | 84.4 | Milwaukee, WI | 10:05 AM (Ar) |
| 5:40 PM | 117.6 | West Bend, WI | |
| 6:14 PM (Ar) | | Fond du Lac, WI | |
| 6:19 PM (Dp) | | Fond du Lac, WI | |
| 6:46 PM | 164.3 | Oshkosh, WI | |
| 7:08 PM | 177.2 | Neenah-Menasha, WI | |
| 7:21 PM | 182.6 | Appleton, WI | |
| | 112.6 | Port Washington, WI | 9:23 AM |
| | 139.1 | Sheboygan, WI | 8:52 AM |
| | 163.6 | Manitowoc, WI | 8:22 AM |
| 8:01 PM (Ar) | 200.4 | Green Bay, WI (CT) | 7:40 AM (Dp/Via Manitowoc) |
---
The cars were similar to the commuter coaches the railroad would use in suburban Chicago service but offered upgraded features such as diners, parlors, baggage-taverns, and reclining seat coaches. 
Consist (1952)
Scribbins states that some were used on the Peninsula 400 which included coaches, a coach-bar, and a standard parlor.  The C&NW went to great lengths to advertise the new cars in promotional material. 
For instance, one such piece stated: 
"More individual seat space per passenger.  Coach seats on both levels are 'comfort-engineered' for easy riding and provide greater space than conventional seats.  Single as well as double seating is provided. 
Parlor cars with upper and lower 'See-Levels.'  Elegant spaciousness keynotes the parlor car with its individual all-position easy chairs.  Here you can enjoy the passing scene in quiet comfort from either level."
"Two-level luxury lounge service. Toast your fellow travelers in the country club atmosphere of the be-level Bar-Lounge.  Built-in fixtures in the arm of each chair provide a self sufficient serving place for single seats.  Table accommodations are available for groups of two or four.
Spacious, sparkling dining cars.  A planned effect of openness and colorful room decor makes dining on these trains a festive event.  Here a varied menu of freshly prepared meals coupled with courteous service may be enjoyed as your train moves swiftly to its destination." 
---
Final Years
In the end, however, nothing could curtail the growing losses as passengers left the rails for highways and airlines.  Scribbins notes that during mid-July of 1969 the C&NW discontinued the Peninsula 400 north of Green Bay and subsequently dropped the 400 title on its remaining trains.