Piedmont And Northern Railway

The Piedmont & Northern Railway became perhaps the most successful interurban ever built.
The P&N in many ways, however, was never developed as a true interurban and it truly lived up to its slogan as, The Great Electrified System Of The South.
From its earliest days under the direction of James B. Duke the company heavily promoted its carload freight business and became extremely successful more as a main line railroad than it ever did as an interurban.
Unfortunately, however, the company was never a connected, unified system despite efforts more than once to complete the gap between its two segments.
Additionally, had the company been able to continue growing in the 1920s it may have become one of the South's most profitable systems but stiff resistance from other railroads, primarily the Southern Railway stopped short any attempt at further expansion.
The P&N's success eventually made it an attractive merger partner as the Seaboard Coast Line took over the system in 1969.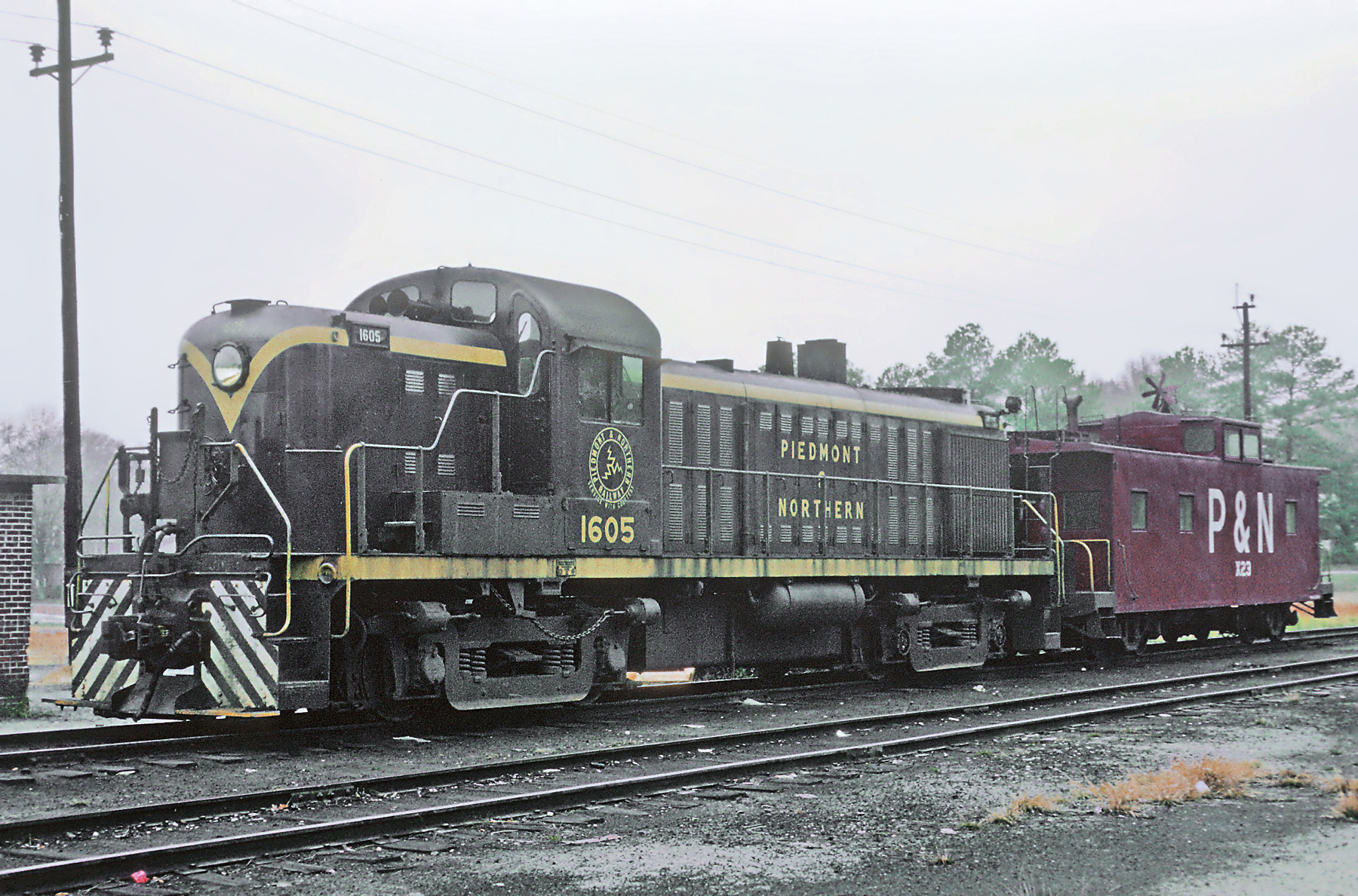 The late-era Piedmont & Northern no longer resembled a traditional interurban having long since replaced electrified operations with traditional diesel locomotives. Here, RS3 #1605 and a caboose are tied down in Greenwood, South Carolina on November 24, 1967. Roger Puta photo.
The history of the P&N began in 1910 when the Anderson Traction Company, a line that dated back to its chartering June 22, 1904 to serve the small town of Anderson, South Carolina completed an extension to Belton 12 miles away to the east.
This original route would prove to be only one of two branches the P&N operated. It was then that James Duke acquired control of the small interurban.
Duke came from a wealthy family that was in the tobacco business and he, himself, by that time owned the Duke Power company.
The interurban was a natural fit given its need for electric power and the fact that the industry at that time was a full of euphoria and optimism.
More Reading...
A History Of Interurbans And Streetcars
North Carolina's History With Railroads
Seaboard Coast Line, "We're Pulling For You"

The first significant segment of the P&N was the Greenville, Spartanburg & Anderson Railway chartered on March 20, 1909 by Duke himself.
The GS&A was meant to connect its namesake cities as well as Greenwood to the south. With Duke's financial backing the new interurban was completed rather quickly and by November, 1912 the Greenwood and Greenville sections were open.
Two years later in April, 1914 the company reached Spartanburg. In total the main line stretched 89 miles. As mentioned above, Duke recognized the importance of freight traffic practically from the beginning.
As such, he built his interurban to railroad standards eliminating  significant street running and keeping grades reasonable.
Additionally, it was powered with a 1,500 volt direct current (DC) overhead catenary system.
This was incredibly powerful for an interurban, as in general the industry typically did not use more than a 600 volt DC system.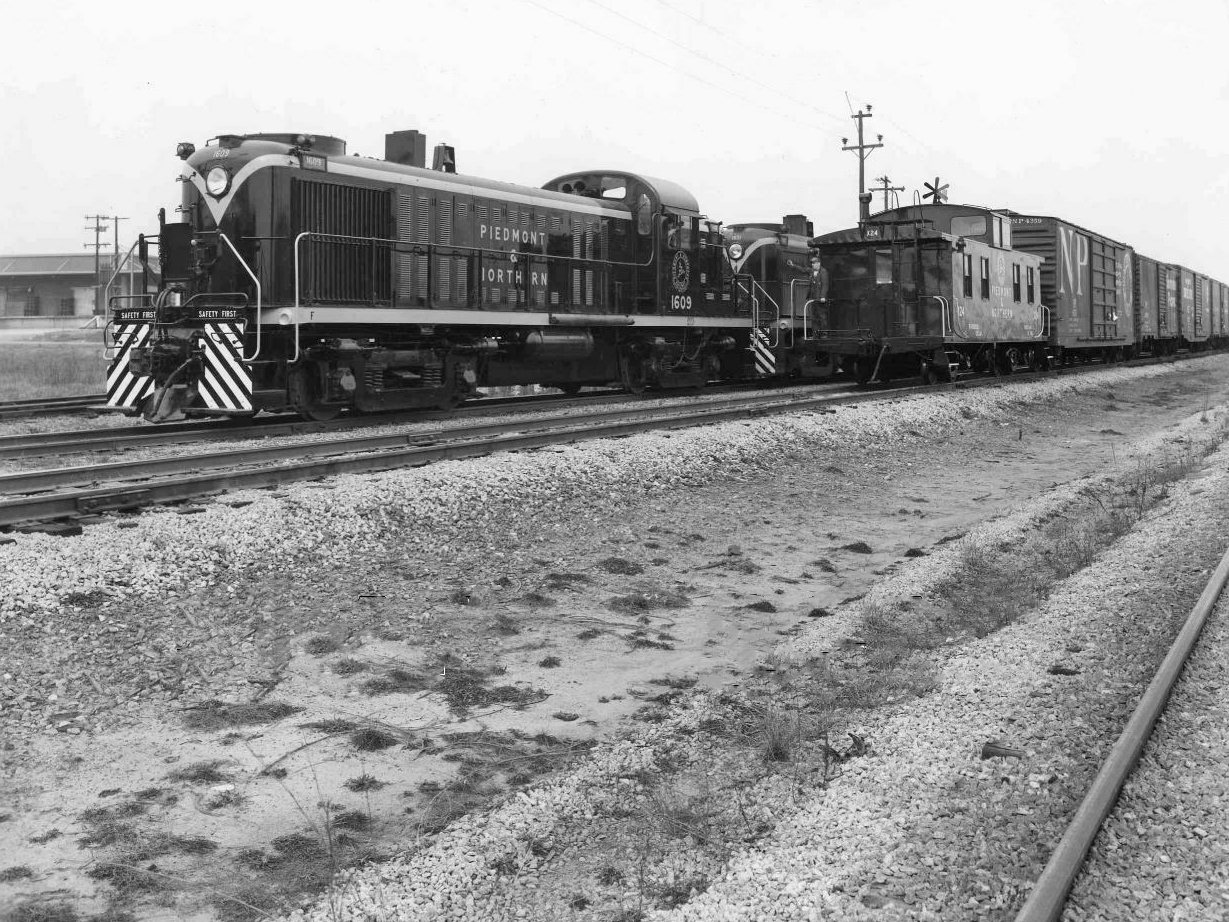 In what appears to be a publicity photo, a pair of new Piedmont & Northern RS3's lead their freight train past another as the crews exchange waves at White Horse, South Carolina, circa 1950.
The northern section of the Piedmont & Northern was originally chartered as the Piedmont Traction Company. This interurban was also developed by Duke and was built to the same heavy standards as the GS&A.
On July 3, 1912 the Piedmont Traction opened its main line between Charlotte and Gastonia, which spanned 24 miles.
Four years later in 1916 it completed a three-mile branch to Belmont about half-way between Gastonia and Mount Holly.
With this final branch completed the two disconnected sections were a total of 128 miles, quite large for any interurban (most lines were no more than 25 to perhaps 50 miles in length).
The Piedmont and Northern Railway, itself, was created in 1914 by the merging of the Piedmont Traction and Greenville, Spartanburg & Anderson.

Duke had originally hoped to operate a seamless system stretching from Durham, North Carolina to Greenwood and wasn't long until the P&N began the process of trying to first complete the 51 mile gap between Spartanburg and Gastonia.
Additionally, the P&N wanted to extend another line from Charlotte to Winston-Salem. With these major connections the railroad would have additional interchange points including the Norfolk & Western and Georgia & Florida Railwa7s.
In the mid-1920s, after the first World War was over it began the process of receiving permission to build the connection.
However, the P&N came up against the Interstate Commerce Commission and resistance from the Southern Railway, who closely paralleled the P&N in the region.
In 1928 it was the ICC that finally ended the interurban's efforts to extend further and very likely changed the outlook of the South's railroad landscape forever.
A pair of former Piedmont & Northern C420's lead a Seaboard Coast Line freight through rural Belton, South Carolina during July of 1968. Warren Calloway photo.
The P&N had tried to argue that it was not within the ICC's jurisdiction given that it was an interurban, who were generally exempt from the commission.
In contrast, the commission ruled that it held jurisdiction over the company due to its operations that closely resembled standard railroads, such as the fact that by the late 1920s 92% of its revenue was derived from freight and it regularly participated in interchange rates with other lines.
Ultimately, the U.S. Supreme Court sided with the ICC and the P&N was denied permission to expand its system a total of 123 miles.
Another significant reason for the P&N's success as a freight carrier was its numerous interchange points with other roads including:
Southern Railway


Seaboard Air Line


Clinchfield


Atlantic Coast Line


Ware Shoals Railroad
Additionally, its freight was widely varied from coal, iron, clay, and timber products to agriculture, paper, merchandise, textiles, autos, and fertilizer. In later years some of its heaviest tonnage was coal and coke movements.
A pair of Piedmont & Northern interurban cars roll down Franklin Avenue in Gastonia, North Carolina on September 29, 1930. Photo from the University of North Carolina-Charlotte Library.
Since the earliest the days the P&N did not even resemble an interurban with its passenger operations as it placed emphasis on freight movements over passenger runs.
Interestingly, by 1950 the P&N was grossing earnings of $5 million. However, by that point just a paltry 0.5% of this was derived from passenger revenue.
As such, between February and October, 1951 passenger trains were discontinued altogether.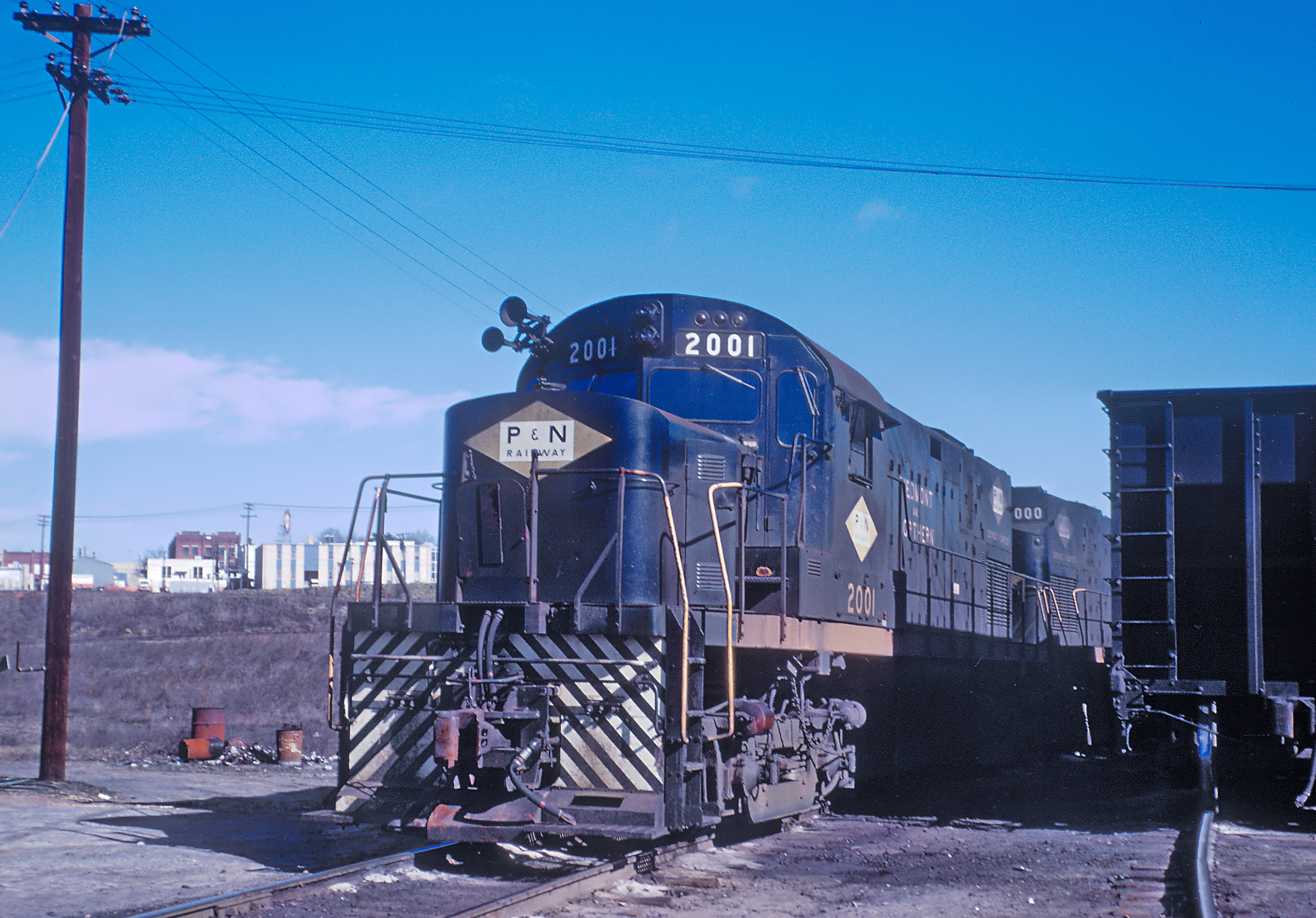 A pair of Piedmont & Northern C420's await their next assignments in Spartanburg, South Carolina in February, 1968. Roger Puta photo.
With this the P&N also scrapped its electrified operations a few years later and had fully dieselized by 1954 (while the P&N owned standard interurban cars during electric operations it also fleeted General Electric and Westinghouse-built freight boxcabs).
Its diesel roster consisted entirely of American Locomotive Company (Alco) road switchers as well as six standard switchers. In total it owned 18 diesels.
Diesel Locomotive Roster
| Model Type | Road Number | Date Built | Quantity |
| --- | --- | --- | --- |
| S4 | 1000-1005 | 1954 | 6 |
| RS3 | 100-109 | 1950-1951 | 10 |
| C420 | 2000, 2001 | 1965 | 2 |
---
---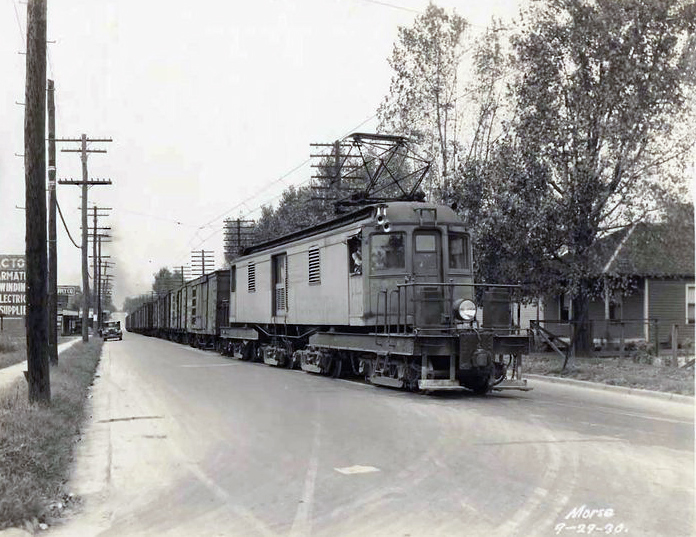 A Piedmont & Northern box motor has a string of freight cars headed east at the corner of East Franklin Avenue and Chestnut Street in Gastonia on September 29, 1930. Photo from the University of North Carolina-Charlotte Library collection.
Through the end of the Piedmont and Northern Railway's time as an independently operated railroad it remained owned by the Duke family.
In 1969 the P&N was sold to the Seaboard Coast Line, which integrated the lines into its network.
Interestingly, while the branch to Anderson has since been abandoned, today much of the railroad remains in use by either CSX Transportation or short lines.
Additionally, the original main line between Gastonia and Mount Holly, a distance of 14 miles has been rehabilitated by the state of North Carolina and was initially operated by Patriot Rail Corporation as the "Piedmont & Northern Railway."  
In 2015, Iowa Pacific was granted rights to operate the corridor before it was announced in July of 2017 that Progressive Rail (a Twin Cities-based short line company) would be given operating rights. The new P&N currently has connections with both CSX and Norfolk Southern.