Guide To Amtrak/Passenger Trains In Pennsylvania (2023): A Complete Guide
Published: July 3, 2023
By: Adam Burns

Pennsylvania, known as the "Keystone State," boasts a rich history of railways that played a pivotal role in its development. Today, the state continues to offer a comprehensive network of passenger train services, providing residents and visitors with convenient and reliable transportation options.  The information presented below briefly highlights the state's current services.
Photos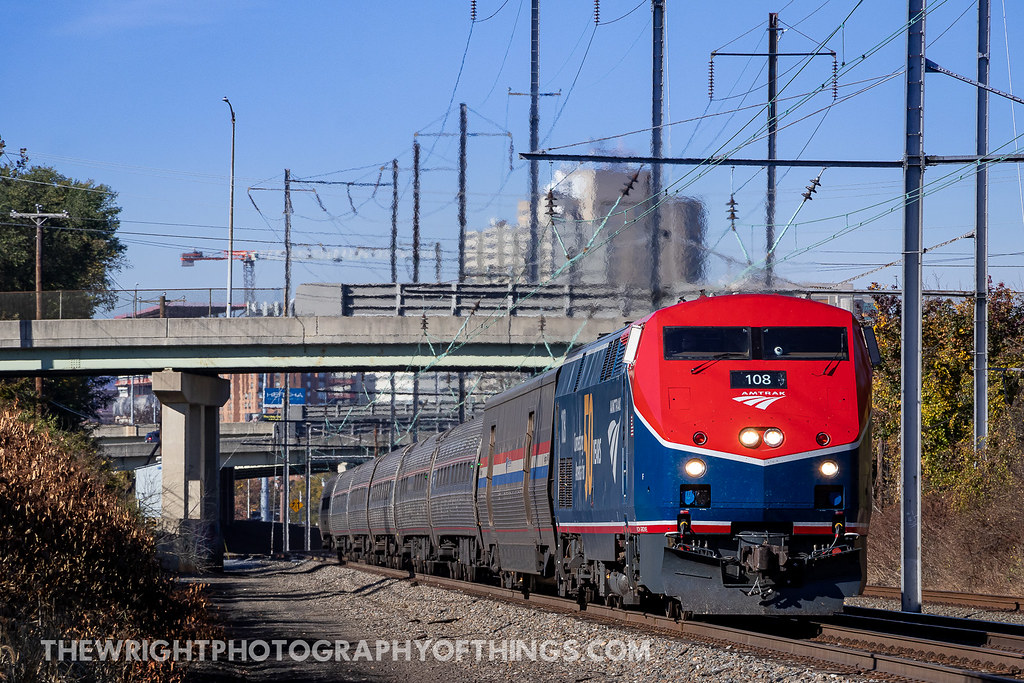 Amtrak's eastbound "Pennsylvanian" departs Harrisburg bound for Philadelphia on November 10, 2021. Jon Wright photo.
Amtrak, the national intercity rail service, operates several routes within Pennsylvania, connecting major cities across the state and beyond. The 195-mile Keystone Service links Harrisburg, the capital city, to Philadelphia, offering frequent departures and a comfortable journey. Travelers can experience the scenic beauty of Pennsylvania while enjoying onboard amenities such as Wi-Fi and spacious seating.
In addition, three of Amtrak's long-distance trains operate across Pennsylvania; the Capitol Limited (Washington, D.C. - Pittsburgh - Chicago), Pennsylvanian (New York - Pittsburgh), and the Lake Shore Limited (New York/Boston -  Albany - Erie - Chicago).
Finally, Amtrak's Northeast Corridor passes directly through Philadelphia, which operates numerous trains between Washington, D.C./Baltimore and Boston, such as the Northeast Regional. 
Capitol Limited
Amtrak's Capitol Limited covers 764-miles, showcasing the splendor of the American heartland. Departing from Washington, D.C.'s Union Station, the train winds its way through the Appalachian Mountains, granting passengers breathtaking views of rolling hills, dense forests, and charming towns. The train then continues through the states of Maryland, West Virginia, Pennsylvania, and Ohio before arriving in Chicago's Union Station.
One of the highlights of the Capitol Limited is its passage through the Allegheny Mountains and the Potomac River Valley. As the train makes its way westward, passengers are treated to panoramic vistas of the picturesque countryside. The train's large windows and comfortable seating ensure that passengers can fully immerse themselves in the breathtaking scenery along the route.
The train is equipped with a range of amenities to ensure a comfortable and enjoyable journey for its passengers. Coaches feature spacious seating with ample legroom, power outlets, and complimentary Wi-Fi, allowing travelers to stay connected throughout their trip. For those seeking extra comfort, the train offers private sleeping accommodations in Viewliner Roomettes and Bedrooms, providing a cozy retreat for overnight journeys.
The train offers convenient connections to other Amtrak services, allowing travelers to explore more destinations across the United States. In Washington, D.C., passengers can easily transfer to other Amtrak routes, including the Acela Express, Northeast Regional, and Silver Service trains, expanding their travel options and possibilities. 
Pennsylvanian
Amtrak's Pennsylvanian service travels 444 miles between New York City and Pittsburgh.  The route takes passengers on a picturesque adventure through charming towns, rolling countryside, and historic landmarks. 
As the train winds its way through the heart of Pennsylvania, travelers are provided a front-row seat to the state's natural beauty and rich history. Along the way, the train stops at notable destinations such as Philadelphia, Lancaster, and Harrisburg, allowing passengers to explore these iconic cities at their leisure.
As it makes its way westward, passengers are treated to scenic views of the rolling hills and farmland of southeastern Pennsylvania. The journey then transitions into the Susquehanna River Valley, with its lush greenery and picturesque river views. As the train travels west towards Pittsburgh, passengers are greeted by the Allegheny Mountains, which provide a stunning backdrop to the city's skyline.
In Philadelphia, travelers can immerse themselves in American history by visiting iconic sites such as Independence Hall and the Liberty Bell. In Lancaster, passengers can experience the charm of Amish Country, with its rolling farmland, traditional markets, and authentic cultural experiences. The journey also offers glimpses of Harrisburg's historic Capitol building and the vibrant cultural scene of Pittsburgh.
The Pennsylvanian is equipped with a range of amenities to ensure a comfortable and enjoyable journey. Coaches offer spacious seating with generous legroom, power outlets, and complimentary Wi-Fi, allowing passengers to stay connected or unwind with their favorite entertainment. For those seeking additional comfort, the train offers private sleeping accommodations in Viewliner Roomettes, providing a cozy retreat for overnight journeys.
Onboard, the train features a café car where passengers can purchase snacks, light meals, and beverages, adding to the overall comfort and convenience of the journey.
Lake Shore Limited
Amtrak's Lake Shore Limited spans 959 miles, taking passengers through the scenic landscapes along the Great Lakes. The train travels between the cities of Chicago and Boston, passing through the heartland of America and offering glimpses of the lakes.
The train traverses through the states of Illinois, Indiana, Ohio, New York, Massachusetts, and also clips the northwestern corner of Pennsylvania via Erie.  Along the route, notable stops include Cleveland, Buffalo, and Albany-Rensselaer, providing opportunities for passengers to explore these historic cities.
Services aboard include largely coaches, offering spacious seating with ample legroom, power outlets, and complimentary Wi-Fi, ensuring passengers can stay connected or relax with their favorite entertainment.
In addition, for those seeking extra comfort, the train offers sleeping accommodations, including Roomettes and Bedrooms, allowing for a peaceful and restful journey.
If you are interested in continuing your journey further west beyond Chicago, connections can be made here with the California Zephyr or the Empire Builder, allowing for further exploration of the United States. Additionally, the Lake Shore Limited provides access to major transportation hubs in Boston and connects passengers to various regional transit options.
The Southeastern Pennsylvania Transportation Authority (SEPTA) serves the Philadelphia metropolitan area, providing an extensive commuter rail network. SEPTA Regional Rail connects Philadelphia with its suburbs, making it convenient for residents to commute to the city for work or leisure. With multiple lines and frequent service, SEPTA offers a reliable transportation option for both daily commuters and occasional travelers.
In Pittsburgh, the Port Authority of Allegheny County operates a 26-mile light rail system known as the Pittsburgh Light Rail, also referred to as the "T." This service connects downtown Pittsburgh with various neighborhoods and suburbs, facilitating easy access to popular attractions, sports venues, universities, and employment centers. The light rail system offers an efficient mode of transportation for both residents and visitors.
Other Regional Services
Apart from the major rail operators, there are several smaller, regional rail services available across Pennsylvania. These include the Westmoreland County Transit Authority (WCTA), which offers the Pittsburgh-to-Greensburg commuter service, connecting travelers to Westmoreland County. 
Additionally, if you may be interested in exploring the picturesque landscapes of Pennsylvania by a local tourist train, the state is home to many, including the second-most popular in the nation, the Strasburg Rail Road.
Future Developments
Pennsylvania has been actively pursuing various initiatives to enhance its passenger train services. One significant project is the proposed high-speed rail corridor known as the Keystone West High-Speed Rail Initiative. This project aims to improve connectivity between Pittsburgh and Harrisburg, reducing travel times and further bolstering transportation options for residents and businesses.
There is also efforts to rebuild the historic Delaware, Lackawanna & Western's "Lackawanna Cutoff," a 28.5-mile "air line" linking Slateford Junction, Pennsylvania and Lake Hopatcong, New Jersey.  When originally opened in 1911 the line shaved several miles off the Lackawanna's main line between Scranton and Hoboken, New Jersey.
---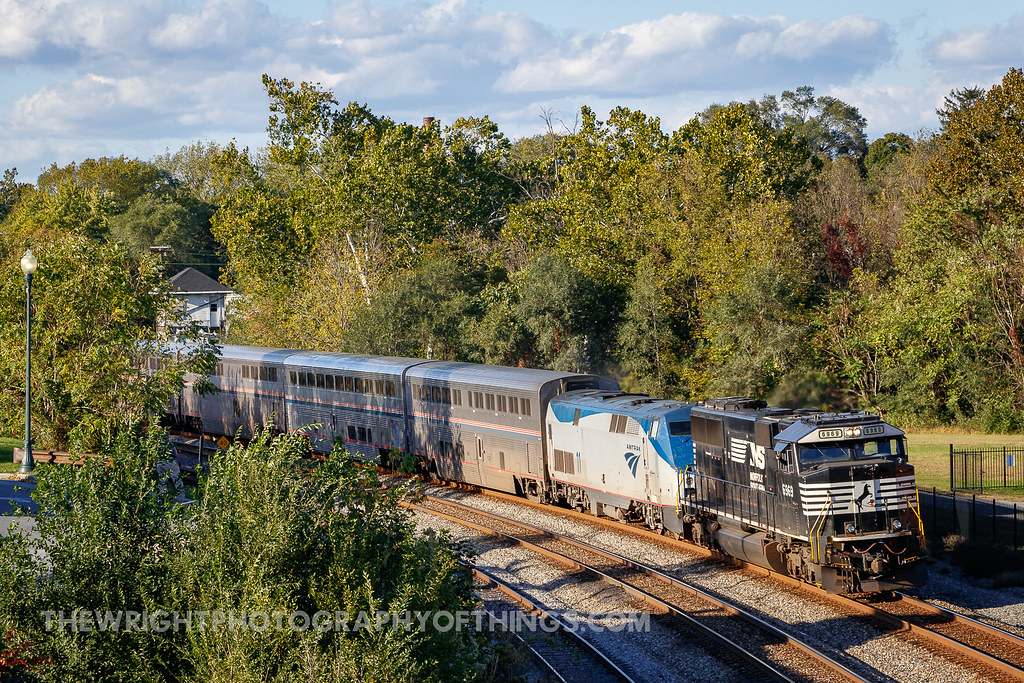 Norfolk Southern SD60E #6969 assists Amtrak's eastbound "Capitol Limited" just outside of Pittsburgh on October 18, 2021. Jon Wright photo.
Pennsylvania's current passenger train services offer a diverse range of options, catering to the needs of commuters, tourists, and residents alike. Amtrak and SEPTA provide reliable intercity and commuter services, respectively, ensuring seamless travel across the state.
The Pittsburgh Light Rail and regional rail services contribute to efficient transportation within specific areas. As Pennsylvania continues to invest in its rail infrastructure, the future looks promising with the potential for expanded services and improved connectivity.
With a commitment to efficient and sustainable transportation, passenger train services in Pennsylvania are set to remain a vital part of the state's transportation network for years to come.