The
Pennsylvania Limited
Last revised: February 22, 2022
By: Adam Burns
The Pennsylvania Limited holds the distinction as PRR's original named train serving the lucrative Chicago to New York market.  It was inaugurated during the early 1880s, nearly 30 years prior to the opening of New York's legendary Pennsylvania Station, and outlived its parent. 
For twenty years the Limited was Pennsy's flagship until being bumped from this role by another train, which later gave way to the storied Broadway Limited. 
As the years passed the train lost some of its prestigious status but remained on the timetable throughout the PRR era and eventually boasted a fully streamlined consist.   The Pennsy was so proud of its passenger fleet that the railroad spent millions in upgrades after World War II.  
Prior to the surge in patronage during the conflict the industry had been suffering a swift decline in this market but hoped the new streamliners would maintain strong demand after the war.  Unfortunately, PRR's gamble, and others (like the New York Central), failed.  The Pennsylvania Limited remained on the scheduled until after Penn Central's formation and incredibly operated until the start of Amtrak on May 1, 1971.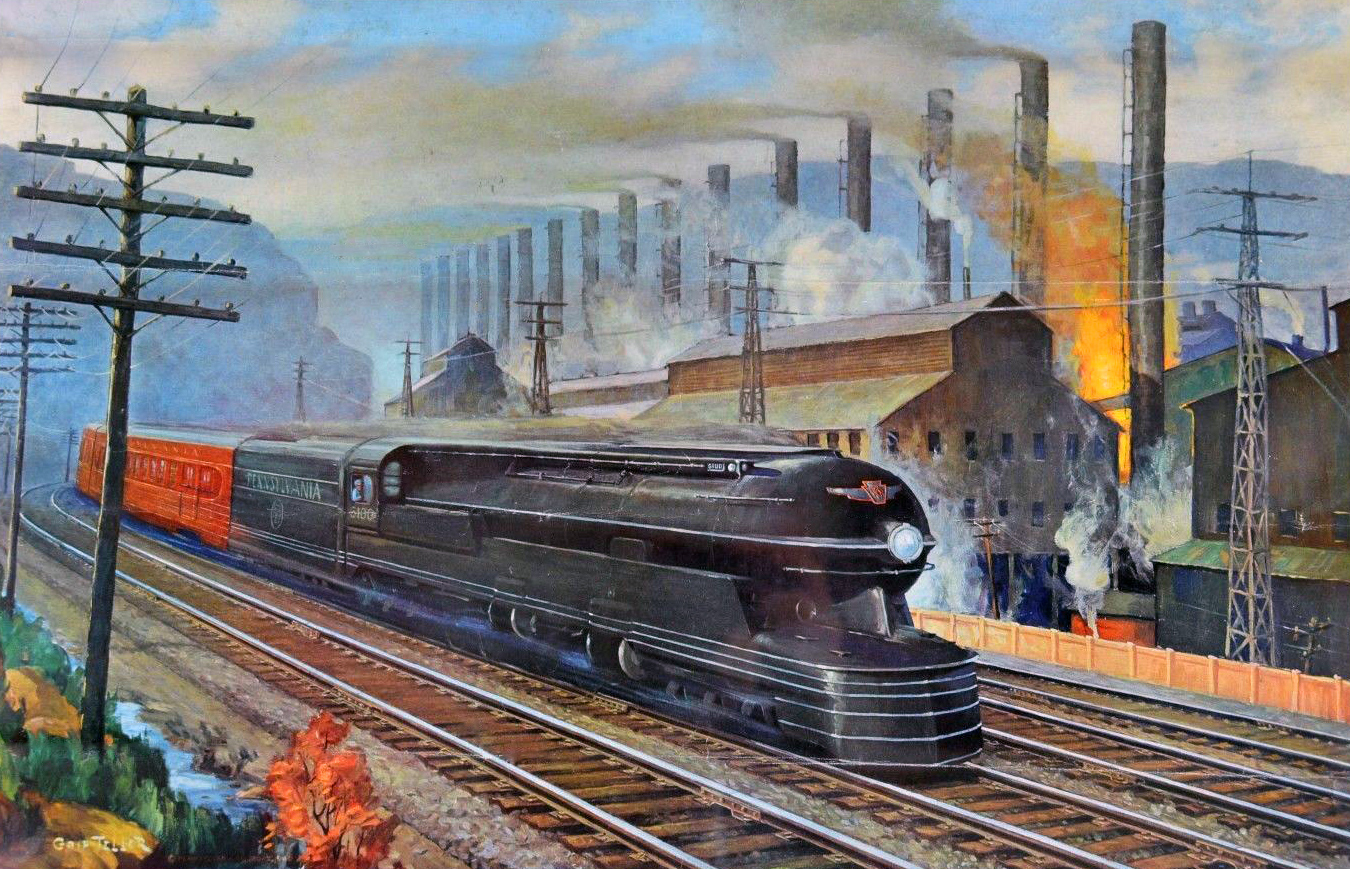 The Pennsylvania Limited joined the PRR's timetable during 1881 as trains #1, westbound and #2, eastbound.  It was immediately given recognition as the railroad's top train running between Jersey City, New Jersey and Chicago with a schedule of 26 hours and 40 minutes. 
According to Mike Schafer and Brian Solomon's book, "Pennsylvania Railroad," it was the fastest long-distance service on the railroad at the time.  In 1887 it introduced the first vestibule cars, which allowed passengers to move freely from car to car via enclosures located at each end. 
As the years passed this feature became standard on all trains nationwide.  By then the Limited offered a consist including a baggage-buffet-smoking room-barber shop, diner, a quartet of sleepers, and an observation-sleeper-lounge.
As new rail lines were laid throughout the remainder of the 19th century and into the 20th many were consolidated into or purchased by larger carriers. 
As a result the New York-Chicago market became quite congested with the four primary eastern trunk lines including the Erie, Baltimore & Ohio, and rival New York Central in conjunction with the Pennsylvania.  All operated their own versions of flagship trains and to remain above the competition the PRR launched the Pennsylvania Special on June 15, 1902. 
This new train relegated the Limited into a secondary role where it would always remain and the Special was advertised on a 20-hour schedule.  This was later increased to a blazing fast 18-hours by 1905 with speeds reaching nearly 130 miles through Ohio!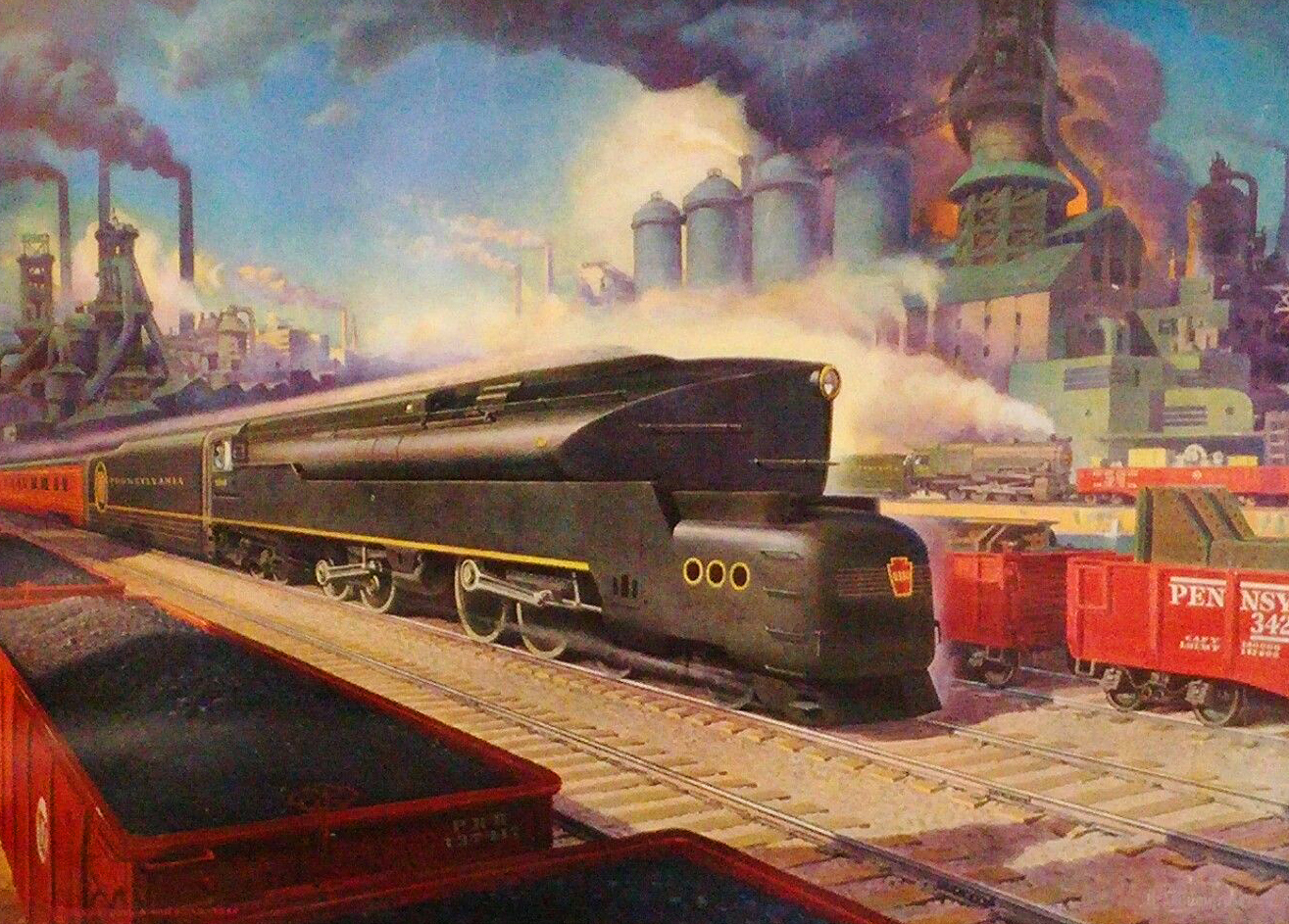 In 1912 the Special's name was changed to the Broadway Limited, which remained PRR's flagship until the railroad disappeared into Penn Central in 1968 (the train, itself, survived under Amtrak until 1995). 
When streamliners were introduced to the country in early 1934 no longer were trains dull, uninteresting creatures from an appearance standpoint.  Instead, color was splashed across their carbodies or they gleamed in bright stainless steel and zipped across the countryside as fast as they appeared.  Other railroads took notice of the work pioneered by Union Pacific and Burlington. 
The PRR introduced its version on June 15, 1938.  However, unlike most other roads the Pennsy gave the public not one but four new streamliners including the Broadway Limited, General, Liberty Limited, and Spirit Of St. Louis which the railroad called its "Fleet of Modernism.  In the coming years, others were added.
(The below Pennsylvania Limited is dated to the 1950s.)

Read Down Time/Leave (Train #1)

Milepost

Location

Read Up
Time/Arrive (Train #2)

6:45 PM (Dp)
0.0

New York, NY (Pennsylvania Station) (ET)

11:59 AM (Ar)
6:50 PM (Ar)
10.0

Newark, NJ

11:54 AM (Dp)
7:00 PM (Dp)
10.0

Newark, NJ

11:44 AM (Ar)
7:44 PM
58.1

Trenton, NJ

8:14 PM
85.9

Philadelphia, PA (North Philadelphia Station)

10:30 AM
8:42 PM
111.4

Paoli, PA

10:05 AM
9:27 PM
159.3

Lancaster, PA

9:19 AM
10:02 PM (Ar)
194.6

Harrisburg, PA

8:50 AM (Dp)
10:17 PM (Dp)
194.6

Harrisburg, PA

8:39 AM (Ar)
12:36 AM
325.4

Altoona, PA

6:05 AM
3:05 AM
439.9

Pittsburgh, PA

3:30 AM
6:39 AM
628.1

Crestline, OH

11:59 PM
7:55 AM
700.2

Lima, OH

8:22 AM
727.3

Van Wert, OH (ET)

10:27 PM
7:53 AM
759.7

Fort Wayne, IN (CT)

8:51 PM
8:35 AM
799.0

Warsaw, IN

9:02 AM
823.9

Plymouth, IN

9:54 AM
882.7

Gary, IN

10:20 AM
900.7

Englewood, IL (Union Station)

6:45 PM
10:35 AM (Ar)
907.7

Chicago, IL (Union Station) (CT)

6:30 PM (Dp)
According to Harry Stegmaier, Jr.'s book, "Pennsylvania Railroad: Passenger Trains, Consists & Cars - 1952 Volume I," during this time the Pennsylvania Limited was operated as a less expensive alternative to the Broadway operating considerable heavyweight or rebuilt equipment within its consist but essentially providing many of the same services. 
For instance, the train's typical consist included a handful of mail/express cars, a dormitory, diner, reclining seat coaches, and numerous sleepers in various layouts (sections, roomettes, double-bedrooms, etc.). 
The train also carried a through sleeper from San Francisco that normally operated on either the popular California Zephyr (Western Pacific, Burlington, and Rio Grande) or San Francisco Overland (Union Pacific, Southern Pacific, and Chicago & North Western) until the mid-1950s.

---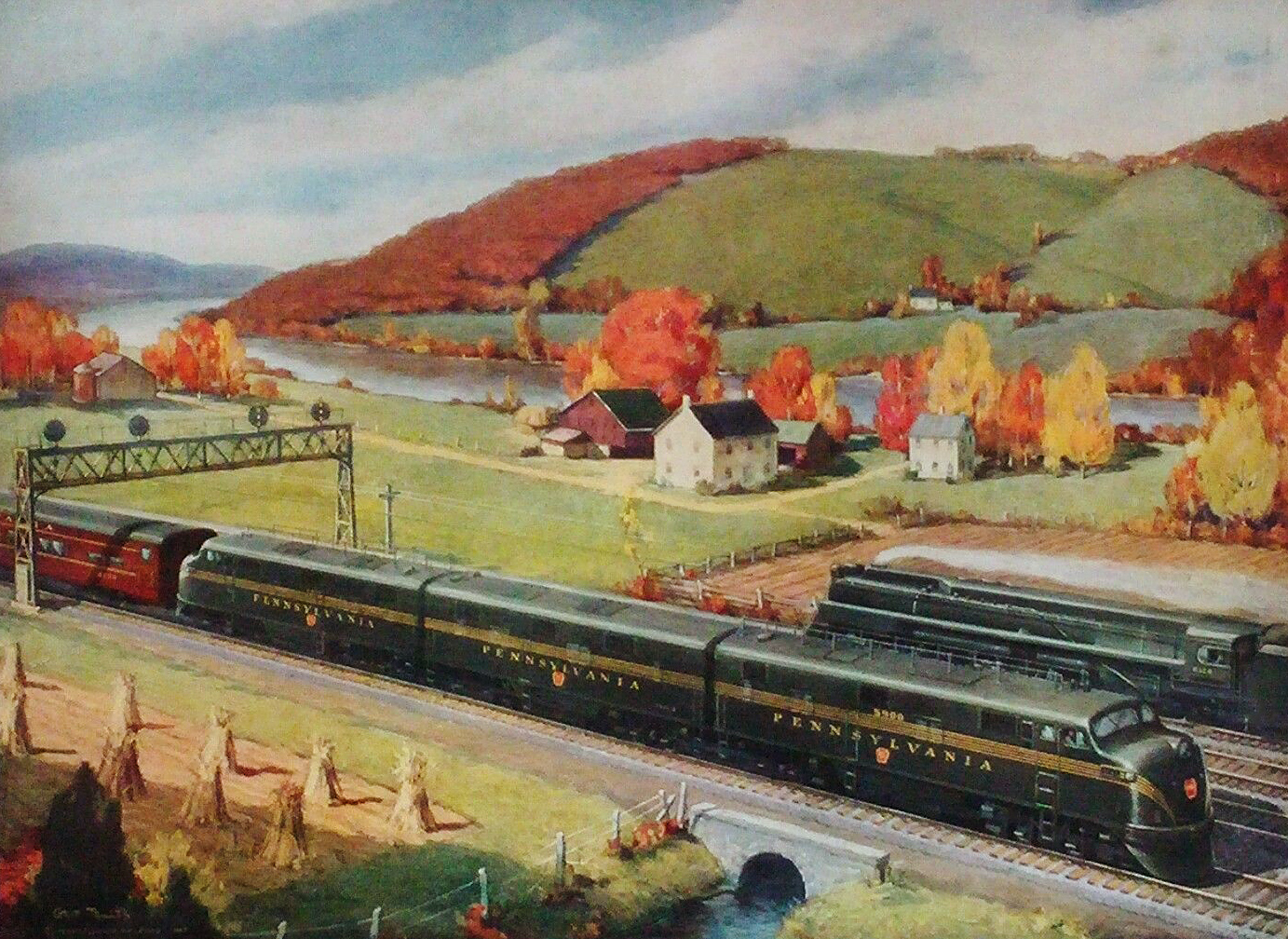 Additionally, the Pennsylvania Limited picked up other sleepers en route at Harrisburg (via Washington, D.C.) and dropped off two others there which were transferred to Erie and Emporium, Pennsylvania. 
As the PRR acquired more new lightweight equipment over the years or rebuilt older heavyweights into a matching, streamlined appearance the Limited certainly carried the look in its later years.  The train was normally powered by Pennsy's large fleet of E7s and E8s although other models, such as Alco's iconic PAs, could show up on the head-end. 
The railroad's massive passenger operations became an increasing financial strain as ridership declined after World War II.  While several trains were combined or canceled by the 1960s the Limited remained on the timetable through the formation of Penn Central in early 1968 and made its final run on April 30, 1971, operating 90 years before its retirement.