Rhode Island Railroads In "The Ocean State"

Last revised: October 11, 2023
By: Adam Burns

Rhode Island railroads were once the domain of the commuter railroad New York, New Haven & Hartford although today it is home to no Class I railroads. 

There were a few exceptions worth noting, the Narragansett Pier Railroad (NPRR) and the Wood River Branch Railroad. 
The former was always independently operated while the latter became a subsidiary of the New Haven.
The NPRR was built by the wealthy Hazard Family of Rhode Island to connect their textile mills located in Peace Dale and Wakefield with the New York, Providence & Boston Railroad (a future New Haven line) at Kingston.
The 8-mile line also connected with steamships at the Narragansett Pier. The short line was abandoned in 1981.
History
The nearby Wood River Branch Railroad was a  project launched in 1872 to link Hope Valley with the NYP&B main line.  It was completed in 1874 and folded into the New Haven in 1892.  The line was abandoned on August 8, 1947.

Our country's smallest state also is home to the fewest rail miles in the Continental U.S. (Hawaii ranks last with only a rapid transit service on Honolulu).
Freight services here are handled by Class II, regional Providence & Worcester Railroad while passenger operations the domain of Amtrak and the MBTA (Massachusetts Bay Transportation Authority), which serves Providence.
Overall, there is not a lot to discuss and highlight concerning Rhode Island, whether it deals with the past or today's operations. However, as much information as can be provided will be included here.

Photos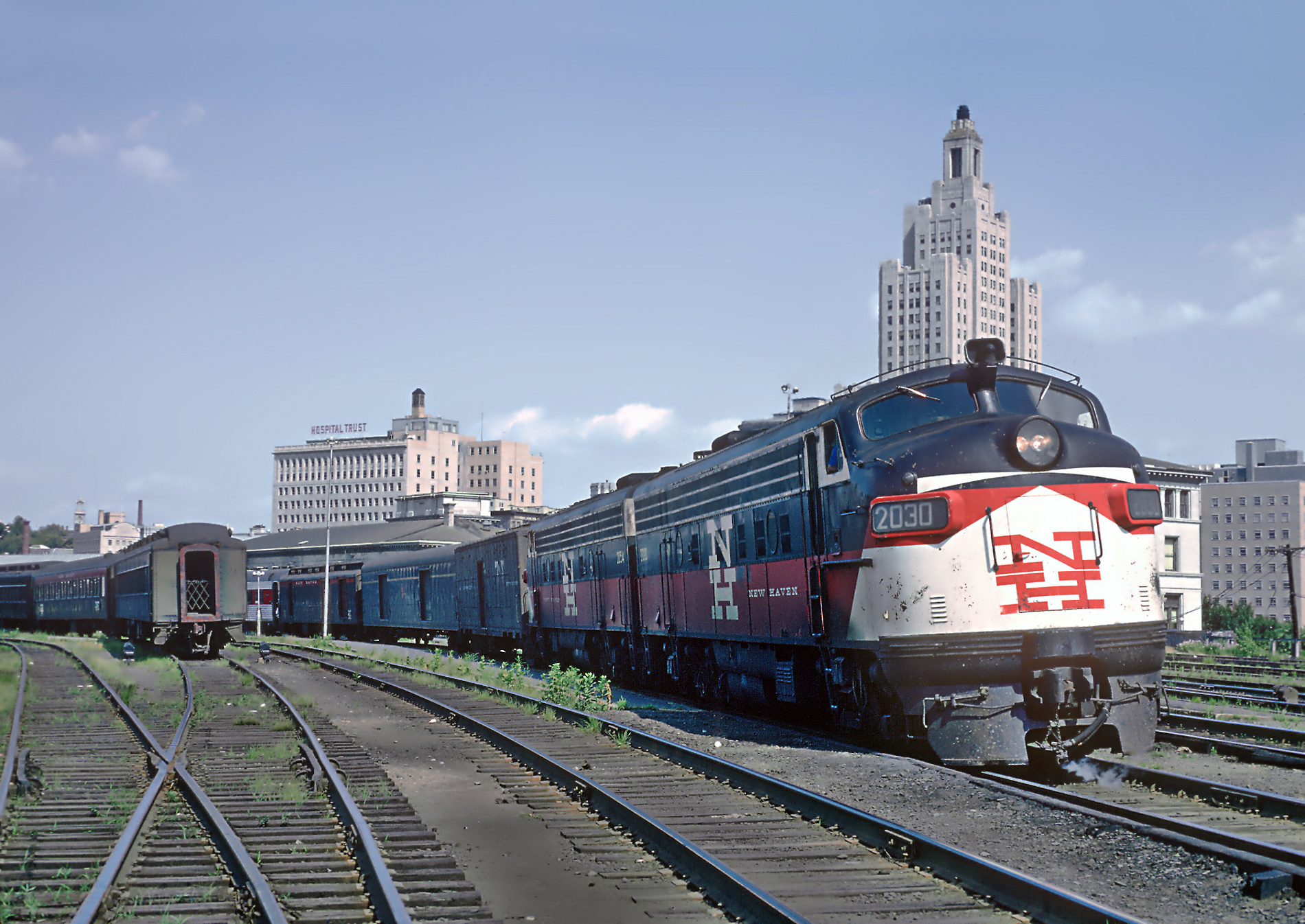 New Haven FL9 #2030 awaits departure from Providence, Rhode Island with train #15, "The Puritan," on July 21, 1968. Roger Puta photo.
Rhode Island railroads date back to June 21, 1831 when the Boston & Providence Railroad was chartered to connect its namesake cities, which it accomplished by July of 1835 (part of the route is still in operation today by the Providence & Worcester).
By the 1850s the little B&P reached such towns as Dedham, Attleboro, and Central Falls. In 1847 the newly created Providence & Worcester Railroad operated a joint line with the B&P between Attleboro and Worcester.
---
Abandoned Lines
Rhode Island has lost 153 mile of its historic rail network.  This may not seem like a great amount but sadly constitutes 72.5% of its peak total.
All of this property was part of the New Haven Railroad, although their heritage date back to predecessors later acquired by the NYNH&H. 
The lone exception was the Narragansett Pier Railroad.  This short line connected with the NYNH&H at West Kingston with the Narragansett Pier.
It remained in service from 1876 until 1981.  During peak service, the New Haven operated not only its four-track main line linking Boston with New York through the heart of Rhode Island but also numerous branches and secondary corridors.
These lines reached places like Bristol, Pascoag, and the New York & New England's through route to Willimantic and New Haven Connecticut.
All of these lines are gone today with some having been converted into rail trails.
---
By the spring of 1888 the B&P was leased to the Old Colony Railroad, which itself became part of the New Haven system on March 1, 1893.
In the coming years Rhode Island would have rail service provided by one well-known New England railroad, the New York, New Haven & Hartford (better known as simply the New Haven).
Today the NYNH&H main line continues to be an important link to both freight and passengers between Boston and New York, especially Amtrak where the line is part of the carrier's Northeast Corridor (or NEC for short).
On an even brighter note the old "McGinnis" New Haven livery (perhaps the best thing to come from his leadership) has reemerged under the Connecticut Department of Transportation local commuter railroad operations.
Certainly something worth seeing if you are in the area!  Today, while the short line Seaview Railroad serves a former Navy yard in North Kingston (which consists of a yard and port it is owned by the Rhode Island Economic Development Corporation), virtually all of Rhode Island's freight rail service is the domain of Providence & Worcester.

Current Railroads
Amtrak


Providence & Worcester Railroad



Seaview Railroad
While the Ocean State's rail system may seem too tiny to even be home to any museums or tourist lines it actually has both! Take a ride on the Newport Dinner Train (located in Newport), which takes you on a 22-mile trip along the Narragansett Bay or visit the Rhode Island Railroad Museum at historic Kingston Station to learn more about the state's railroading history. 
As for passenger service there is, of course, the NEC with stops at Providence, Kingston and Westerly. Of note, Rhode Island is home to the most 150-mph section of railroads in the country with a total of 16.2 miles over three areas. The MBTA also serves Providence and plans for future service to the T.F. Green Airport in Warwick
Amtrak AEM-7 #936 eases to a stop at Westerly, Rhode Island with an eastbound commuter train on July 9, 2004. Doug Kroll photo.
For a look at the state's rail mileage over the years please take a look at the chart below. As you can see, the state has only been home to 211 miles of rails during its height, which occurred in the 1920s.
State Mileage Chart
First Railroad
* The state of Rhode Island's first railroad was the Boston & Providence (B&P), which opened for service between its namesake cities on July 28, 1835 following completion of the Canton Viaduct located in Canton, Massachusetts (and still in active service today). 
Many of these early New England systems wound up as either part of the modern Boston & Maine or New York, New Haven & Hartford.  In the case of the B&P it was the latter; it was acquired by the Old Colony Railroad in 1888 (the Old Colony was rather noteworthy, serving most of southeastern Massachusetts, including Boston and Cape Cod) which was leased by the New Haven in 1893. 
Under the NYNH&H the old B&P acted as part of its New York-Boston main line.  Today, this corridor is under Amtrak's direction as its electrified Northeast Corridor.
Today, about 87 of those miles are still in operation with much of loss coming from redundant New Haven freight branches that have long since been abandoned, particularly under Conrail.
State Map
From a percentage standpoint, just 41% of Rhode Island's infrastructure remains in use although this number does not carry significant weight considering the numbers are so small to begin with.

---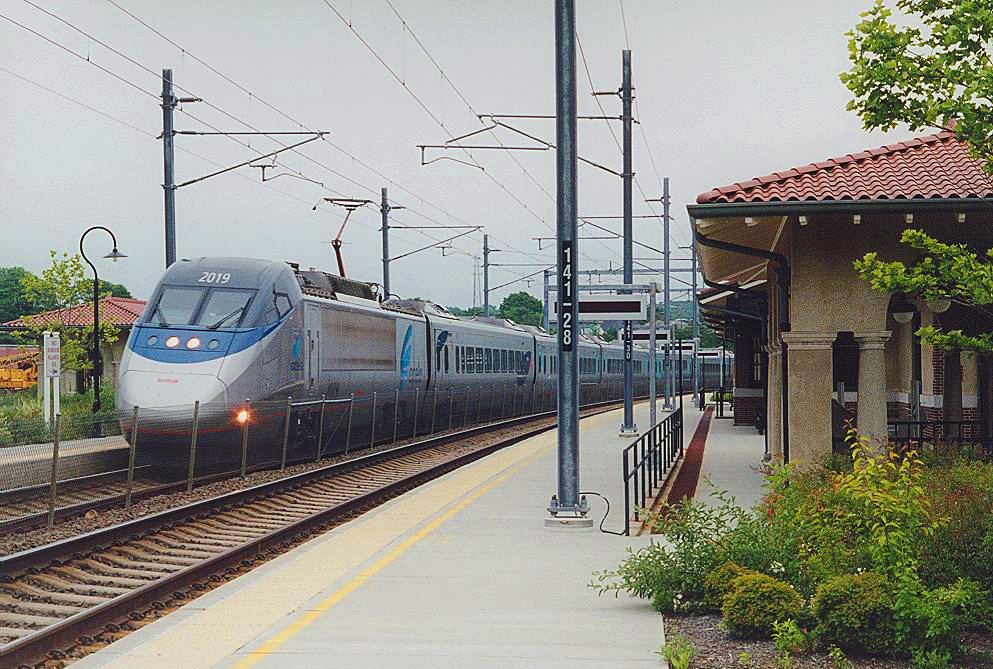 An Amtrak "Acela Express" trainset swings through a curve at Westerly, Rhode Island on June 13, 2002. Doug Kroll photo.
In all, while Rhode Island does not offer the kind of diversity and action-packed scenes one would find elsewhere like in Pennsylvania or California it does have a unique charm all its own.
So, if you tire of watching Acela Express trains zip up and down the NEC or P&W freight trains doing their thing, stop by the Newport Dinner Train for a relaxing train ride or catch up on some Rhode Island history at the Rhode Island Railroad Museum!