Main Street Station (Richmond)
Published: November 7, 2023
By: Adam Burns

Main Street Station is a historic railroad terminal and commercial building located at 1500 East Main Street in downtown Richmond, Virginia. Built in 1901, it served the Seaboard Air Line (which later moved operations to the nearby Broad Street Station) and Chesapeake and Ohio Railway.
The station is known for its distinctive architecture, featuring a clock tower and ornate details. In 1970, the building, as well as its unique train shed (of the last of its kind), were both added to the National Register of Historic Places.
Six years later, in 1976, it was given the rare honor as a National Historic Landmark.  Today, it serves as a multi-modal transit center, offering Amtrak service and local bus routes, and also houses office spaces and a popular event venue.
Photos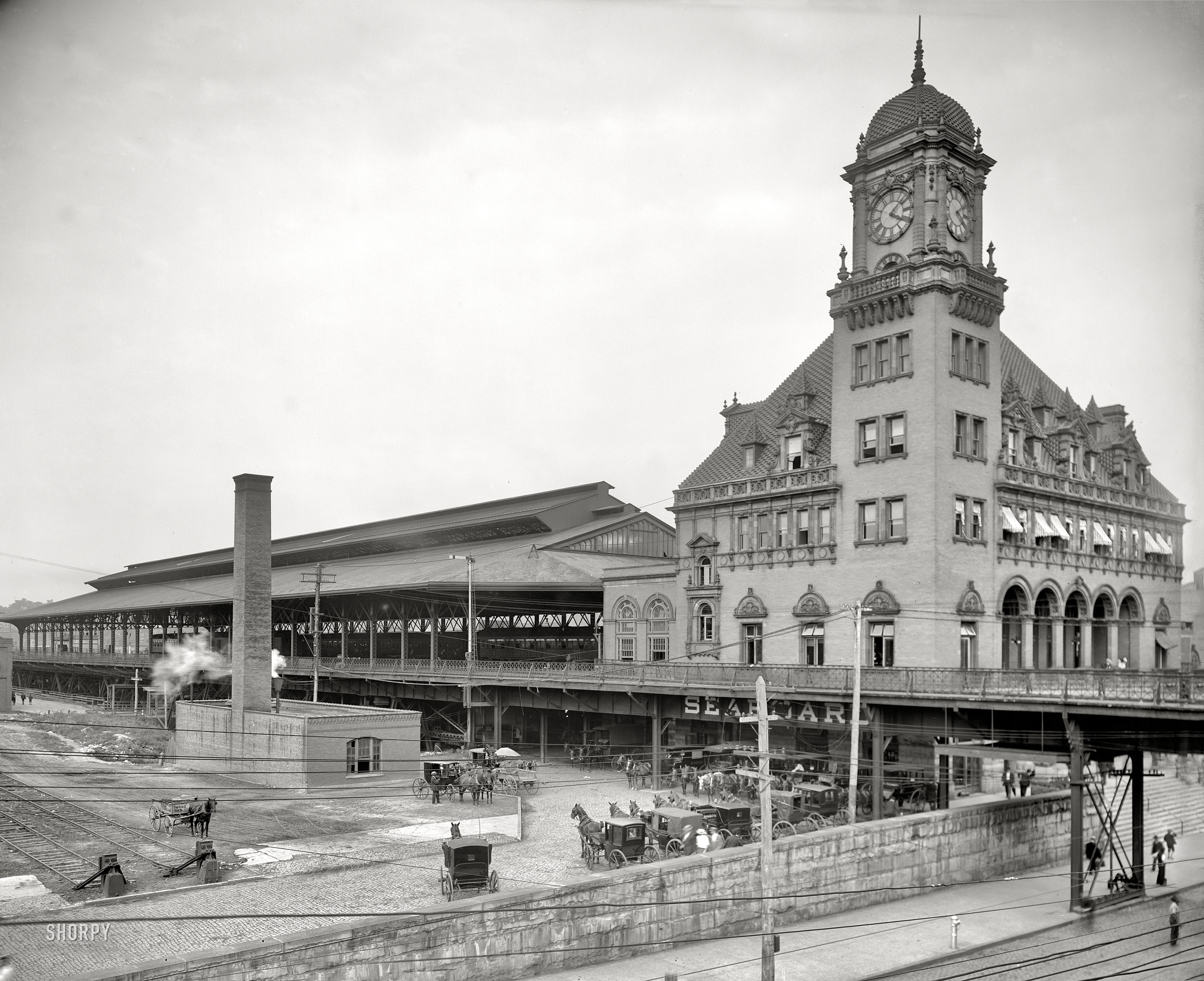 A Detroit Publishing Company photo of Main Street Station, a few years after it had opened, circa 1905.
Architect
Located in the heart of Richmond, Virginia, the story of the iconic Main Street Station has a rich tapestry of historical moments and architectural wonders woven through it.
This station was designed by the Philadelphia firm of Wilson, Harris and Richards, who carried a great deal of experienced in train terminal designs.
Completion
Main Street Station was unveiled to the public on December 15, 1901, ushering in a new era of rail travel for the bustling city of Richmond.
This grand terminal, an epitome of progress and prosperity, came with a hefty price tag - it was built at the enormous expense of $1.4 million, which was a staggering amount during the turn of the 20th century.
The station was crafted in the glamorous French Renaissance style of architecture, a trend that was popular in America during the period. Its standout features include the iconic clock tower and the detailed stonework that still leaves spectators in awe today.
The station's structure was made robust and elegant with Pennsylvania white granite and Indiana limestone. These high-quality materials played a significant role in preserving the station's grandeur even after a century of its construction.
Recruited in the heart of Richmond, the Main Street Station was strategically nestled between the intersection of Main Street and 15th Street. Its central location made it a focal point of the city's bustling activity.
The grand station not only streamlined the town's transit services but also played a vital role in connecting Richmond with the rest of America.
Peak Years
During its peak years,it boasted serving 52 passenger trains daily. This attracted a massive daily influx of travelers, making it one of the busiest railroad stations in the country.
During the streamliner era the notable trains serving Main Street included Chesapeake & Ohio's Sportsman, Fast Flying Virginian, and George Washington.  The Seaboard Air Line's services were a bit more extensive and included names like the Orange Blossom Special, Palmland, Silver Comet, Silver Meteor, Silver Star, Sunland, and Tidewater.
Main Street Station is also notable for hosting the South's first streamliner, Seaboard Air Line's Silver Meteor. Inaugurated on February 2, 1939 the all-coach train was adorned in a beautiful tropical livery of deep green, yellow, and orange.
Advertised as an overnight train between New York/Boston and Miami (with through sleeper service available via the Pennsylvania and New Haven railroads) it featured stainless-steel cars (built by the Budd Company) with the new E4 diesel locomotives sporting the colorful livery previously mentioned.
Amtrak
With time, the station saw several changes in its management. A significant shift occurred when Amtrak, the National Railroad Passenger Corporation, acquired the station when it began service on May 1, 1971.
The station hosted a suite of early Amtrak trains, prominently the Night Owl, Colonial, and Hilltopper. These trains transported passengers to key destinations throughout Virginia and beyond.  Today, the terminal is home to the carrier's Northeast Regional service.
Along with providing connections to other locations in Virginia, notably Newport News, Norfolk, and Roanoke it also runs the busy Northeast Corridor to Boston.
The station's tenure with Amtrak was interrupted in 1972 due to severe flooding caused by Hurricane Agnes. This prompted Amtrak to relocate its operations from Main Street to Staples Mill Road, marking a hiatus in the station's operational history.
Current Services
Despite the adverse circumstances, Main Street Station managed to retain its significance. It was added to the National Register of Historic Places in 1970, echoing its historical and architectural value.
A few years later, in 1976, the station was designated a National Historic Landmark, bolstering its prominence in American history.
After years of lying dormant, the station underwent extensive renovations. After a significant investment of $51.6 million in modernization and restorations, Amtrak returned to the station on October 30, 2003.
Today, it offers a seamless transportation experience as an intermodal hub, managed by the Greater Richmond Transit Company. It provides an integrated system of buses, shuttles, and trains, making it a one-stop service for all modes of public transportation in Richmond.
Through its journey over the years, the station has seen the highs and lows of time, remained a steadfast symbol of Richmond's architectural glory and transportation history.
Its architectural nuances, it's once splendid service to everyday commuters, and its story of resilience make it more than just a historic landmark. It embodies the story of Richmond itself.
A memorable site for residents and a must-see for visitors, Main Street Station continues to be an emblem of the city's heritage, seamlessly merging its historical grandeur with practical utility.
Over the years, it has also been the setting for various cultural and social events, further rooting it within the life pulse of Richmond.
---
Legacy
Now, under Amtrak and the Greater Richmond Transit Company, the station impels Richmond's narrative of progress yet retains its old-world charm, offering the city and its visitors a uniquely nostalgic journey.
In a world rapidly swinging towards modernization, Main Street Station stands as a stark reminder of the golden age of rail journeys and Richmond's enduring history.
Whether you are a local community member, a history enthusiast, a train aficionado, or just a curious reader, the fascinating tale of the Main Street Station provides you with a robust glimpse into the essence of Richmond, Virginia.