The New York Central fielded a passenger fleet nearly as immense as rival Pennsylvania's with a multitude of trains covering the same territory (the NYC did have its competitor beat in the Chicago - Detroit sector where no other road offered such a direct route). As the NYC expanded its Great Steel Fleet during the streamliner era, corridors both regional and long distance in nature boasted sleek, colorful trains.  Such was the case for the Chicago to Cincinnati market, a route that was just over 300 miles in length.  Notable names to use the Big Four included the Booth Tarkington, Midwestern, Sycamore, and of course the James Whitcomb Riley.  The Riley, listed as #3 (westbound) and #4 (eastbound), first entered service on April 28, 1941 as an all-streamlined consist.
The train was quite elegant, dressed in a livery of red and gray.  According to Geoffery Doughty's book, "New York Central's Great Steel Fleet: 1948-1967," the original Riley featured rebuilt heavyweight baggage #8551, four lightweight coaches from the Budd Company (#2560-2563), rebuilt heavyweight diner #576, and rebuilt heavyweight observation #52.  For power it utilized the pair of streamlined Class K-5b 4-6-2s, #4915 and #1917, which had been assigned to the original Mercury.  Its schedule required only a few hours to complete, departing Cincinnati around breakfast after 8 AM and arriving in Chicago (calling at Illinois Central's Central Station) just a tick under five hours later before 1 PM.  The eastbound #4 would leave Chicago just before dinner and arrive back in the Queen City later that same evening after 11 PM.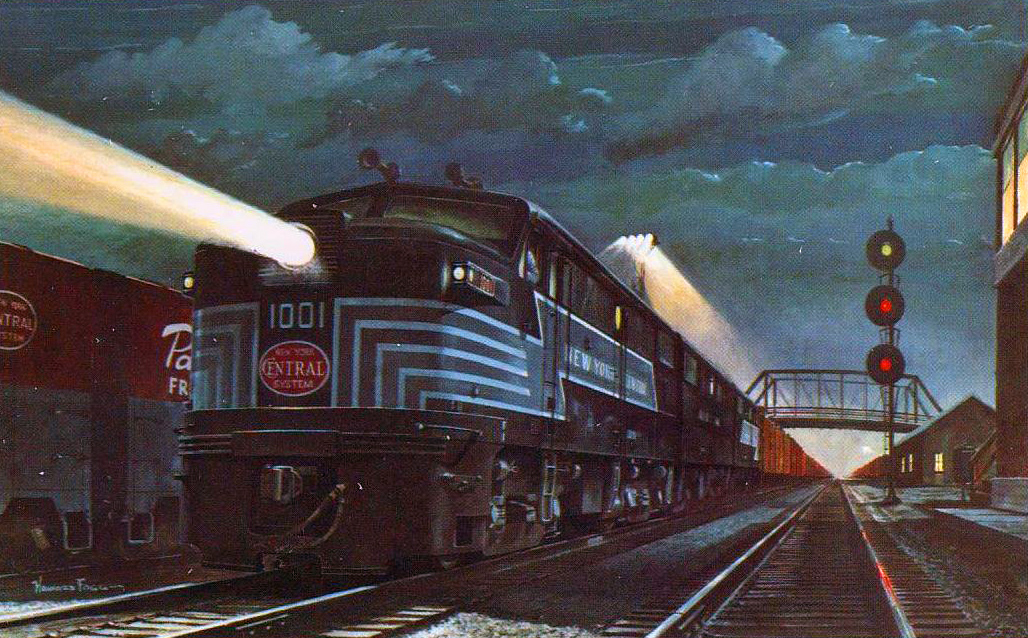 During the World War II years there was no time to upgrade trains as NYC, and the rest of the industry, merely attempted to keep up with stifling demand (there were also tight restrictions on civil/commercial construction of any type as all efforts focused on winning the war).  In 1947 the Riley lost its streamlined Pacifics, replaced by Class J1 Hudsons #5333 and #5401.  During January of 1948 new, lightweight equipment was assigned to the train, all manufactured by Budd that replaced the remaining heavyweights; these cars included a tavern-lounge, grill-diner, and tavern-observation complementing lightweight coaches.  The New York Central also marketed the reequipped Riley with a foldout brochure.
(The below James Whitcomb Riley timetable is dated effective April 9, 1944.)

Read Down Time/Leave (Train #3)

Milepost

Location

Read Up
Time/Arrive (Train #4)

8:15 AM (Dp)
0.0

Cincinnati, OH (Union Terminal) (ET)

11:10 PM (Ar)
9:00 AM (Ar)
108.9

Indianapolis, IN (CT)

8:20 PM (Dp)
9:10 AM (Dp)
108.9

Indianapolis, IN (CT)

8:10 PM (Ar)
10:11 AM
173.3

Lafayette, IN

7:03 PM
F 11:37 AM
248.1

Kankakee, IL

5:45 PM
F 12:30 PM
296.0

Woodlawn, IL (63rd Street)

4:50 PM
12:45 AM (Ar)
302.5

Chicago, IL (Central Station)

4:40 PM (Dp)
Part of it included the following:  "The James Whitcomb Riley, de luxe coach streamliner, named in honor of the distinguished Hoosier poet.  As passengers speed in comfort through the lovely Hoosier country of Indiana, aboard the glistening stainless steel cars of the James Whitcomb Riley train, which are entirely new from end to end, thoughts must revert to Riley and the beautiful Riley verse.   The James Whitcomb Riley, completely air conditioned, consists of new de luxe coaches with deep, comfortable multiposture seats and broad scenic-view windows, a new coach observation lounge car, and new last word dining cars.  The lighting is fluorescent.  The Route of the Riley is the fast, scenic, smooth New York Central - Big Four Route pathway between the midwest metropolii of Cincinnati, Indianapolis, and Chicago.  The Riley and ten other trains serve this route which is a direct line to and from the southeast and northwest via Chicago and Cincinnati."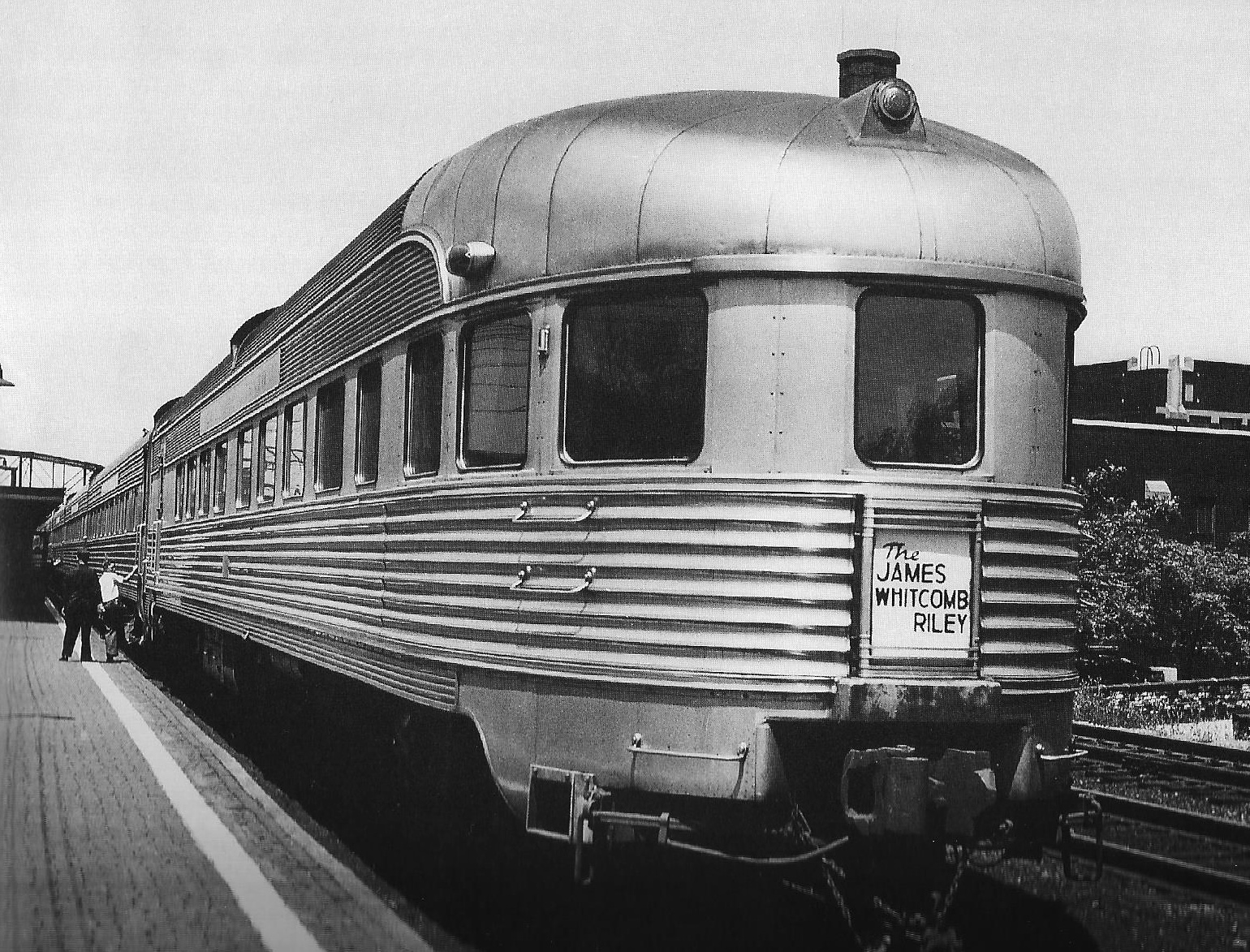 During the 1950s the train's schedule was lengthened slightly to accommodate more stops.  During April of 1958 the Riley lost its original numbers, becoming #303 and #304, but otherwise continued offering virtually the same accommodations, a setup that surprising continued throughout the 1960s.  As Mr. Doughty notes in his book it was one of few such regional trains to never witness substantial cutbacks to services or amenities and became the only NYC train to maintain its name through the Penn Central merger.  A December, 1969 PC timetable notes that the Riley still offered reclining seat coaches and a diner throughout its trip although by then its schedule had slowed considerably, requiring nearly seven hours or more in each direction (and still called at Central Station).  The name was finally discontinued on October 30, 1977, replaced by the Cardinal, making up the western leg of that train's destination of Chicago.

Related Reading You May Enjoy


Home

›

Fallen Flags

›

New York Central

› James Whitcomb Riley