Rolling Stock

Last revised: May 6, 2023
By: Adam Burns

Below are many rolling stock terms defining everything from the caboose and rotary dump car to business and heavyweight cars in a quick sentence or two.

Lastly, I do hope that the below terms and meanings are of help and beneficial use to you, as that is the main reason for providing the information presented here!
It should be noted that the definitions listed here are organized in alphabetical order to better and more easily allow you to find exactly what you are looking for.
Photos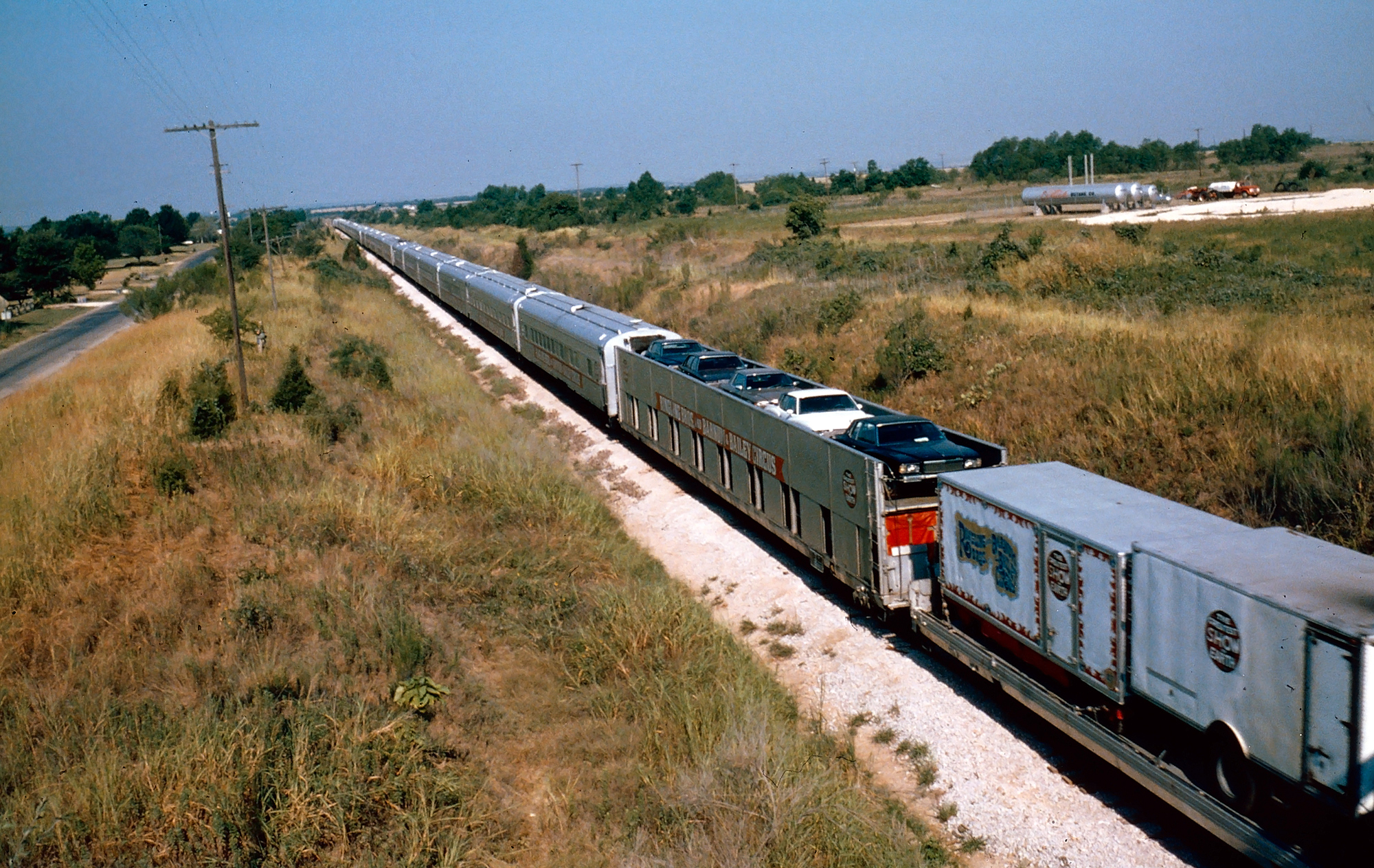 The Ringling Bros. and Barnum & Bailey Circus train running over the Southern Pacific between Elgin and Austin, Texas, circa 1984. State Highway 76 can be seen at left. Mike Bledsoe photo. American-Rails.com collection.
Terms
Auto rack: A flatcar, usually with three levels that is entirely enclosed and carries valve and light trucks.

Bare-table: A train of nothing but flatcars.
Business car: A passenger car owned by a railroad used exclusively for railroad management and executives.
Cab car: A passenger/commuter railroad car with an operating cab on one end to control the locomotive in "push" mode.
Cabin car: The Pennsylvania Railroad's term for a caboose.
Caboose: Essentially a "cabin" on wheels as the Pennsylvania Railroad called the car, it housed all members of the train crew that were not essential in the locomotive cab (i.e., brakeman, conductor, etc.) and provided sleeping and living quarters over the open road.
The caboose also was meant to protect and watch over the rear of the train. Many different types of cabs, as they are also known, were constructed over the years although the copula and bay-window versions were the most common (for good visibility).
Camp car: Essentially serves in the same role as a caboose in terms of boarding and housing. A railroad car, usually a converted boxcar, used to feed and house construction or maintenance crews for an extended period of time in a particular location.
Combine: A combination coach and baggage car.
Covered hopper: A standard hopper car that is entirely enclosed (save for hatches on the roof) and carry bulk products like grain.
Crew dorm cars: Rail cars that house onboard personnel of long-distance passenger trains excluding the engineer the conductor (whom can only work 12-hour shifts).
Crummy: Slang for caboose.
Five-well stack car: Five-unit cars that carry double-stacked containers.
Gallery car: Usually found in commuter service, a double-deck passenger car, which, on the upper floor, has an open center isle.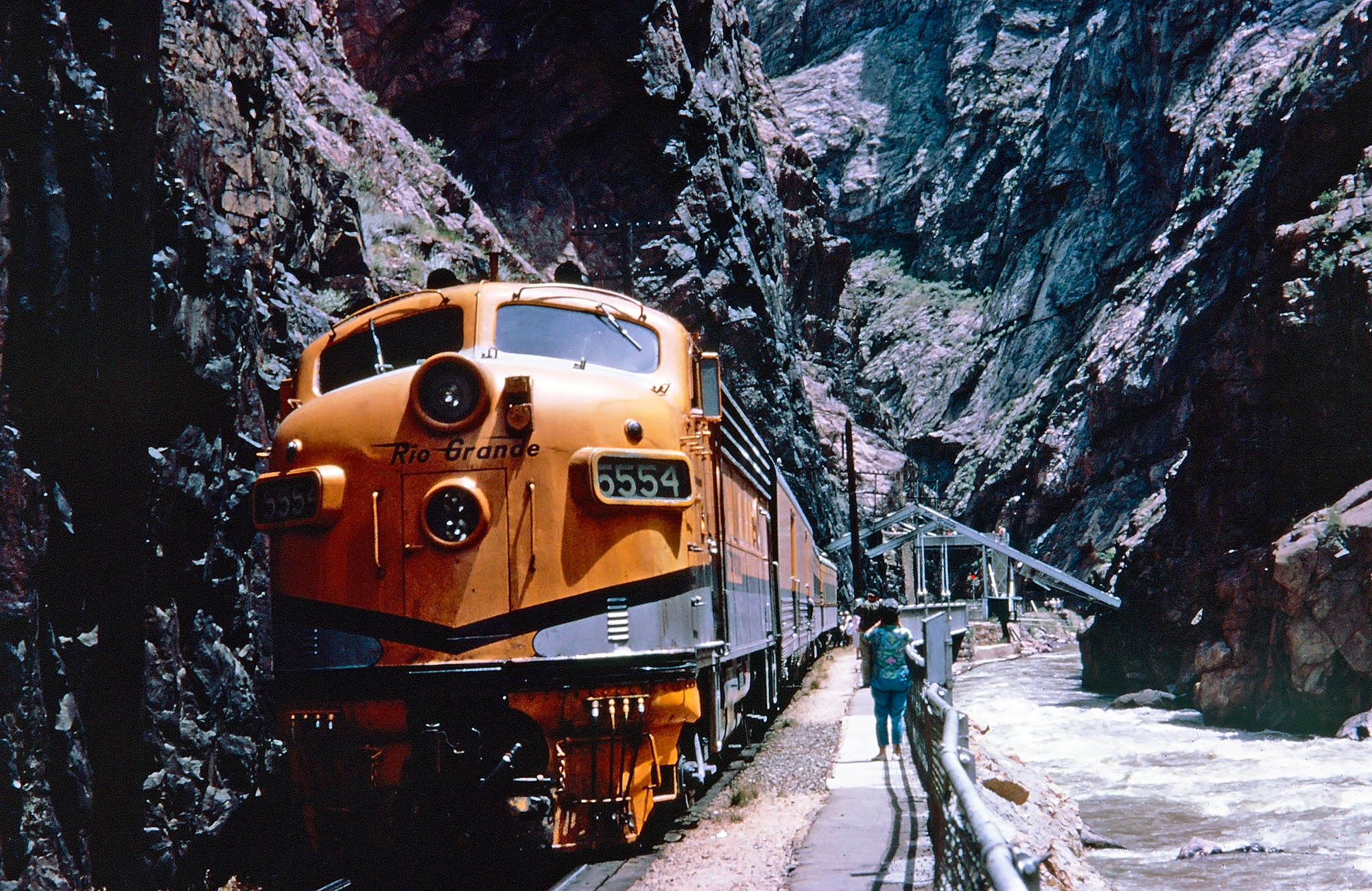 Rio Grande F7A #5554 is stopped at the famous Hanging Bridge deep within Colorado's Royal Gorge with what remains of the "Royal Gorge," circa 1967. American-Rails.com collection.
Head-end cars: The term used for mail, baggage, and express cars (when they used to be in service on passenger trains) as they were located right behind the lead locomotive(s) of a train.
Heavyweights: Term used for dated passenger railroad cars that were much heavier than the newer streamlined cars built roughly after 1950.
Hopper: Freight cars that contain some type of angled or sloped drop-bottom chutes or hatches, which use the force of gravity to quickly unload their cargo without having to tilt or turn the car upside down in any way.
Hydra-Cushion freight cars: Just as the term implies this technology is meant to cushion the lading being hauled using hydraulics to absorb the stresses of the ride while in transit.
Multi-level: See auto-rack.
Open-top car: A general term for a railroad freight car with no roof whether it does or does not also include sides.
Outfit car: See camp car.
PCC car: Short for Presidents' Conference Committee car, which was a streetcar with streamlining built during the 1930s.
Reefer: Slang term for refrigerator car.
Refrigerator car: A boxcar which contains refrigeration equipment to keep perishable items fresh in transit.
Rotary dump car: A standard open hopper with rotary couplers which allows the car to be spun to include its contents (usually coal).
Rotary plow: A snowplow with a set of revolving blades that churns the snow up through an exhaust port.
Scale test car: This little car, usually with just two axles, is used to verify that railroad track scales are properly weighing cars when billing customers.
---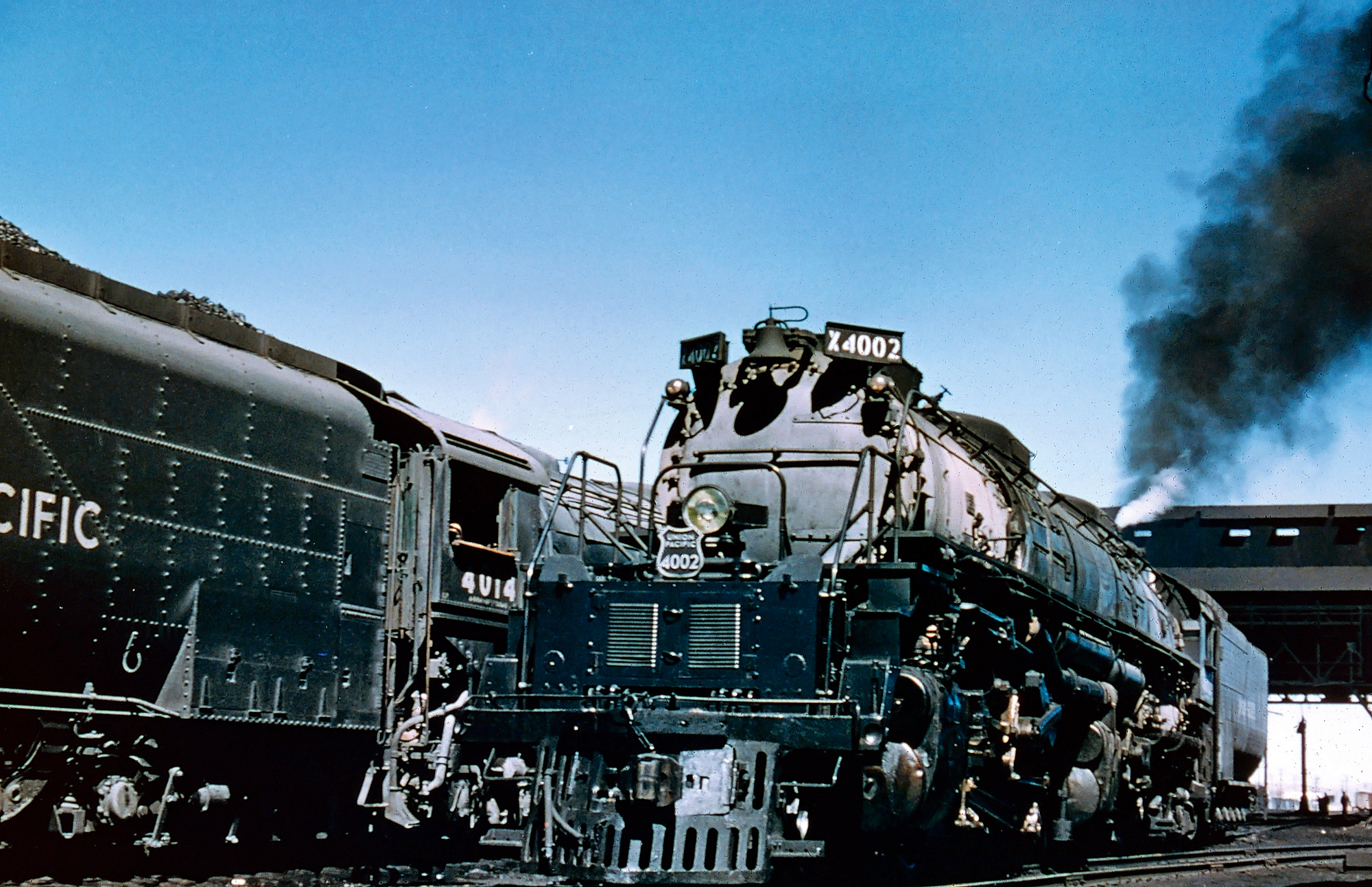 Union Pacific "Big Boys" #4002 and #4014 at Rawlins, Wyoming on August 30, 1955. John Shaw photo. American-Rails.com collection.
Spine car: Usually constructed of a single center beam and articulated in either a three or five set unit, it is used specifically to haul trailers or containers.
Tank car: Basically a horizontal tank on wheels tanks cars can carry anything from gaseous to liquid commodities like chemicals and food grade products.
Theater car: Used primarily in executive or business trains it is a specially built passenger car that is equipped with a large rear window for viewing the railroad property and has a few rows of seating tiered away from the window.
Transfer caboose: These types of cabooses outlived their traditional brethren and were used in short transfer runs usually built with a short center cab and large open "porches" on either end.
Waycar: Sometimes referred to as a caboose.