The 
San Francisco Chief
Last revised: February 17, 2022
By: Adam Burns
As its name implies the San Francisco Chief served its home city in California, operating as a fully transcontinental train to Chicago. 
It was a very late addition to Santa Fe's fleet of "Chiefs" when inaugurated during the mid-1950s but not surprisingly became quite popular despite strong competition from such other roads as Union Pacific's City fleet and Southern Pacific's Daylights. 
The Santa Fe spared no expense in advertising, marketing, and equipment to provide top-notch accommodations among its entire flagship services.  Even today, the folks who were lucky enough to ride its trains still speak fondly of the first-class services.

The train operated predominantly with handed-down streamlined equipment from other Chiefs but in later years received upgraded or new Budd-built cars as well. 
In typical Santa Fe fashion service remained at a high level throughout the 1960s, leading all of the up until Amtrak's debut on May 1, 1971 when the San Francisco Chief was finally discontinued.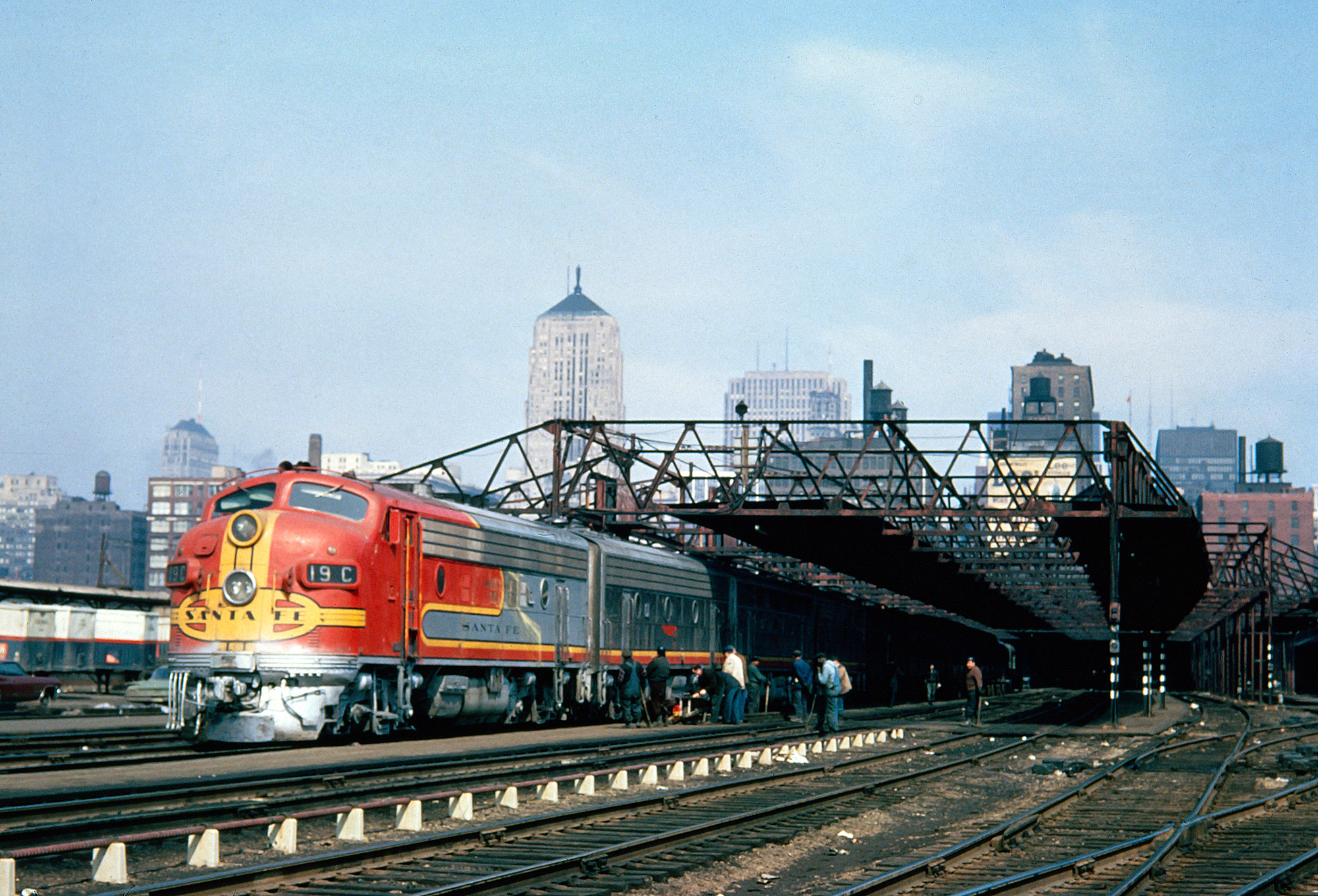 Santa Fe F3A #19-C awaits departure from Chicago's Dearborn Station with the westbound "San Francisco Chief" circa 1967. American-Rails.com collection.
A Brief History Of The San Francisco Chief
By the post-World War II era the Santa Fe was already a legend in the field of rail travel with names like the Chief, Super Chief, and El Capitan that had all been dressed as streamliners in stunning stainless steel and Warbonnet paint during the mid/late-1930s. 
The railroad spared no expense in making sure its premier transcontinental trains were the epitome of luxury both inside and out, matching or exceeding anything the competition had to offer.  After nearly four decades of service it never wavered from this belief and continued fielding clean equipment with top accommodations that were always on time right up until Amtrak took over intercity operations. 
For instance, the Santa Fe held its Super Chief to such high standards that it kindly asked Amtrak to stop using the name after a few years citing declining service.
"San Francisco Chief" Timetable (1958)
By the early 1950s the railroad felt it needed its own streamliner to San Francisco since the UP and SP operated the joint City of San Francisco and the latter provided a bevy of regional services such as the Lark, Starlight, Shasta Daylight, and San Joaquin Daylight reaching the Bay Area. 
On June 6, 1954 the AT&SF launched the San Francisco Chief, the last in its fleet of fabled Chiefs.  Listed as trains #1 (westbound) and #2 (eastbound) the numbers replaced what had been previously occupied by the Scout (this train had served the Los Angeles to Chicago market). 
While the railroad advertised, and sold tickets for, its new Chief as connecting Chicago to San Francisco it actually only ran as far as Richmond, California providing motor coach service via the last 43 miles into the city including the trip across the San Francisco Bay.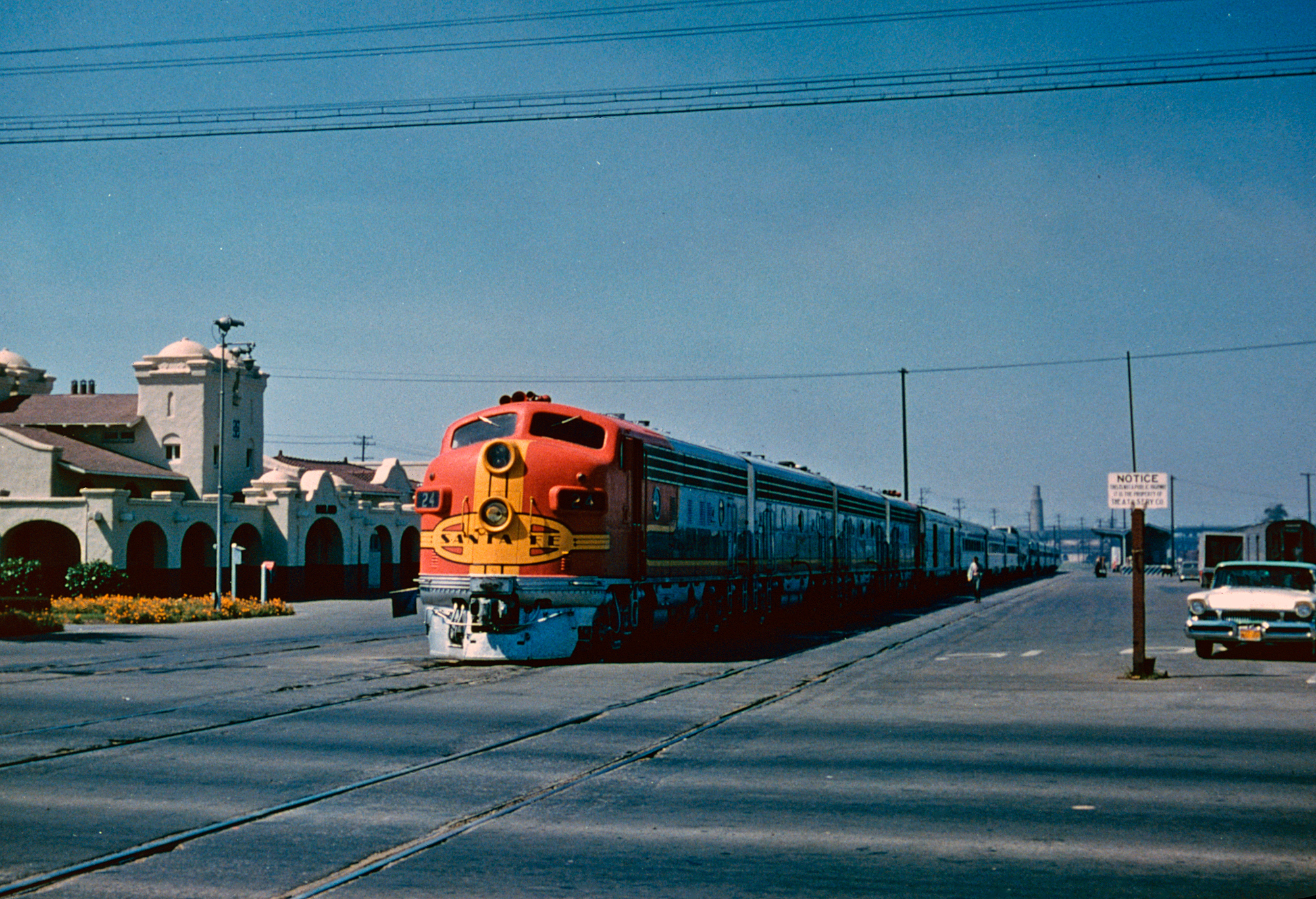 Santa Fe F3A #24-L awaits departure from the railroad's beautiful station at 40th & San Pablo in Oakland, California with train #2, the eastbound "San Francisco Chief," in April, 1958. Two months later, on June 15th, service was cut back to Richmond. American-Rails.com collection.
By the time the new train was inaugurated steam was well on its way out and head-end normally consisted of Electro-Motive F3s, F7s (the Santa Fe purchased few E units for passenger service), or occasionally the iconic Alco PA (the railroad owned a fleet of about 44 first-generation A an B units). 
The San Francisco's consist included a diner, coaches, sleepers, and the wildly popular "Big Dome" lounges that became one of the signature draws on the train allowing passengers to take in breathtaking views of the Southwest from high above the rails. 
These cars, along with most equipment the Santa Fe purchased, were products of the Budd Company.  As Mike Schafer and Joe Welsh note in their book, "Streamliners:  History Of A Railroad Icon," they were some of the heaviest ever built and the railroad acquired 14 in all to equip both the San Francisco and popular El Capitan.
"San Francisco Chief" Timetable (January, 1970)
Read Down Time/Leave (Train #1)

Milepost

Location

Read Up
Time/Arrive (Train #2)

10:00 AM (Dp)
0

Chicago, IL (Dearborn Station) (CT)

8:00 PM (Ar)
10:50 AM
38

Joliet, IL (Union Station)

7:05 PM
11:35 AM
90

Streator, IL

6:15 PM
12:10 PM
130

Chillicothe, IL

5:35 PM
12:55 PM
177

Galesburg, IL

4:50 PM
2:00 PM
232

Fort Madison, IA

3:55 PM
3:12 PM
311

La Plata, MO

2:35 PM
3:50 PM
346

Marceline, MO

1:58 PM
4:25 PM
385

Carrollton, MO

1:24 PM
5:50 PM (Ar)
449

Kansas City, MO

12:15 PM (Dp)
6:20 PM (Dp)
449

Kansas City, MO

11:45 AM (Ar)
7:00 PM
489

Lawrence, KS

10:45 AM
7:35 PM
515

Topeka, KS

10:15 AM
8:50 PM
577

Emporia, KS

9:00 AM
10:05 PM
650

Newton, KS

7:50 AM
11:00 PM
677

Wichita, KS

7:05 AM
11:50 PM
711

Wellington, KS

6:10 AM
F 12:22 AM
746

Harper, KS

F 5:31 AM
12:34 AM
758

Attica, KS

5:17 AM
12:57 AM
779

Kiowa, KS

4:56 AM
1:20 AM
797

Alva, OK

4:35 AM
1:55 AM
818

Waynoka, OK

4:10 AM
F 2:19 AM
842

Mooreland, OK

F 3:34 AM
2:32 AM
853

Woodward, OK

3:24 AM
F 2:48 AM
868

Fargo, OK

F 3:05 AM
F 2:57 AM
877

Gage, OK

F 2:57 AM
3:08 AM
884

Shattuck, OK

2:50 AM
3:24 AM
898

Higgins, OK

F 2:33 AM
3:52 AM
925

Canadian, OK

2:06 AM
F 4:13 AM
947

Miami, OK

F 1:42 AM
4:35 AM
969

Pampa, TX

1:22 AM
F 4:49 AM
983

White Deer, TX

F 1:05 AM
F 5:01 AM
996

Panhandle, TX

F 12:53 AM
5:30 AM (Ar)
1023

Amarillo, TX

12:25 AM (Dp)
5:50 AM (Dp)
1023

Amarillo, TX

12:05 AM (Ar)
F 6:10 AM
1040

Canyon, TX

F 11:43 PM
6:22 AM
1050

Umbarger, TX

11:33 PM
6:43 AM
1069

Hereford, TX

11:15 PM
6:59 AM
1084

Black, TX

10:57 PM
F 7:06 AM
1092

Friona, TX

F 10:51 PM
F 7:17 AM
1104

Bovina, TX

F 10:39 PM
F 7:30 AM
1117

Farewell-Texaco, TX (CT)

1121

Texico, NM (CT)

F 10:26 PM
6:45 AM (Ar)
1126

Clovis, NM (MT)

9:15 PM (Dp)
7:00 AM (Dp)
1126

Clovis, NM (MT)

9:00 PM (Ar)
7:25 AM
1151

Melrose, NM

8:18 PM
1167

Taiban, NM

7:55 PM
8:01 AM
1187

Fort Sumner, NM

7:40 PM
1213

Yeso, NM

7:08 PM
9:20 AM
1257

Vaughn, NM

6:20 PM
1273

Encino, NM

5:55 PM
F 10:35 AM
1325

Mountainair, NM

F 5:01 PM
11:40 AM (Ar)
1367

Belen, NM

4:05 PM (Dp)
11:59 AM (Dp)
1367

Belen, NM

3:45 PM (Ar)
2:25 PM
1511

Gallup, NM

1:20 PM
3:36 PM
1590

Holbrook, AZ

11:55 AM
4:25 PM
1638

Winslow, AZ

11:25 AM
F 5:35 PM
1697

Flagstaff, AZ

F 9:55 AM
6:20 PM
1727

Williams Junction, AZ

9:15 AM
7:20 PM
1781

Seligman, AZ

8:15 AM
F 8:47 PM
1868

Kingman, AZ (MT)

F 6:31 AM
8:50 PM
1930

Needles, CA (PT)

4:20 AM
11:35 PM (Ar)
2097

Barstow, CA

1:45 AM (Dp)
11:55 PM (Dp)
2097

Barstow, CA

1:30 AM (Ar)
F 1:10 AM
2166

Mojave, CA

12:15 AM
3:30 AM
2235

Bakersfield, CA

10:05 PM (Dp)
2235

Bakersfield, CA

9:55 PM (Ar)
F 4:05 AM
2253

Shafter, CA

F 9:33 PM
F 4:15 AM
2261

Wasco, CA

F 9:25 PM
4:45 AM
2299

Corcoran, CA

F 8:56 PM
5:10 AM
2316

Hanford, CA

8:40 PM
5:45 AM
2346

Fresno, CA

8:05 PM
6:50 AM
2404

Merced, CA

7:05 PM
7:20 AM
2437

Empire, CA

6:30 PM
F 7:27 AM
2443

Riverbank, CA

6:24 PM
8:00 AM
2469

Stockton, CA

6:00 PM
F 8:45 AM
2503

Pittsburg, CA

5:16 PM
F 9:35 AM
2529

Pinole, CA

F 4:42 PM
10:00 AM (Ar)
2537

Richmond, CA

4:30 PM (Dp)
10:05 AM (Dp)
2537

Richmond, CA

4:25 PM (Ar)
10:30 AM
2545

Berkeley, CA

4:00 PM
10:45 AM
2548

Oakland, CA

3:45 PM
10:45 AM (Ar)
2557

San Francisco, CA (PT)

3:45 PM (Dp)
The train was christened in a manner that had become rather standard on the Santa Fe with an Indian ceremony led by Hopi Chief Taptuka using holy water from the San Francisco Mountains of Arizona.  The railroad also spent lavishly to advertise its new Chief. 
One particular piece noted that:
"Eastbound from San Francisco.  Westbound to that storied city of the Golden Gate.  Here's the brand new way to go.  Santa Fe all the way.  San Francisco Chief!"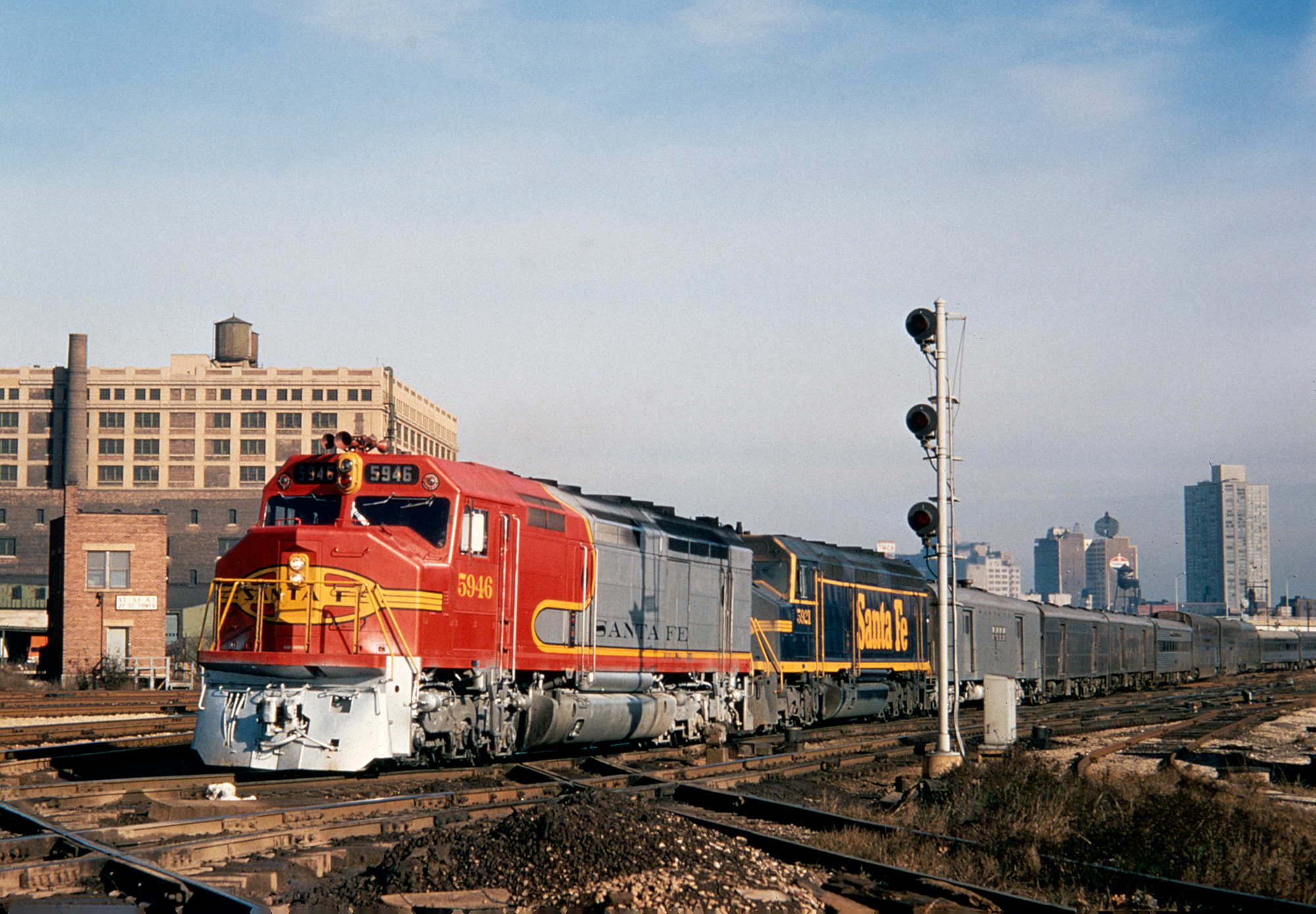 Santa Fe FP45 #5946 and F45 #5921 rattle across the diamonds at 21st Street in Chicago with train #1, the westbound "San Francisco Chief," on the morning of November 21, 1970. George Hamlin photo. American-Rails.com collection.
It went on to discuss all of the amenities the train offered along with the unparalleled beauty afforded during the trip.  Two years later in the summer of 1956 the railroad took delivery of more noteworthy equipment. 
Known as "Hi-Levels" these double-decked, streamlined cars acted as full-length domes by providing another means of panoramic scenery from high above the train.  These would eventually make their way to the San Francisco.
Consist (1958)
The train was a bit unique from its other Chief (and El Cap) counterparts in that it provided passengers a chance to see different parts of the Santa Fe's system. 
Utilizing what was typically reserved for freight trains the San Francisco diverted south from Kansas City serving such location as Wichita (Kansas), Amarillo (Texas), and Clovis (New Mexico) before rejoining the main line west of Albuquerque, New Mexico at Dalies and continuing its journey towards California. 
From there the train traveled north from Barstow through the Central and San Joaquin Valley serving Bakersfield and Stockton before terminating at Richmond Station (near Oakland) having completed a journey requiring roughly 2,550 miles.

---
---
Santa Fe FP45 #5946 and F45 #5921 await departure from Chicago's Dearborn Station with the westbound "San Francisco Chief," on the morning of November 21, 1970. George Hamlin photo. American-Rails.com collection.
Despite the loss of Pullman service in early 1969 the Santa Fe continued fielding its own sleepers on the San Francisco Chief and the other important long-distance trains that remained on the timetable at that time. 
The railroad, of course, was unflinching in its high service standards and the San Francisco continued offering Hi-Levels, a diner, Big Dome lounges, and a trio of sleepers (a pair serving Chicago-Los Angeles while the other ran the entire route) in its final years. 
Additionally, while many railroads had abandoned such practices with rapidly declining ridership throughout the 1960s the January, 1970 timetable notes that:
"all chair car seats [are] reserved between Chicago and Richmond or Los Angele .  Seat reservations required.  $3.00 service charge between Chicago and Richmond with proportionate charge between intermediate points. (No reduction for children.)" 
The San Francisco Chief made its final run under the Santa Fe on April 30, 1971.